Looking back and moving forward
Story by Vincent Stemp
Photos by Marilyn Stemp
American manufacturing has a fine history of adapting to changing landscapes, from independent builders moving with shifting trends, to Harley-Davidson's evolution through two world wars and eleven decades.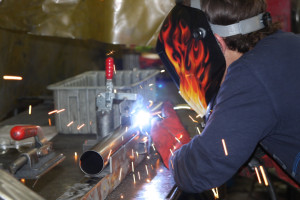 Kenny Price, founder of Samson Exhaust, has also been accustomed to change, from his humble beginnings torch welding pipes for friends in the late '60s to running a full scale manufacturing facility in California. But staying stagnant isn't part of the plan, so Samson Exhaust is on the move again.
Kenny recently moved his manufacturing facility from California to Sturgis, SD to streamline the company's procedures and make room for expansion. But the move wasn't just an exercise in streamlining, even though it gave Plant Manager Brian White a welcome opportunity to re-flow the manufacturing process. "Kenny wanted to be in South Dakota to invest in the community of Sturgis," Brian points out. "We've got a good sense of getting the right people into the business and keeping them here."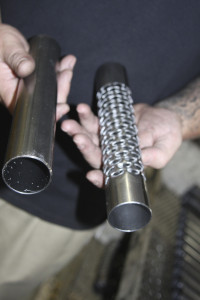 And for good reason. Sturgis really is a central point on the landscape of American motorcycling, both culturally and geographically, and Brian has worked hard to develop the employees they've hired since the plant moved there. Kenny bought the land just across Interstate 90 from the heart of Sturgis years ago, planning to move when the time was right. And now that the time has come, Brian has been able to set up the plant in a clean flowing U shape that lets incoming tubing materials to arrive at one door to be loaded onto racks right in front of the pipe cutting equipment. Then it's straight to the CNC benders, which Brian has tooled for specific sets of bends and sizes of tubing. Next to the benders are racks upon racks of jigs that the Samson crews has built in-house, allowing them to weld the individual tubes into many different exhaust systems. "People always think louder is faster," Brian laughs, but there's much more than noise to consider when you're manufacturing exhaust systems.
The welded pipes then move through the polishing room, where tried and true polishing wheels bring the steel to a chrome-like level of shine before they're sent out for plating. "We have our pipes plated with an exclusive Quad Chrome Plating process or Sinister Black Ceramic," Brian says proudly. The finished pipes are then packed and shipped out through the door adjacent to the one raw materials entered through, completing the productive U shape.
In the center of the U, Samson has specialized tools for making some of the smaller parts and components, from dozens of different baffles and brackets to the distinctive Samson fishtail end caps, a part they also offer as a replacement for customers who damage the tips and don't want to replace an entire exhaust. "It's nice to have control over these smaller parts," Brian admits.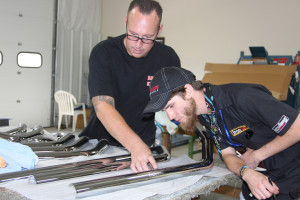 It also helps with product development. Brian has his own work area for this along with a specialized digital modeling machine that he can use to create renderings of pipes and bends by simply tracing a sensor arm over a prototype pipe. Those digital renderings can then be broken into individual bends and input into the CNC pipe benders, shortening the journey from Brian's prototypes to production exhausts.
So that's where Samson is; employing American workers using tech-savvy equipment in a new streamlined facility, located right in the heart of American biking. We're pleased to see Samson Exhaust staying modern while respecting the history and culture that keeps bringing riders back to the Black Hills, year after year.
Resource:
Samson Motorcycle Products Inc.
Sturgis, SD
605-720-7676
www.samsonusa.com