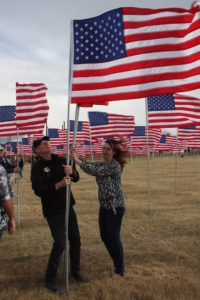 It's more than a Sturgis Rally Kickoff
As far back as 1987 there have been military recognitions at the Buffalo Chip Campground in Sturgis. And though some of those events, such as the Freedom Celebration Ride, have become more organized over time, few are as organic and impactful as the Field of Flags.
The idea for Field of Flags started during the conflict in Iraq when one flag was placed for each lost service member. Now over 800 flags are installed during a community gathering at the start of Fourth of July weekend in a tribute to those who have served our country in all conflicts.
Riders to the Sturgis Rally recognize this spectacle – how can you miss it?  – and many make it a must-see stop. The imposing power and energy of Bear Butte backing the flags, plus a new battlefield memorial and contemplative area, add to the potent sense of respect and honor that pervade the space.
As humans, we respond to visual cues and robust expressions. They take us out of our routines and force a response. But such expressions have the inherent power to effect broader, lasting change – to raise awareness and alter mindsets. The kind of change that stirs from the heart, not the head.
The 60 or so people who gathered on July 1 to turn a pasture into a sacred space felt that impact and internalized it, taking it with them at evening's end to live outside the physical display. And that, friends, is the power of a spectacle like the Buffalo Chip's Field of Flags.