To put it mildly, Bill Morris collects things. And while it's true that there's a strong gearhead vibe to Bill's collecting, it would be far too limiting to call Bill's Old Bike Barn a motorcycle museum. Because it's so much more than that! To see a related article on Bill's Custom Cycle, click here.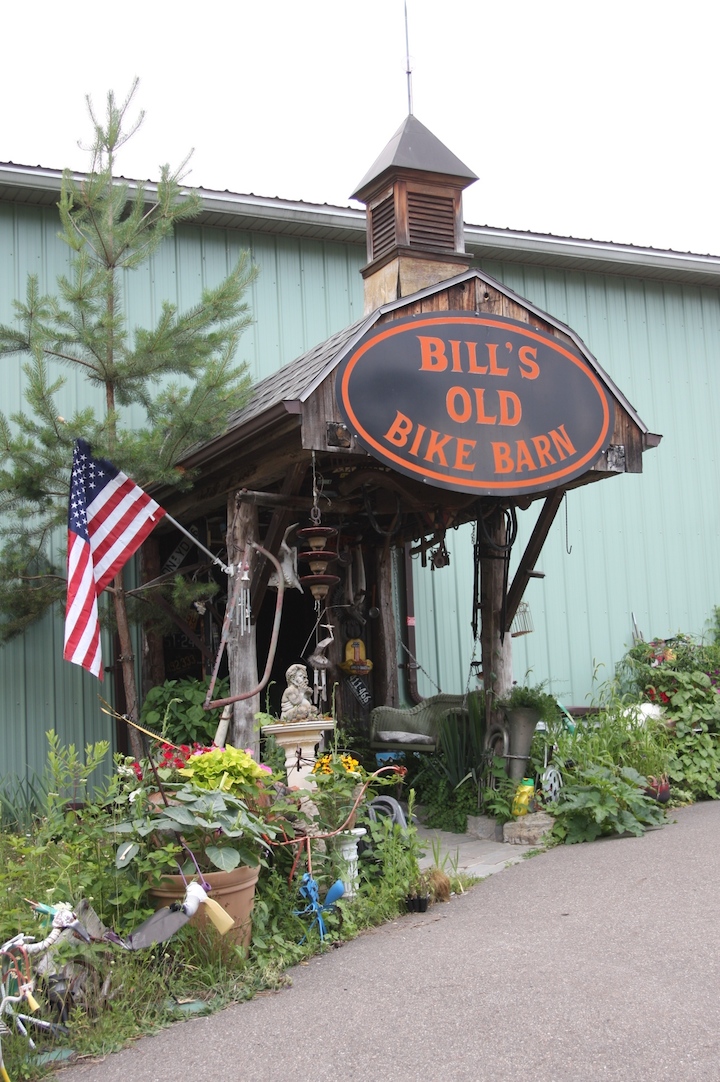 The building itself is deceiving: you think you're stepping into a pre-fab steel structure and find yourself instead inside an 1880's barn, a building that was purchased, dismantled and re-built inside the museum. A balcony of galleries circles the top of the main room, where huge signs hang from the ceiling and the skylights are packed with badges and patches.
The motorcycle collection here is impressive and includes a '41 Police UL, Indians, Knuckleheads, Triumphs, a 1913 Silent Gray Fellow and more. You'll find scooters of various marques and military bikes, too. Several oddball vehicles such as an AMF-era H-D bobsled and a Moto-Guzzi-driven dump truck will have you scratching your head.
Turn the corner and head down a fully reconstructed main street complete with a café that can be rented out for functions. The town, naturally called Billville, has a police station, a firehouse, fix-it shop, shoe shop, general store, newspaper office, dentist and, not surprisingly, the Billville Harley-Davidson shop. All are fully detailed and stuffed with authentic bits.
Bill's Old Bike Barn is as much a chronicle of iconic Americana as it is a motorcycle museum. One room leads to another, each as packed as the last with toys, mousetraps, Mardi Gras doo dads, suits of armor, Matchbox cars, license plates, bicycles, carousel animals, and of course there's a room dedicated to Elvis. But motorcycle and motorcycle memorabilia dominate. There are framed articles and motorcycle toys, posters, models, tank badges, trophies, awards, hats and gear. One hallway is covered by framed catalogs from motorcycle-related companies that aren't in business any more!
We definitely recommend you visit Bill's Old Bike Barn – with this one precaution: give yourself plenty of time. This is not a place to briskly cruise through. There's so much detail and so much worth looking at you owe it to yourself to spend the proper time. Even at that, return visits are just as much fun!
Bill's Old Bike Barn
7145 Columbia Boulevard
Bloomsburg, PA
570-759-7030
www.billsbikebarn.com
Hours:
Thursday & Friday from 10 AM – 6 PM 
Saturday from 9:30 AM – 3 PM
Sunday from 1 PM – 5 PM
Admission: $5.00 per person