From the outside, you'd never guess the treasure trove of vintage motorcycle parts stuffed inside Bill's Custom Cycles in Bloomsburg, PA. And I do mean "stuffed" because since Bill Morris opened the shop in 1970 he has amassed an astounding array of components for Harleys, especially the early models. If you're restoring or rebuilding a vintage Harley – 45, Pan, JD, or otherwise – Bill is the guy to call.
To read the article on "Bill's Old Biker Barn", CLICK HERE.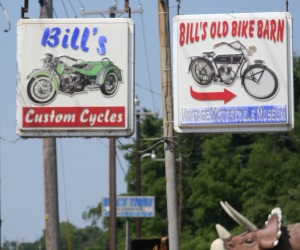 In addition to tons of used parts and even some N.O.S. inventory, the shop has the equipment and expertise to rebuild engines, transmissions, front ends and more. They also manufacture some popular parts that have grown impossible to find.
Just take a look at the pictures here. Yes, those are fork covers in the original packages from NEMPCO. Bill has an entire room filled with H-D bearings, too. Need wheels, fenders, seats? There's a good chance you'll find them at Bill's. Gas caps, brake lever assemblies, lighting and electrical? You name it, he's probably got it! Something we especially enjoyed, Bill even had "vintage" copies of IronWorks magazine from the '90s, from the days when he carried it at the shop. Yes, IronWorks featured the shop back then, too.
If you find yourself riding in central Pennsylvania, look them up. Even if you don't need anything for a bike project, it's a blast to look around. And you'll be welcome; everyone at Bill's is glad when people stop in.
Right up the hill from the shop is Bill's Old Bike Barn, a massive, rambling menagerie of a collection that defies description. But that's another story!
To read the story on Bill's Old Bike Barn click here.
Bill's Custom Cycles
7145 Columbia Boulevard
Bloomsburg, PA
570-759-9613
www.billscustomcycles.com