Some franchised motorcycle dealerships distinguish themselves by stepping outside the lines of the usual rules that govern franchise ownership. And since no one rides a stock motorcycle, it seems logical that motorcycle shops – even franchised ones – can't help but make changes to the stock bikes they see every day.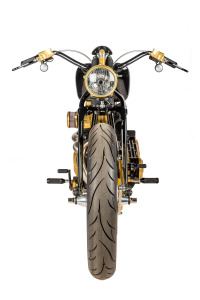 For British Harley-Davidson dealer Shaw's H-D in East Sussex, south of London, there's a passion to customize that has lead to full fledged, one-off builds under the banner: Shaw Speed and Custom. Rule-breaking comes naturally here where Shaw's Sales Director and Dealer Principal Steve Willis has assembled a world-class team whose bikes have raised the bar for custom Harleys. In just 13 years since the dealership's inception, Shaw's has won six Bar & Shield awards and a first in the AMD World Championship of Bike Building.
With a decided slant toward what they call rideable customs, one look makes it clear that Shaw's builds are also distinctly race-oriented in styling. They are, for the most part, sleek, trim motorcycles that look like they can't wait to get going. If they could talk they'd say, "Finish looking already… I've got to go!"
Steve sent us pictures of a bike they just completed and we're please to share it here. The Shaw Speed and Custom team is fond of RSD components so you'll note some on this bike. The bike also exhibits a lovely symmetry in lines, an interesting choice in wheel/tire sizes and widths that works remarkably well, and a one-off exhaust that's a show-stopper. And look at that show-off suspension set-up!
Fit, finish and attention to detail are hallmarks of every bike Shaw's builds. Hand-made parts abound, too. See more of Shaw's builds at: www.shawspeedandcustom.co.uk/bikes