Some places just feel right. They have a comfortable ambience and a way of treating people that says "We're glad you're here."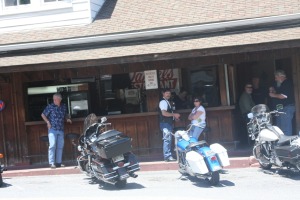 A place like that in Elkridge, Maryland, is Daniels Restaurant and there's a lot of history in this spot. In fact, there's been a restaurant at this location since 1931. Since 1975 it's been called Daniels and it was originally operated by Emily Daniels, whose son Dan joined her to run the family business. Now, after Dan's passing 7 years ago, Dan's wife Barbara, a.k.a. Mrs. D, is in charge. Her daughter and sons pitch in, too.
Daniels is super biker-friendly, which is how we found the place, looking for a break after riding out from suburban Washington D.C. But that's only part of the story. Daniels is also a family place that's important to the community. When we pulled in they had just finished up an 8th grade graduation party for 50, but there was still plenty of room for us. The restaurant is active in supporting the local fire and police departments and they regularly hold charity benefit events for individuals and organizations. Biker groups make it a regular stop or meeting point and the Daniels family has always been proud to salute U.S. military personnel and veterans.
Mrs. D's current cook is a recent war veteran and members of the family are on hand every day. For many years Daniels was open from 7:00 AM to 2:00 AM 365, but Mrs. D admits to scaling back the hours a bit recently. The restaurant business is tough, you know. But Daniels isn't going anywhere: they have a 40th anniversary to celebrate in 2015!
The menu touts great burgers, soup, salads and sandwiches, and tons of snacks. Being near the eastern Maryland shore, crab figures prominently, too. You can ride right up to the bar at the front of Daniels – literally! – though you have to actually get off your bike and scoot on to a bar stool to order. There's a nice area with tables inside and a bar, as well, plus an open deck in the back with picnic tables that's just perfect in the nice weather. Toss some horseshoes out back or stop in when there's a local band playing. You'll always find a cheerful welcome, a cold beer and hearty fare at Daniels.
Daniels Restaurant
5854 Washington Blvd
Elkridge, MD 21075
410-796-4678
www.danielsopenair.com