I first met Roy Chamberlin and Margaret Nicastri in Daytona a couple of years ago. At the time, IronWorks had been asked to give an editor's choice award at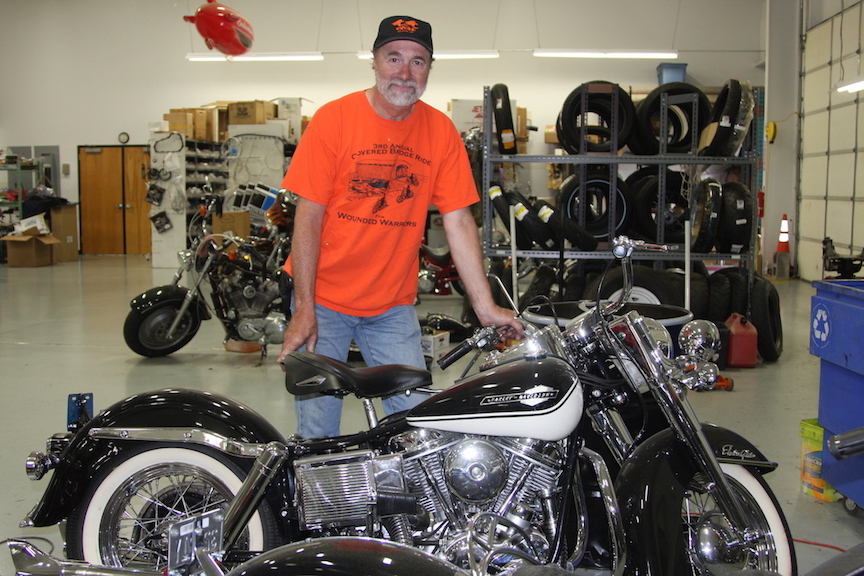 one of the bike shows and a sleek carbon fiber FXR-style looker stood out in the crowd.
Turns out the bike was from C&C Cycle in Severn, Maryland – Roy and Margaret's independent shop – and we decided to visit when in their area earlier this year. For over 30 years C&C has consistently served the Baltimore/Washington D.C. riding community with a broad-minded approach that addresses two-wheelers of many makes and models. Sure, Roy may state a personal preference for V-twin-configured motorcycles but his mechanical, engineering and design capabilities stretch to cover far more.
Roy is the go-to guy for repair, service and upgrades for most of the "other American" bikes as well as holding the distinction of being a Harley-Davidson extended warranty center. And though Roy would far rather work on carbureted bikes, an art that is becoming more rare each week, he has an expert on staff at C&C to handle EFI tuning. In fact, the shop is an S&S Pro-tuning Center as well as certified to install and tune Thundermax and Power Commander ECMs.
But that's only part of the story of C&C. Early in the shop's life, Roy decided on a business plan that not only showed what he could do but served to build the shop's bread and butter: service work. The premise was simple, he says. "I built a custom bike and took it to shows. I'd tell people, 'If I can do something this complicated, anything else is simple. So surely I can do the regular service work on your bike.'"
He'd often rebuild the same bike every year, because he couldn't always afford a new one, then show it again in the new configuration, making the same point about the shop's capabilities. As the business grew, a delightful side benefit of being on the show circuit developed: winning awards, and Roy's bikes have won a ton of them. In fact, a high shelf that wraps around the entire C&C showroom, Margaret's domain, is covered in trophies, including more than one prestigious Rat's Hole statue. Roy has been invited to show his bikes overseas and his work has been featured dozens of times in all the major magazines.
That said, Roy's approach hasn't changed. The shop's steady flow of service work is punctuated by custom builds like the Kosman-inspired carbon fiber bike we noticed in Daytona. (Featured in IronWorks, Nov. 2013.) When someone brings a bike into C&C for one specific thing, Roy gives the bike a once-over, noting any wear and tear or possible safety issues. More importantly, he considers how the one proposed change will affect the rest of the bike and tells the owner what he thinks..
See, Roy has learned a few things in the last several decades and he's glad to share his knowledge with his customers. If you give him time to explain and you're willing to listen to good advice, Roy can teach you plenty. "They come in with one question, say about adding one component like a tuner," he said. "I like to look at each bike as a whole, see how it can be made more reliable, look better, and do its job better and safer."
Here's an example: if a bike owner comes in for a tire, Roy first confirms that the wheel bearings are good then he'll check the lines to make sure that nothing is rubbing or leaking, and that the brakes are good – things many riders don't notice or even think about. He'll describe the pros and cons of different products then say, "If this was my bike I'd do this."
"If I see anything to be concerned about, I point it out and say, 'You don't have to have me do the work but I want you to know about these things for your own safety and the bike's reliability.'"
He's often asked about factory specs related to oil changes. "The factory used to use different weights and told you to change it frequently. Now they say one kind suits all purposes," he said. "They also say longer service intervals are okay with synthetics. I say change the oil every 2500 miles."
Here's why, he explains: "Water and hydrocarbons mix and cause an acidic base – the oil is gonna break down, no matter what kind it is." The same with fork oil. "They used to say it was okay to change it every 50,000 miles, but I recommend every 10,000. Otherwise most people never change their fork oil because they don't ride a bike 50K miles."
This is what you get when you work with someone of Roy's caliber and experience – a critical eye that's so much more than goal-oriented. Roy doesn't simply follow a service interval checklist, he thinks for his customers. There's no hard sell; he's simply telling you want he knows. You also get the bonus of his design sense and the benefit of his keen attention to detail. All those trophies were won, remember? Better yet, this information is delivered in a no-nonsense, matter of fact way, too. You can listen or not, that's up to you. It's holistic motorcycle mechanics and design, with function as the guiding light.
And something else about Roy: he's fussy. Which is precisely the quality I'd look for in the person I'm trusting with my motorcycle.
C&C Cycle
8182 Telegraph Rd.
Severn, MD
410-305-0924
Editor's Note: Watch for ITN to post a feature shoot on a Roy's 1991 Sturgis model Shovelhead, recently restored.