Story by Savannah Rose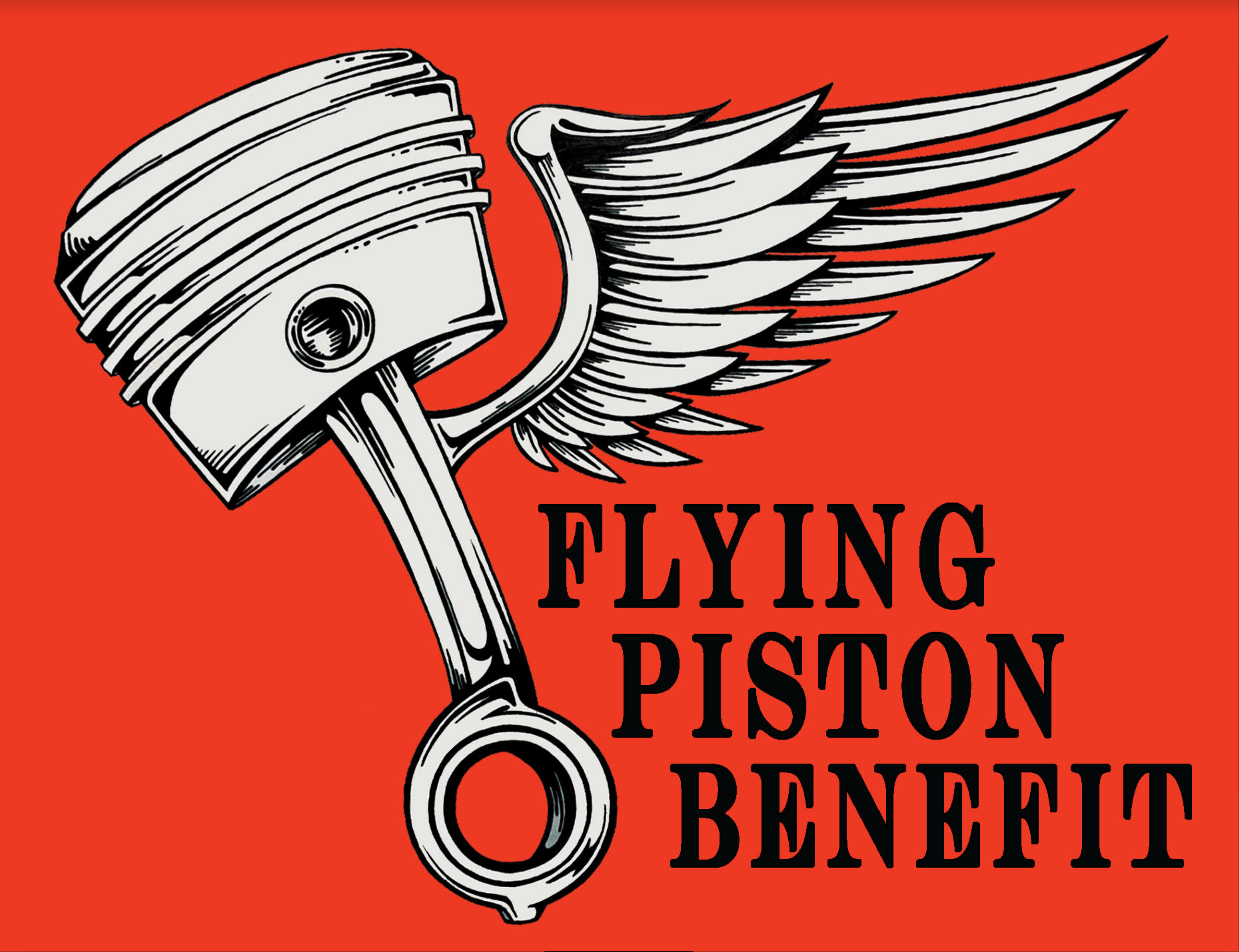 Motorcycle Missions is a non-profit that helps veterans and first responders with PTSD find hope and healing through motorcycle therapy – and encourages them to pursue motorcycling as a career. Started by Krystal Hess, who found that motorcycling helped her through her own journey with PTSD, Krystal now helps many vets learn the basics of wrenching and riding.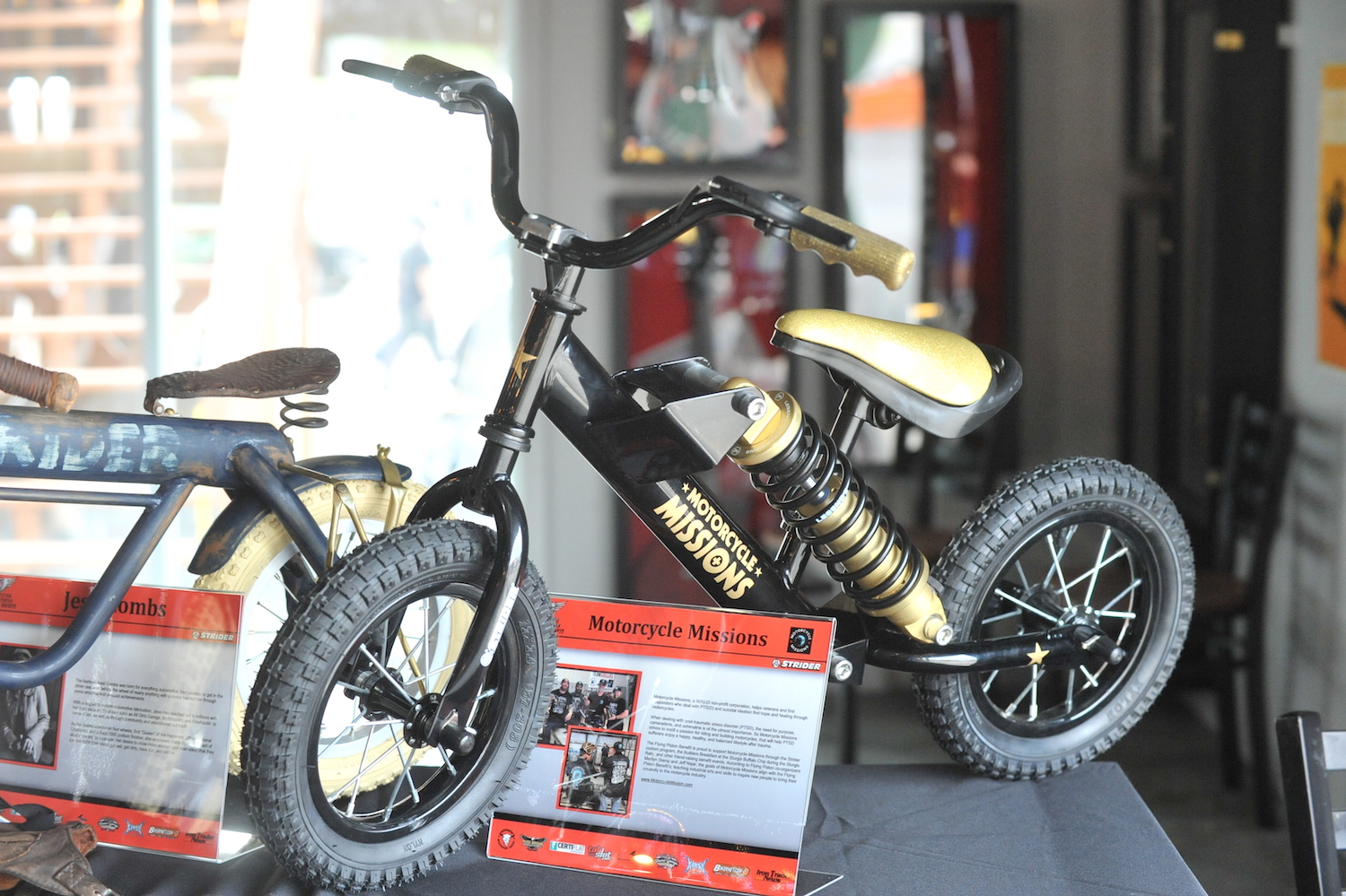 Motorcycle Missions has been a beneficiary of The Flying Piston Benefit for several years so when tiny Strider Customs became part of the program, the MM Team wanted to participate. With a common objective, a shop full of tools, and enough comedic relief among them, there is no task the MM team can't accomplish.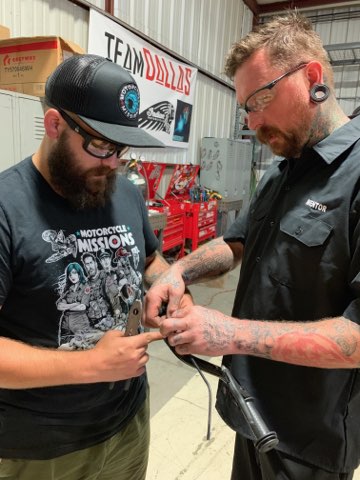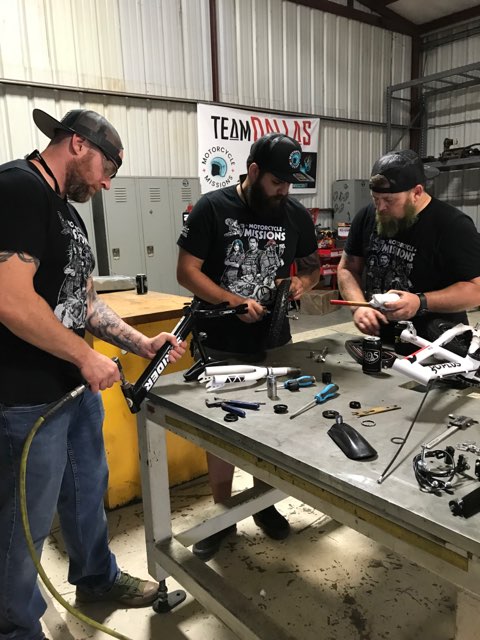 This builders of this custom Strider are alumni from prior Motorcycle Missions teams – SSGT Daniel McMicheal, Josh Reaves, Mathew Isaac Webb, and Joe E Lowrey, along with mentor, builder and fabricator Chris Moos of Mooscraft and Krystal, of course. The group got together at MoosCraft to work on the project.
According to Moos, the initial design concept was to produce a "Dyna-bro Strider." The crew completely tore down the little bike to its individual components and cut all unnecessary pieces from the frame. They used a gold Legends shock, which set the color scheme, then they determined the new ride height and angle of the swing arm. One crew member decided it would be great to mount the shock in the same fashion as the Indian Scout that Krystal rides.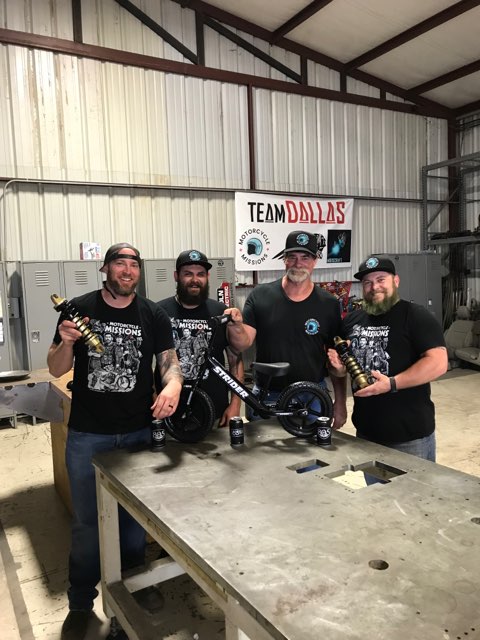 The crew created the pivot point at the bottom of the frame, utilizing a set of front forks cut in half. A little mis-communication led to an error in cutting the forks – just like in a real motorcycle build. Who hasn't run into some issues? Things never go 100% as planned!

The guys got busy making spacers on the lathe, cutting brackets on the plasma table, and forming parts on the press brake, finally TIG welding the newly created parts together. They swapped the stock handlebars, installing a BMX-style set. A really unique addition are the levers. Although they don't actually control anything, Moos notes they are a tactile addition so kids can pretend they work – and good prep if they transition to motor-driven bikes! The levers are spring loaded and return just like motorcycle levers do, and they add to the BMX feel of the bike.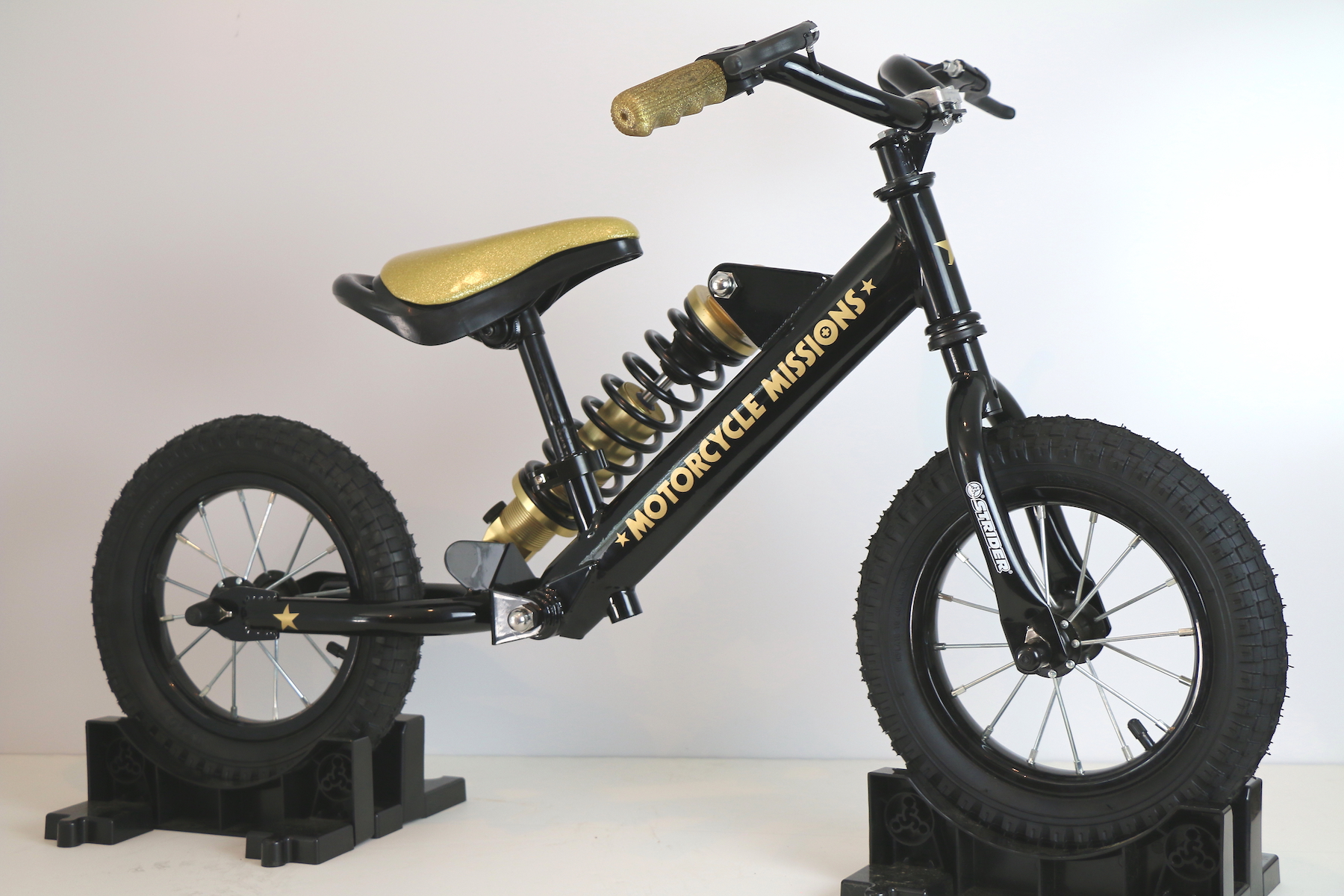 They powdercoated the whole bike black, adding gold accents – from the Motorcycle Missions logo across the frame, to the gold metalflake grips and the gold metalflake seat. They then shipped it to the Buffalo Chip in Sturgis, just in time for the Flying Piston Breakfast!
This build team continued the tradition of Motorcycle Missions by supporting others with similar interest and gathering as a community to create something together that will last as long as the friendships that develop each time the MM doors open to our Veterans and First Responders.
The builders involved in this Strider creation:
Motorcycle Missions Alumni:
Daniel McMichael, 1st Cav Division, United States Army
Josh Reaves, United States Army Medic
Mathew Isaac Webb, United States Marine Corps.
Joe E Lowrey, First Responder, Fort Worth TX Fire Department
Motorcycle Missions Mentors:
Chris Moos, MoosCraft
Krystal Hess, Motorcycle Missions