Two Great Things That Go Great Together!
Nasi Customs and Bahn Products join forces
Remember those Reese's Peanut Butter Cup commercials from the '80? (Hey! You got chocolate in my peanut butter!)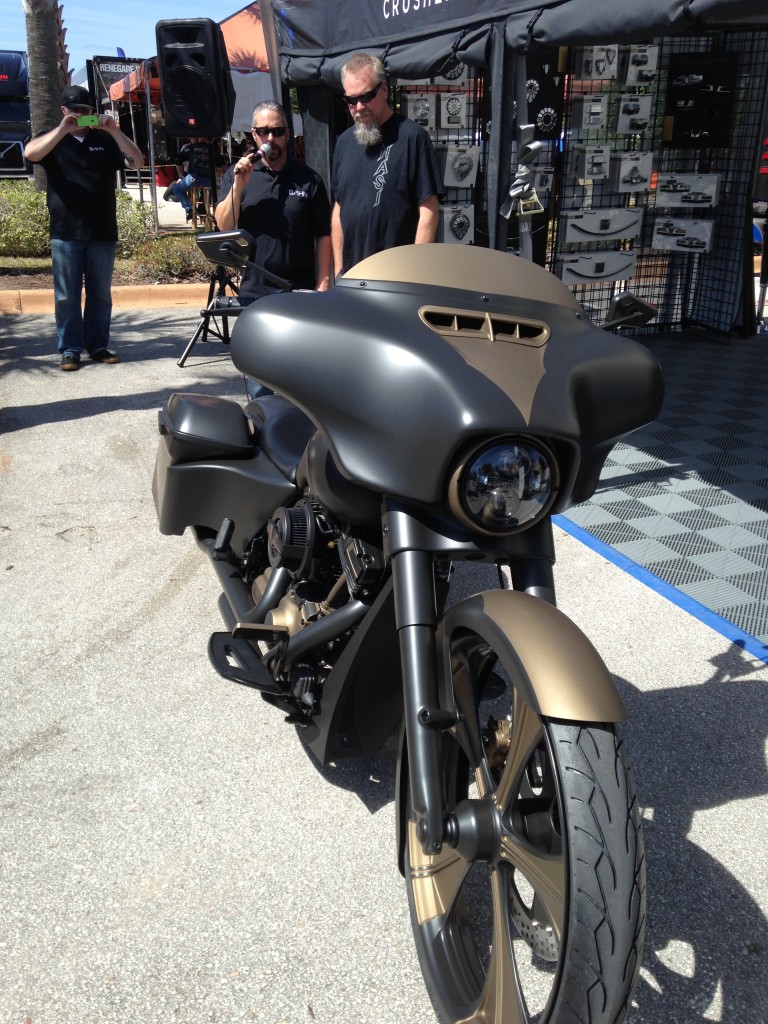 Well, here's news: there was a nugget of truth in them. Two great things, brought together, can be even better than each was separately.
That fact was proven at Rossmeyer's Destination Daytona during Daytona Bike Week when builder Jim Nasi joined Steve Veltri and other representatives from Bahn Products to unveil a beautiful custom bagger, built as a showcase not only for Nasi's talents, which are well established, but also for the new line of Bahn accent pieces and covers recently introduced to the aftermarket. Nasi's custom approach dovetails well with the intent of Bahn's components
The build started with a 2015 Street Glide, but you'd be hard pressed to identify much of the donor bike after it rolled out of Nasi's. That said, the drivetrain and frame are stock, illustrating that customizing a stock bike with tasteful aftermarket parts can be transformative—and is within the reach of every bike owner with some time and imagination.
Nasi components with impact include the outer fairing, stretched gas tank, chin spoiler, front and rear fenders, solo seat, and side covers to fit the stretched saddlebags. Subtle parts that add refinement are Nasi bars, dash and fuel cap, horn cover, floorboards, and throttle body cover.
The new line of Bahn accent pieces and covers show up in the air cleaner, passenger pegs, derby cover, shift arm and levers, brake pedal, and mirrors. Don't miss the accents on the tappet blocks, dash, rocker covers, head bolts, and shift linkage.
A few Kuryakyn parts such as Kinetic grips and the distinctive fairing vent accent made their way on to the bike, too. HHI 49mm raked triple trees and Progressive Air Dragger rear suspension manage handling. Performance Machine Syndicate wheels front and rear with matching rotors and calipers (8-piston Megabrake up front and 4-piston out back) provide all the rolling stock capability and powerful good looks a custom bike wants or needs. Paint by Spooky Fast Customs is superbly applied in matte finish that suits the bike's stealthy concept.
Said Jim Nasi, "It's nice when you can include products that don't detract from your vision. Bahn parts are fresh; there aren't logos all over and the quality of material is top-notch. The designs offer a cleaner look than most products out there now, which is one reason why I wanted to work with Bahn."
Bahn accessories start as premium-grade forged aluminum, and are then precision machined with distinctive features that artfully complement chrome or black anodized "tuxedo" finishes. The clean, refined designs are ideal for bike owners and custom builders seeking products that not only look exceptional right out of the box, but can also be individualized to enhance an overall custom approach.
See more at www.bahnproducts.com/bahn/home or www.facebook.com/bahnproducts.