The fine art of knowing when to quit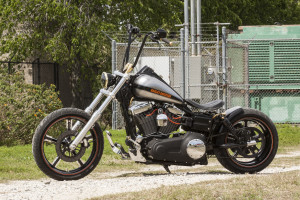 Story by Marilyn Stemp
Photos by Mark Velazquez and Marilyn Stemp
Andy Asbury came into possession of this 2010 Wide Glide when a friend decided to sell it. And like any bike owner with a set of wrenches and an instinct to customize, Andy couldn't leave it as it was. But unlike most, he knew where to focus the attention, and more importantly, he knew when to quit.
Andy's plans were to give the Wide Glide a respectful update that mixed old with new yet retained the bike's naturally classy lines. He also had a mind to alter the swingarm to accommodate a V-Rod style rear tire, a more substantial modification than he'd taken on in the past but something he thought doable.
It seems he wasn't the only one who thought that was a good idea. See, between the time he started the build and finished it up, Harley-Davidson unexpectedly came out with their Breakout model, sporting a 130 front and 240 rear tire, just as Andy had planned for the Wide Glide. "But," he said, reminding us who had the idea first, "there was nothing like that when I started."
Fortunately, this tasteful motorcycle has more to rely on than that. The bare metal tank is clear-coated, and old school touches come into play in the pipe wrap, Paughco risers, and brass push rod tube covers. The original plan was to use several different types of metal in the build but after the first few additions Andy liked how the bits of brass looked and stopped there. And that's where restraint comes into the picture along with attention to detail. You often hear people talk about these kinds of things, but very few of them actually know when enough is enough. It's a very fine line, a line this Wide Glide rides precisely on the edge of.
The Bassani pipe was chosen because it ended in just the right place, and the RSD wheels make their own styling statement—one that's completely in accord with Andy's sentiments on how rolling stock should look. Painter Jim Curtis was on board with the understated approach, too, adding just enough color for proper effect, such as the thin stripe of orange on the wheel rims. Plans are to black out the fork legs and triple trees then it's done.
The other half of the equation for Andy's Wide Glide is rideability because this isn't only a show piece, it's a rider, too. To boost performance, Andy and Dustin Rollins disassembled the engine, sending the cylinders and pistons to Fuel Moto in Little Chute, Wisconsin, to turn the 103 into a 107. Once it was rebuilt, there was plenty of power on tap; more than that, even. "It'll go faster than I can hang onto it," said Andy with a grin.
Consider that all this effort took place in an eight-week turnaround and you'll see why we were impressed. If there's any downside, Andy says it's this: though he's put on about 2000 miles so far, they've mostly been close to home. Why? It's those clean lines—and lack of luggage. "I can tuck a sweat shirt under the seat, but you can't carry much," he said.
That's okay; people generally carry along too much stuff anyway. Better to get by with just enough, on all counts.
Specifications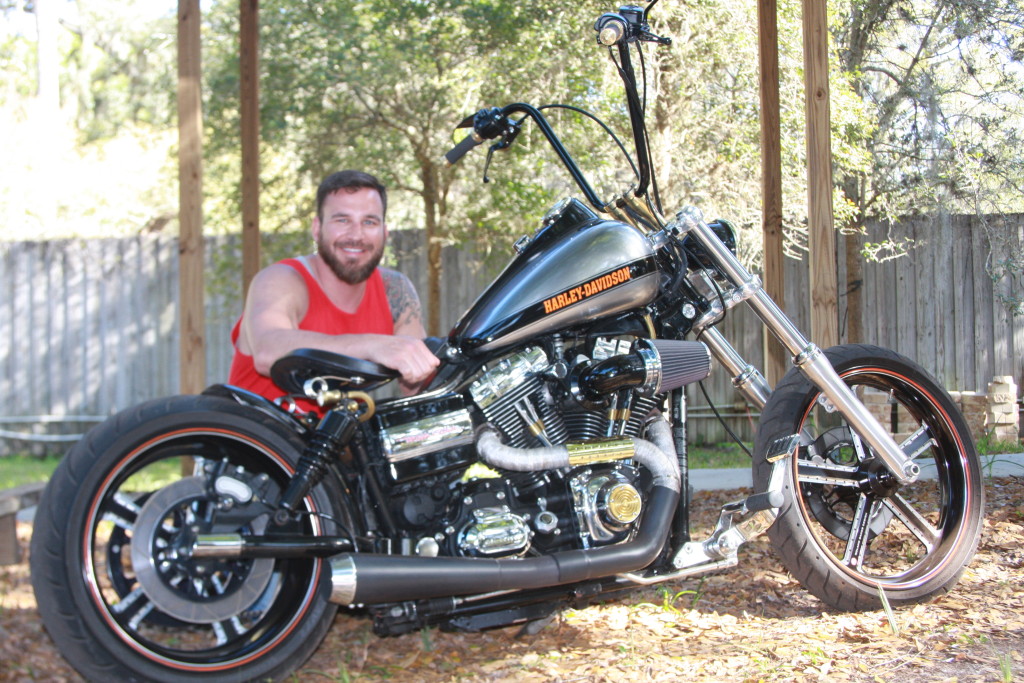 Name: Andy Asbury
Owner: Andy Asbury
Builder: Andy Asbury
GENERAL
Year, Make & Model: 2010 Harley Davidson Wide Glide
Assembly/Builder: Andy Asbury, Joe Scott
Timeline: May 2013-August 2014
FORKS
Year/Model: Stock
ENGINE
Year/Model: 2011 Twin Cam
Rebuilder: Dustin Rollins/Andy Asbury
Displacement: 107"
Lower End: Stock
Balancing: Stock
Pistons: CP Pistons
Cases: Stock
Heads: Fuel Moto Level B
Cams: Woods TW-777
Lifters: Woods Directional Roller Lifters
EFI/ Carb: 58mm Screamin Eagle
Air Cleaner: Screamin Eagle Heavy Breather
Pipes: Bassani Road Rage II
Ignition: Dynojet Power Vision
TRANSMISSION
Year/Modifications: Stock Harley-Davidson 6-speed
Engine sprocket: Stock
Trans sprocket: Stock
Wheel sprocket: Roland Sands Mission
Secondary drive: Screamin Eagle Compensator
Screamin Eagle Variable Pressure Clutch
FRAME
Year: 2010 Harley-Davidson Wide Glide-Bobbed
Designer/Builder: Andy Asbury
Rake/Stretch: Stock
Swing Arm-Heartland USA
ACCESSORIES
Bars: Burly 16" Narrow Bottom Apes
Risers: 4" billet brass
Fenders: Custom made
Gas Tank: Stock
Headlight: Harley-Davidson Day maker
Taillight: After Hours Choppers Titmouse Brass
Speedo: Harley-Davidson Digital
Pegs: Stock
Electrics: Dakota Digital
Seat: Harley-Davidson Spring Solo Seat
WHEELS/TIRES
Front Wheel: Roland Sands Mission Contrast Cut
Front Tire: 130/60/21
Size: 21×3.5
Rear Wheel: Roland Sands Mission Contrast Cut
Rear Tire: 240/40/18
Size: 18×8.5
Rotors: Lyndall Indy
Brakes: Lyndall Gold
PAINT
Bodywork/Molding:
Painter: Jim Curtis, Laura, IL
Color: Clear, Black, Orange