Are some of you thinking this?. "That's a good thing?!" This over-the-top example of a bagger from back in the day comes to us from the National Motorcycle Museum in Anamosa, Iowa. Learn more about the museum at http://www.nationalmcmuseum.org.
1954 Harley-Davidson FL Hydra-Glide  –  "KING BILL"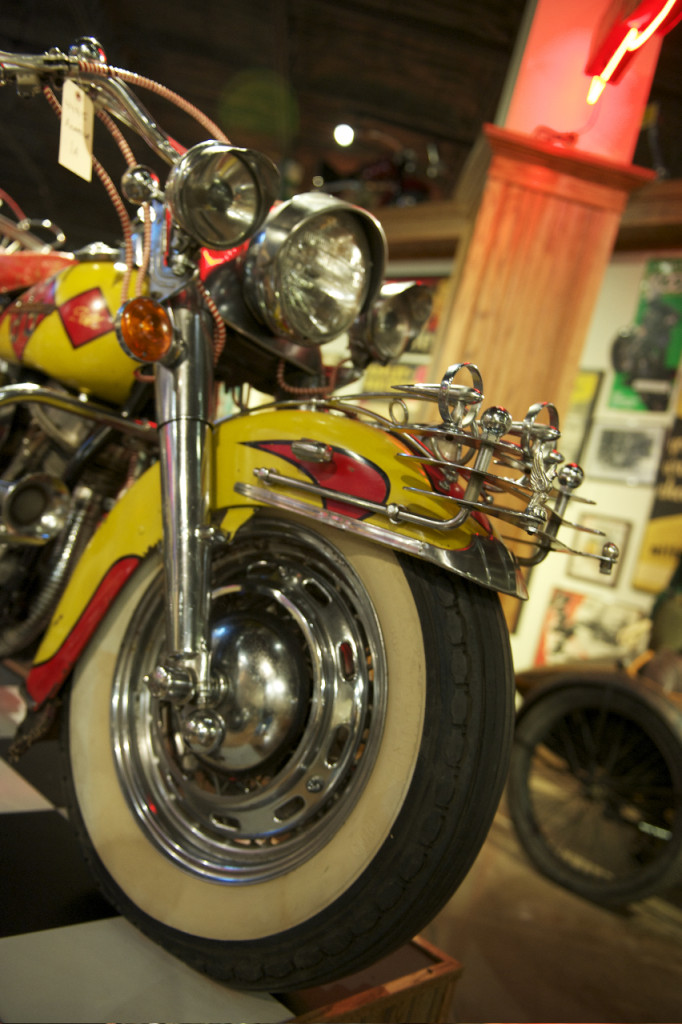 Customized for Samuel Walker in 1954 and Appeared on Television Program
Saturday

Night Live
.
Harley-Davidson celebrated 50 years of motorcycle production in 1954 by creating 50th Anniversary editions of several models. A special brass front fender badge makes 1954 models unique. Of course with the demise of Indian Motorcycle Company in 1953, Harley could also celebrate being the only surviving American motorcycle manufacturer.
In 1954 a wealthy motorcyclist from New York, Samuel Walker went to his local Harley-Davidson dealer and bought this motorcycle, serial number 54FL3396. But instead of riding it out of the shop, he made arrangements to first have a full blown customization performed on the bike. He wanted special paint, chrome and every bell and whistle, light, guard, piece of trim and ornament available, and some custom and unique as well. It's believed that the dealer sent the bike to "Spanish Louis" to make the machine into what some fondly referred to as  a Coney Island style bike, later referred to as a Garbage Wagon, having a Back Porch. With so many lights, an auxiliary generator had to be installed!
Walker dubbed his fine FL "King Bill" and rode it just 12,000 miles from new, only recently handing it off to a new owner as he retired to live in the Southwest. A styling trend from the 50's and 60's, it is exceedingly rare to find such an extreme and perfectly preserved example.
Specifications:
Engine: 45 Degree V-Twin
Air-Cooled/Overhead Valve
Displacement: 74 Cubic Inches
Bore & Stroke: 3.44 x 4.00
Compression ratio: 8:1
Ignition: Coil and Points
Horsepower: 55
Lubrication: Dry Sump/Recirculating
Carburetion: Schebler
Electrical: 6 Volt/Battery & Coil
Primary: Chain Driven
Final Drive: Chain
Transmission: 4 speed
Chassis:
Frame: Double Down Tube
Wheelbase: 60 inches
Suspension: Hydraulic Fork/Rigid Rear, Sprung Seat
Brakes: Drum, Front and Rear
Wheels/Tires: 5.00 x 16″ Front and Rear
Weight: 648, Stock / 800+ Customized
Graciously on Loan from the John Parham Collection