For the Flying Piston Buffalo Chip Charity Breakfast 2016
By Bandit and Sara Belle   ARTICLE FOUND AT http://www.bikernet.com/pages/ATOMIC_BOBS_Prison_Art.aspx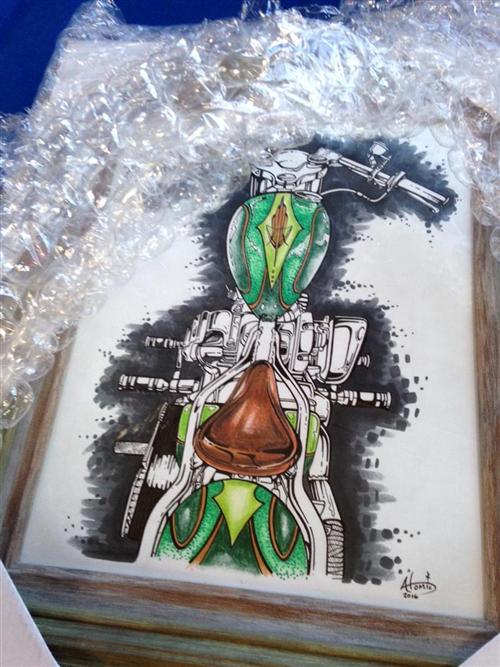 Sitting alone at my steaming computer at midnight, slamming keys like the Hell on Wheels crew with sledgehammers against railroad spikes in the 1880s. I was pissed, when the phone rang and a gravely voice from far away started to drill questions into me.
"Where's Atomic Bob?" the voice coughed.
"How the hell would I know?" I said and sipped whiskey. "Who the hell is this?"
"This is detective Rancid Dung," he said. "Where's Bob?"
I hung up as if it was another Chinese telemarketing team disturbing my Wa at all hours, trying to give me a free trip to Vegas, if I spent my lifesavings on a monthly carpet cleaning contract.
Atomic Bob sizzled in a hot prison cell in the Lorain Correctional Institute in Ohio a few months back. Convicted of robbing a chain of pet stores of miniature poodles for the love of his life, Bob spent almost a year behind bars, initially. But the sentence was extended. He kept fucking up.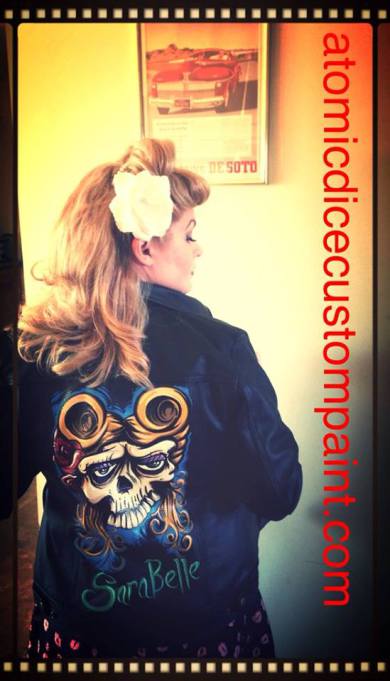 To support his family he still drew and painted art pieces, when the facility would allow him anything but rat-chewed pencils and oil stained paper. He had to draw or die trying. Each time a piece was due he escaped the prison to personally deliver his magnificent works to his lovely Sara Belle. Each time he returned to his confines officials heightened his security, extended the sentence or moved him. He was hauled under armed escort to the Belmont Correctional Institution and thrown into the hold.
He drew a '55 Buick for a guard and was allowed colored pencils and to join the prison population.
Then the next deadline came during his next call to his blonde and beautiful wife. "Honey-child I have another delightful task for you," Sara's voice immediately melted his resolve. He would do anything to look into her eyes and kiss her satin neck. Made him quiver and reach for his pens.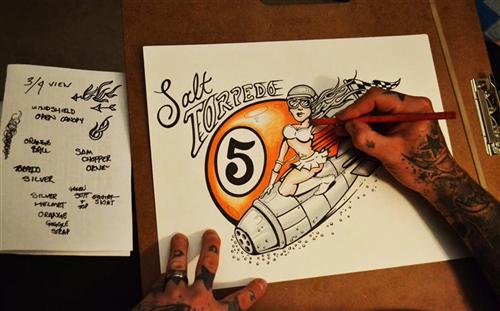 This time Atomic Bob and the Buffalo Chip
Craftsmen and fans would join together at the Buffalo Chip in Sturgis to raise money during the Flying Piston Builder Breakfast, in benefit of Tech Ed Scholarships. "You will contribute one of your beautiful paintings, won't you honey," Sara said. Bob couldn't wait.
Guests at the breakfast, organized by Marilyn Stemp, will have an awesome time enjoying photo opportunities and celebrating with some of the best custom builders in the industry. Marilyn needed donated art pieces for the raffle and worked her marketing magic to recruit talent, including Sara Belle and Atomic Bob.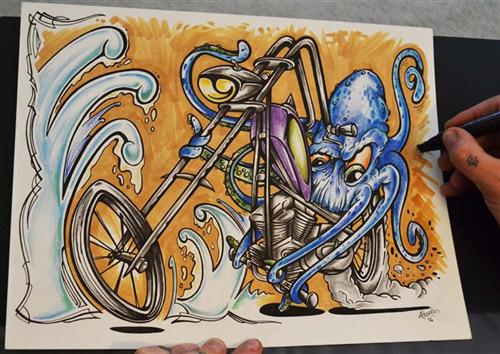 Bob knew exactly what his contribution would be, a recent notion of a green-flaked, hand-drawn bobber. He pondered an 80ci Harley Evolution built by, Sucker Punch Sally and featured in a book titled, Art of the Bobber by Spencer Drate and Judith Salavetz. He also thought about a barn where he could meet Sara on a moonlit night.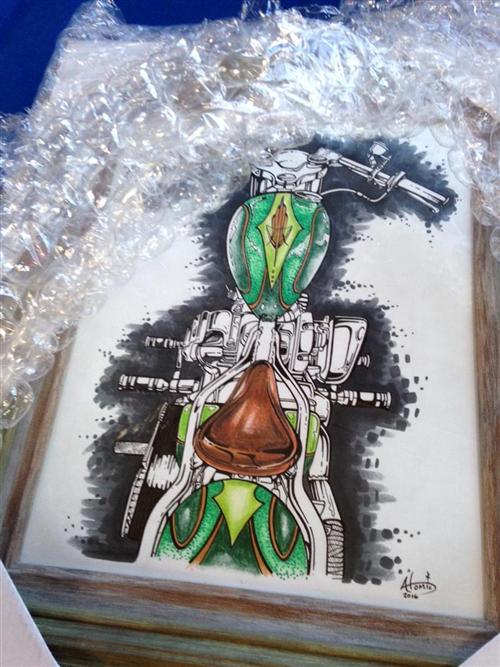 When asked why he selected this style of bike over his standard vintage style Atomic said, "I liked all of the nickel plating and the simplicity; it didn't have a lot of wiring hanging off of it. I wanted to accentuate the chrome and motor components highlighting fine line details with Micron pens. It had a very deep, beautiful candy-coated paint job. I chose to transform the hue from maroons to deep greens because it's my favorite color." It's also the deep flowing green of the grassy knoll separating his recent halfway house confinement from the tattered, leaning barn on the other side, the potential meeting place.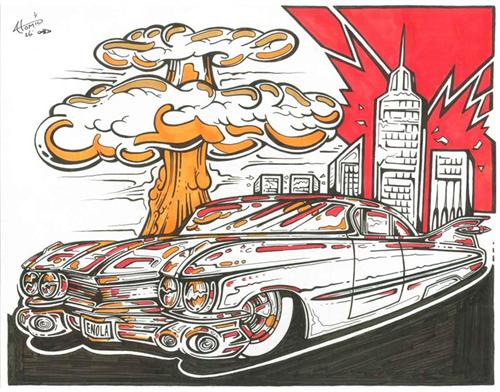 Atomic recently invented a new style of art, which he called, "Modern Mechanical." "Modern Mechanical consists of ultra clean line work with attention to detail using minimal color," Bob said. He can experiment with this new style of art since being permitted to have colored art supplies at his latest digs, the Community Corrections Association of Youngstown, Ohio.
He created the gas tank and fenders to have an impression of metal flake using a technique called stippling. Atomic is also a pinstriper and he added pinstriping to the tank to feature his personal design elements.
The bobber was drawn and inked with Micron pens, Prisma colored pencils and markers carefully inspected for weapons and keys before he was allowed to touch them. What makes this original 11×14 framed art piece unique is that it is prison art! Atomic Bob's prison sentence is winding down if he doesn't fuck it up because of a burning desire to get his hands all over Sara Belle.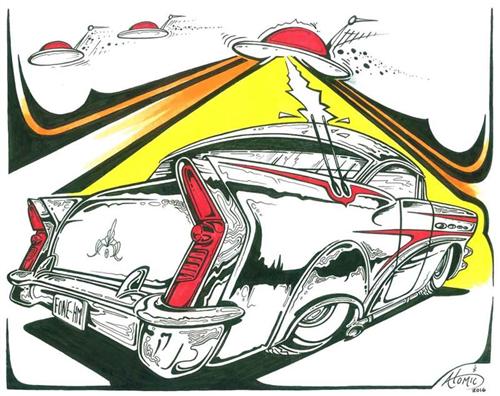 Atomic has just a few original prison art pieces including these rare pieces from his time behind bars and one of very few in color.
His sentence may be extended again. He climbed over a chain-link fence to spend the night in the hay with Sara Belle and deliver on deadline. They busted him trying to return to his quarters unnoticed, but it was worth it to spend the night with Sara and support this Chip Charity effort.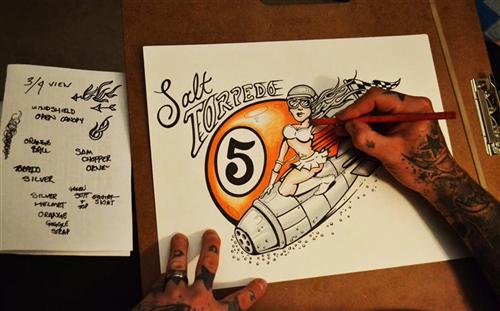 "I hope the auction winner likes the bobber piece," said Bob, trying to convince his parole officer of his good intentions.
Silent auction items are provided by Harley-Davidson Footwear, Howard Knight of Rocking K Custom, Revere Seats, Artist Darren McKeag, Low Brow, the notorious Atomic Bob, Aeromach, Cycle Source, Jekill & Hyde and others."
.">
A limited number of builder breakfast tickets are on sale now for $20 each at www.BuffaloChip.com/FlyingPistonBreakfast
All proceeds benefit the Buffalo Chip's Scholarship Fund established to help high school graduates and U.S. military veterans pursue motorcycling as a career.