NO PURCHASE NECESSARY TO ENTER OR WIN THIS SWEEPSTAKES. VOID WHERE PROHIBITED. MUST BE 21 YEARS OF AGE OR OLDER TO ENTER.
Each text message sent or received may incur a charge as provided in your rate plan, standard text and/or data rates apply.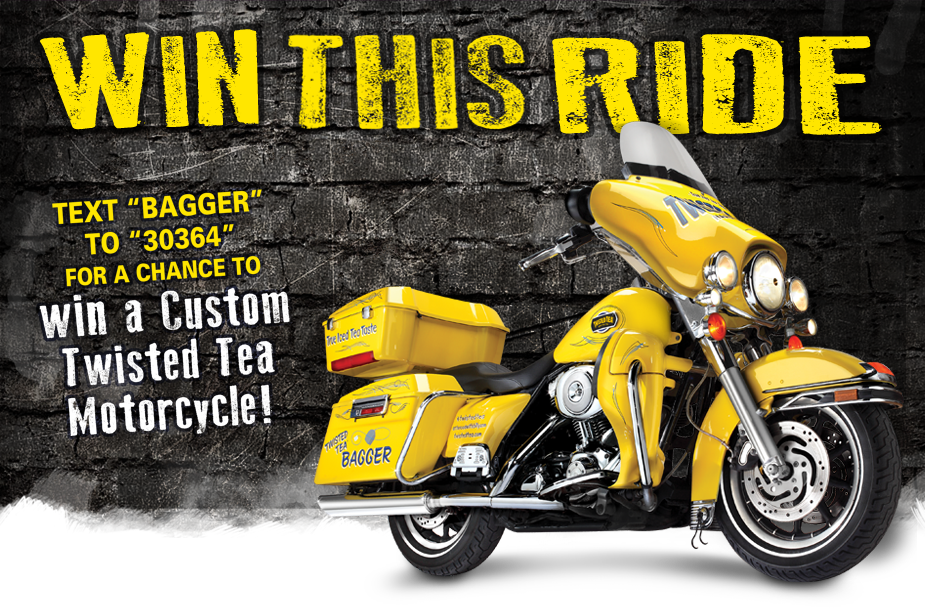 ELIGIBILITY:
Twisted Tea® Text To Ride Sweepstakes (the "Sweepstakes") is open to legal United States residents who are at least twenty-one (21) years of age at the time of entry. Employees (and their immediate families) of Twisted Tea Brewing Company (the "Sponsor"), Hello World, Inc., (the "Administrator") and any of their parents, subsidiaries, affiliates, suppliers, independent contractors, agencies, alcoholic beverage wholesalers and retailers, and any persons living in the same household as such employees are not eligible to participate in the Sweepstakes (cumulatively, the "Sweepstakes Entities"). Sweepstakes is subject to all applicable federal, state, local laws and regulations and is void in where prohibited by law. The Sweepstakes begins on 3/1/2016 at or about 12:01 a.m. Eastern Standard Time ("EST") and ends 11/6/2016 at or about 11:59 p.m. EST (the "Sweepstakes Period"). Prize winner will be selected in a random drawing on or around 11/10/2016 for all eligible entries received during the Sweepstakes Period.
HOW TO ENTER:
There are two (2) ways to enter: 1) Text Messaging: During the Sweepstakes Period, text an official entry code (the "Official Entry Code") (example: Text "BAGGER"), found in store on point of sale cardboard signs, packaging material, cooler stickers or other Official Entry Code communication on Sweepstakes related advertising materials at participating retailer locations to 30364 using a wireless, SMS-capable phone. You must provide your own phone. Once you have properly text-messaged the Official Entry Code to the promotional phone number, you will receive a reply via text messaging requesting age confirmation. You will then receive a second text requesting your zip code. Once you have responded to the age confirmation and state of residence texts, you will receive a final reply via text message confirming your entry into the Sweepstakes. Important Notice: Your wireless service provider may charge you for each text message you send and receive. Standard text message rates apply. Other charges may apply. Please consult your wireless service provider regarding pricing plans. You must be a wireless service subscriber with text messaging service, using a participating service provider in order to enter via this method. Not all cellular phone providers carry the necessary service to participate. Check your phone capabilities for specific text messaging instructions. Entrants may opt-out at any time by texting STOP to 30364, text HELP for help. In the event the winner is selected from a text message entry, the prize will be awarded to the "authorized account holder" associated with the given wireless telephone number used to enter the Sweepstakes by sending a text message. The "authorized account holder" for text messaging entrants is defined as the natural person who is assigned to a wireless telephone number by a wireless service provider. Proof of being the "authorized account holder" may be required by the winner and dependent upon Sponsor satisfaction
2) Email: During the Sweepstakes Period, email OfficialRules@twistedtea.com (the "Email") and provide your first and last name, complete mailing address (PO Boxes not accepted), telephone number, email address, date of birth and Official Entry Code "BAGGER". In the event of a dispute over the identity of an online entrant, entry will be deemed submitted by the authorized account holder of the email account of the email address submitted at the time of entry. The "authorized account holder" is the natural person who is assigned to the email address by an internet access provider, online service provider or other organization that is responsible by assigning email address or the domain name associated with the submitted email address. Use of any device to automate entry is prohibited. For purpose of these Official Rules, "receipt" of an online entry occurs when the OfficialRules@twistedtea.com servers record the entry information upon clicking the submit button. Any automated computer receipt (such as one confirming delivery of the e-mail) does not constitute proof of actual receipt by Sponsor of an online entry for purposes of these Official Rules.
Limited one (1) entry per person, per method of entry. Duplicate entries for a single individual and single method of entry will be disqualified. All entries become the property of the Sponsor.
– See more at: http://www.twistedtea.com/billys-bikes-official-rules#sthash.YPTrFxQR.dpuf