Story and Photos by ITN European Reporter Herve' Rebollo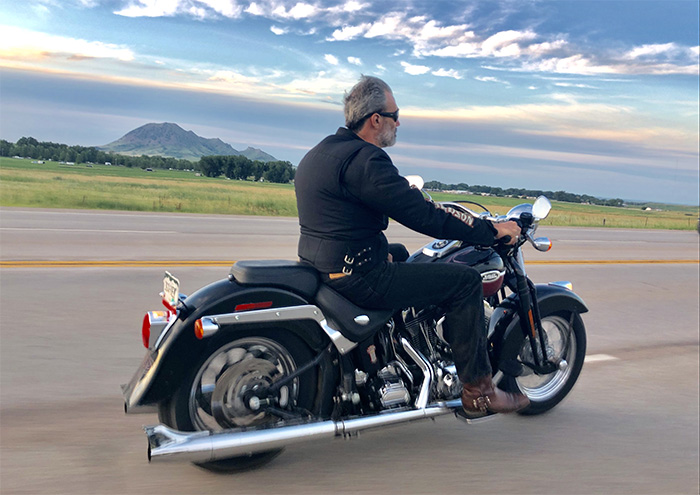 Salut à toi American rider,
Hope everything is alright for you and your family my friend, in this strange period of Corona-virus confinement.
As the situation is quite serious in Europe, I'm confined at home for five weeks now but I'm still dreaming about roads, motorcycling and bikes … And I think it's time I introduce to your motorcycle culture a new information: have you ever seen this absolutely beautiful amazing French boardtrack?????
But, first…do you know the PETERBOROUGH MOTORCYCLE and ANTIQUE MUSEUM in Australia??? I suppose there is a large probability that the answer is "no" … Located on the comer of Kitchener and Jervois street, just off the main road, the museum is housed in a former historic Baptist Church and offers bed and breakfast accommodation in the separate Tennyson Hall, which was built in 1913 as a men's prayer room.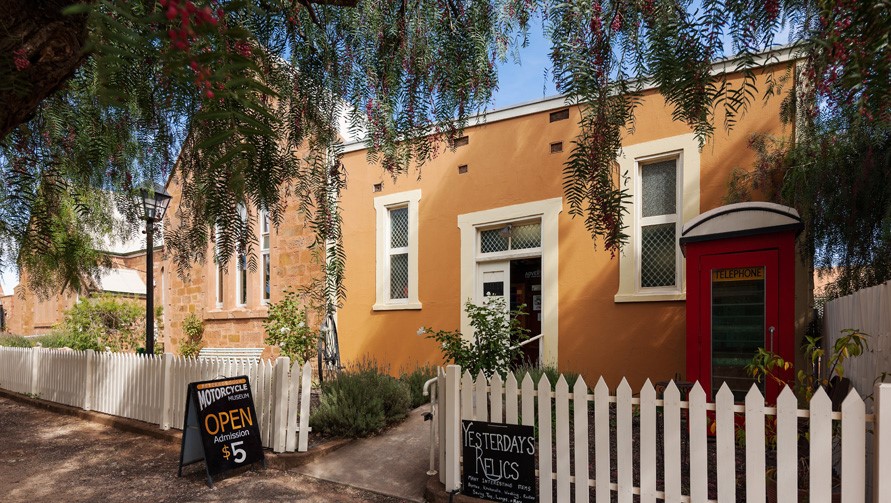 Ian and Belinda Spooner opened the museum in 2008, and as well as housing numerous interesting antiques, the majority of space is taken up by Ian's collection of motorcycles, many of which have never been seen or heard of in Australia. Ian started buying motorcycles in his teens, and although the word "collector" was not mentioned, he simply admitted that he "couldn't get rid of anything". And Ian continues to add to his inventory to the point where the church hall is putting some constraint on how much can be displayed.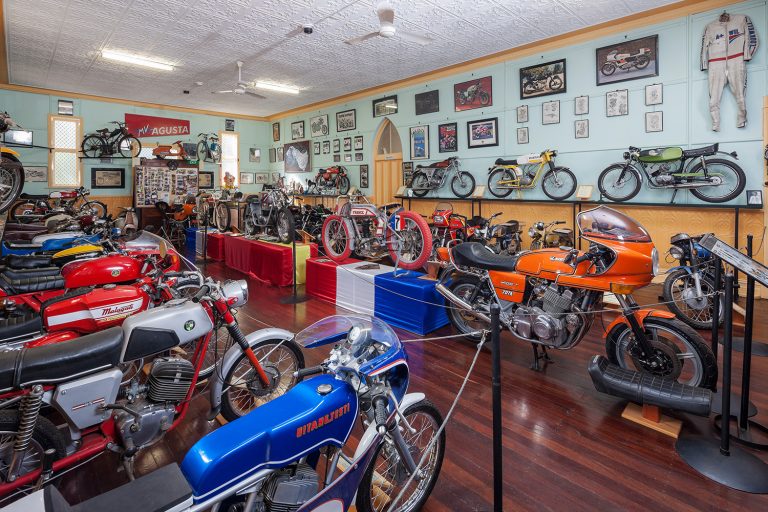 Situated in the mid-north of South Australia. Peterborough is approximately 260km/161 miles north of the city of Adelaide and a pleasant three-hour drive on the A32, which is part of the Barrier Hwy to Broken Hill… a place quite improbable for any self-respecting American /European biker and where you certainly do not expect to come across some of the French motorcycles exhibited here.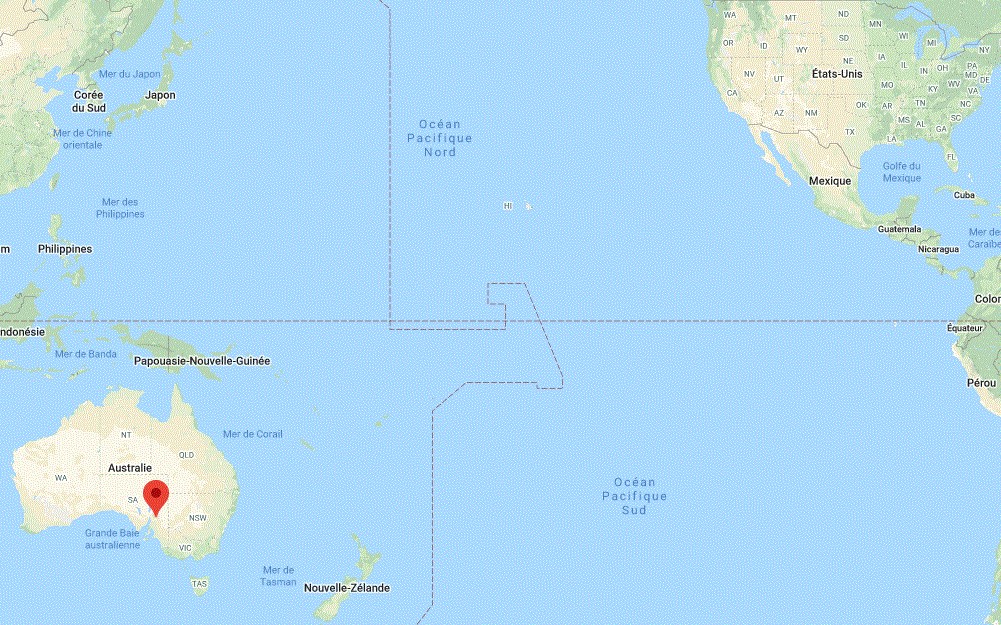 This superb little museum gathers a collection of about 60 motorcycles … proudly run by Ian and Belinda … to whom it is better to phone before disembarking unexpectedly at their home for a visit … Which might not happen because they might have gone for a walk…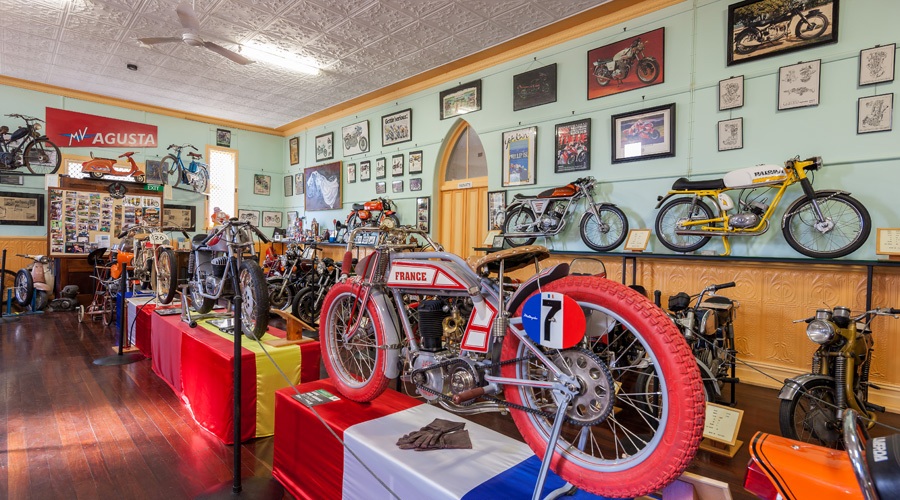 A private collection of motorcycles from 12 countries around the world ranging from 50cc to 1000cc. There are other interesting collectables amongst the motorcycles including a White Star Line First Class egg cup which has been validated as either being from the famous Titanic or her sister ship the Olympic. There is a particular emphasis on Italian models in the motorcycle collection: Negrini, Paloma, Gitane, Cimatti and Malagutti are among the 50ccs. The 125ccs include Motobecane, Puch, Malanca and a Villa made by Walter and Francesco Villa. See a MV Augusta 150 RS and a 1921 French racing bike. The 250ccs on show are a Jawa, an Ossa Wildfire raced and owned by Dennis Crane and Bultaco. Also on display are 350cc Aermacchi, Cossack and Jawa, a 500cc Laverda Montjuic, 750cc Honda Automatic and Moto Guzzi S3, 850cc Moto Guzzi  MK 1 Le Mans and a magnificent 1000cc Laverda Jota.
There are some amazing and very rare machines that have been lovingly restored and maintained. The Museum's owner still rides several of the bikes and will stop to chat with enthusiast or novice alike.
There is something reassuring about museums, be they public or private collections, as they offer an open window into another time that can be shared by all. The curators and private collectors are the gatekeepers of worlds past, and this is never more true when it comes to motorcycle collections.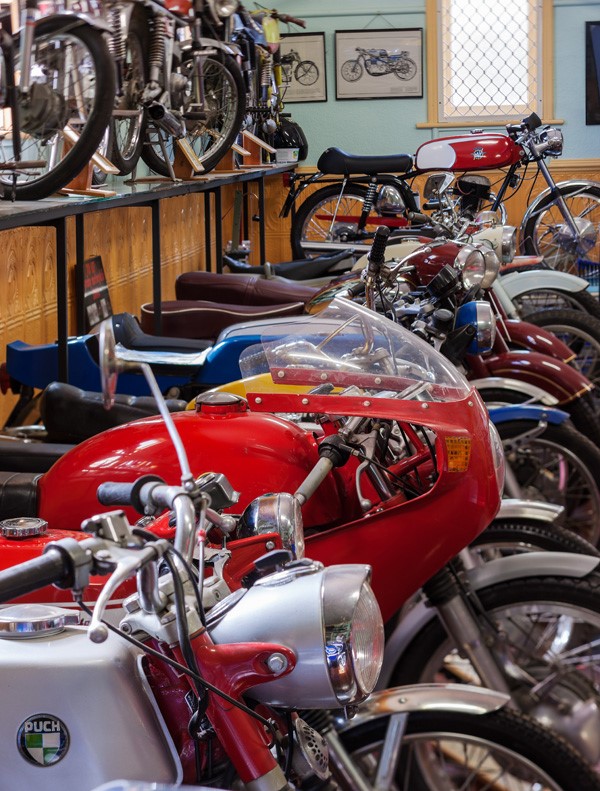 The first thing that is noticeable about the exhibits is the large number of impressive small capacity European made two-strokes from the 50's, 60's, and 1970's. This is offset, to a degree, by machines like the 1981 1000cc Laverda Jota triple and a 1971 Honda 750 automatic, which was sold in the U.S. but never made its way to Australia. Ian also has on display several French vintage racing motorcycles in the shape of a very rare 1921 Yvels with a 250cc Villiers racing engine and a France which used a 350cc Jap engine.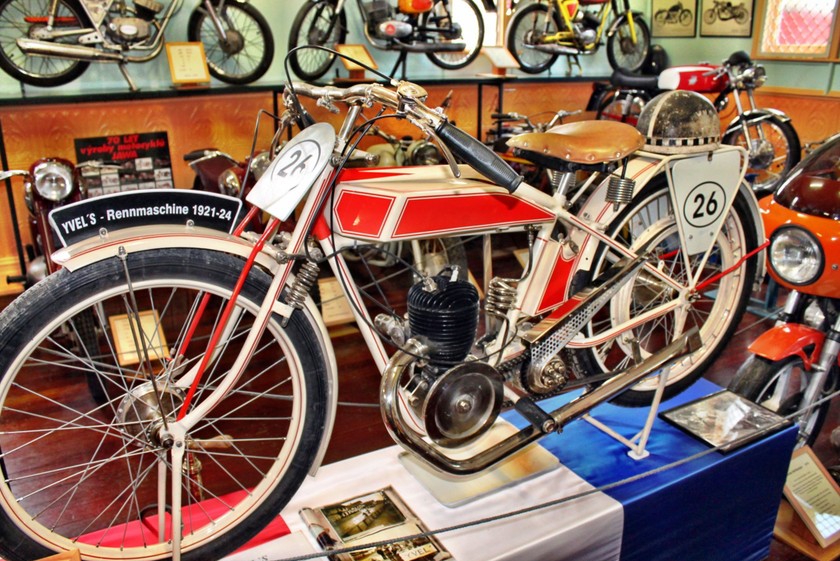 Several years ago the photographer Phil Aynsley, visited the Peterborough Motorcycle Museum and while the majority of the shots he took were indeed taken on the backdrop he thought it would make for some nice images to take two of the bikes in the collection to a location a few kilometers out of town. This why we can now admire these amazing following photos … The bikes in question were of similar appearance so would 'work' together and he wanted a shot to show them in the countryside so as to give some idea of the museum's remoteness. Thankfully the collection's owner (Ian Spooner), liked the idea so transporting the bikes was easily done. The weather also co-operated.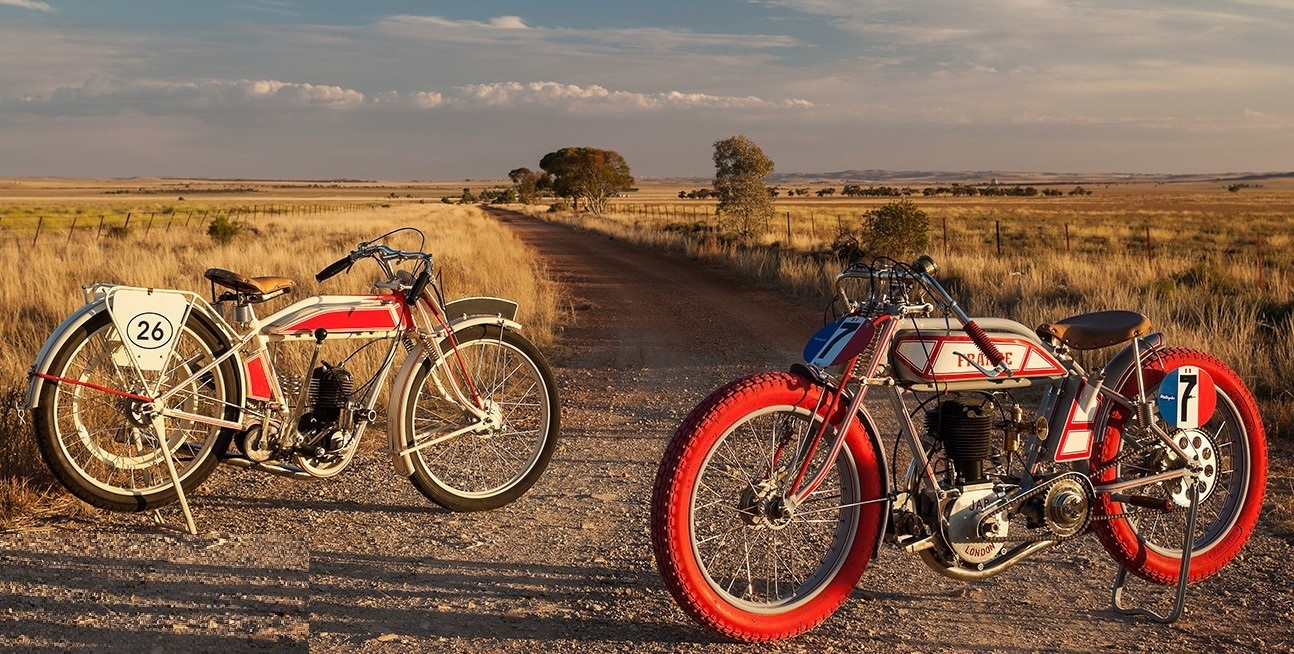 Very little is known about this France racer from 1927. The frame was built in Paris (and it and the oil tank bear a resemblance to those used for some TERROT models). A 350cc JAP motor is used. The bike was later displayed on an old workshop/factory wall.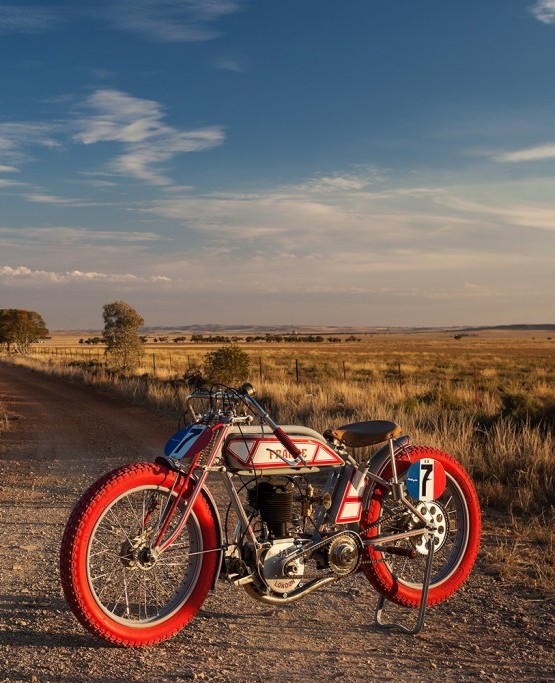 In 1942 it was taken to Germany by the Wehrmacht and then reappeared on the wall of an old brewery in Saxonia/Heliues, from where it was purchased & restored. It was later bought to Australia.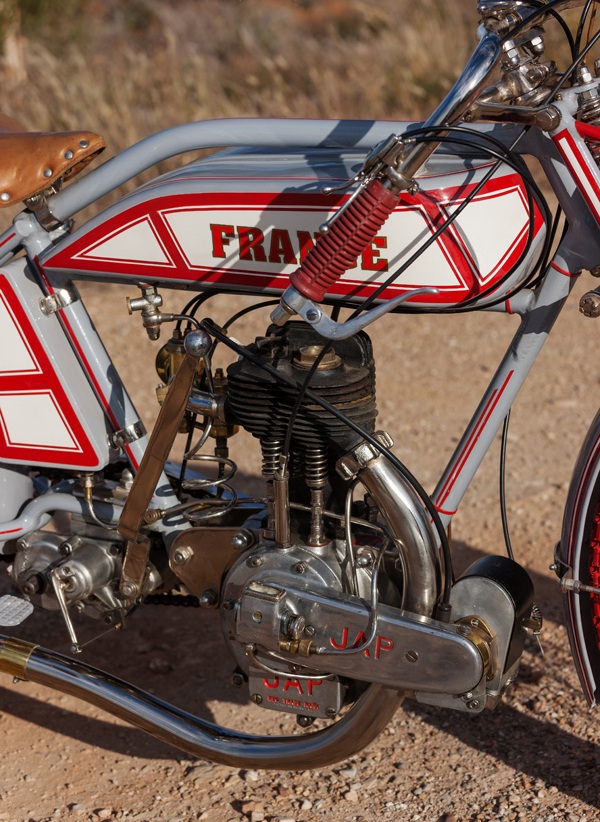 The YVEL'S was produced from 1921 until 1924 at 94 Rue Lauriston, Paris. Two models were built – one with a 250 JAP motor and the other (shown here) with a Villiers racing (not production) motor.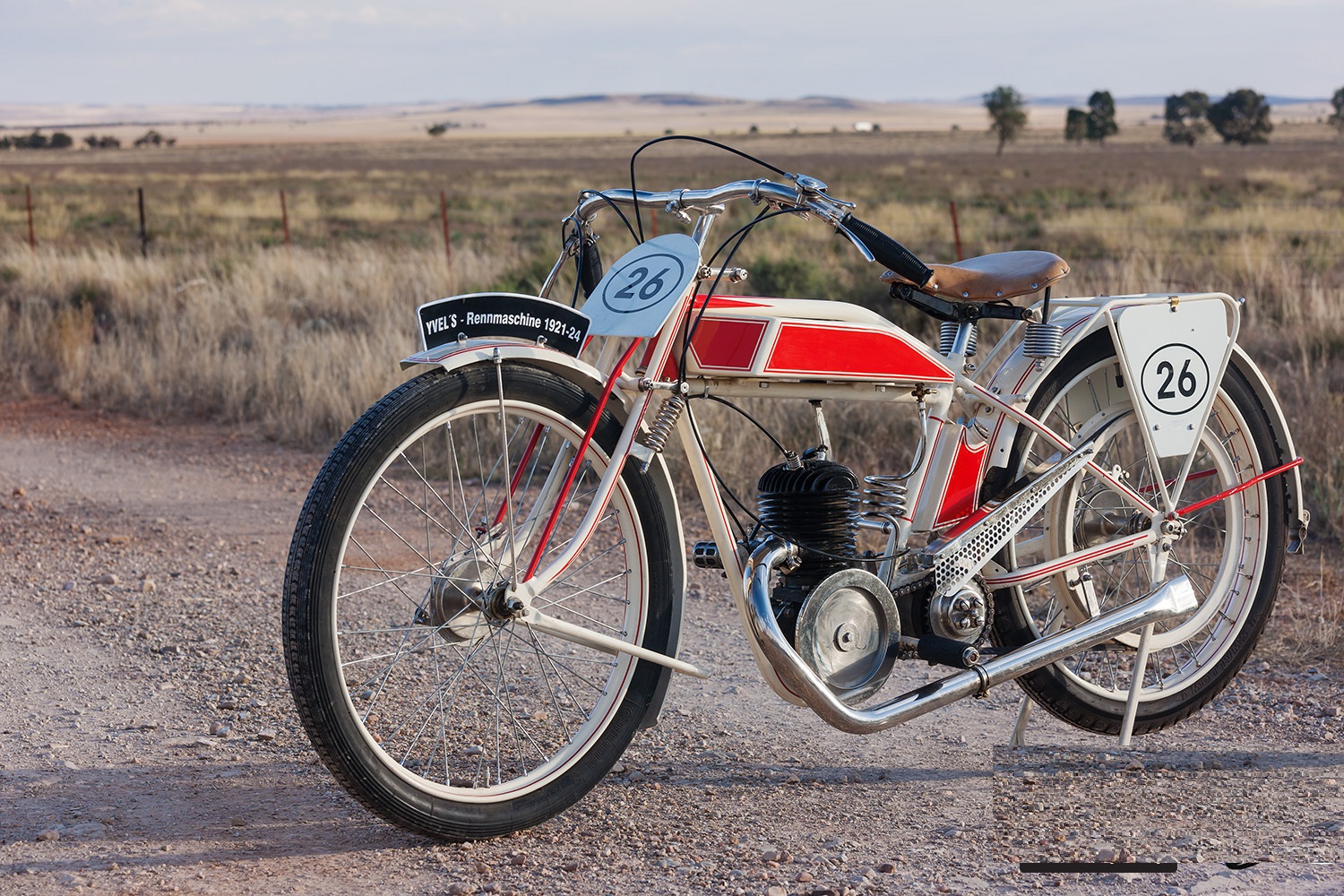 They were originally constructed to compete in the Grand Prix I'ACF of 1921 (in which the rider Vernise finished 9th and last in the 250 class, one hour & nine minutes behind the winner).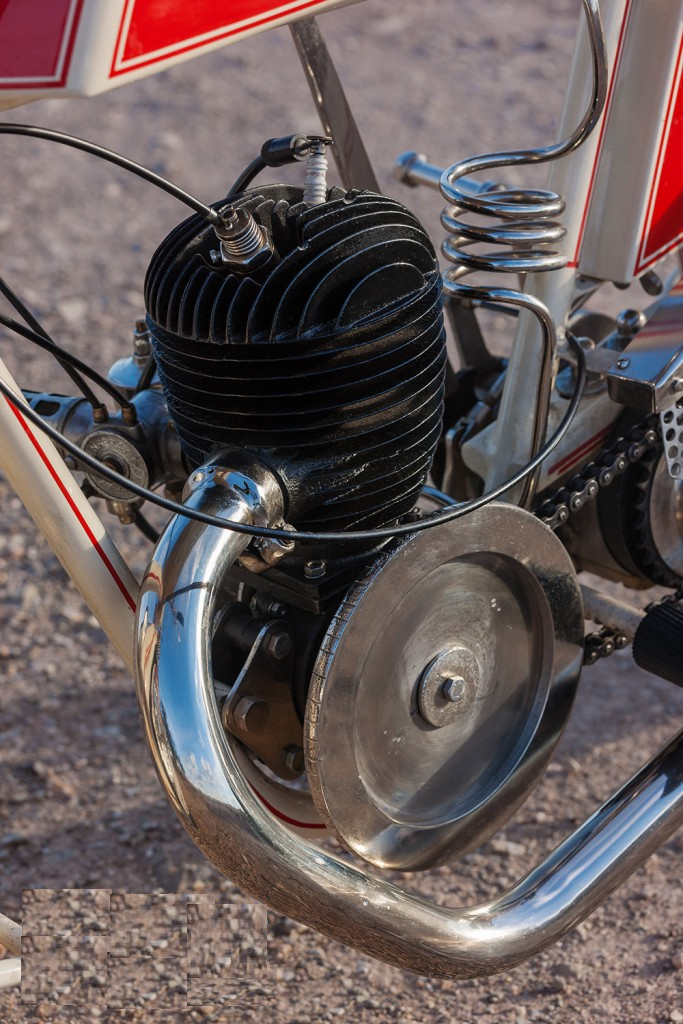 The two speed 2-stroke used 1:25 oil/petrol mixture and made 8.5hp. Top speed of 90kph.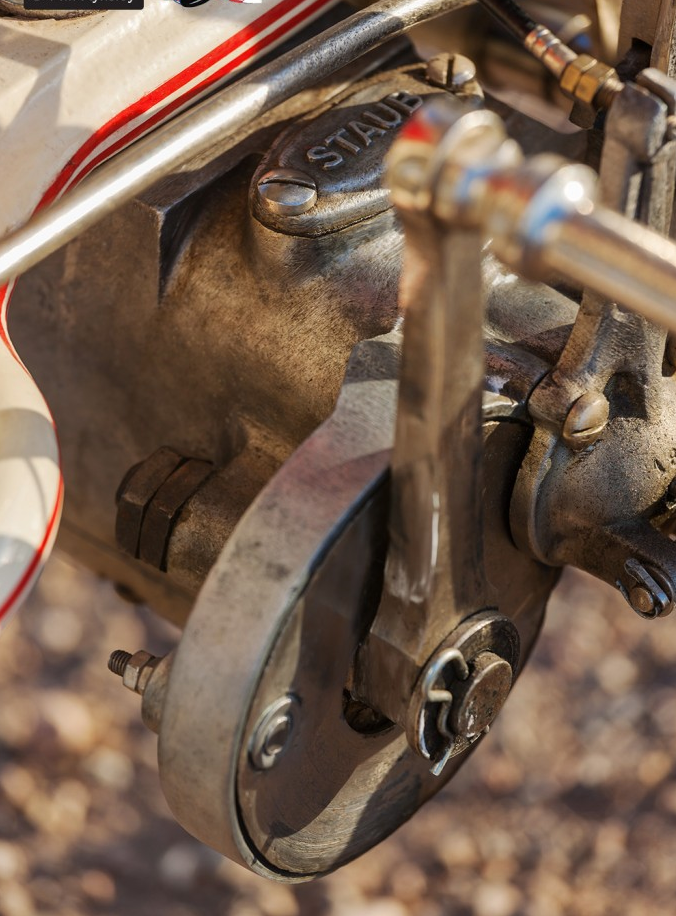 I'm almost sure that BILLY LANE himself would be mad about this red tires French boardtrack racer!!!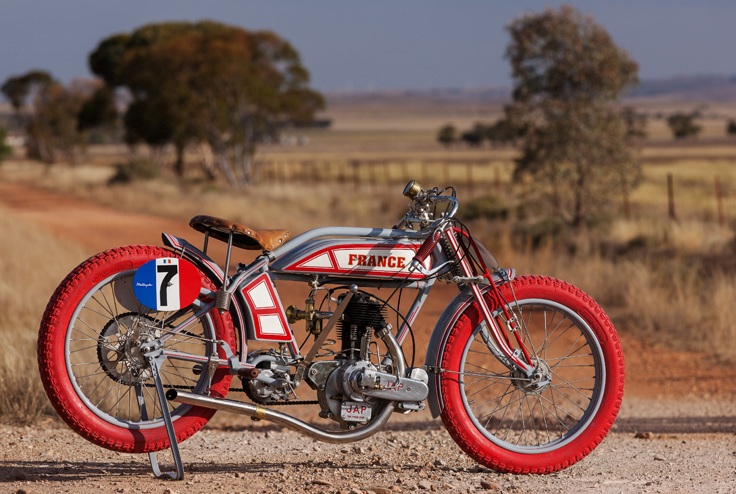 So, my American friend, next time you ride in Australia, you now know where you have to go …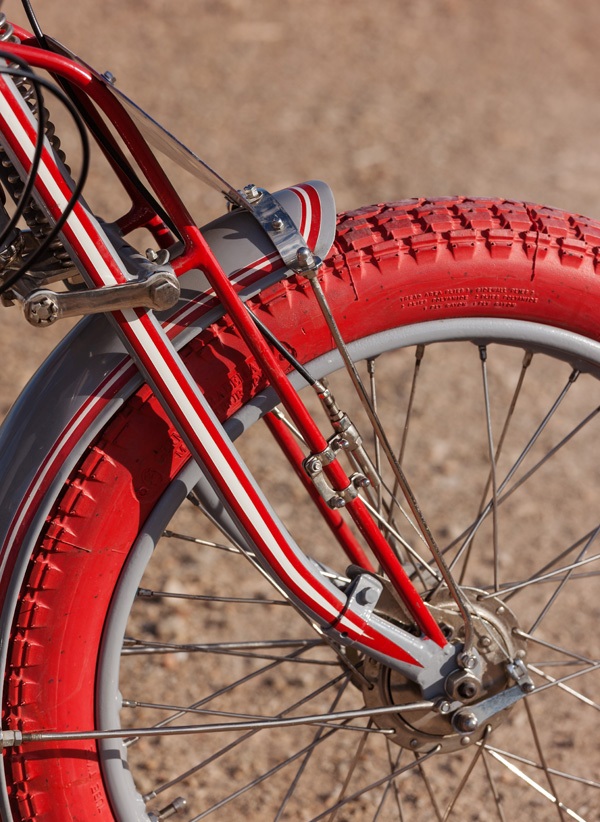 See ya soon on the road, who knows?
Hervé, your French biker friend.