Story and Photos by ITN European Reporter Herve' Rebollo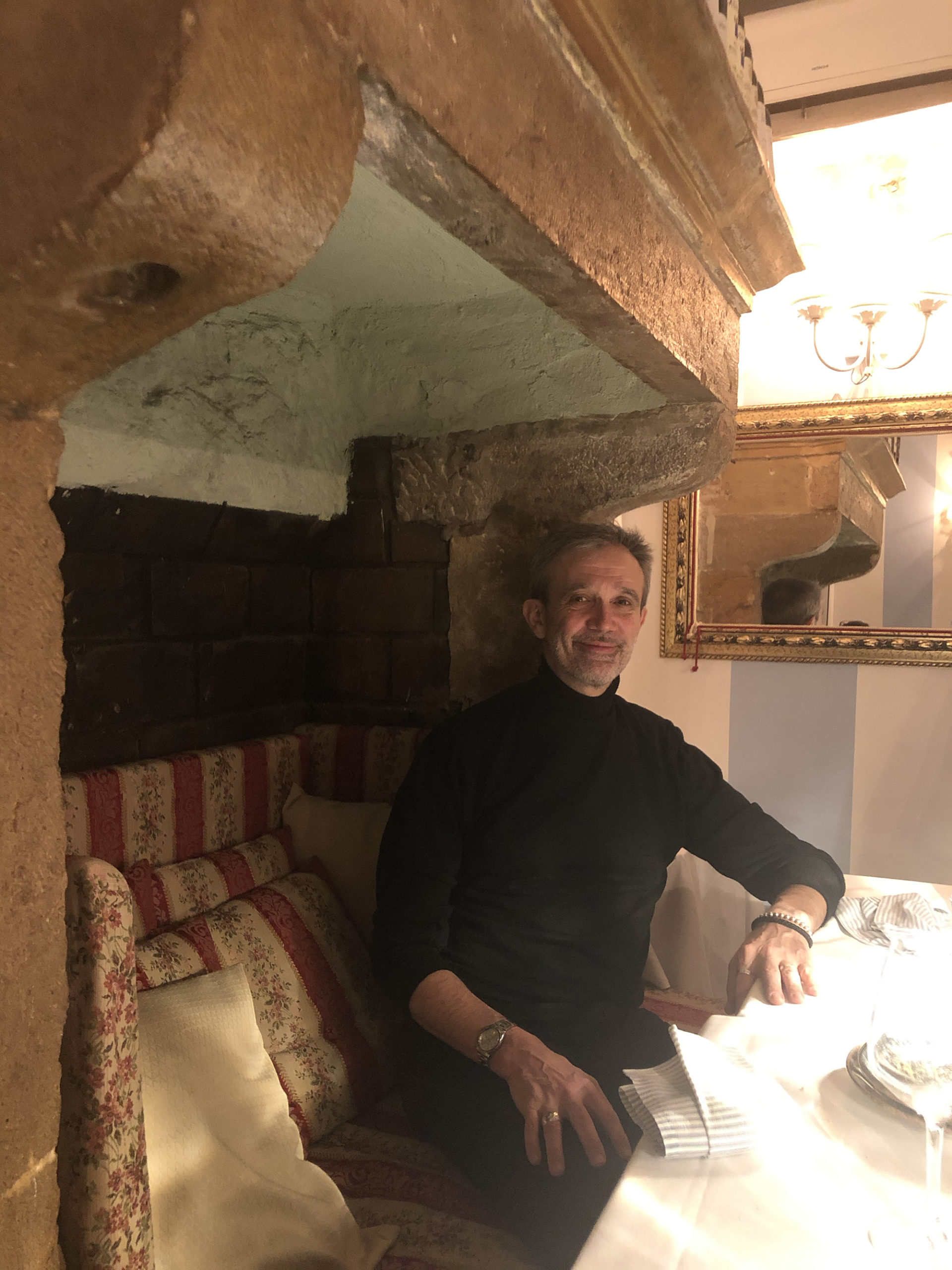 Salut à toi American rider,
In this confined Europe / France, if it's still not possible to ride, at least we can talk / dream about this motorcycle world we love so much … Today, let me introduce to your knowledge an amazing young French artist, a future great, that I didn't meet on the road but …on Instagram. And lucky me, after some emails, this pleasant young lady sent me her press kit and has accepted that I write some lines about her artwork.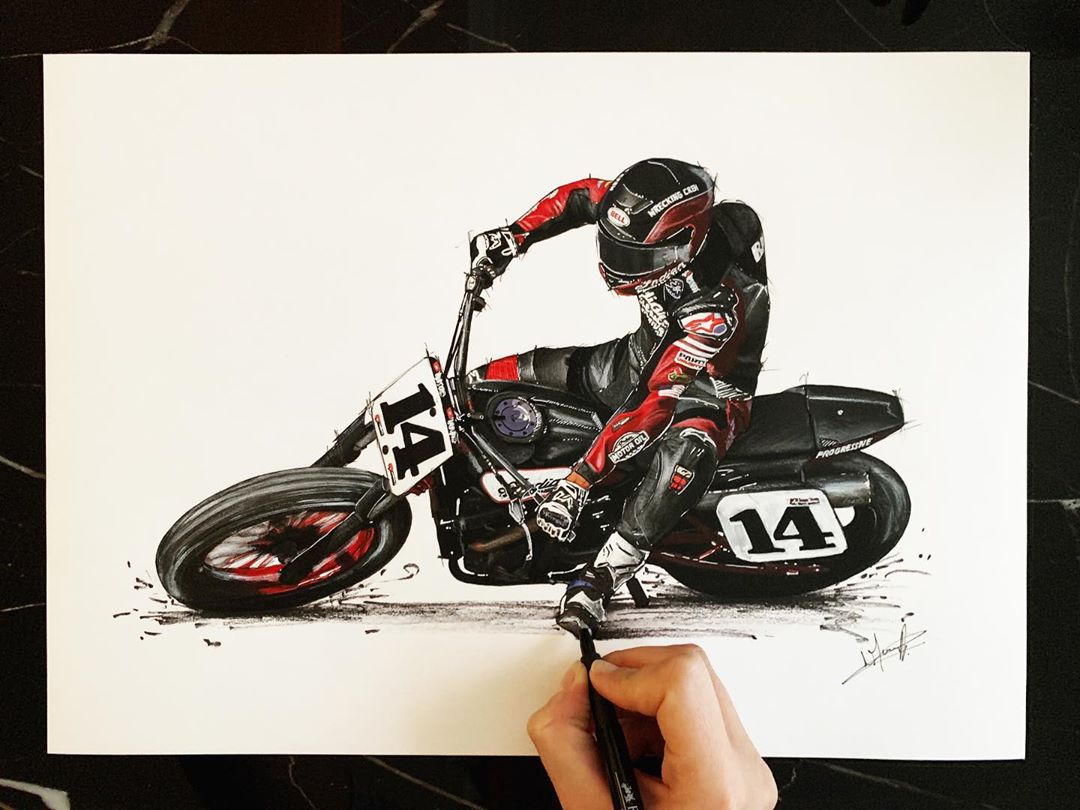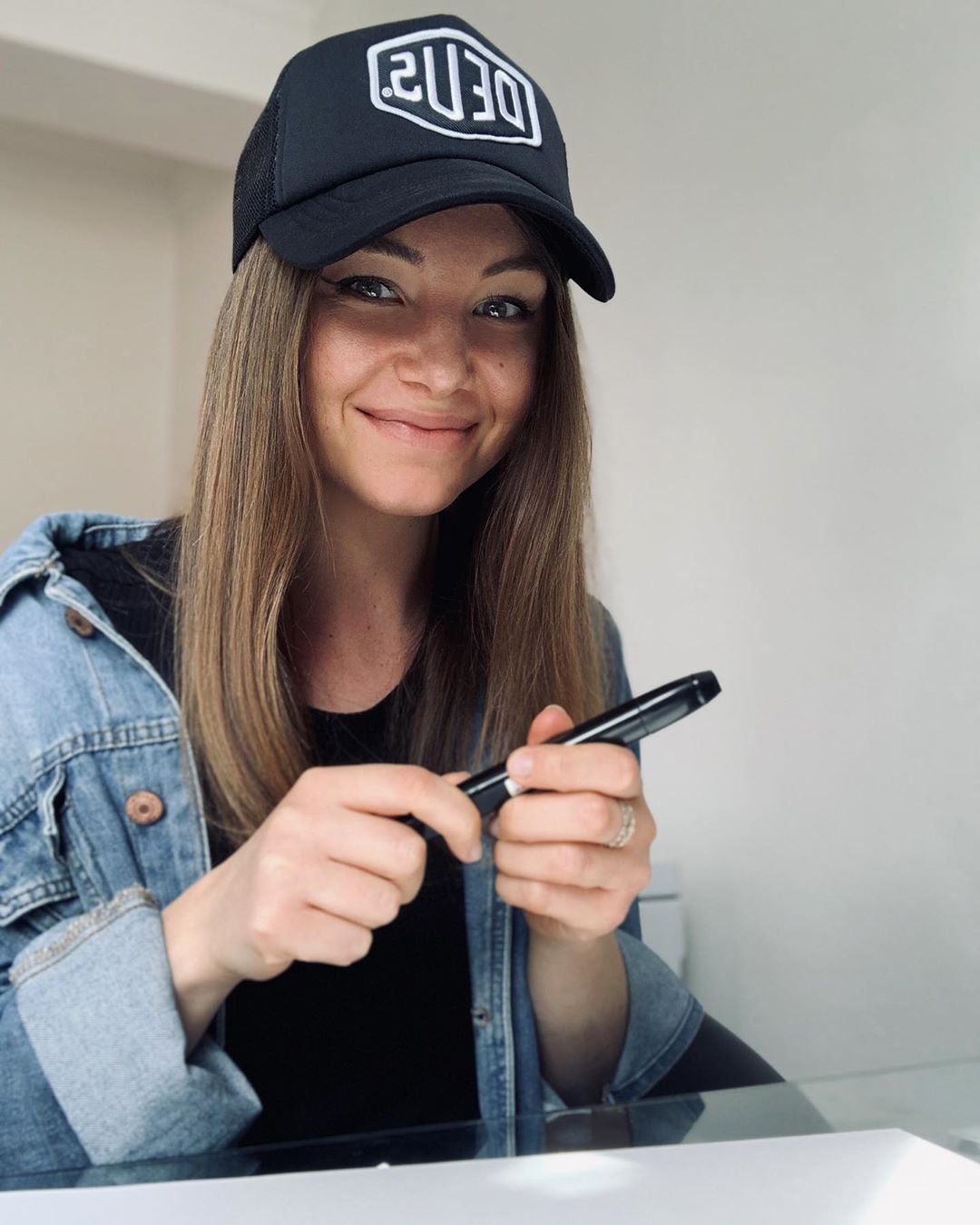 Her name is Noémie MARMORAT, she is 26 years old and she is a product designer and artist in the motorcycle and automotive world. Passionate about drawing since she was very young, she studied applied arts to become a product designer. Noemie is from Macon – France, county of Burgundy (a city in east-central France, home to near 34,000 residents, who are referred to in French as Mâconnais. The city gave its name to the nearby vineyards and wine 'appellation').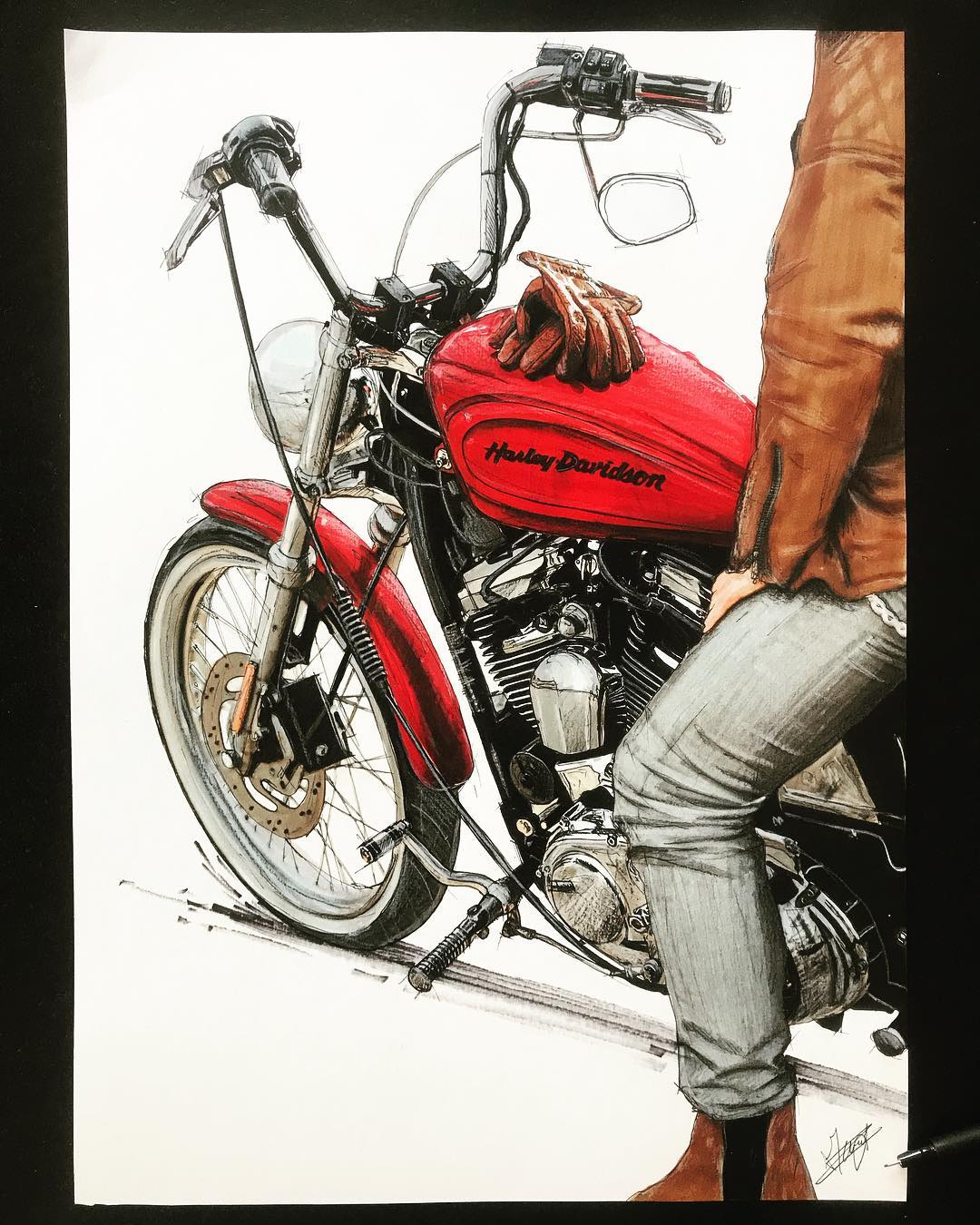 It's by becoming a designer that she became more interested in the world of cars and motorcycles. She comes from a biker family and she has always been passionate about this business.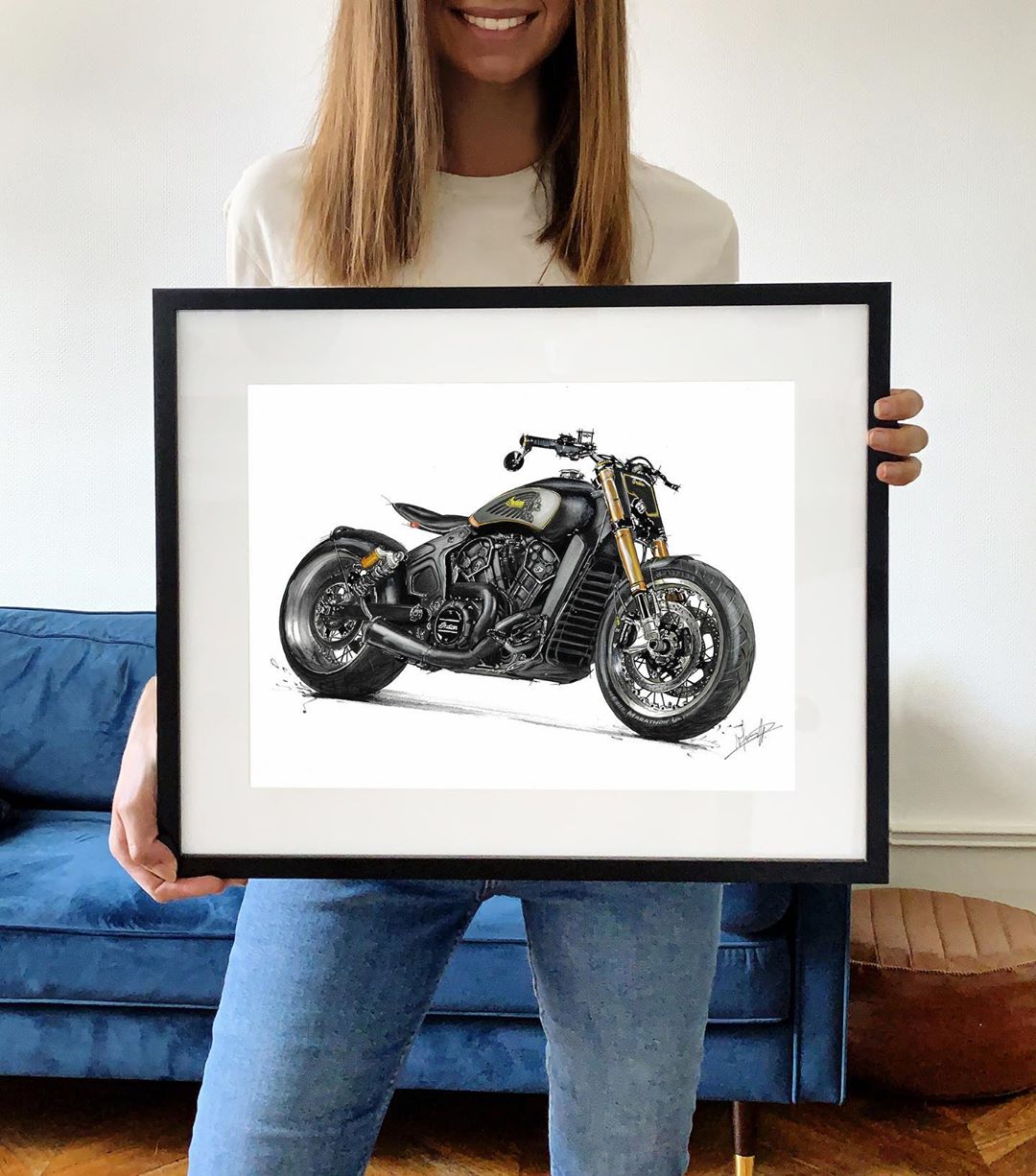 When her twin brother got his first motorcycle, he asked her to draw him, it was a Kawasaki ninja 300. She has never drawn a motorcycle before.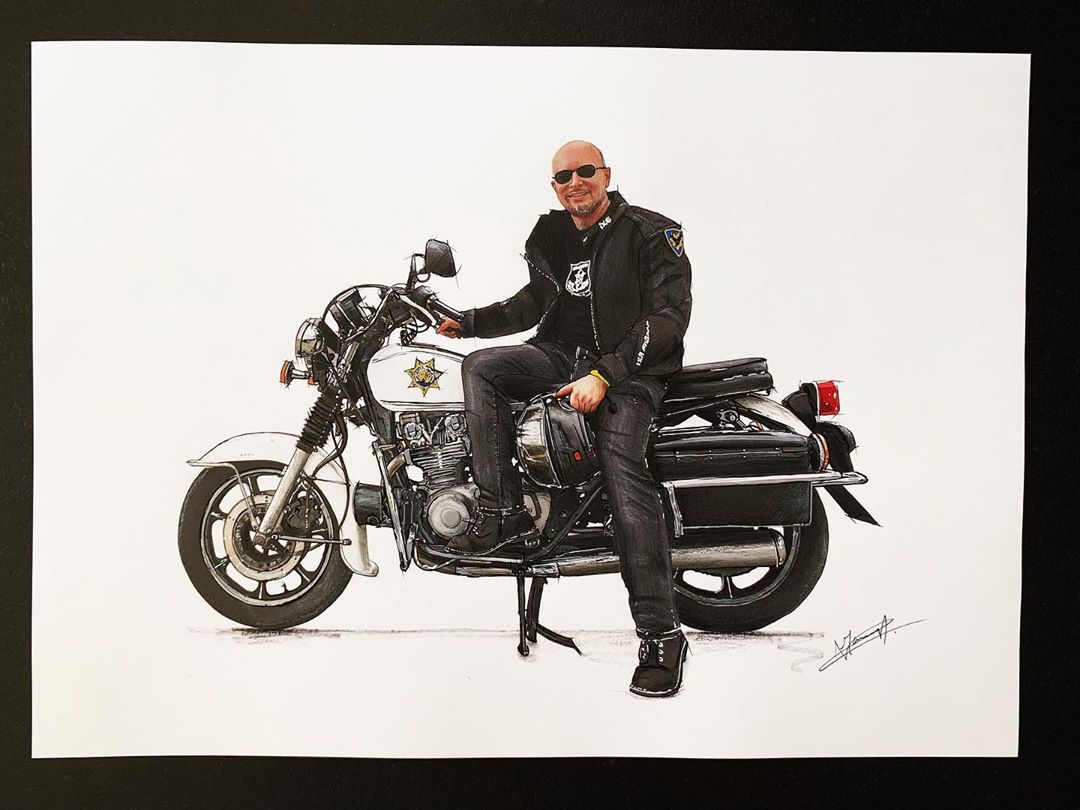 Finding that the result was quite satisfying, she started drawing some motorcycles and cars for fun and posting them on social networks.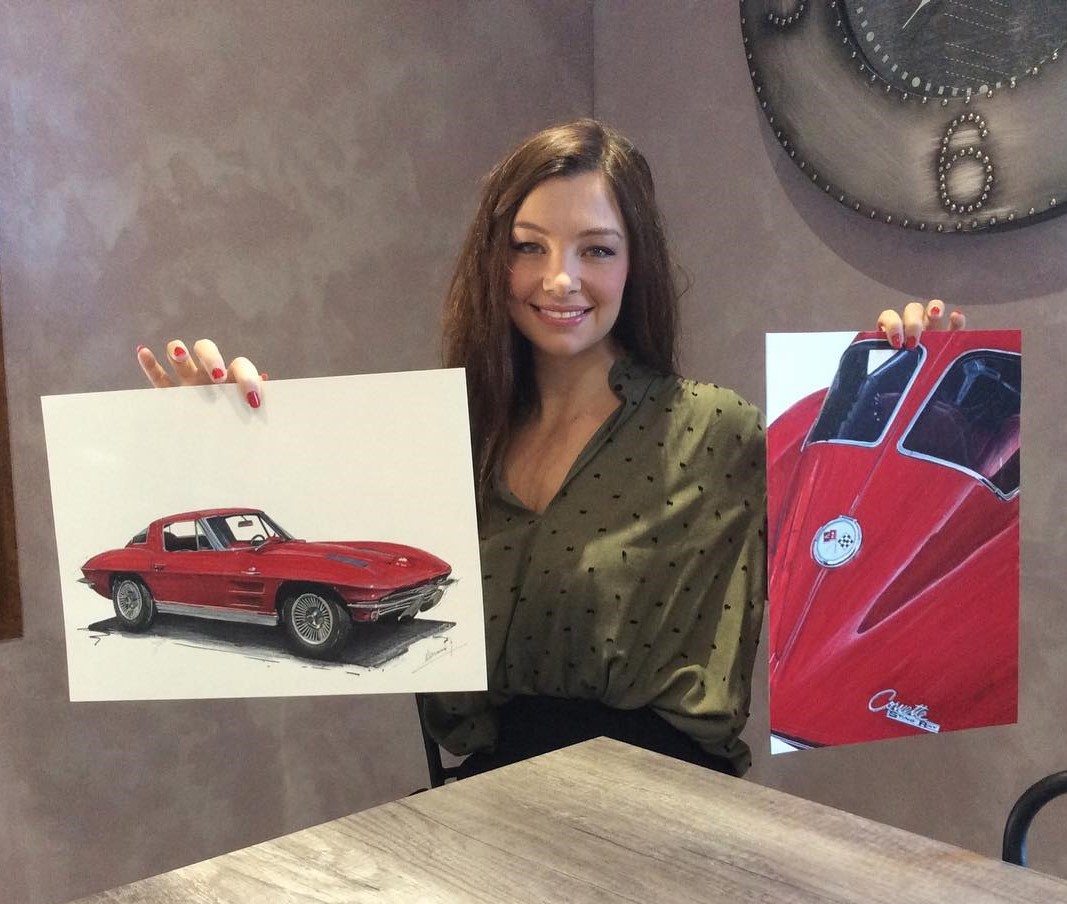 People started to follow her work and contact her to draw their motorcycles or cars. From that moment on, she combined my two greatest passions: motorcycling and drawing.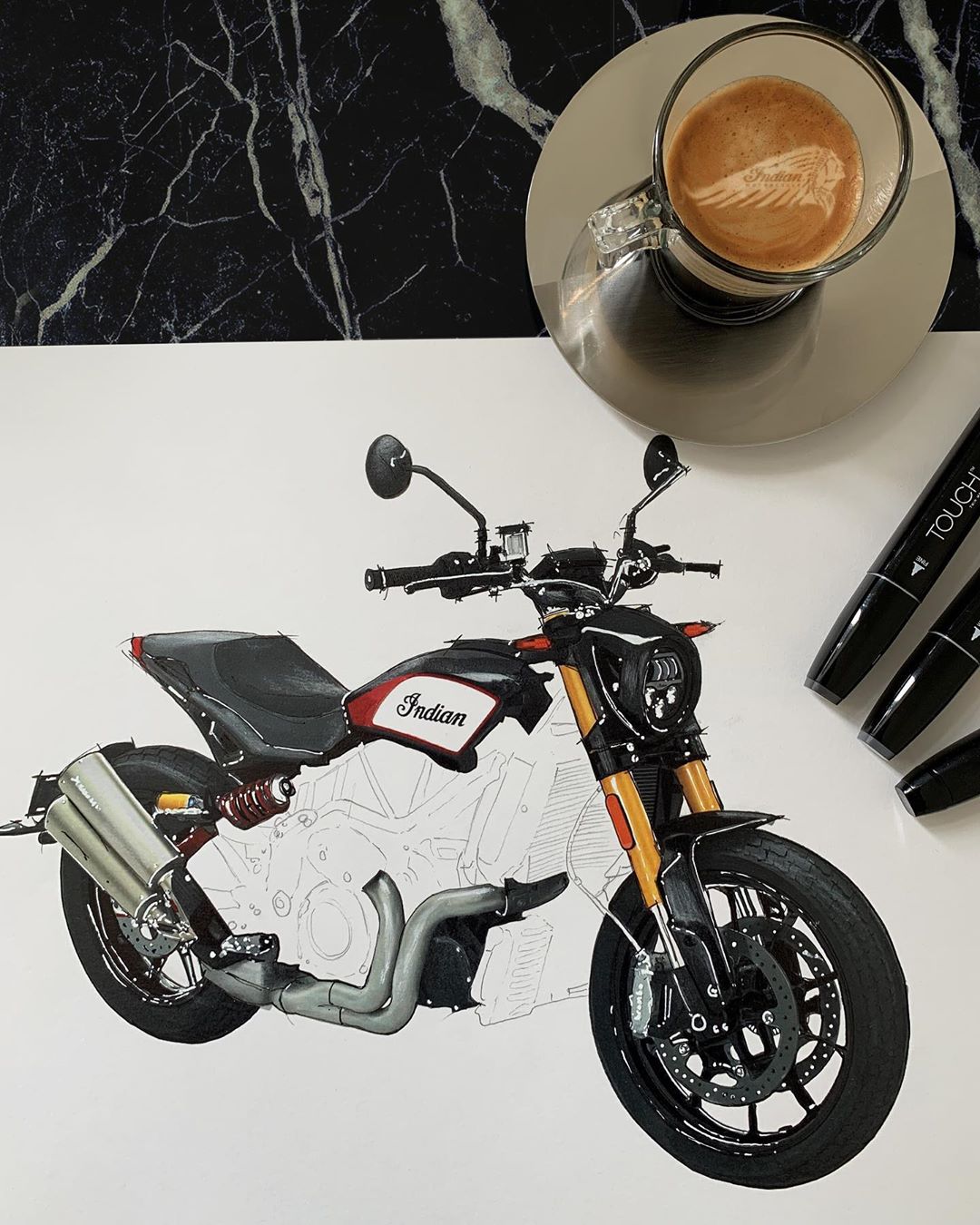 GASOLINE MAAB, under this nickname, which is meant to be both a feminine nickname and a reference to motor sports, hides a young woman with a good pencil stroke and an assertive style (MAAB for: Motorcycle/ Automotive/Aviation/Boat).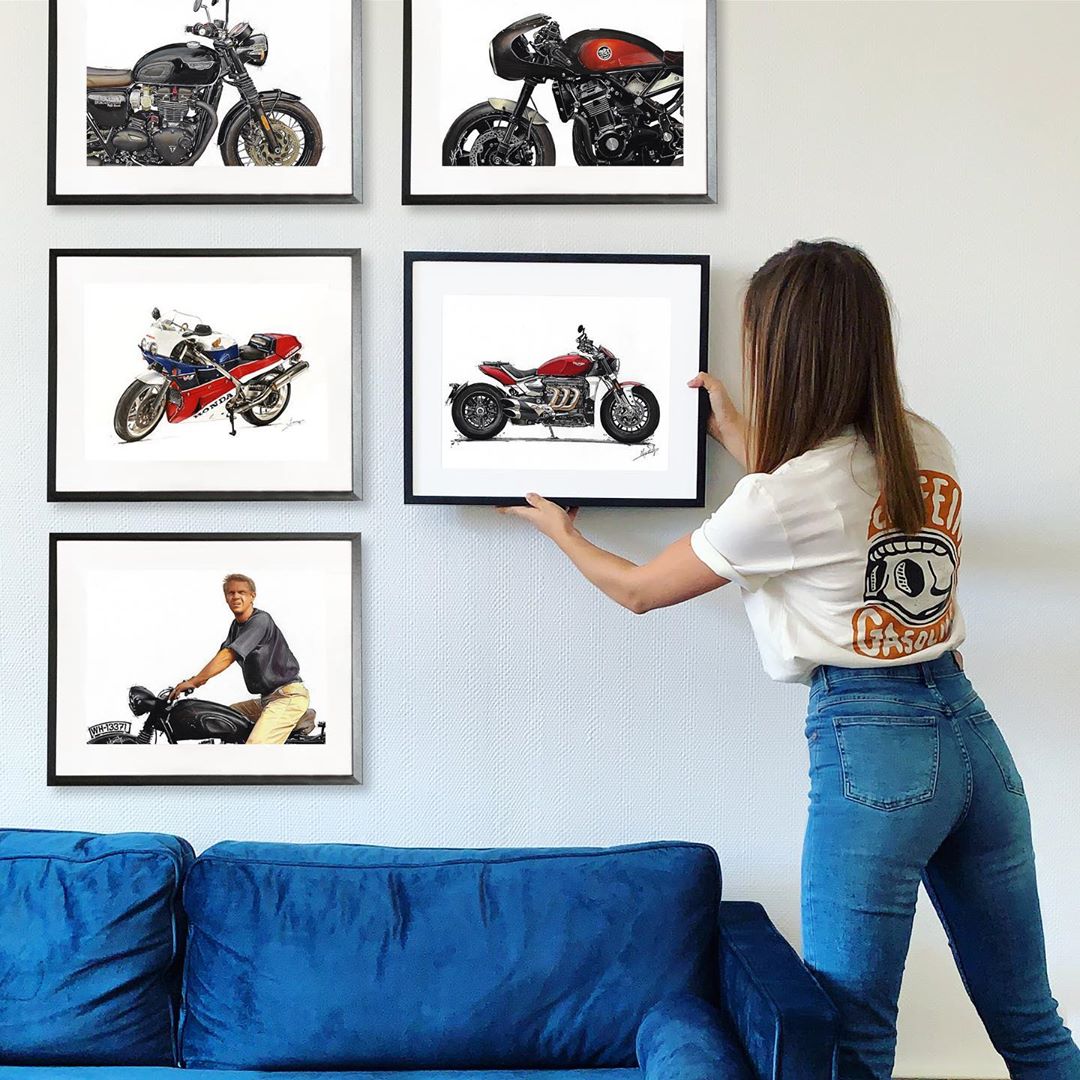 When she was little, she says, we all tried our hand at drawing timidly with pencil crayons or, more frankly, with felttip pens and coloured pencils.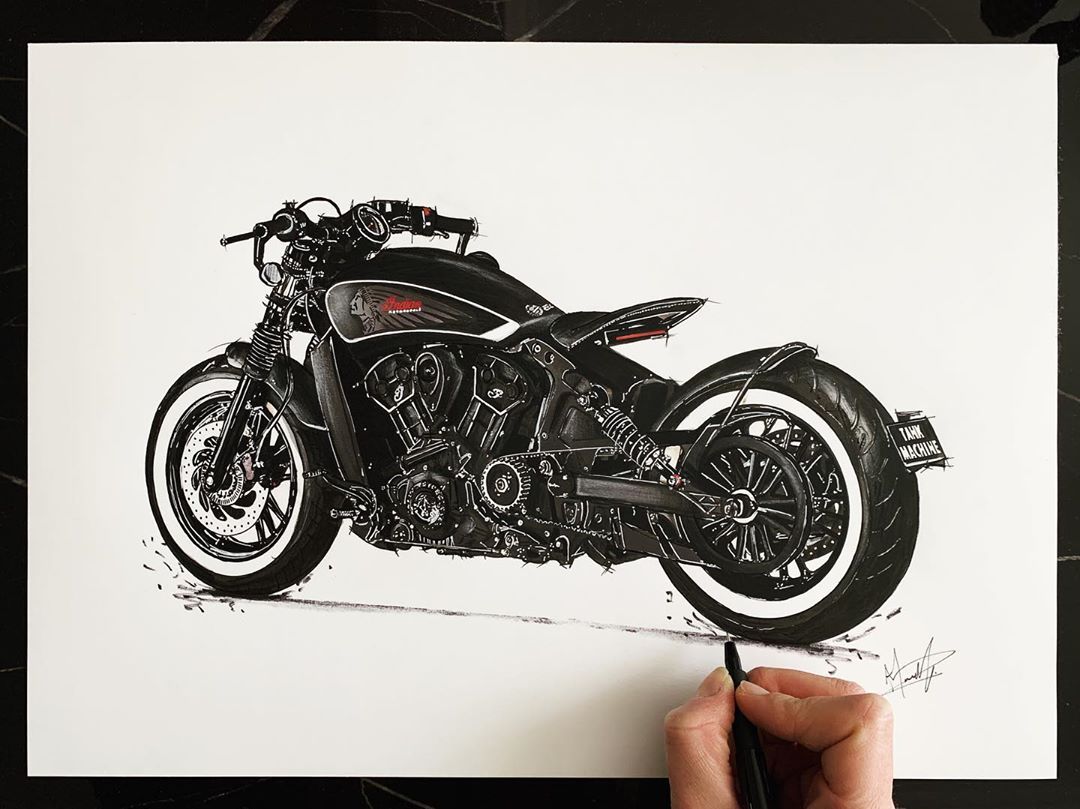 And then there are those who have acted out that the drawing was not meant for them. She is one of those people who never really let go of the pencil.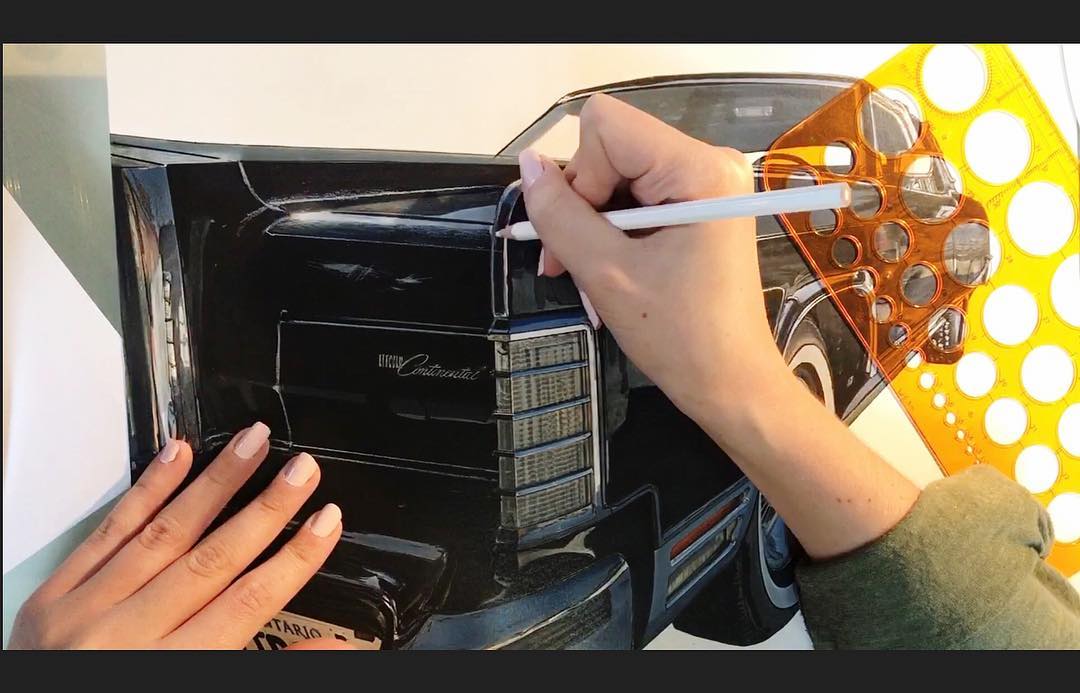 In fact, unlike most people, she just kept drawing as she grew up, it developed her sense of observation.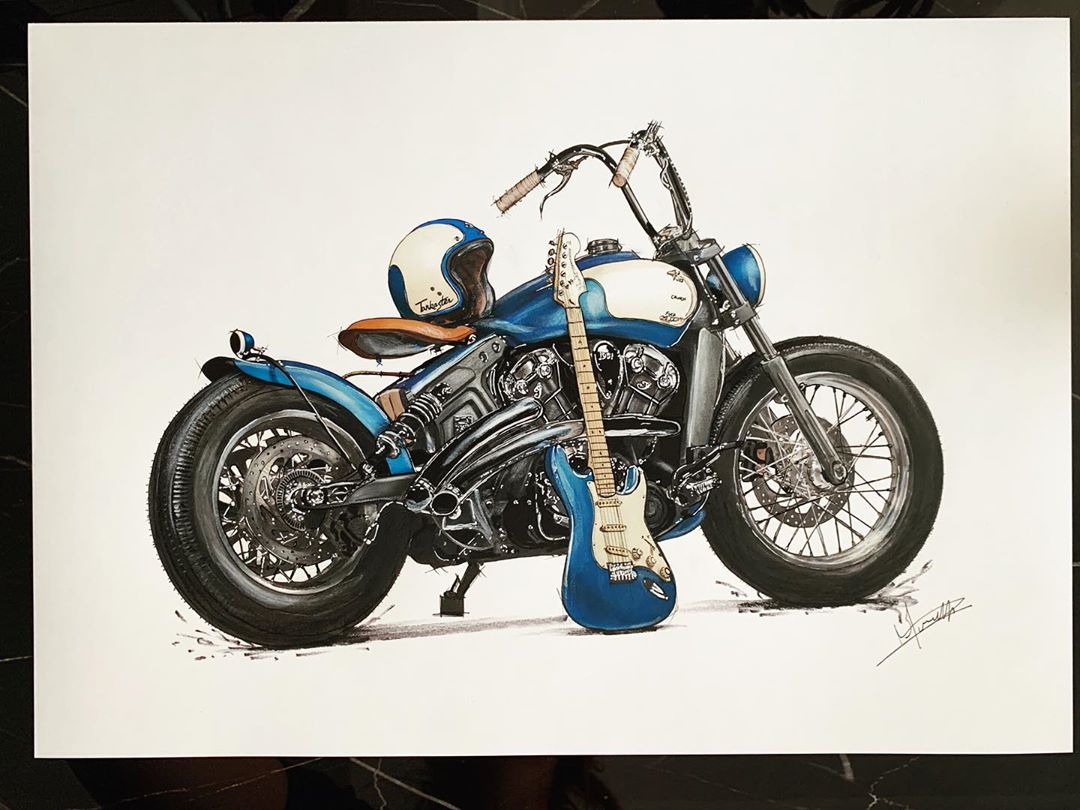 Whatever the artistic environment in which one evolves, it seems important to her to develop one's sensibility and one's line with «classic»; manual tools while being aware of the possibilities offered by digital today.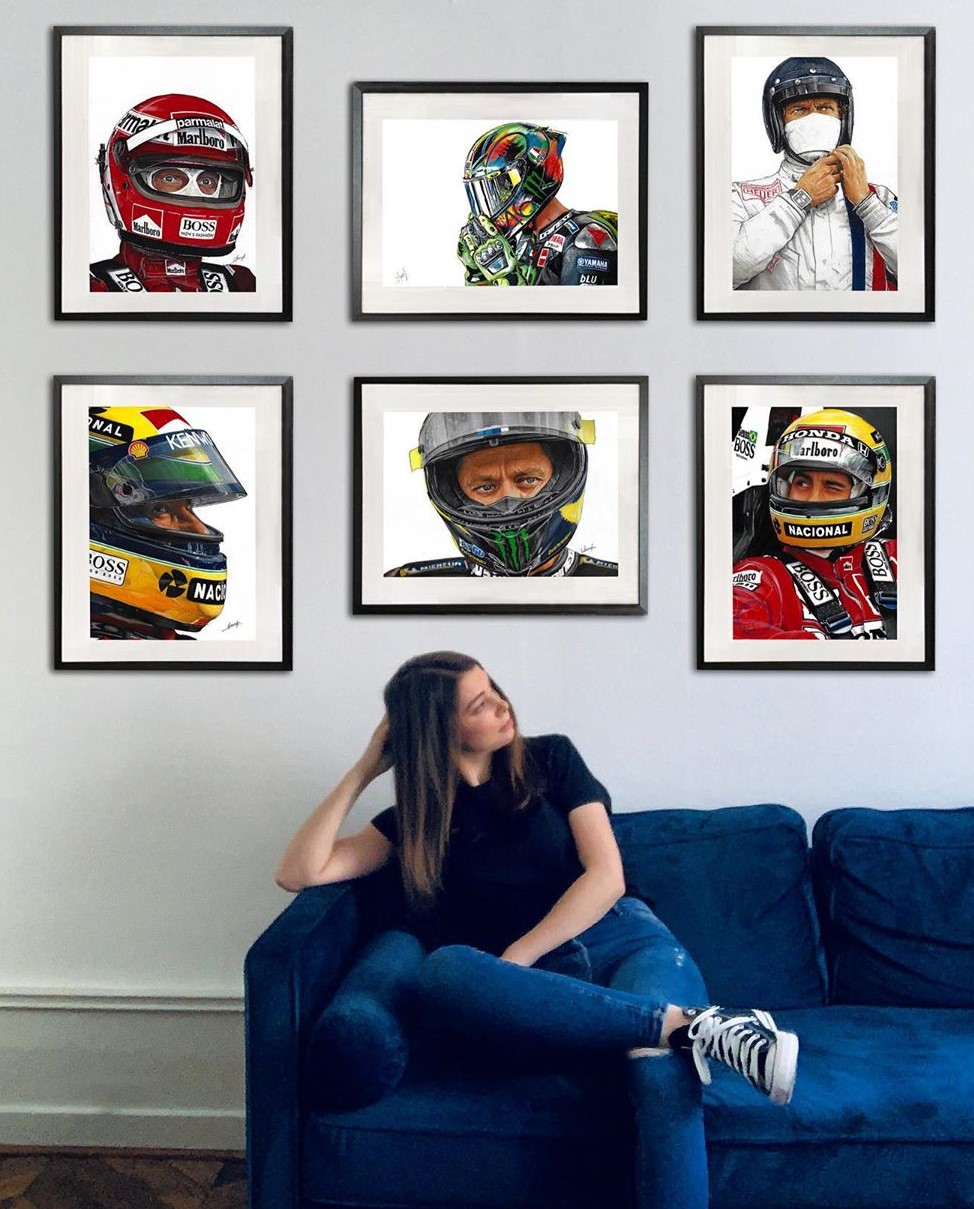 «I draw every day and I see my line change, I still have a lot of things to learn, it's endless and that's probably what I like the most».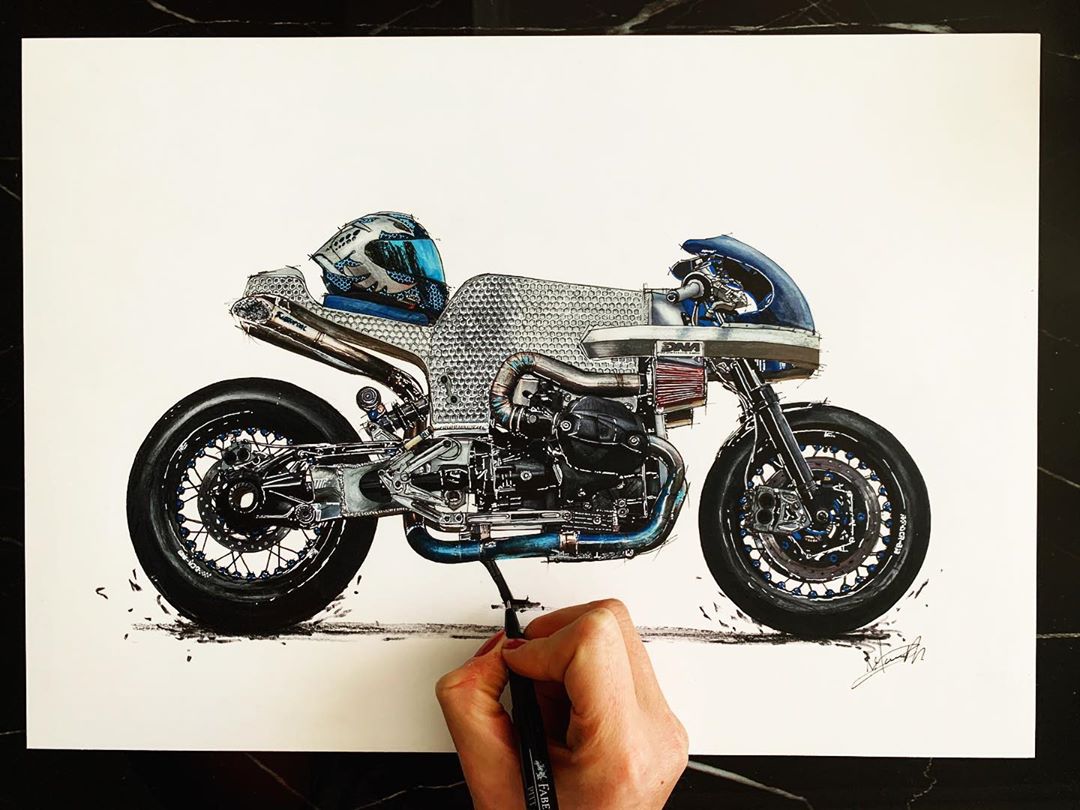 She mainly use promarkers and crayons. Recently the posca, to accentuate the light and give even more relief to certain parts/parts of the car and motorcycle.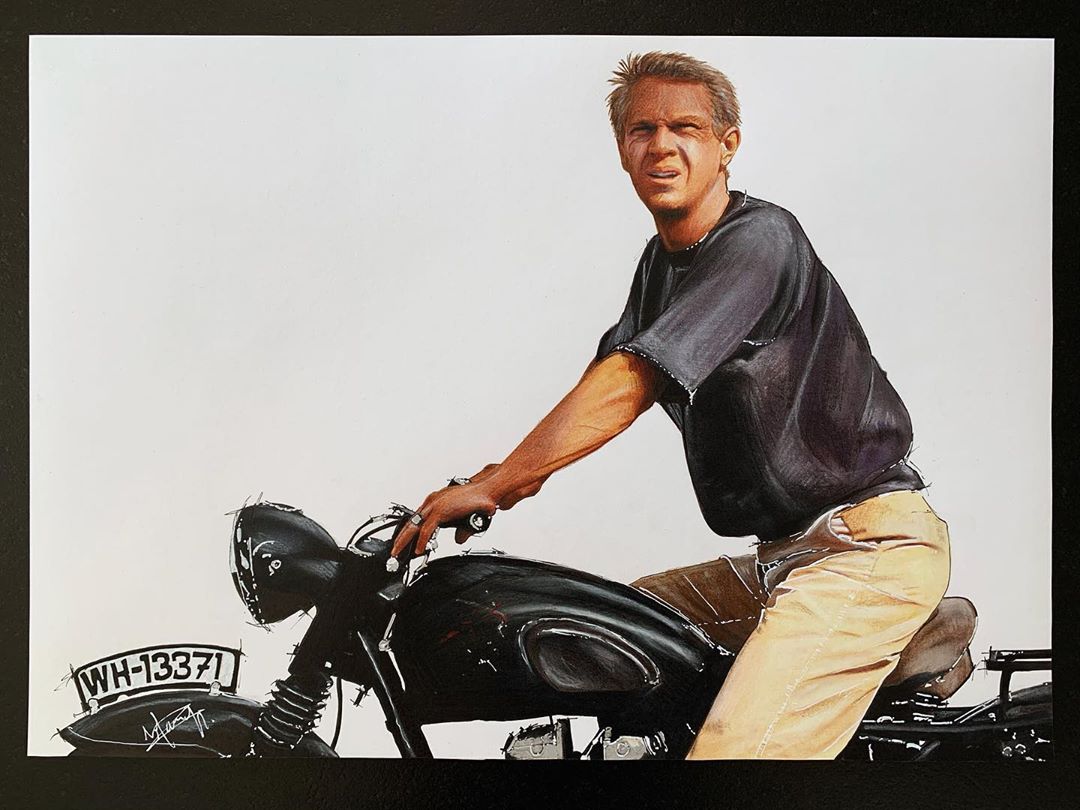 Her style of drawing wants to be as close as possible to reality. Through observation and reflection, she was able to understand how light interacts with materials.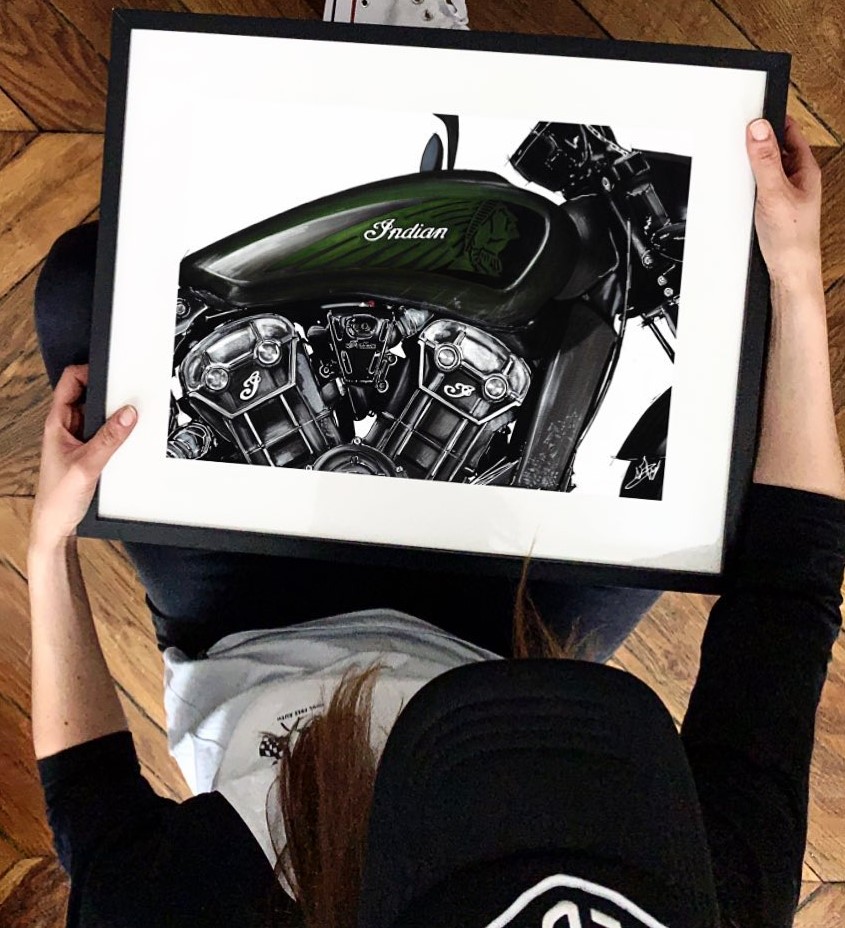 Her goal for each work is to make it difficult to discern between the drawing and the object.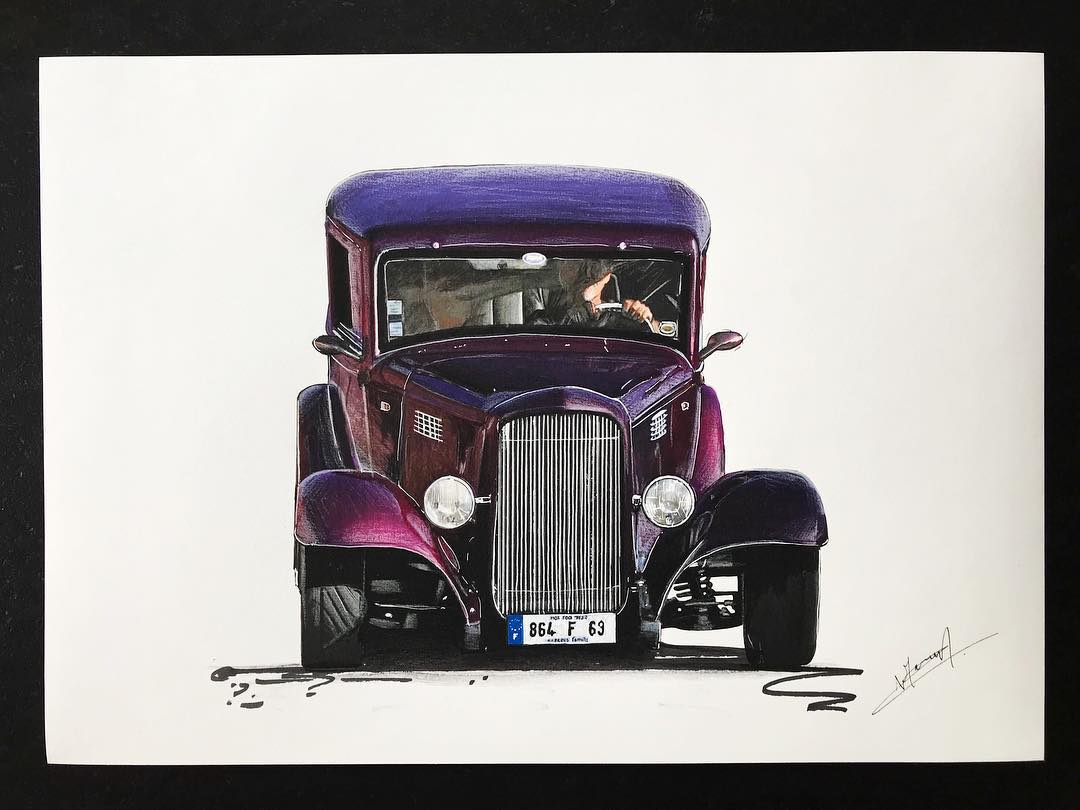 Depending on the model, she spend between 10/20 hours on each drawing to bring them to life.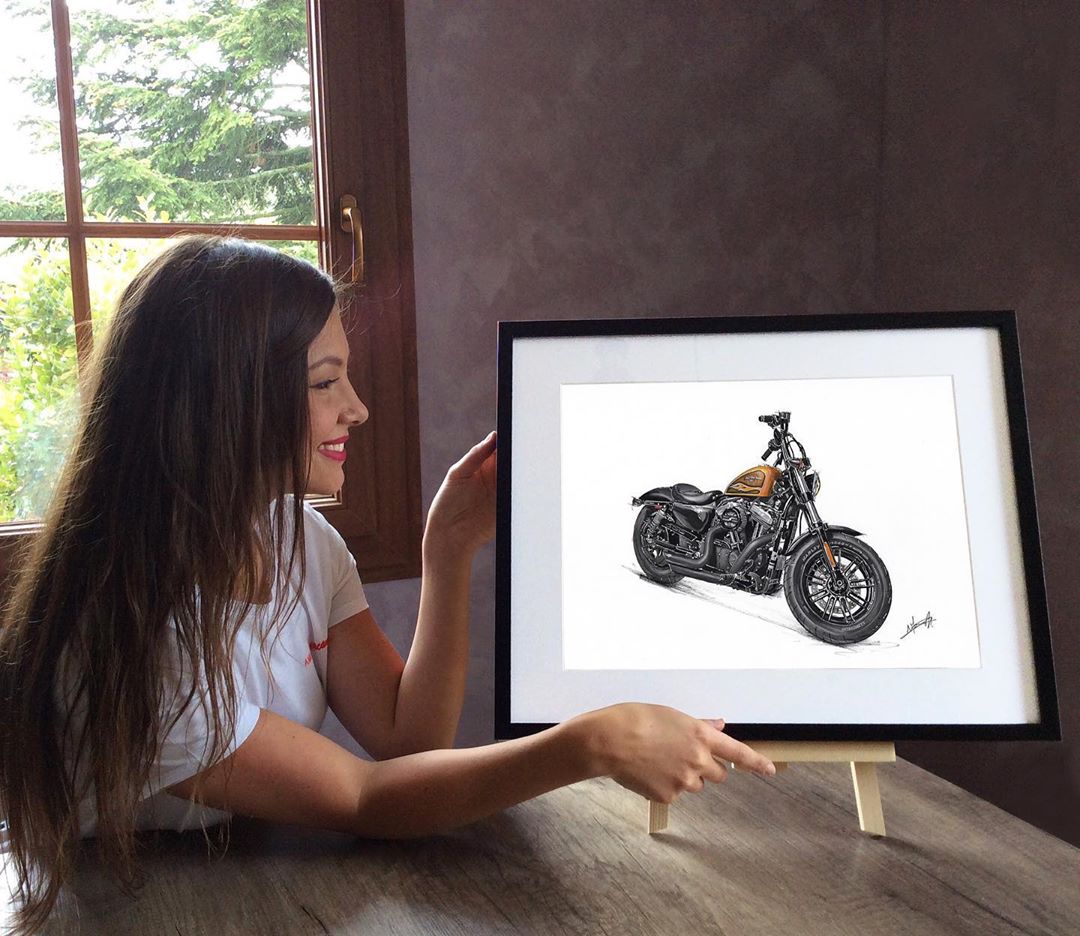 Today she makes the drawings on personal orders. Just send her a high definition picture of your car/motorcycle.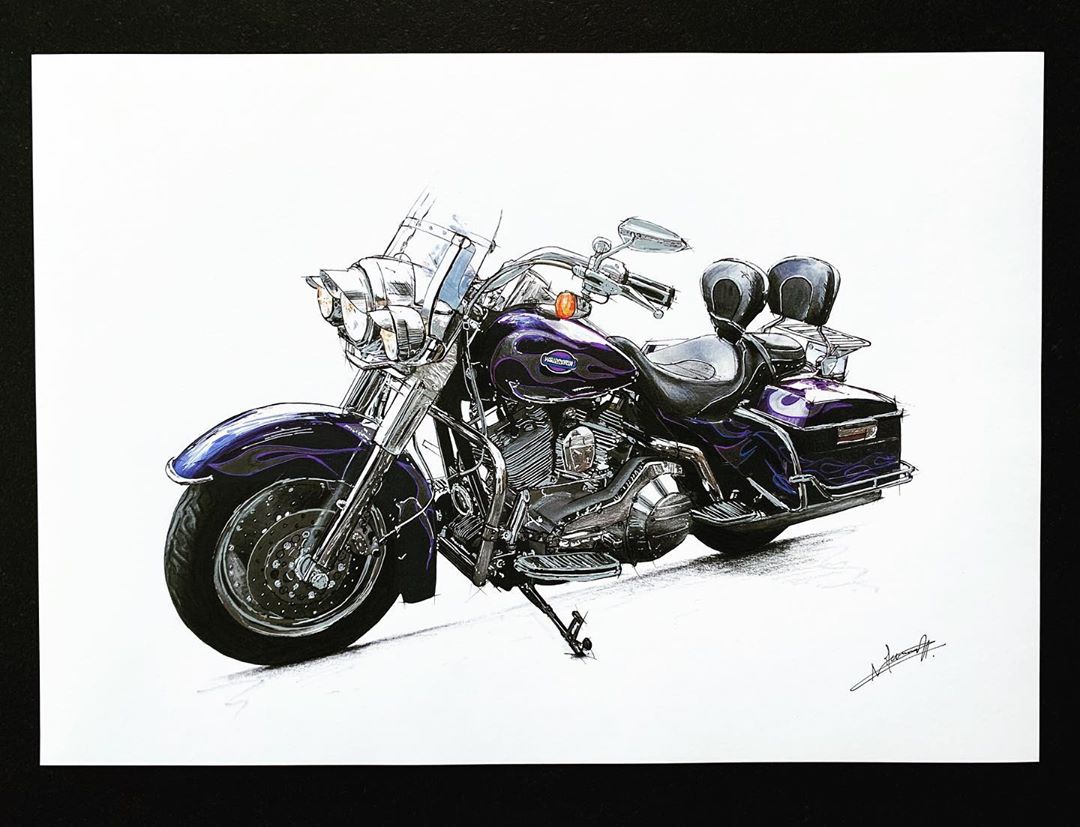 She plans to develop her business in the aviation and shipping sectors as well (Hence her artist name Gasoline MAAB – motorcycle/Automotive/ Aviation/boat).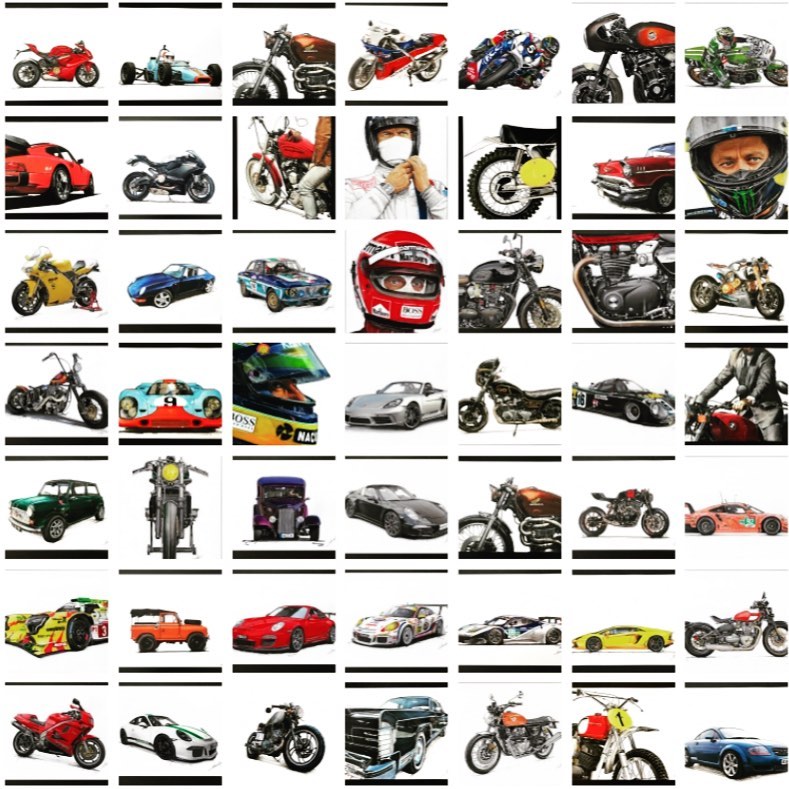 «Triumph was the first brand I worked with, first Triumph Switzerland and then Triumph France. I have exhibited for Triumph on many events such as the inauguration of the triple RS treet at Triumph Elysée motor in Paris, also for the Best of British in Paris and with Triumph Switzerland at the Ace cafe Luzern".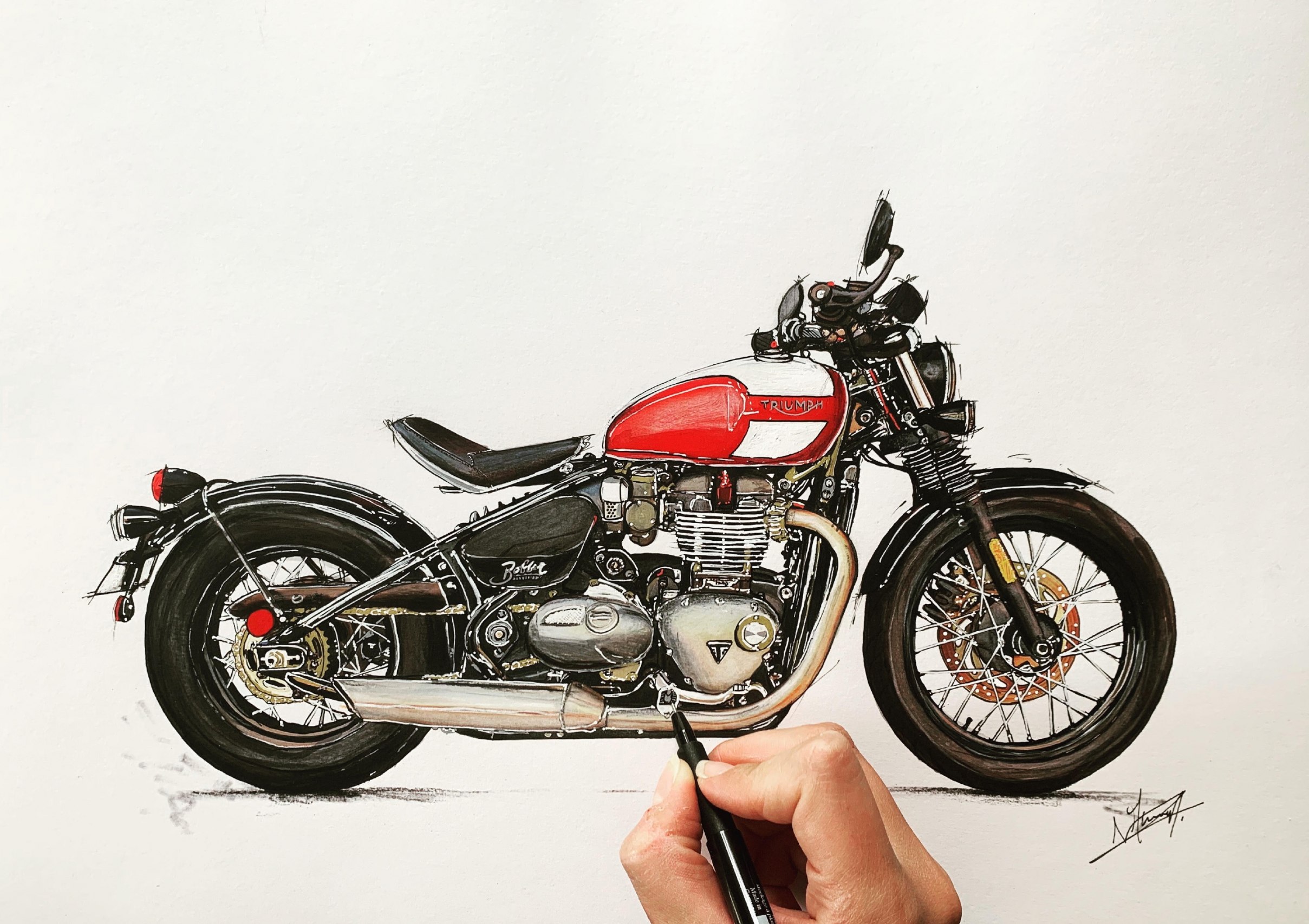 As a designer by profession, she worked for a few months in a company but she realized that she was missing the contact, the human adventures and the travels.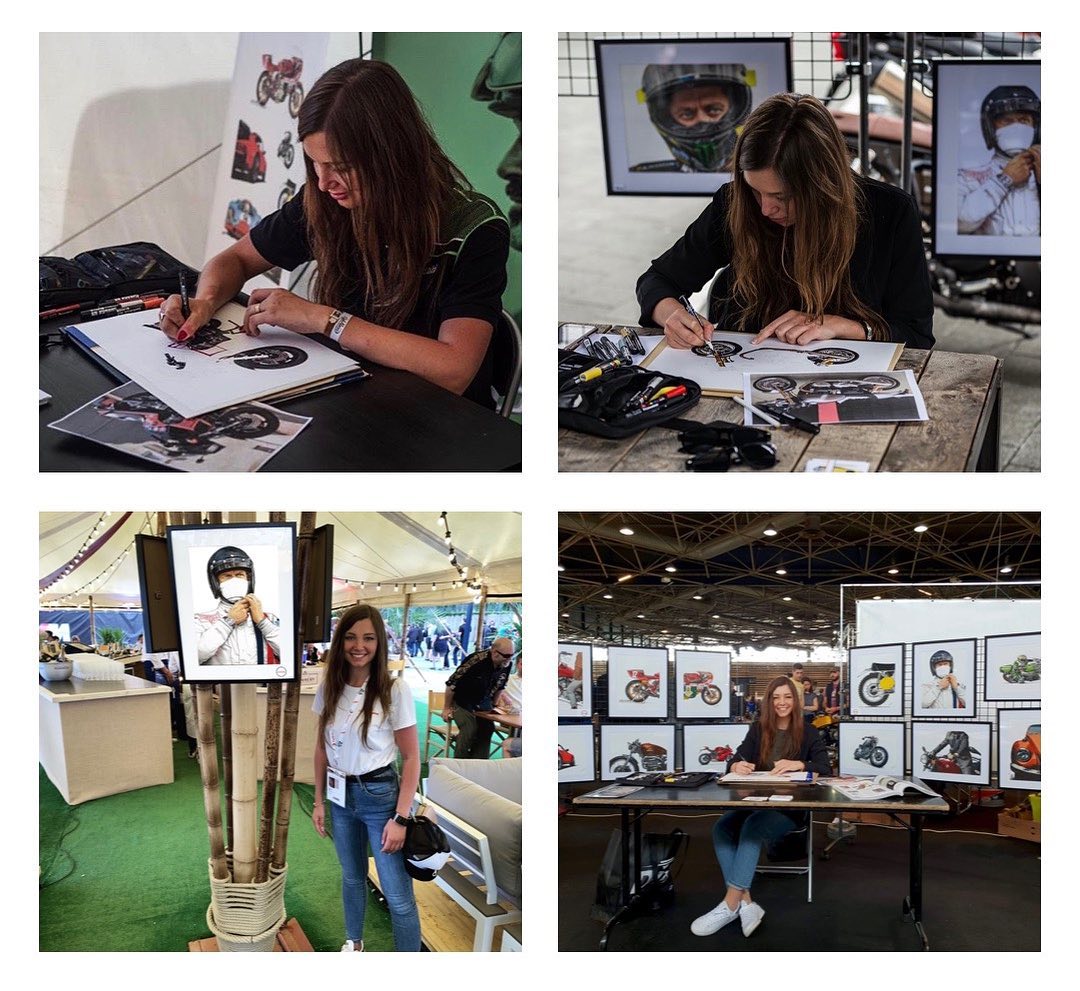 Since then, from magical encounters in heterogeneous places, she packs and unpacks her paintings every month (and sometimes more), and she enjoys this rich and nomadic life. She has many great joys, through the diversity of the places and the variety of people she meets.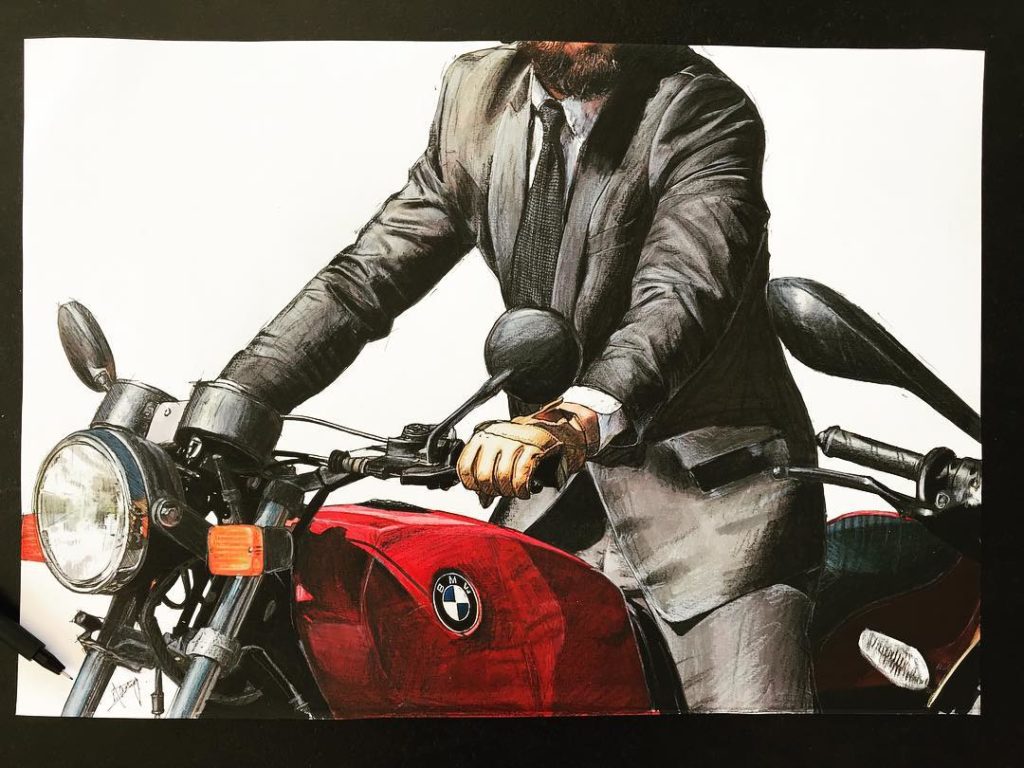 Exhibition at Indian Motorcycle Paris Etoile with Indian France for a VIP evening in the presence of the brand's greatest ambassadors.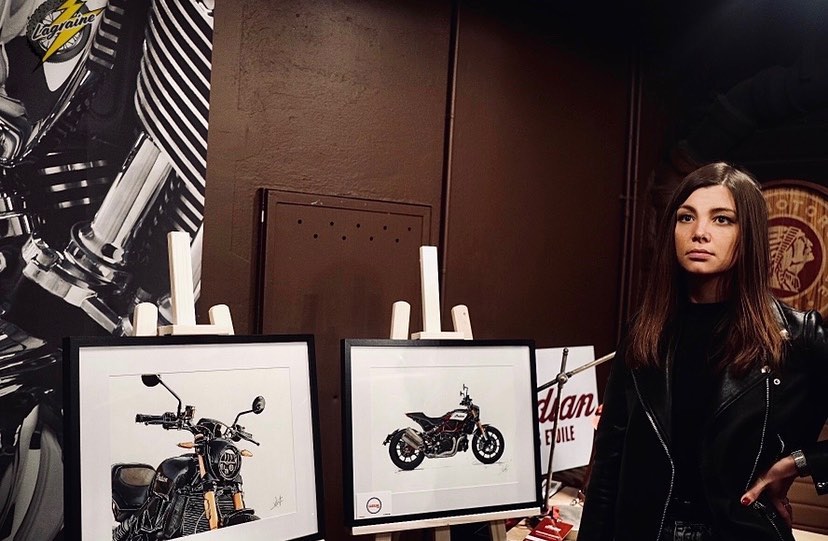 What started as a family service quickly became a small business. Trained as a designer, Noémie now makes a living from her mechanical art.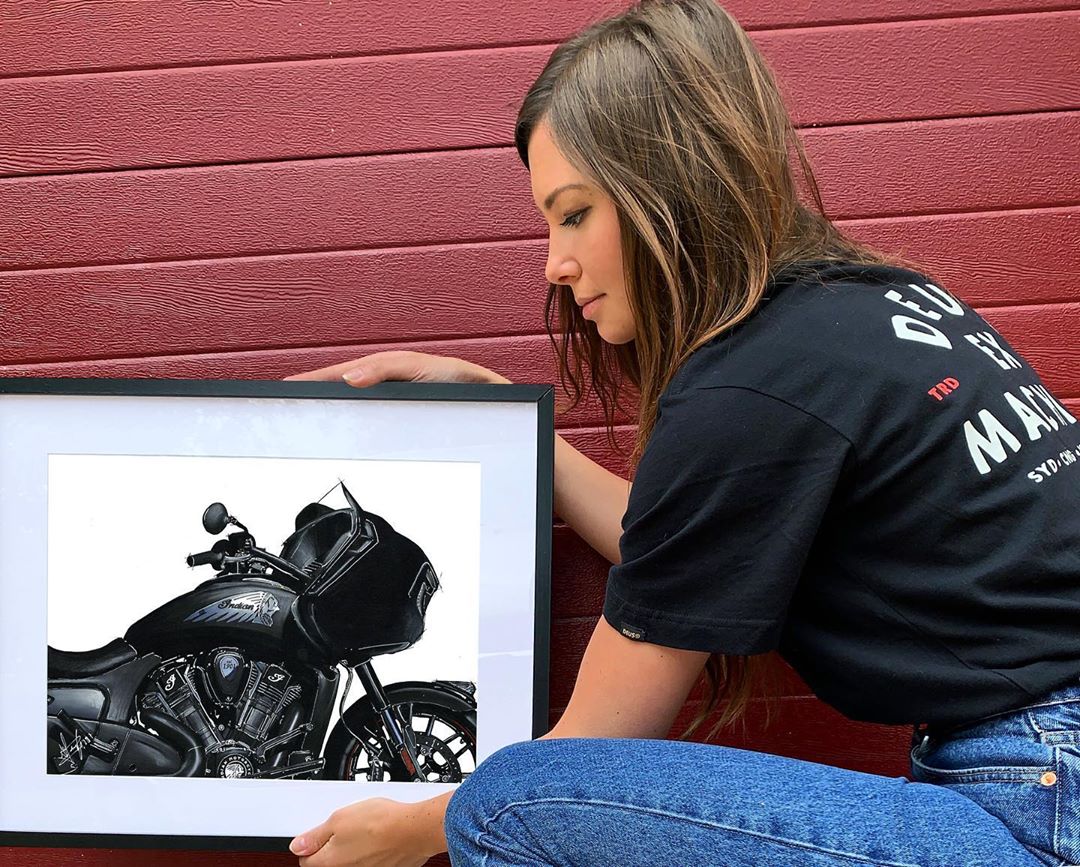 Do you want a personalized artwork for your car or motorcycle ?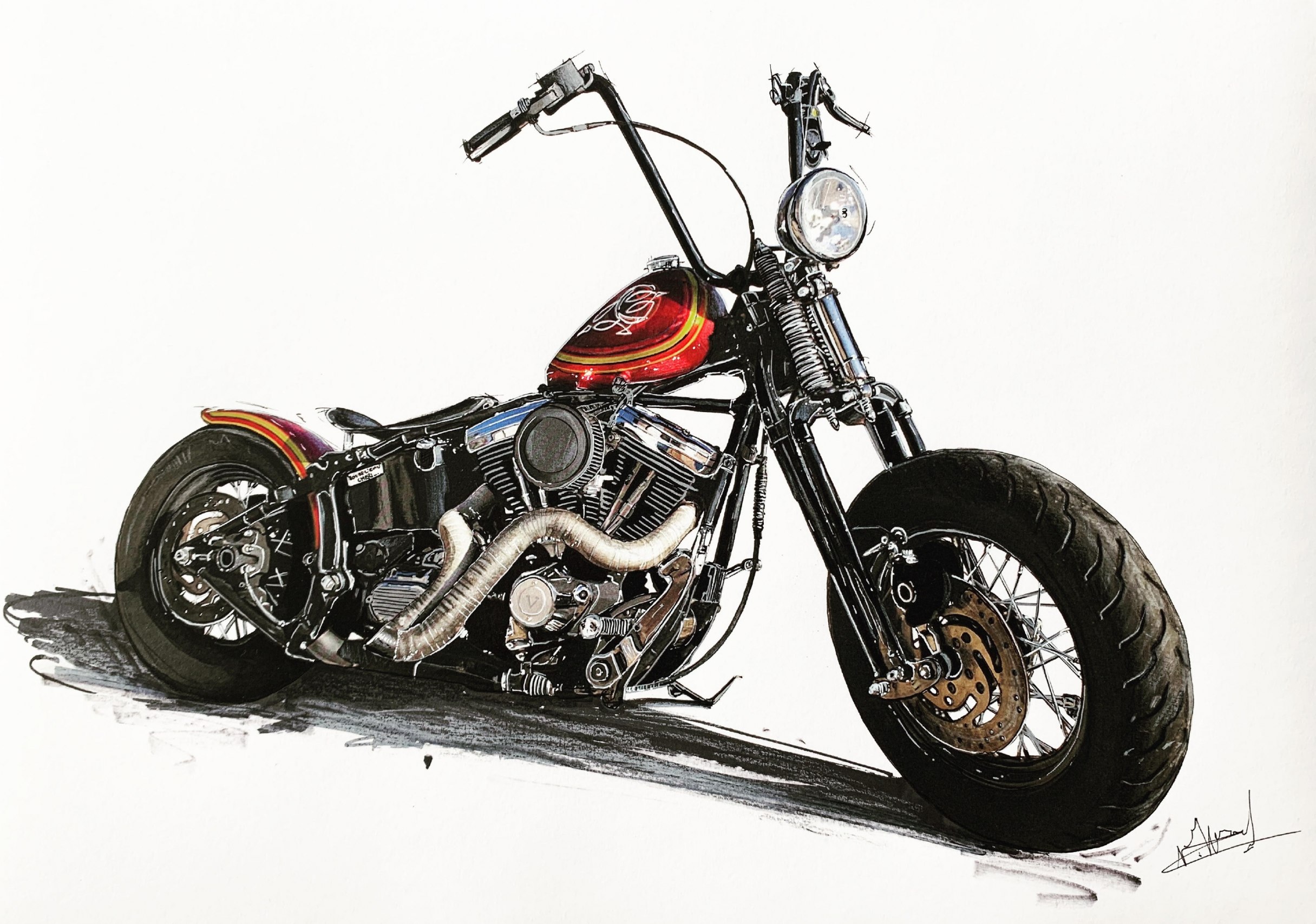 Are you looking for an original gift for a motorsport enthusiast ? For a birthday ? A sponsor ?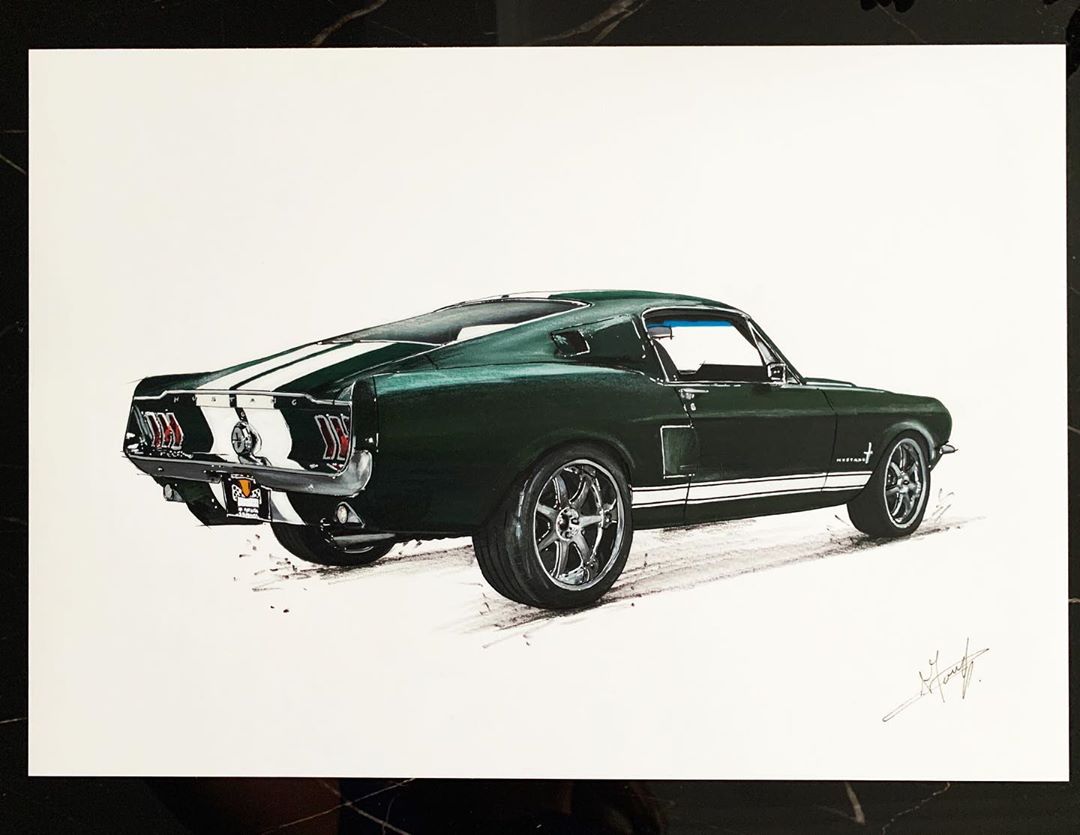 Send her your best photos in HQ and GASOLINE MAAB will take care of sublimating your work.  She allows you to touch your dreams or memories with your fingertips.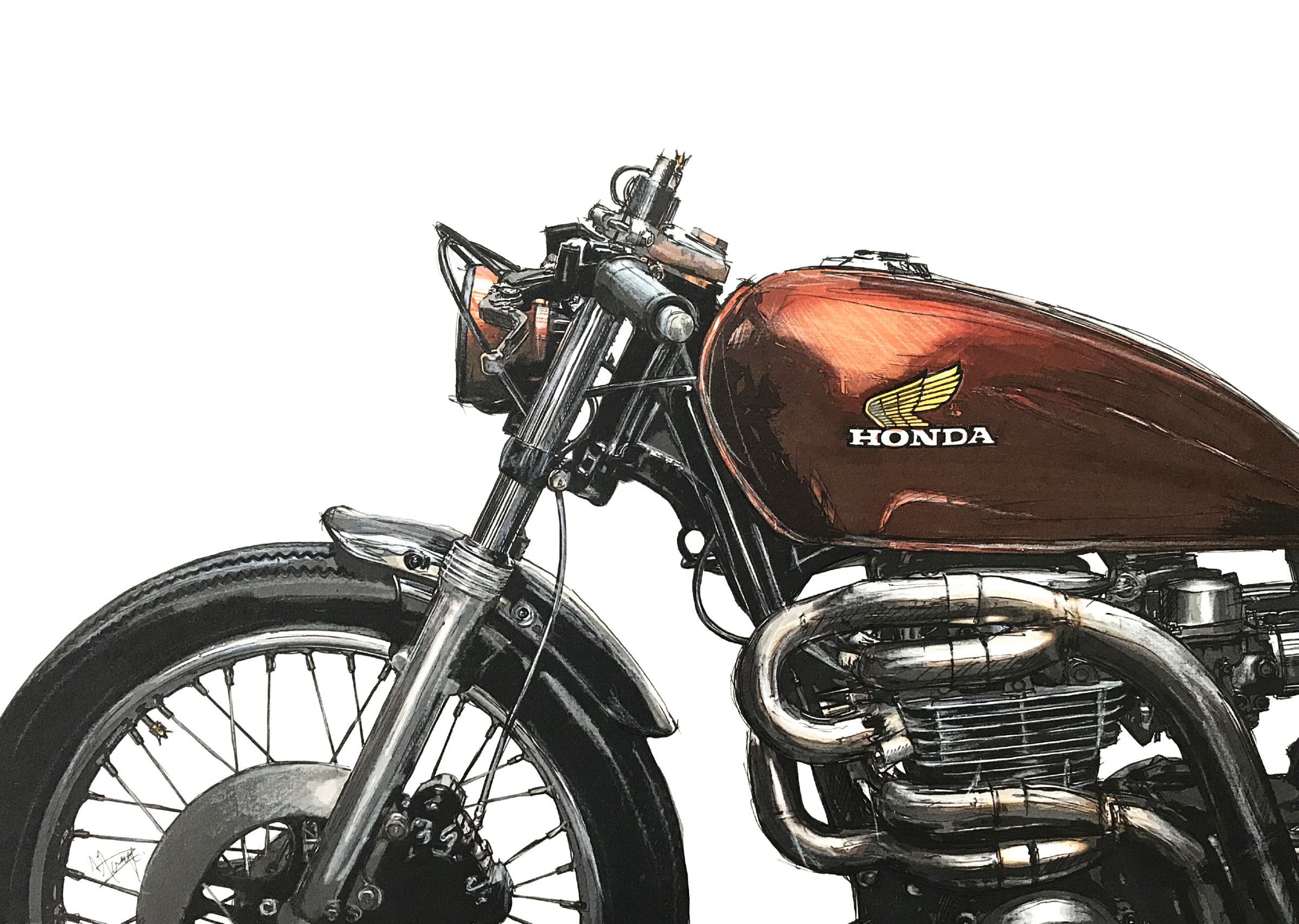 « What's different enriches me », said a certain Saint Exupery. My pencil stroke is my most beautiful alibi to discover and invest places and meet you.
SOCIAL NETWORKS : INSTAGRAM : GASOLINE_MAAB FACEBOOK : GASOLINEMAAB
EMAIL : GASOLINECONTACT@GMAIL.COM
WEBSITE: HTTPS://GASOLINEMAAB.BIGCARTEL.COM