Guess the Band before the Feb. 7 Announcement!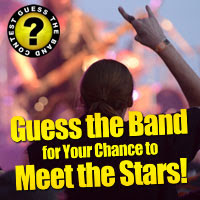 You're almost there…The Chip's first 2017 band announcement is now less than two weeks away! But if holding out till Feb. 7 seems like a tall order, here's a little something to help pass the time that may even help you figure out who the band is. The Chip has started dropping some clues in its Guess the Band Contest, and if you use them to correctly guess the announcement, you could potentially meet the bands in person during the festival with a free Fan VIP upgrade! Don't forget, you can also save some scratch by reserving before this announcement lands. SPECIAL PRICES END Feb. 6 at 5 p.m. MST!
Show me the clues!
I want to get my pass now!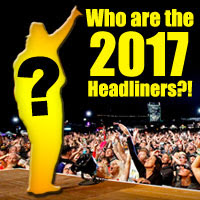 24 Artists Who Could Rock the Chip's August Music Festival in 2017
Securing bands for The Best Party Anywhere® is no easy feat, and it often takes the entire year before all the variables fall into place. But before The Chip gets to work, they always start the process by listening to requests from fans like you. Planning for the 2017 Best Party Anywhere is currently underway, and lots of you have been asking about bands, and listing ones you'd ride across the country naked to see perform. The following is a list of 24 bands that fans like you have put on the Chip's radar. Are these the bands you'd go nuts for if they were to join the 2017 lineup?
Show me the bands!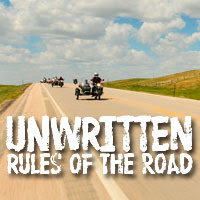 Unwritten Rules of the Road Every Rider Must Know
If you've got a motorcycle endorsement, chances are you've got a grasp on the written rules of the road. But did you know there are plenty of unwritten rules that are just as important? Not following these rules won't just make you look dumb; it could get you killed. So if you want to stay safe, make friends and earn some good biker karma, make sure you commit this list to memory.
I want to make sure I know the unwritten rules of the road!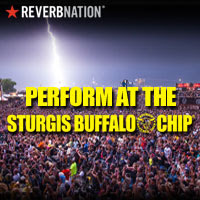 Want to Perform or Know a Band that Should?
Do you know a band interested in performing at the Legendary Buffalo Chip? Are you in one yourself? If so, we have news to share with you! The ReverbNation Road to the Sturgis Buffalo Chip Opportunity is now open! Chip talent buyers will work closely with ReverbNation's A&R team to select ReverbNation bands to perform at the Sturgis Buffalo Chip party in 2017. Don't pass up the opportunity to place yourself or your favorite band on a festival lineup that will include dozens of world-class headliners. Click through to find out more!
I want to find out more or submit my band!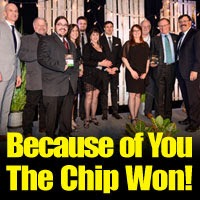 Because of You the Buffalo Chip Won!
It's folks like you who inspire the Sturgis Buffalo Chip to do better and push them to dream bigger. Because of your continued support and encouragement, and through many of your ideas and suggestions, Lt. Governor Matt Michels and Secretary of Tourism Jim Hagen recently presented the Buffalo Chip with the Excellence in Tourism Innovation Award at the South Dakota Governor's Conference on Tourism. The Chip couldn't have achieved this distinction without you all. So from the bottom of our hearts, thank you.
I want to find out more about this award!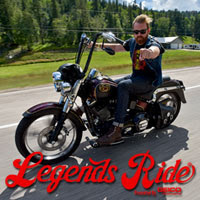 Last Chance for Free 5-Star Legends Ride Upgrade!
The Ride that Rocks already gives you and your friends the opportunity to ride and rub elbows with actors, rock stars and famous bike builders. Now, until February 1, when you reserve a spot on this 55-mile scenic ride from historic Deadwood, SD to the Legendary Sturgis Buffalo Chip®, you'll be upgraded to receive the Legends Ride's 5 Star Package for the regular donation price! Your upgrade will give you exclusive perks including complimentary refreshments, Silverado-Franklin Hotel veranda access, preferred parking and priority placements on the ride. Act fast, because this special is moments away from selling out! Exclusive offer ends Feb. 1, 2017 at 5 p.m. MST or when spots fill up.
I want to find out more and reserve my place on The Ride that Rocks!™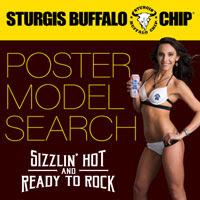 Sizzlin' Hot and Ready to Rock Kick Off!
If you've always dreamt of becoming a model, the Buffalo Chip's annual Poster Model Search is the perfect opportunity to showcase your looks and personality for a chance to score the rally's most coveted modeling job. The Buffalo Chip will feature the winner of the Poster Model Search in countless advertisements, videos, magazine spreads, billboards and posters and award her $2,000 in cash and prizes.
I want to see the contestants or find out how I can be one!
Will Doug Danger Defy Death Jumping a Pit of Deadly Rattlesnakes?
The roar of motorcycles in the Buffalo Chip amphitheater is about to be drowned out by the sound of your own heart beating wildly out of your chest and the rattle of some extremely deadly rattlesnakes. If all goes to plan, you'll see celebrated stuntman Doug Danger attempt to complete one of Evel Knievel's earliest failed jumps. But if the plan fails, this could be deadly.
I want to find out more about this insane stunt!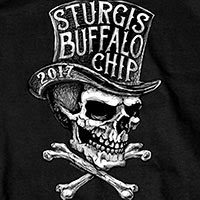 More Official 2017 Buffalo Chip Merchandise has Arrived!
If you're one for going topless, chances are you'll be changing your tune once you see the brand-spankin'-new Sturgis Buffalo Chip apparel from Hot Leathers. Click through to check out the new styles that have rolled out so far for 2017, and while you're at it, nab some official 2016 Buffalo Chip merchandise at prices discounted by up to 50 percent!
Show me what's on sale!