The Buffalo Chip's Biker Belles tradition of honoring women in motorcycling continues with special guests, new features and old friends.

Buffalo Chip, SD (May 2, 2017) – An inclusive opportunity to celebrate women in motorcycling and connect with those who are shaping the industry, driving change and breaking long-held traditions will take place Tuesday, Aug. 8 during the Buffalo Chip's ninth annual Biker Belles celebration. This charity event opens with The Morning Ride™ that leads participants on a beautiful journey from the Buffalo Chip's CrossRoads to the Lodge at Deadwood. Here participants will experience the Comfort Zone by Team Diva, a catered lunch and an inspiring symposium. The theme "My Motorcycle Life" will open the path to discussions surrounding the role motorcycling plays in the lives of women and those who love and serve them. Panelists and special guests announced to date include Open Road Girl's Malinda Johnson and Sturgis Rider Daily and Iron Trader News Editor and Publisher Marilyn Stemp. Biker Belles was created in 2009 to raise awareness of the passion, diversity and spirit of women in motorcycling and to raise funds for local worthy charities. Those interested may find more information or reserve their place at the event at BikerBelles.com.
Participants will be among the first to get a look at Diva Amy Skaling's dazzling new Paul Yaffe-customized bagger when she unveils it before the ride. New to the popular Comfort Zone at the Lodge at Deadwood, Malinda Johnson will be bringing her Open Road Girl store, where she will be personally assisting her fans.
The 2017 Biker Belles event is supported by Hot Leathers, BMW Motorrad and Wrangler Jeanswear.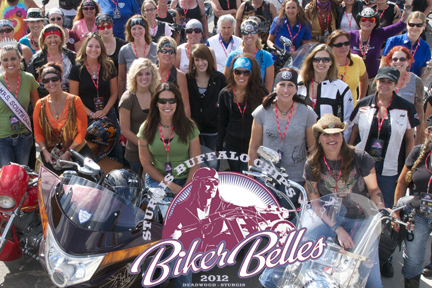 2017 Biker Belles Schedule
8:30 a.m. – Registration and coffee at the Buffalo Chip's CrossRoads, Diva 2 Bike Unveiling
9:30 a.m. – A guided journey through the picturesque Black Hills.
11:00 a.m. – Registration opens at The Lodge at Deadwood non-ride participants
11:30 a.m. – Ride arrives at The Lodge at Deadwood for a catered lunch, "Comfort Zone" by Team Diva pampering and retail experience and silent auction.
12:30 p.m. – "My Motorcycle Life" Symposium and featured speakers
1:45 p.m. – All participants gather for Biker Belles official group photo
For high resolution images click here:
How To Register
Participants are asked to make a $60 contribution to join the festivities, 100 percent of which directly benefit two South Dakota charities that benefit women-related causes, Helping with Horsepower and the Sturgis Motorcycle Museum & Hall of Fame. Reservations may be made by visiting BikerBelles.com or by calling (605) 347-9000.
About Biker Belles®
The annual Biker Belles charity event is a celebration of women in the world of motorcycling that centers on "Real Riders, Real Stories, and Real Passion". Whether one rides his or her own bike or prefers being the passenger, this Sturgis Buffalo Chip®-hosted event offers a great opportunity to meet new friends and gain inspiration from pioneering women who continue to influence the world of motorcycling today. All Biker Belles proceeds support worthy local charities. To date Buffalo Chip programs have raised over half a million dollars for charity. For more information and to join the 2017 Biker Belles celebration visit www.bikerbelles.com or call (605) 347-9000.
About The Sturgis Buffalo Chip
The Sturgis Buffalo Chip® is the Largest Music Festival in Motorcycling®. It is the world's first and leading entertainment destination for the motorcycle enthusiast and 2017 South Dakota Excellence in Tourism Innovation award winner. Since 1981, the venue's high-profile, nine-day festival, known as The Best Party Anywhere®, remains one of the world's most televised and longest running independent music festivals. Located three miles east of Sturgis, SD on 600 creek-fed acres, it offers eight stages of entertainment, a swimming hole, bars, mouth-watering food, showers, cabins, RVs, camping and more to visitors traveling from all corners of the world. The Chip's concerts are free with camping. The 2017 Motorcycles as Art exhibit, "Old Iron/Young Blood – Motorcycles and the Next Gen" curated by Michael Lichter is free and open to the public. More details are available at www.BuffaloChip.com.