Post & Images by Jack McIntyre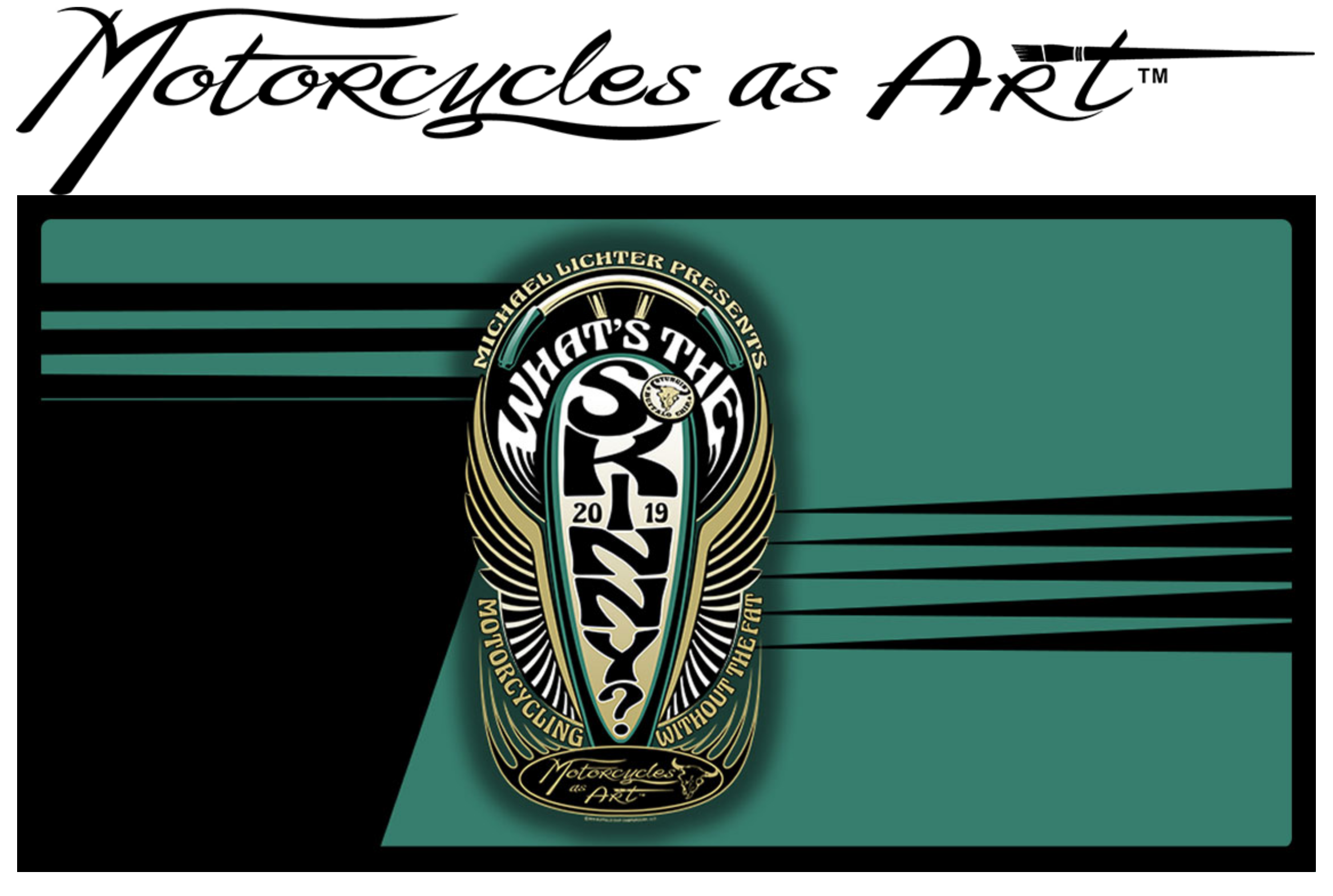 "What happens when you thin the herd of the custom motorcycling world and gather the builders known best for creating the lightest, leanest and meanest machines on two wheels? You'll find out when you experience the stunning collection of masterpieces curated by Michael Lichter for the Sturgis Buffalo Chip's® 2019 Motorcycles As Art™ Exhibition, "What's the Skinny: Motorcycling Without the Fat."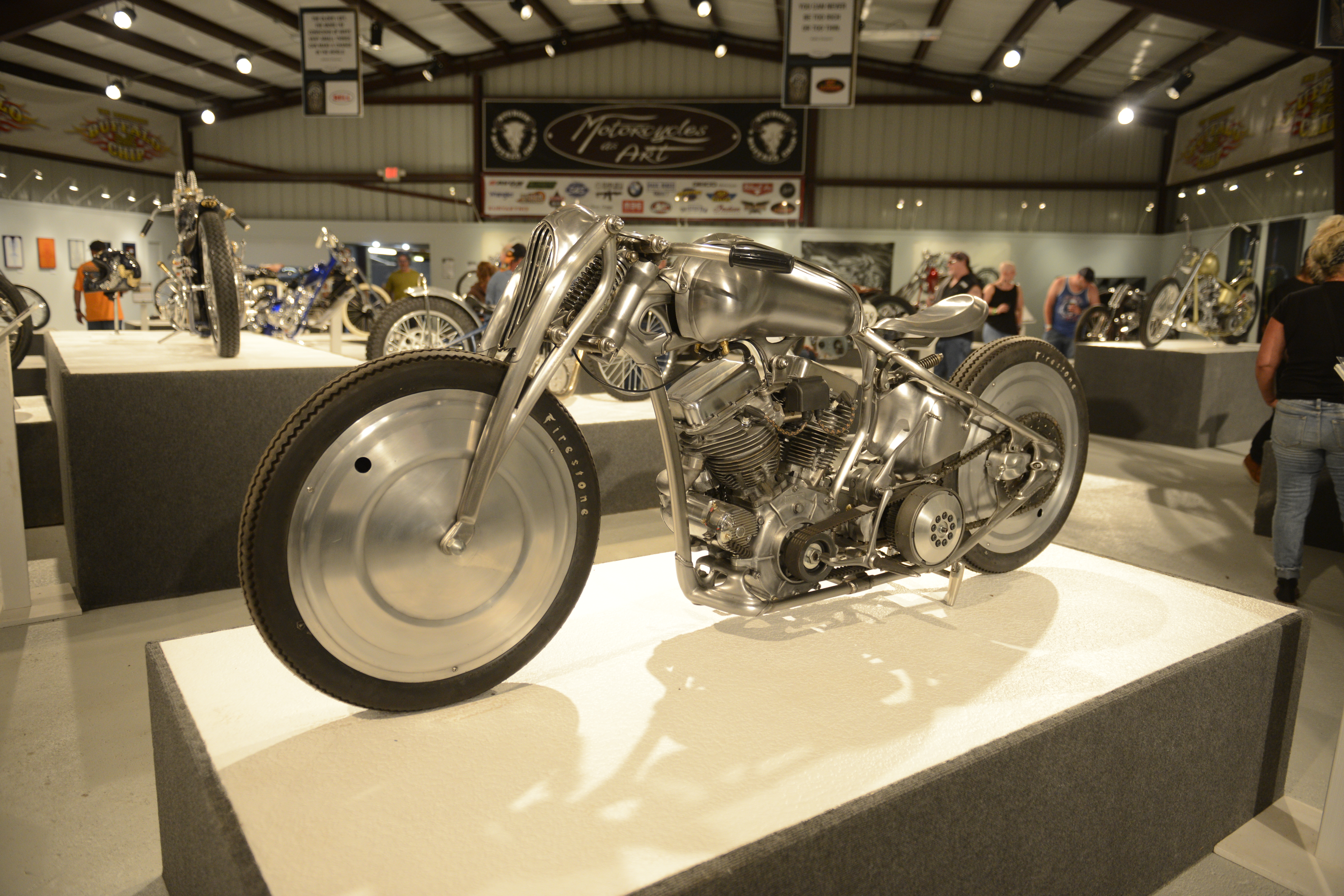 I'm borrowing the fine words off of the Buffalo Chip website above because I couldn't have explained it better if I tried. I'll mix a group of my shots in with descriptions of what this great event was all about. Check it out on the Chips website at by clicking here.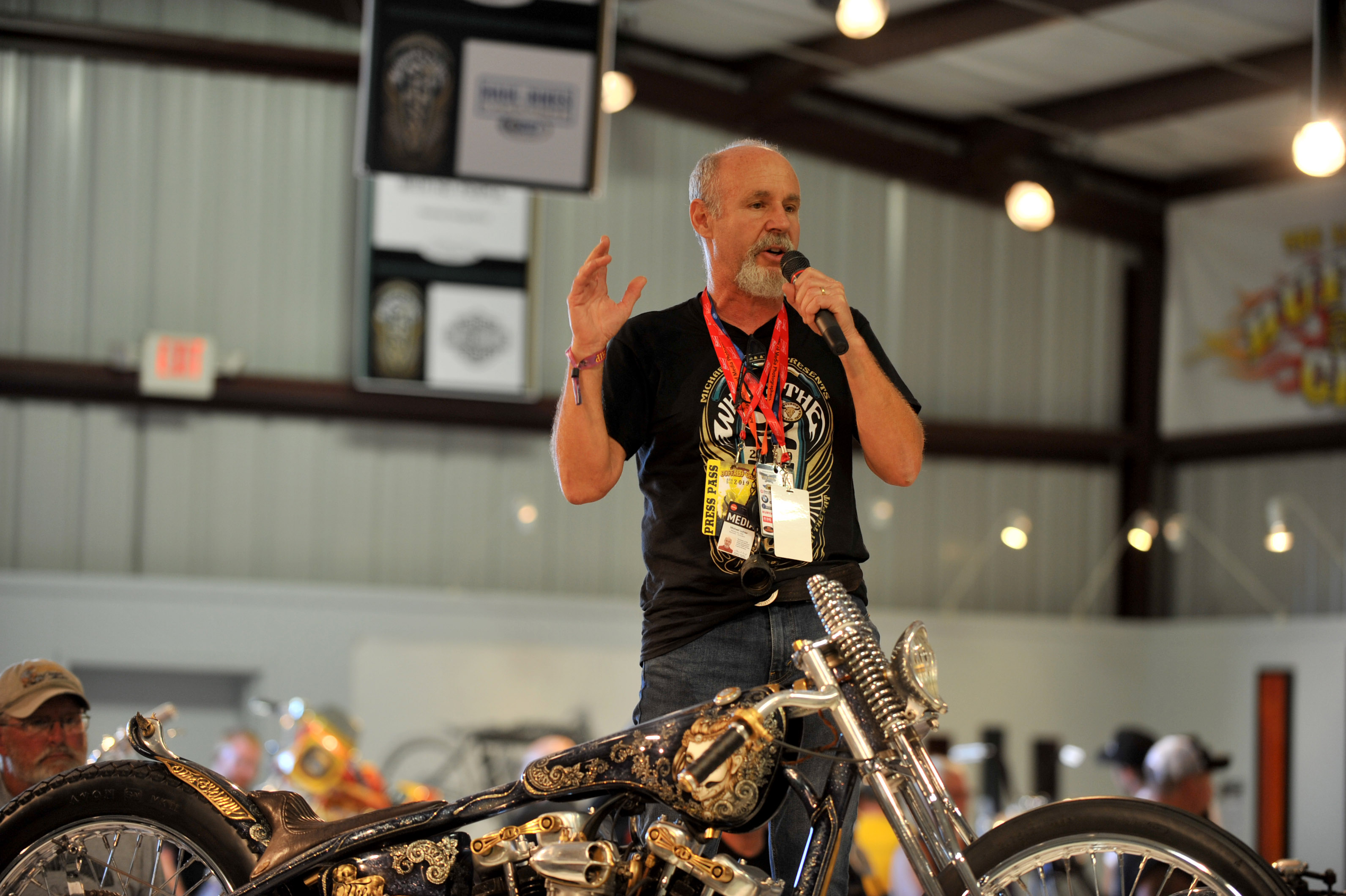 So here is the master, Mr. Michael Lichter. I have personally been hovering around and learning from Michael for more than a decade, easily. He is more dedicated to the motor sports industry than I could even explain. His knowledge is vast and it comes from his heart. As you skim through the images, know that all of these guests are honored to attend, and I'm one of them. The Buffalo Chip provides the perfect building and grounds for this amazing show, year after year.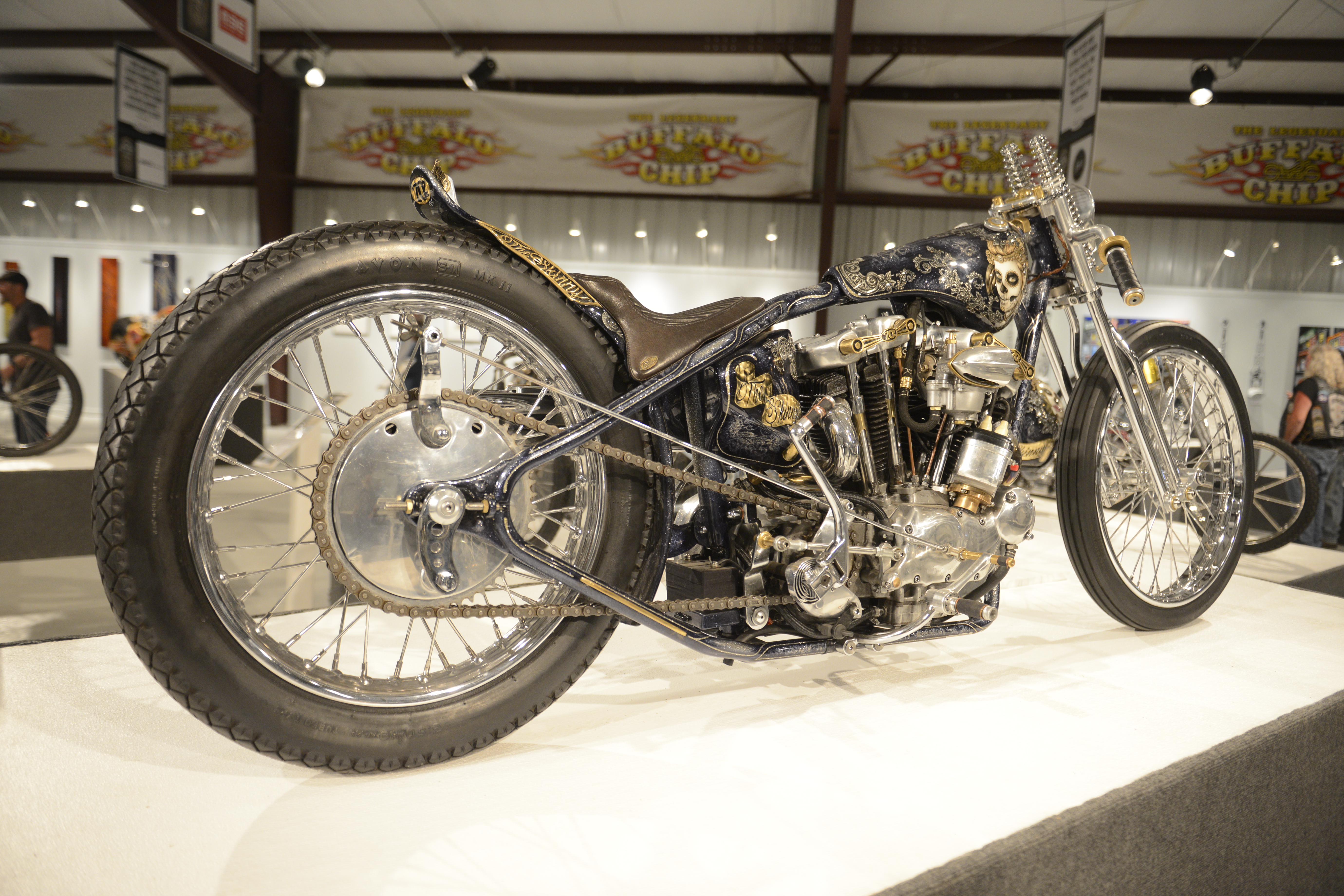 If you have any questions that I can answer, please email me at bikerprojack@gmail.com.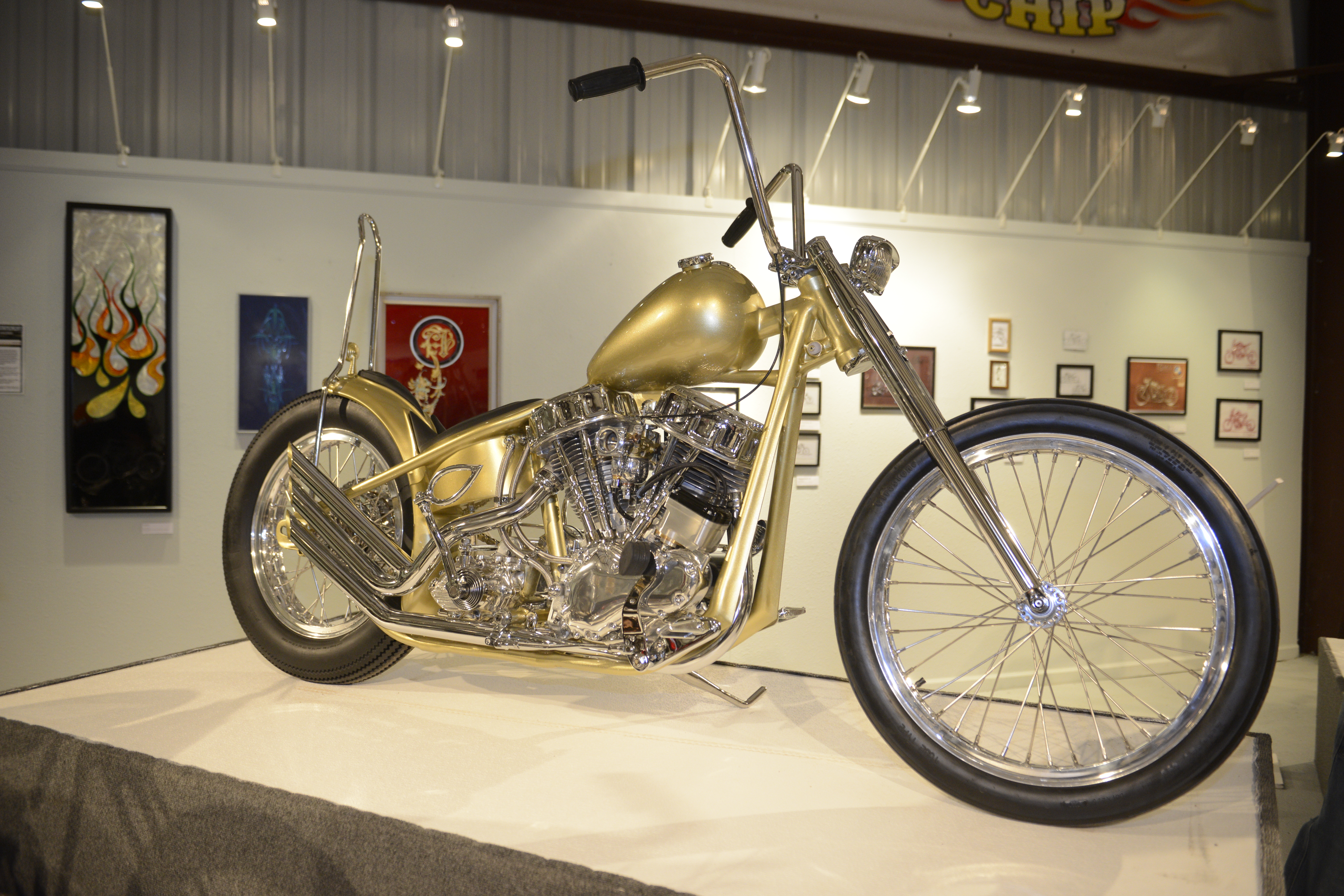 This is the list of custom motorcycle builders and two-dimensional artists so far scheduled to present their skinny masterpieces at the 2019 "Motorcycles as Art" exhibit include:
Andrea Radaelli, Radikal Chopper Milano, ITALY
Arlen Ness, Arlen Ness Enterprises – Dublin, CA
Billy Lane, Choppers Inc – Daytona Beach, FL (with 2-Bikes)
BMW North America –
Brian Buttera, Buttera's Metal Werx – Lakeland, FL
Chris Callen, Flat Broke Chops & Rods – Tarentum PA
Chris Tope, Utopeia Moto Company – Richardson, TX
Cristian Sosa, Sosa Metalworks – Las Vegas, NV
Cole Rogers, 138 Cycle Fabrication – Springboro, OH
Dakota Toomey – Southampton, NJ
Dalton Walker – Split Image Kustoms – Hanford, CA
Dan Rognsvoog, Cabana Dan's Creations – Franksville, WI
Dave Perewitz, Perewitz Cycle Fab – Halifax, MA
Dorin Racz Arpad – Câmpia Turzii, ROMANIA
Freddie Arnold, Hickory Flat Hot Rods – Canton, GA
Hawke Lawshe, Vintage Technologies – Columbia Falls, MT
Jack Deagazio – East Syracuse, NY
Jesse Srpan, Raw Iron Choppers – Chardon, OH
Jill Parham – Anamosa, IA (with 2-Bikes)
Josh Sheehan – Minden, NV
Justin McNeely, Hooked on Speed – Jackson, MO
Ken Nagai – Ken's Factory – Nagoya, JAPAN
Kevin "Teach" Baas – Prior Lake, MN
Kyle Brewer, Paughco – Carson City, NV
Max Hazen, Hazan Motorworks – Los Angeles, CA
Michael LaFountain, Santa Clarita, CA
Mike Lange, Big Bend, WI
Mike Rabideau, Majik Mike Customs, Las Vegas, NV
Nick Beaulieu, Forever Two Wheels – Windham, ME
Nick Pensebene – Edgewater, FL
Oliver Jones, the Cut-rate, Long Beach, CA.
Paul Brodie, Flashback Fab – Langley, BC, CANADA
Paul Miller, PanicRev Customs – Calgary, AB, CANADA
Paul Yaffe, Paul Yaffe Originals – Phoenix, AZ
Samuele Reali, Abnormal Cycles – Milan, ITALY
Takatoshi Suzuki, Seven Motorcycles – Sendai, Japan
Wild Card Builder – Brandon Keene, B. Keene Built