Homegrown bike shows are the current thing: Handbuilt and Garage Brewed, for example. The early adopters of the concept are gatherings like the Brooklyn Invitational, the One Show and Born Free.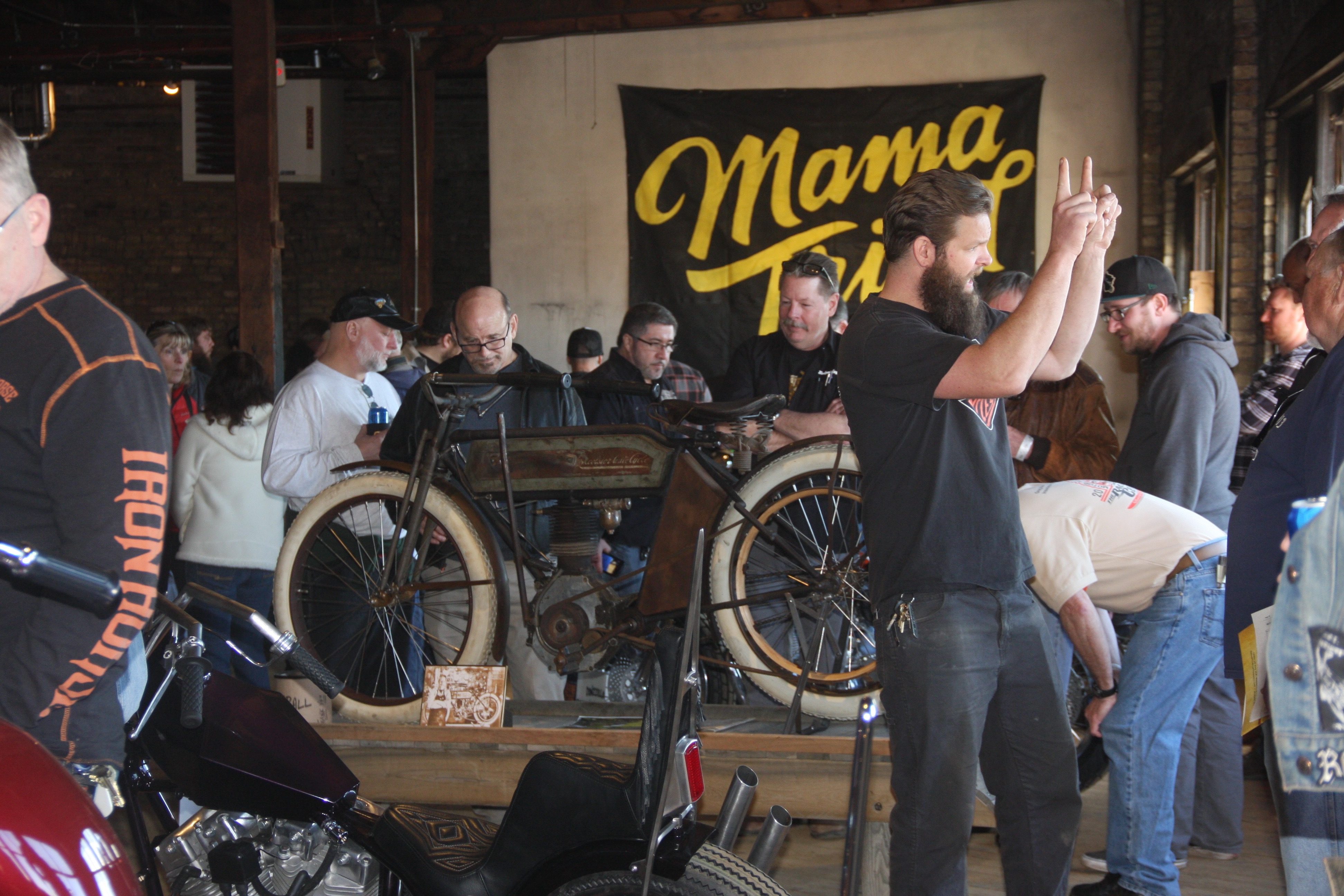 Mama Tried in Milwaukee, held Feb. 17-19, is part of the more recent crop. Based on popularity and sheer numbers, it got traction fast in spite of changing venues three times in four years. Organizers added Flat Out Friday – a wild romp of sticky short track race action – the third year, and ice racing on Sunday (weather permitting), turning the show into a motorhead weekend.
Such an adrenaline-fueled weekend might only be possible in Milwaukee, a rust belt city with an industrial vibe that's aided by the presence of Harley-Davidson, the H-D Museum and a solid brew-town heritage.
Mama Tried co-founder Warren Heir, Jr. was too busy to sit down and chat, but we stood and talked about the show as the crew set up. Read what he had to say then look at the pictures to see the bikes and get a feel for the show.
ITN: Who runs this show?
WHJ: Scott Johnson and I are partners in Mama Tried. Jeremy jumped on for Flat Out Friday as our partner for the racing last year. We also did a race in October. So this is our third race but fourth year.
ITN: So it was just the show the first two years then you added racing the third and fourth. Talk about the racing.
WHJ: It's so much fun! We're trying to bring racing back. Were trying to bring flattrack racing back in particular. I'm kind of new to flattrack and I really enjoy it. But it can be boring at some venues in the Midwest. It's really made for the racers not the spectators, and it was stuck in the old school way of promoting. We wanted to turn it into a show. That's why Flat Out Friday is a little flamboyant for a flattrack race but that's what draws the crowd. And that's what keeps the public interested. We can still stay true to racing but make it fun.
ITN: You have so many racers signed up!
WHJ: We had 140 in October. We have 240 this time.
It's real racing, too. Some guy can come from California and not make the main because he wasn't fast enough! You have to work hard, you have to be fast.
ITN: So how did Mama Tried get started?
WHJ: Scott Johnson, founder of the Rocker Box street event in Milwaukee, wanted to do something different. So he came to me, three, four times. I didn't want to do a motorcycle show. I was jaded. I was raised going to motorcycle shows—my dad has a shop. They're boring, it's the same people, and I wasn't into it.
And Scott talked me into it. He said let's make it our own, let's make it cool, let's make it fun, let's bring all our friends. Let's make it a weekend thing, make it invitational. Let's curate it and turn it into an artsy fartsy thing.
ITN: And what made it click?
WHJ: The reason why Mama Tried is such a success is because it's in Milwaukee. It's a community, a great city. Scott and I get the people here, but as soon as they get here and they experience the city they're locked, they're coming back. It's a small town atmosphere with big city amenities.
ITN: You guys created a happening in four short years.
WHJ: It was insane! The first year we were expecting a thousand people and we got 10,000! It was a small place, too, really under the radar, super punk, in a construction zone in an old building downtown. Then it just snowballed.
ITN: So it was a perfect storm.
WHJ: Yeah. Scott was—and is—into racing quite a bit. He had that background and connections. I come from Harleys and choppers so I had connections there. When I met Scott I had just started racing.
So the idea beyond curating the show was to get like-minded individuals in the same room that wouldn't necessarily hang out with each other, people who are not gonna cross paths unless you make them. I mix the bikes up (in the show display) so everybody has to hang out, not huddle together in their little scenes and cliques. I want the chopper kid to build a race bike and bring it next year. And I want the race bike guy to build a chopper.
ITN: Talk more about that.
WHJ: I want everybody to intermingle. I want the race guys to hang out w the chopper kids, the stock dudes to hang out w the weirdo guys. Then next year I want their conversations to spawn them to build the bike that's different from what they came with last year. We all love motorcycles, but sometimes it takes a little push from the other side to get you to decide to try something else.
ITN: So it's an invitational. Who do you invite? And how many?
WHJ: This year we said no more than 75. 120 later we're still climbing. We have a problem with motorcycles.
We draw builders to the show based on personal connections and what we think is cool. We definitely need more female influence in this little world.
ITN: So just being invited is a nod of recognition for the builders, right?
WHJ: Yeah, we send invites and we made brass bottle openers for them this time. We rent the box at the Bradley Center and invite them for the races, make them feel special. Without them we wouldn't have a show. We need them.
ITN: But no bike show winners, no trophies, right?
WHJ: We don't like trophies. There are places for that, like with racing, but we're not into it. Too many shows try too hard and do too much and it kills the vibe, it kills the vision. It's gotta be natural.
ITN: How did you get Harley-Davidson involved in Mama Tried?
WHJ: It was a case of right place, right time. We went to see them and told them what we were gonna do. It's been really easy, they're great partners and it's hometown. It's not like: you sell your soul to the corporate partner. We can pretty much do whatever we want—except fly an Indian flag. That wouldn't be respectful. Even with the racing, they jumped on in October with Facebook live and caught 500,000 views. So onward and upward! Let's see if we can grow the sport more.
ITN: Anything else you want to say?
WHJ: I want to get across it's a community thing. You come and hang out, we want you to experience Milwaukee. We make sure that there are multiple parties and pre-parties for people to go and have fun. It's a weekend event. Milwaukee is coming along. It's not quite Portland, but its cool to see it grow.
ITN: A lot of rust belt cities are being revived by younger people.
WHJ: I think it's up to us. It's our time. There are a whole bunch of rules now compared to when I was growing up, about what you can say and do. I like to find ways around them—and break them.