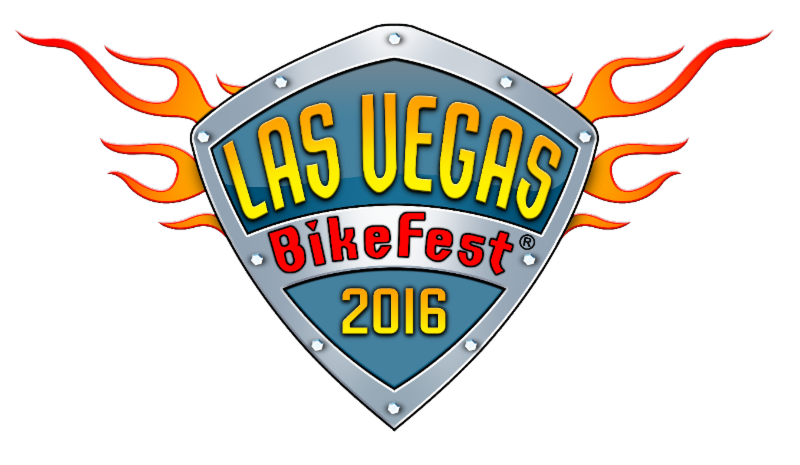 LAS VEGAS (October 17,2016) – The 16th Annual Las Vegas BikeFest Rally was four days filled with motorcycles, entertainment, contests, bike shows, vendors – overall one big party. Over 33,000 motorcycle enthusiasts from 36 states and 21 countries came out for this year's rally. With a new layout, riders were treated to an expanded Rally Central with everything from motorcycles, parts, accessories, leathers, jewelry, food and more. Victory and Indian Motorcycles returned offering up free demo rides on their newest models.
"This year, the rally was all about the party – the atmosphere was one of live music, contests, bike shows, stunt shows, giveaways and more that would get the riders excited and wanting more, and we think we totally delivered", states Mindi Cherry, Event Manager.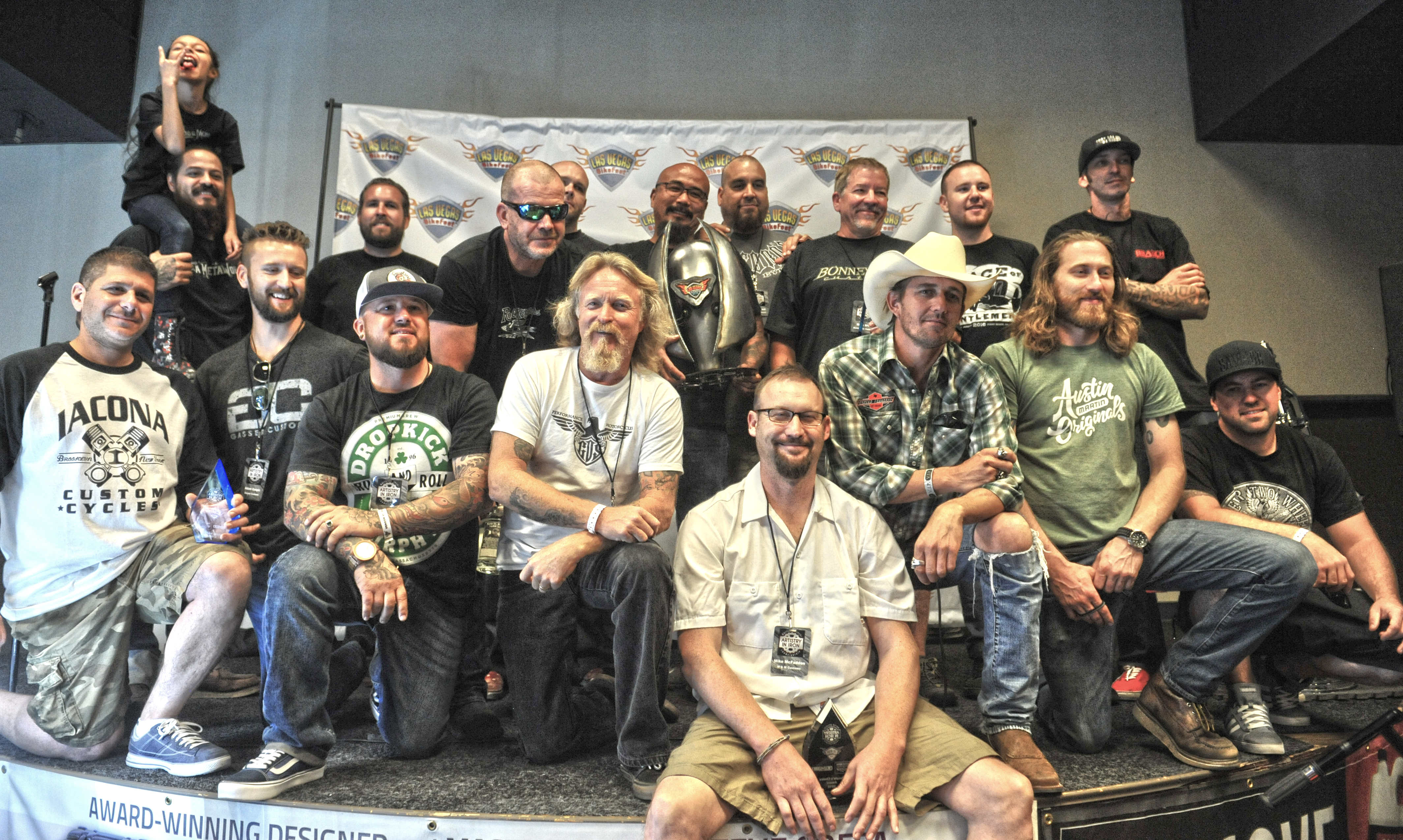 The 13th Annual Artistry in Iron, Master Builders Championship, the peer-judged, invitation-only custom bike building competition sponsored by Steve Soffa and Paughco Co was a huge hit. Just when we thought we had seen the finest in what a builder can come up with, 16 builders from all corners of the U.S. as well the United Kingdom, brought out true pieces of art. Pete Pearson (Rocket Bob's Cycle Works) was awarded the title of Master Builder Champion for 2016. Along with winning $10,000, Pearson took home a custom championship bracelet designed and presented by master jewelry designer Steve Soffa. Paughco Co. returned this year to recognize the 2nd and 3rd place winners. Mark Shell from Bonneville Customs took home second place and received a complete rolling chassis Third place went to Steve Iacona from Iacona Cystom Cycles who received a beautiful Chrome Paughco Wish Bone Springer front end. People's Choice Award went to Mike McFadden of M&M Customs.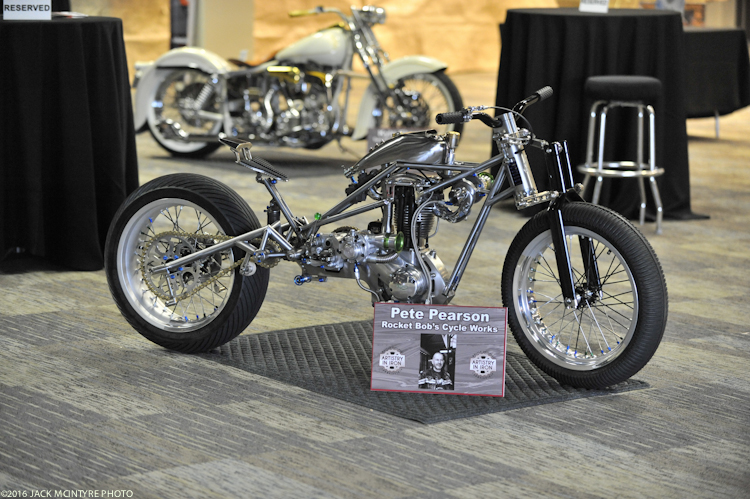 Crowd favorites this year were the four Custom Bike Shows, where some of the sickest motorcycles out there were on display. New this year, Quick Throttle Magazine kicked off the shows
on Thursday
with the "Quick Throttle Custom Bike Show". The show featured categories such as Best Bagger, Antique, Trike, Chopper/Bobber, Metric, Paint, Custom/Pro Build and Anything Goes.
Friday
was the "Las Vegas BikeFest Custom Bike Show"; categories included Radical, Custom, Semi-Custom and Specialty. Winner of the Radical Class was Jon MacDowell with his Bonneville Custom. Along with winning a $1,000 prize, he received an automatic invite into the 2017 Artistry in Iron, Master Builders Championship.
Saturday
, the world-famous "Baddest Bagger Las Vegas" returned and it was filled with millions of dollars of some of the most insane bikes out there right now. Categories included Stock, Modified, Radical, Open and Pro class. The top prize of Baddest Bagger in Las Vegas was awarded to Chris Madsen with his 2014 Harley-Davidson Road King.
Sunday
we had our fourth bike show – the one and only "Hot Bike FXR/Dyna Show". Awards were given for Best Dyna, Best FXR, Best Paint and Best Motor.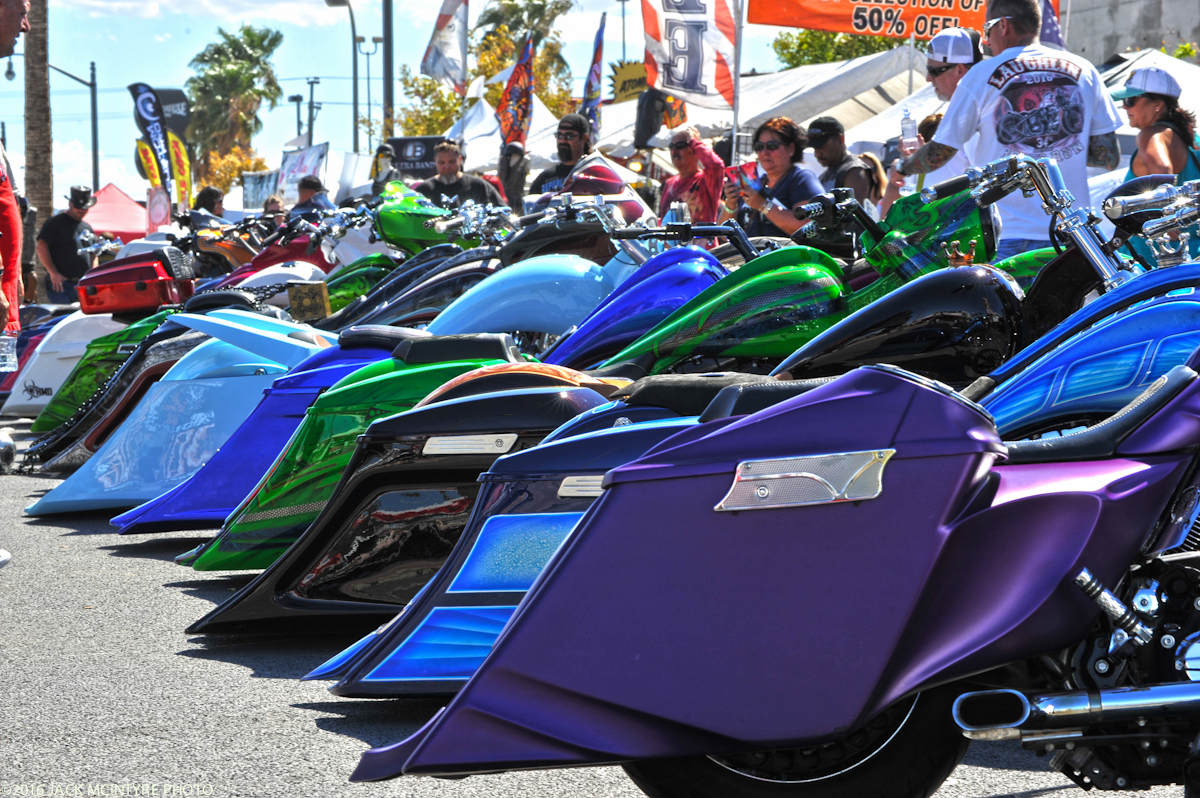 This year, Las Vegas BikeFest was all about the party, and giving away a brand new motorcycle every night kept the excitement going.
Thursday
night a brand new 2017 Harley-Davidson XG500 went to one lucky registrant.
Friday
night the lucky winner took home a 2016 Indian Scout Sixty and a gift certificate for a Mustang Motorcycle Seat.
Saturday
a brand new 2017 Harley-Davidson 1200 Roadster was won and
on Sunday
, the final bike, a 2017 Victory Octane was given away.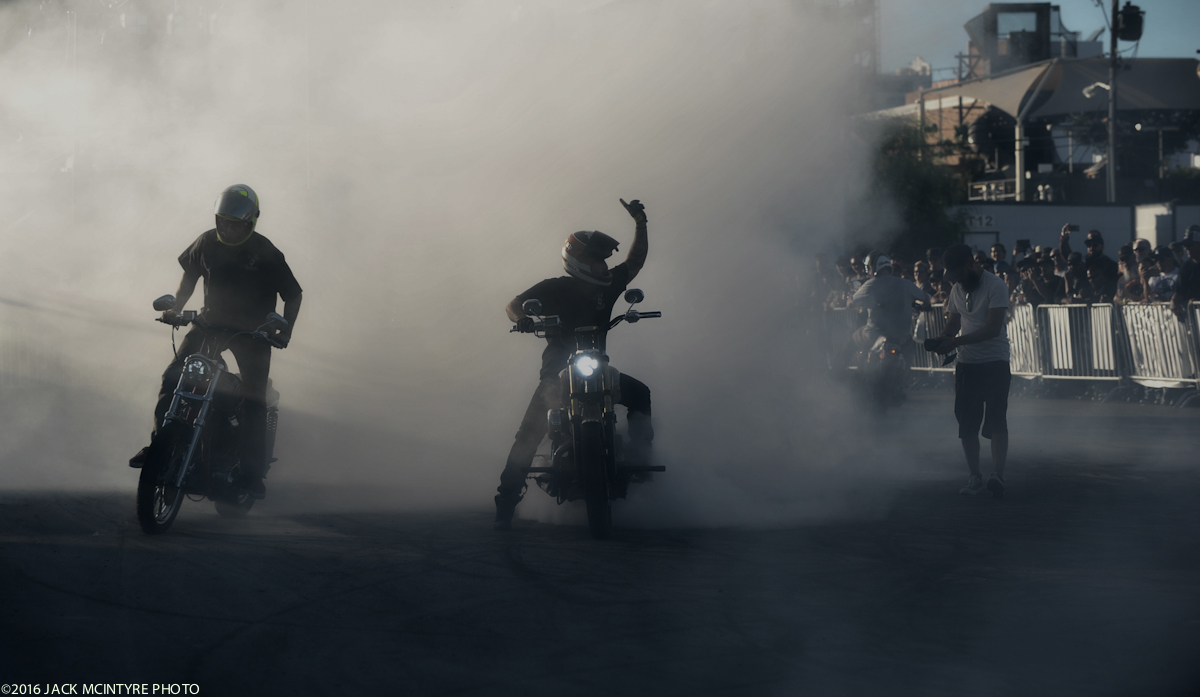 This year, Las Vegas BikeFest gave away over $100,000 in prizes and cash, including a $1,000 BikeFest Bucks Shopping Spree that was spent on vendors at Rally Central. The always popular Miss Las Vegas BikeFest did not disappoint along with crowd favorites: Best Facial Hair Contest, Tattoo Contest, Biker Games and Biker Bingo. Poker Walks and Poker Runs, including the
Saturday
$10,000 Poker Run were again a big hit and mulligan sales from the Poker Runs and Walks, raised $3,100 to benefit the Nevada Childhood Cancer Foundation.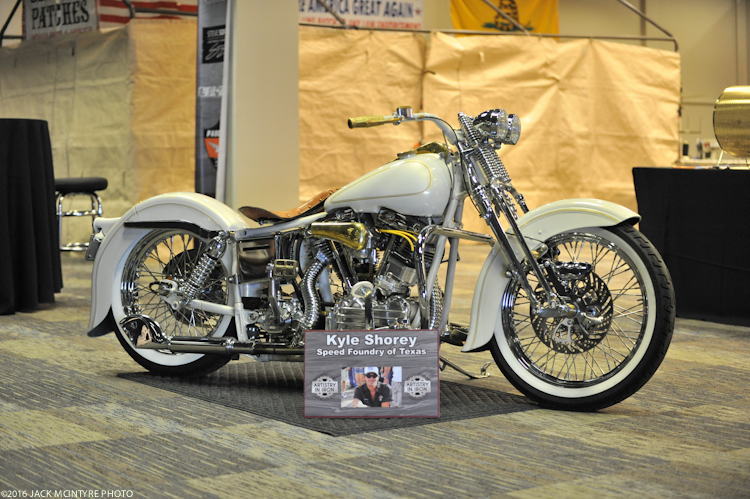 Music filled the rally all four days with over 30 live bands playing throughout the weekend. We had everything from hard rock, blues, punk, country and more.
Friday
and
Saturday
night actor Branscombe Richmond, star of the famous Renegade TV show brought his "Renegades and Roadies Rock Tour" to the main stage. As Branscombe described it, they played "Rock and Roll – redone – slapped with bacon grease – pancake syrup all over the top with a funk groove underneath". Along with the band, Branscombe brought out some of his celebrity friends including Duncan Faure (Bay City Rollers), Vernon Wells (Mad Max 2), Martin Klebba (Pirates of the Carribean), Kathleen Kinmont (Renegade) and Geechy Guy (America's Got Talent).
This year was the Inaugural Year for the Las Vegas Motorcycle Hall of Fame, co-founded by Las Vegas BikeFest and Branscombe Richmond. This year's inductees included Keith Ball, Lorenzo Lamas, Robbie Knievel and Evel Knievel*. A ceremony was held on the main stage
on Saturday
night to honor the inductees.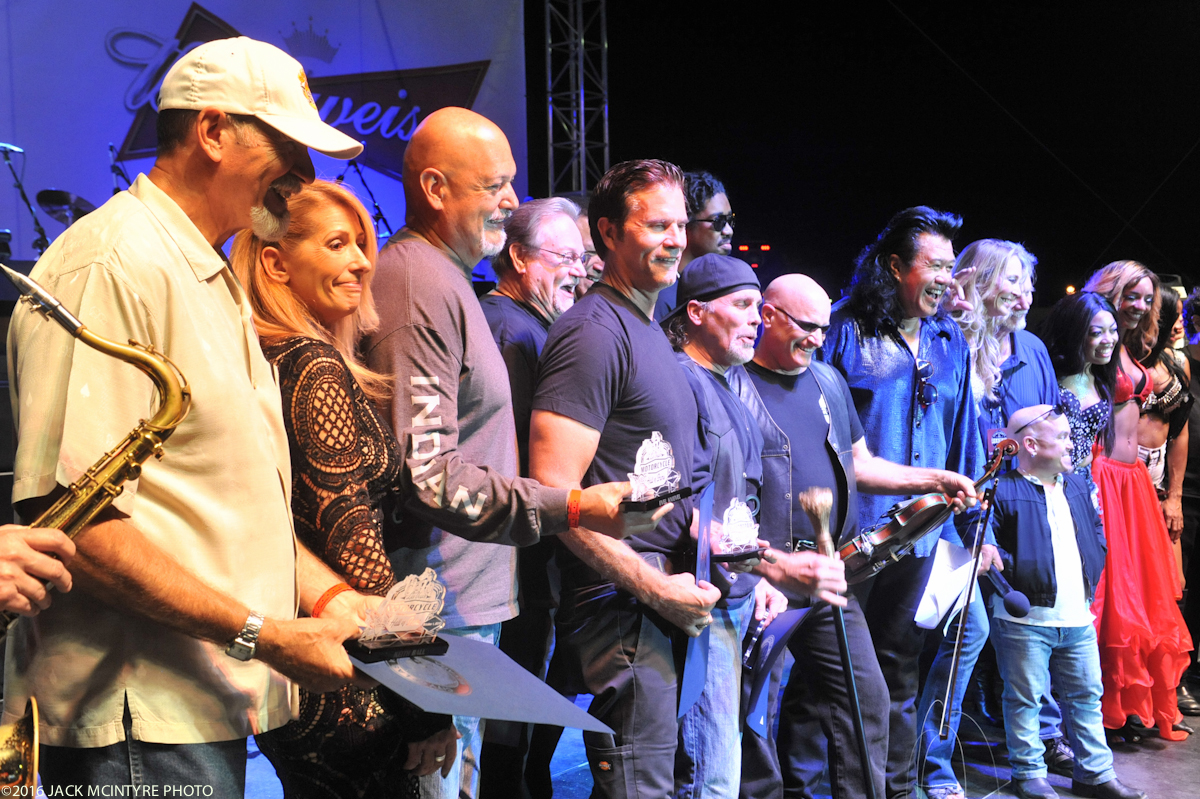 Plans are already underway for the 2017 Las Vegas BikeFest, October 5 – 8.