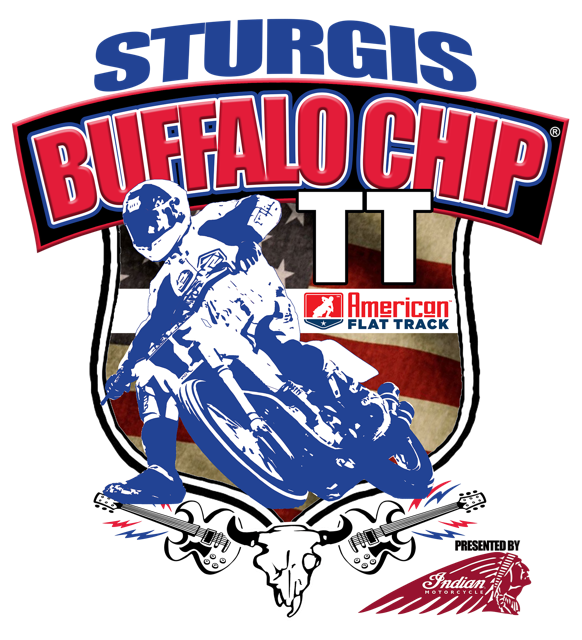 Buildings fall and dirt flies as the American Flat Track series heads to motorcycling's largest stage and joins the legendary Buffalo Chip's Moto Stampede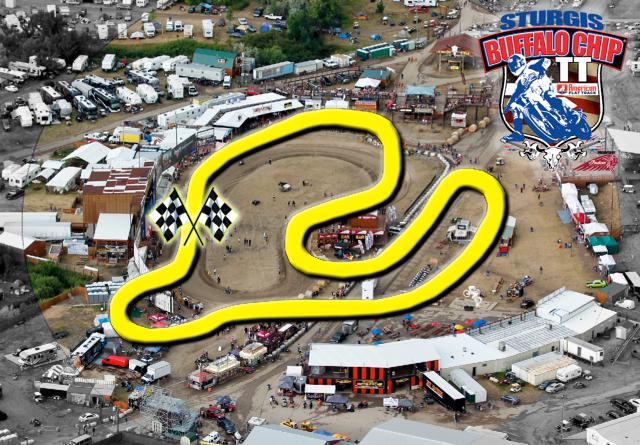 BUFFALO CHIP, S.D. (Oct. 13, 2016) – A monumental partnership has been struck to preserve an authentic rally tradition and take professional racing to the next level of entertainment. AMA Pro Racing, Indian Motorcycle® and the Sturgis Buffalo Chip® are electrifying motorcycle enthusiasts from around the world by hosting the premier form of dirt track racing – American Flat Track. The racing action will be happening during the Largest Music Festival in MotorcyclingTM on Sunday, Aug. 6. In full Buffalo Chip style, the Sturgis Buffalo Chip TT will set racers on a new course with a twist – a half-mile long TT track that winds through the center of the venue's famous amphitheater.
"We are delighted to be partnering up with Buffalo Chip to bring the world's best Flat Track racers to the heart of the Sturgis Motorcycle Rally," said Michael Lock, CEO of AMA Pro Racing. "The Buffalo Chip will be kicking off a week's worth of premier entertainment with the first American Flat Track TT ever to be held at the world's biggest motorcycle festival."
Accelerating the Journey
The three industry giants are collaborating to accomplish the anticipated track-building task in just a few short months. Plans call for demolition of several buildings, transporting and sculpting of tons of dirt and bringing together the biggest names in racing all to provide an exclusive, world-class racing experience. Flat Track's seven-time Grand National Champion and track designer Chris Carr has blueprinted the new TT course to ensure entertaining racing that presents an equal challenge to both the riders and their machines. Fans watching from elevated "bridges" or trackside barricades will have an unprecedented view and share the thrills as the riders tear up a track that is like no other. The newly engineered track opens with an unfamiliar right turn, followed by two jumps. Riders will immediately power into another right-hand turn all while trying to secure the lead.
"This new partnership with AMA Pro Racing will open a whole new world of professional racing for the Buffalo Chip and our guests," said Rod Woodruff, Buffalo Chip President.  "An American Flat Track TT course carved out of the middle of the Chip's amphitheater not only makes for the most unique motorcycle racing on earth but also the wildest concert warm-up the world has ever seen."
Races and Concerts Taking Center-Stage
Immediately following the races, crews will transform the track area back into the Wolfman Jack Main Stage infield in anticipation of another world-class headlining band performance. Race and music festival fans will be center stage for an evening full of high-energy entertainment they will never forget.
The Players
Having just announced its re-entry into professional Flat Track racing after 60 years, presenting sponsor Indian Motorcycle will be reigniting the racing war with Harley-Davidson that started nearly a century ago. Indian Motorcycle's Wrecking Crew will be led by the 2016 Grand National Champion Bryan Smith, piloting the company's new Scout FTR750, which was unveiled at the Chip in August. Smith, the 2015 X Games gold medalist, won the 2016 AMA Pro Flat Track title in spectacular fashion at the season finale over fellow Wrecking Crew rider, Three-Time Grand National Champion Jared Mees. Mees also scored Gold at the 2016 X Games. Completing Indian Motorcycle's Wrecking Crew is 2013 Grand National Champion Brad Baker.
"The team at the Buffalo Chip knows how to throw an epic party and continue to up the game every year," says Steve Menneto, president of Indian Motorcycle. "2017 is going to be a historical year for Indian motorcycle, and the pro flat track race inside of the Buffalo Chip is absolutely going to be a highlight in the year. I can't imagine a better place to see the Indian Motorcycle Wrecking crew in action."
The Plan
The Buffalo Chip TT is scheduled for Sunday, Aug. 6 and will fall under the Chip's Moto Stampede umbrella of events. The Moto Stampede has previously included such adrenaline-pumping events as the Roland Sands Design Super Hooligan races and the Buffalo Chip Street Drags.
Passes for the 2017 events are now on sale and may be purchased at www.BuffaloChip.com.
About American Flat Track
American Flat Track is the world's premier dirt track motorcycle racing series and one of the longest-running championships in the history of motorsports. Sanctioned by AMA Pro Racing in Daytona Beach, Fla., the series is highly regarded as the most competitive form of dirt track motorcycle racing on the globe. For more information on American Flat Track, please visit http://www.amaproracing.com/flat-track, follow us on Twitter, like us on Facebook or live stream the on-track action on FansChoice.tv.
About AMA Pro Racing
AMA Pro Racing is the premier professional motorcycle racing organization in North America, operating a full schedule of events and championships for a variety of motorcycle disciplines. Learn more about AMA Pro Racing at www.amaproracing.com.
About Indian Motorcycle®
Indian Motorcycle, a wholly-owned subsidiary of Polaris Industries Inc. (NYSE: PII), is America's first motorcycle company. Founded in 1901, Indian Motorcycle has won the hearts of motorcyclists around the world and earned distinction as one of America's most legendary and iconic brands through unrivaled racing dominance, engineering prowess and countless innovations and industry firsts. Today that heritage and passion is reignited under new brand stewardship. To learn more, please visit www.indianmotorcycle.com.
About The Sturgis Buffalo Chip
The Sturgis Buffalo Chip is the Largest Music Festival in Motorcycling™. Established in 1981, the venue's nine-day festival, known as The Best Party Anywhere®, remains one of the world's most televised and longest running independent music festivals. Buffalo Chip guests have the freedom to party and play while experiencing world-class concerts, outrageous events, moving freedom celebrations, thrilling PowerSports and more. Located three miles east of Sturgis, SD on 600 creek-fed acres, it offers cabins, RVs, camping, a swimming hole, bars, mouth-watering food, showers, paved roads, and more to visitors traveling from all corners of the world. The Chip's concerts are free with camping. More details are available at www.BuffaloChip.com.