Hard Work and a Honda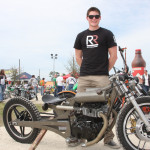 We all like a story about a builder with no formal training who knocks it out of the park on their first shot, but down here on earth, those stories are as rare as a dry Ironhead rocker box. The fact is, there's no magic formula for building a great bike, and the only certain way to succeed is to work for it until you do. That was the path Joey Chanel took when he began building this radical Honda-based chop. Inspired to take a creative approach when tasked with completing a senior year design project for his fine arts degree at George Mason University, he eventually convinced the staff that a chopper can be art, too. Hey, we already knew that, but word spreads slowly sometimes.  SEE MORE
Streamlined: Craig Vetter talks about living better on less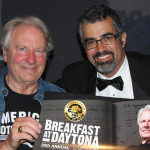 In 1969, 26-year-old Craig Vetter went to Daytona to show his motorcycle fairings and the seat/tank he'd made for his Suzuki 500. In 2014 the 71-year-old Vetter was again at Daytona International Speedway, this time as featured guest for the AMA Motorcycle Hall of Fame Breakfast. His insights on a life spent studying and designing streamlining for fuel efficiency were fascinating and thought provoking. Most motorcycle riders know Vetter for his Windjammer fairing, a design he pioneered and produced in the early '70s. He also redesigned the BSA Rocket 3, which became the Triumph Hurricane, invented Hippo Hands with his brother Bruce, and designed the Liberator fairing for Harley-Davidson But listening to Craig Vetter talk now, the concept that stands out as his life's guiding tenant is one he credits to futurist Buckminster Fuller: do more with less. SEE MORE

Mouth Closed, Mind Open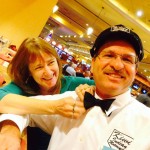 Bumping down the aisle of the 737 toward the steerage section, I glanced at the seat designations noting that 18E was, of course, a middle seat. Sigh. Gear stowed and seat belt buckled, the next revelation was my companion, (the one who scored the window seat,) a young woman who clearly wanted to talk, judging by her several overtures.
Worn out after five days of visiting shops and show-going, and with three hours and 58 minutes of flight time ahead, chit chat was the last thing I was interested in. So I brushed off her first forays at conversation, closing my eyes in fake snooze mode till take off then opening my laptop promptly when the announcement was made. But somewhere over Missouri, my exhaustion ebbing and stress easing, the ice broke. She was wearing a Harley T-shirt too after all, which, she told me later, was why she thought I'd be someone she could talk to. SEE MORE
Make it Your Own!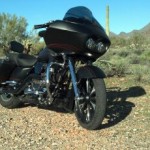 With 38 years of experience in the mechanical field, my passion for custom cars and motorcycles has grown and evolved over the years.  I have had several custom one-off motorcycle builds from the ground up and am now on my second Harley-Davidson motorcycle. Nothing against stock bikes.Some of the factory bikes are very nice, but they are not a true extension of the owner's personalities.  I like to customize my ride to fit my personality and life style. SEE MORE
A Trip to the Black Hills – and to the Past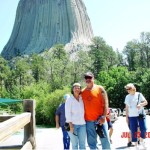 Who would have thought we'd be here some 30 years after high school, riding motorcycles in the Black Hills? As one would say in the 70's, it's a trip. Bill and I have been friends since elementary school. We played football and ate a lot of the same dirt back in Massachusetts. How it all came to be, is a bit of a blur, but I ended up in Oregon and he stayed back east and we both ended up riding bikes. But one day we decided to meet in Deadwood, SD and ride Harleys to Sturgis and beyond. READ MORE

The Ace Cafe – A Potted History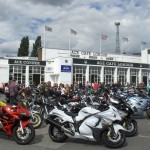 Three simple expressions but they represent perhaps the most powerful fusion, not only in yesterday's rock n' roll era, but also in today's. The Ace Cafe was built in 1938 as a roadside cafe to cater for traffic using the then new North Circular Road.   In World War II, the building was badly damaged and subsequently rebuilt in 1949.  It was a state-of-the-art cafe and one of the first to use neon signage.   With its proximity to Britain's new and fast arterial road network, and staying open 24 hours, the cafe soon attracted hoards of young motorcyclists who were bored and searching for their own identity.
Mystery of the Traub Motorcycle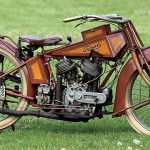 In 1967, a plumber doing renovations of an apartment building outside Chicago tore down a brick wall and found what would prove to be a baffling mystery to vintage motorcycle enthusiasts – a one-of-a-kind motorcycle bearing 1917 plates and the name "Traub". The building's elderly owner admitted that his son had stolen the bike before going off to WWI, never to return. But where the bike came from and who made it remains an unknown to this day. READ MORE
Dave Brackett and Big Twin the Trike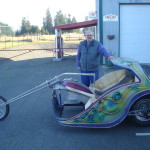 When Dave Brackett got out of the service in 1969 one of the first bikes he copped was a Honda 350. There were a few Triumphs and British bikes around then but there weren't a lot of people doing Jap stuff at the time. Then Dave built a 450 chopper, and a 550, and a 750. Every time he built a bike he'd get the dimensions off it while it was apart.
Then he started making and selling front ends and hardtail kits for them. So began the brief flame that was AEE Choppers, owned by Tom and Rose McMullen, a flame that burned strong but incinerated quickly. Dave Brackett was there at the time, and he was a part of it all while it lasted from 1967 to 1975. READ MORE