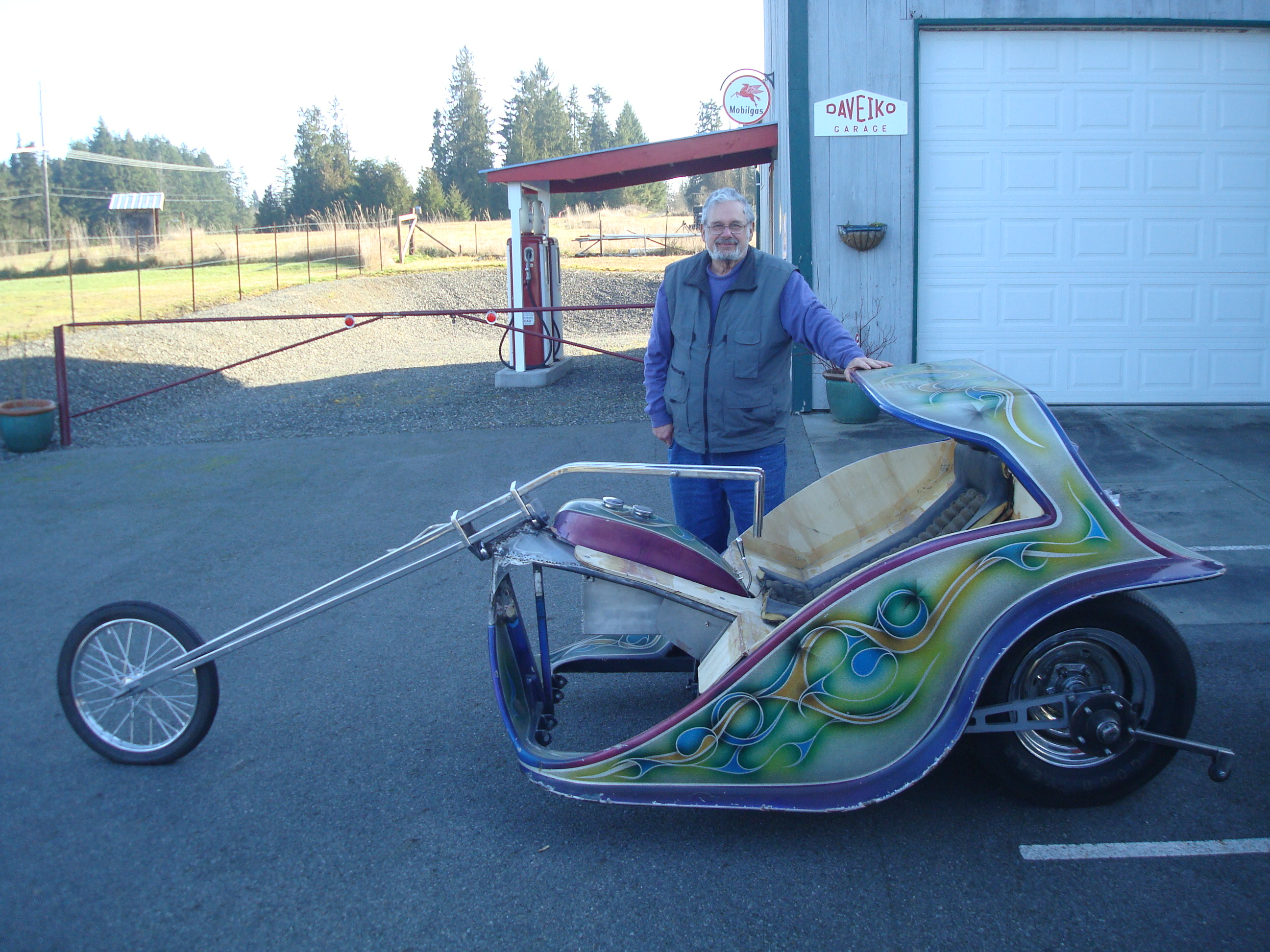 A crazy 5-wheeler is restored to former glory by the man who first built her.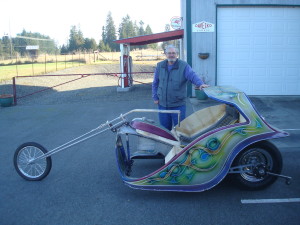 When Dave Brackett got out of the service in 1969 one of the first bikes he copped was a Honda 350. There were a few Triumphs and British bikes around then but there weren't a lot of people doing Jap stuff at the time. Then Dave built a 450 chopper, and a 550, and a 750. Every time he built a bike he'd get the dimensions off it while it was apart. Then he started making and selling front ends and hardtail kits for them. So began the brief flame that was AEE Choppers, owned by Tom and Rose McMullen, a flame that burned strong but incinerated quickly. Dave Brackett was there at the time, and he was a part of it all while it lasted from 1967 to 1975. Now one of the iconic trikes of the period, also built by Brackett, has come back to him to be restored.
According to Brackett, Big Twin, with it's outlandish set of five rear wheels, "might be arguably the most famous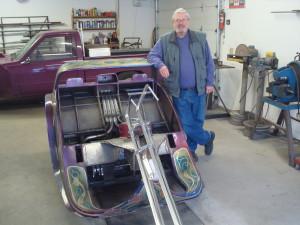 chopper from the early '70s." We're lucky that the current owners want it restored back to the original," said Dave. "We're lucky we still have some of the seat fabric to match, too."
According to Dave, the trike project came about just before Christmas in 1969. Here's how he tells the story:
"Tom, Rose, Jim Clark and myself had a meeting to discuss building another bike, for the upcoming Oakland Roadster Show, to try to repeat what AEE did with the Corvair trike. There were several sketches of different looking bikes from the magazine guys. We talked and came up with the conclusion it would have to have Sportster motors and four tires across the back. I spent a day or so making sketches, finalized one, showed it to Tom, he said do it. It was built in-house at AEE, along with my other duties there. After all the materials, motors, rear end and tranny were assembled, I had 32 days left to build the bike. I worked a lot of extra time, but I made it. My recollection is AEE spent about $10,000 on the build, a lot of money then."
Late last year Big Twin came back to Dave from Paul Ponkow at Bones Legacy in Las Vegas, NV, the current owners. Paul pulled the motors to send them out for chroming before moving the bike to Dave's shop in Washington state. (There were dummies in place while Dave did his work.) Dave wrapped up his part of the project recently and sent us some pictures. The goal is to complete the bike in time for the 2015 Grand National Roadster show, 40+ years after it made its debut there taking best in show.
Read and see more here: http://aeechoppers.blogspot.com/