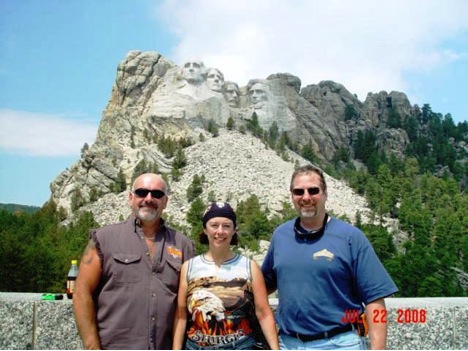 Story and photos by Paul Barber:  Who would have thought we'd be here some 30 years after high school, riding motorcycles in the Black Hills? As one would say in the 70's, it's a trip. Bill and I have been friends since elementary school. We played football and ate a lot of the same dirt back in Massachusetts. How it all came to be, is a bit of a blur, but I ended up in Oregon and he stayed back east and we both ended up riding bikes. But one day we decided to meet in Deadwood, SD and ride Harleys to Sturgis and beyond.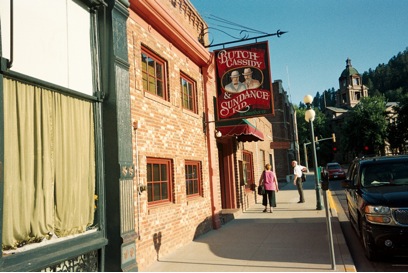 People often associate Sturgis as the Bike Week Capital of the world. If you looked up the word "debauchery" in the dictionary, you'd probably see a picture of Sturgis. But we weren't interested in the craziness, so we opted for 2 weeks prior. We stayed in Deadwood at the Butch Cassidy and Sundance Inn run by Dex and Terrie, and it was right down town within walking distance of inviting themed shops and "smell the goodness on the streets" restaurants. It is an atypical small town with down home storefronts exuding a mix of the old west while providing all the modern conveniences we have become spoiled to desperately need – electricity, refrigeration, and internet connections. But to catch all the charm, it's best not to visit during bike week, IMHO and that's what this is all about. There is another side of Sturgis that people don't often see. It's actually a biker's paradise in the middle of numerous adventurous roads and world renowned destinations.
Walking along the streets of Deadwood, we ventured into a local establishment, a hardware store, and easily struck up a face to face conversation with the proprietor. "So what's it like during bike week around here for you guys?" He was just a regular-looking guy and said, "Honestly, we just go grocery shopping for a few weeks, and just stay home. It's not worth going out into the circus." He wasn't unhappy with the prospect of all the business that would come to the community, nor was he disdainful at the sight of all the stranger-than-normal looking visitors. But you could tell it was something they all planned for and enthusiastically accepted as a way of life. He wished us well and recommended some great places to eat. We shook hands, smiled and feeling a warm Deadwood welcome, we were on our way.
Day 1 –
We decided to just gas up and explore on our own – no maps, no guides, just remember where we went. And as one would guess, we got lost. We ended up on a dirt road and I was "lucky" enough to be at the rear (cough cough). We did see some wild life but not the scantily clad tattooed bar babes one may expect, but a good sized herd of cattle with 2 head-butting bulls in the spotlight. And believe me they owned the road, not us. We knew it and they knew it. We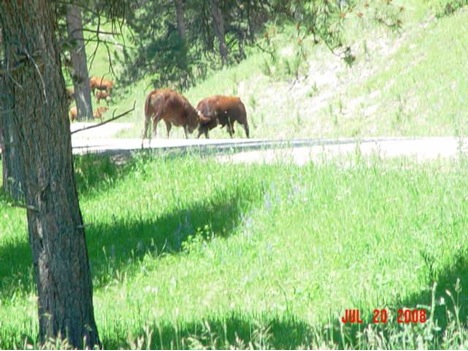 kept out distance but managed to get close enough for a shot. Keep in mind that these creatures are well capable of picking up both bike and
rider and giving them a "joy toss" into the air.
After the "show" and a few more miles of dusty cloud, we found pavement and took a break. Bill and Deb took one look at me and started to laugh uncontrollably. Not surprisingly, I was covered in dust, an adult version of Charles Shultz's "Pigpen" if you will. But as you can see, I was a happy pig and this was
me after I brushed myself off.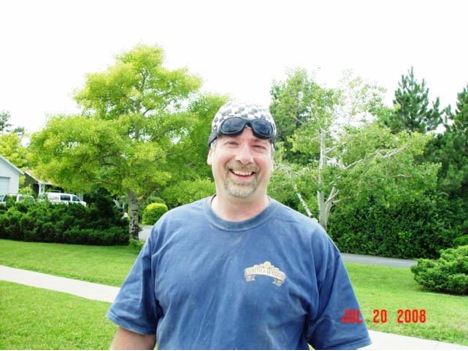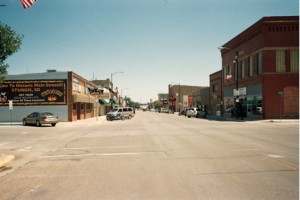 The other part of the day was spent in downtown Sturgis, shopping, and just taking it all in. For 50 weeks out of the year, Sturgis is really a ghost town – with empty shops, parking galore and is eerily uninhabited. But the shop-owners who remain are very friendly and their mounting energy was obvious as they prepared for the weeks to come. We bought T-shirts, mugs, bandanas, walked the town, had a cold one or two and enjoyed the day and were not in a hurry. Nice.
Bill, who is a Smith and Wesson electrical engineer by day, has also turned out to be quite the chef. He can barbeque a steak that melts in your mouth or brew up some authentic New England clam "chowda" that takes you miles beyond any canned version of the same. He did most of our cooking while we enjoyed the tavern-style kitchen at the BC. And we had it all to ourselves. What'll it be partner?
Day 2 –
Our second day was spent riding the Badlands loop. On the way we stopped on the side of the road and took some photos and noticed the occasional group of bikers passing by and every time, as we were stopped the group would slow down and give the thumbs up, as if to say "Are you guys OK? Need any help?" And our thumbs up reply said "no problems, thanks for noticing, rubber side down" and we smiled and nodded. If you're into the bike culture, you know exactly what I mean. It doesn't happen all the time but it's good to know, that if you're out in the middle of "badlands", you're not alone. Be courteous out there.  Here is Bill and his lovely wife Deb. She may not look it but she can easily handle
that 700-pound red Heritage Springer, it's her bike. Bill's black road king is leading the way.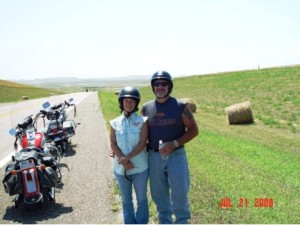 It was in the upper 90's and it was a dry heat in the real sense of the word, so this place looked like heaven on earth to us. Notice the empty parking lot – weird huh? No lines, no crowds, just walk in have a seat and enjoy the shade, the brew and the chit chat with a local. You could tell that this place was to be
common stop-over during bike week. The only thing missing was the crowd.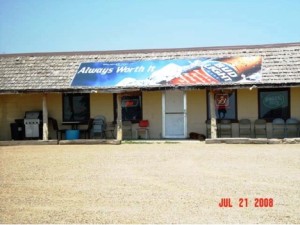 As you can see, nothing much grows in the Badlands, hence its name.
This trip would not be complete without a stop at the "Wall Drug Café" It has been around since 1931 and honestly ranks highest on my "best burger place" scale. Burgers, beer, buds and bikes – it doesn't get much better.
We visited Spearfish Canyon, a windy road through nature's showcase, with waterfalls, scenic turnouts and other bikers to connect.
Day 4 –
Who hasn't heard of Mt Rushmore or Crazy Horse? Well not many and this was one of the relatively crowded spots, but I guess that's true all year around. We did enjoy spotting license plates from all over the country as well as the monuments themselves. As much as I enjoyed seeing the presidents, I really was impressed by Crazy Horse. Not only did you get a feeling of Native American pride, but the sheer size of this work in progress was overwhelming. Apparently Mt Rushmore will fit into Crazy Horse's forehead once completed.
Day 5 –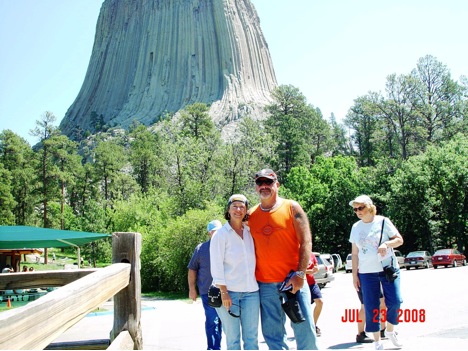 Devils Tower was one of my all time favorite spots. If you've seen the movie "Close Encounters", this is where it all took place. Seeing this monstrosity up close, one would wonder if anyone could really climb this thing. Well they do. The ride there and back was a bikers dream with just the right amount of bends, turns, straight-aways, greens, grays, browns, blues, mountain views and valley splendor. As we neared our destination, the approach was unique in that our greeters were more like parade observers. The 1000-plus prairie dogs (no lie) stood motionless near their road-side communes and watched intently as we approached the behemoth. And we watched them just as intently, mesmerized by their cautious but confident stance.
Just to give you an idea of how big this thing is, those are real people climbing up the side.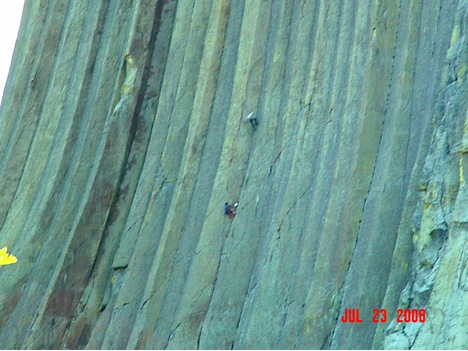 Day 6 –
Our week ended with a day of afternoon shopping and evening dinner with our hosts Dex and Terrie of the BC. They invited us out to their home and we had a lovely evening of great food, great wine and great conversation. They truly were the perfect hosts and we keep in touch to this day. Thanks Dex and Terrie for making our stay one for the books. And thank you Sturgis. To me you're more than just bike week, lots more. Cheers. J