Story and photos by Marilyn Stemp.
In 1969, 26-year-old Craig Vetter went to Daytona to show his motorcycle fairings and the seat/tank he'd made for his Suzuki 500. In 2014 the 71-year-old Vetter was again at Daytona International Speedway, this time as featured guest for the AMA Motorcycle Hall of Fame Breakfast. His insights on a life spent studying and designing streamlining for fuel efficiency were fascinating and thought provoking.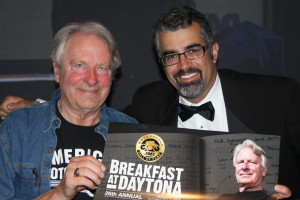 Most motorcycle riders know Vetter for his Windjammer fairing, a design he pioneered and produced in the early '70s. He also redesigned the BSA Rocket 3, which became the Triumph Hurricane, invented Hippo Hands with his brother Bruce, and designed the Liberator fairing for Harley-Davidson. But listening to Craig Vetter talk now, the concept that stands out as his life's guiding tenant is one he credits to futurist Buckminster Fuller: do more with less.
Early on Vetter tinkered with airplanes before bikes, getting his head around how they could be made to float on a shelf of air and experimenting with a wing shape towed behind a truck he called the Ram Wing. Though it never quite took off, "I still think it's a good idea," he said with a smirk.
"We designers of the time wanted to integrate parts," he said. "Willie G did it with the Super Glide, I did for my Suzuki. I wanted to design whole bikes, not just parts."
But as it turned out it was one component, the Windjammer fairing, that sealed Vetter's impact in the motorcycle aftermarket. He credits its success to the fact that it was developed by a motorcyclist, someone who knew things only a rider would know. And of course it was properly designed so it would fit a variety of bikes; only the brackets were different. Looks and function were both naturally part of the design process and those factors enhanced the fairing's popularity. But Vetter was far from finished. "I thought road racers knew something I did not and that racing would make me a better designer," he said. "So in 1975 I bought a 250 Aermacchi to race."
He took fifth place in the amateur class that year, too, but when he later got hurt racing his wife Carol convinced him to quit. "Cook Nelson said 'why don't you sponsor Reg Pridmore?' so I did and Reg took the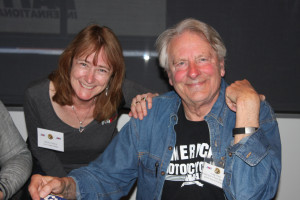 championship in 1978," said Vetter.
Vetter sold his company in 1978, which gave him time to turn his attention elsewhere. Bitten by the race bug he focused his efforts on designing what he called a streetable road race motorcycle. Dubbed the Mystery Ship it was based on a Kawasaki KZ1000 but was vastly modified—including two-piece Vetter bodywork, of course. Only ten were built. "It had all the right things a race bike needed," said Vetter. "All ten Mystery Ships are real race bikes!"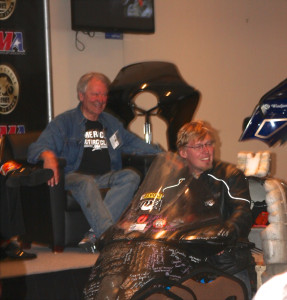 Vetter's efforts in the 1980s to inspire fuel efficiency with the Vetter Fuel Economy Challenge fell mostly on deaf ears at that time, leading to an abandonment of the project. It seems motorcycle riders just wanted to have fun in those days of abundance and indulgence. But three decades later the concept of fuel efficiency resonates once again and Vetter seems delighted to be working with electric powered streamlined motorcycles now. He produced what he calls the last Vetter fairing, which was used on Terry Hershner's Electric Zero motorcycle, doubling the bike's battery capacity. The Vetter Fuel Economy Challenge is back, too, with 2014 events at Vintage Motorcycle Days and the BUB Speed Trials.
"There's only one shape that goes through the air efficiently: round at the front pointed at the rear," he said. "If you're looking for efficiency in miles-per-gallon you need to be streamlined and have the least horsepower you can have to still keep up with the speed limit. Real streamlining will let a unit of energy take you twice as far."
Vetter says there's something magic about 25 horsepower. But can you think of any bike made today that is proud of making 25 horsepower? Maybe not but if it's fuel efficiency you're after consider this: "If you streamline a bike with 25 horsepower you can get at least 125 miles-per-gallon. That's going 70 miles-per-hour, sitting up and comfortable, and carrying a useful load," said Vetter. Quite an accomplishment.
A Vetter fairing is still distinctive, and it's often described as classic. According to the fairing's designer, "classic means it looks good today, tomorrow and in the future." Classic and efficient? Mission accomplished, Mr. Vetter.
To learn more about Crag Vetter:
http://www.craigvetter.com/index.html
See a 1977 Vetter trade show video here:
http://www.craigvetter.com/Movies/1977%20Vetter%20Corp%20Original%20Video.mov