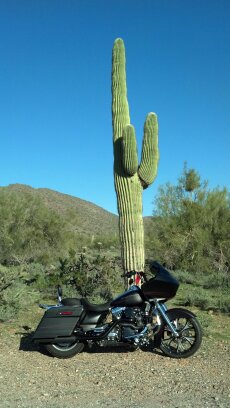 With 38 years of experience in the mechanical field, my passion for custom cars and motorcycles has grown and evolved over the years.  I have had several custom one-off motorcycle builds from the ground up and am now on my second Harley-Davidson motorcycle. Nothing against stock bikes.  Some of the factory bikes are very nice, but they are not a true extension of the owner's personalities.  I like to customize my ride to fit my personality and life style.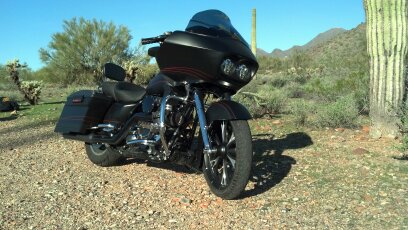 I chose the 2013 Roadglide because, in my opinion, it is the best riding touring model Harley has ever made.  However, it is not well liked because of its looks.  That's where customization comes in.  I pulled this bike up on a rack at my shop, Chariots of Fire Customs LLC, in Troy, MO and began its transformation.  This Roadglide needed to become a part of me.  I started looking over the stock machine and decided to make some small changes at first to make it comfortable as an everyday rider.  I was not interested in making it a radical bagger.  I installed 12" ape hangers and Kuryakyn cruising pegs to ergonomically fit my 6' frame for the long day rides my wife and I enjoy taking to get away from everyday stresses.  I personally like entertainment, so the radio, speakers, and amps in the fairing and Kuryakyn saddlebag lids was a must.  Kicker and Hogtunes helped with that. 
Next I moved on to looks.  This was somewhat easy because I wanted a stock look with a race flare.  Changes started to emerge with Cyclesmith's saddlebag extensions, Klock Werks windshield and a RC Components 21" front wheel.  The wheel I also customized by having it powder coated flat black to match the paint on the bike.  I thought I was ready for the open road until I road the stock 103.  It just didn't have the power I wanted.  With racing in my blood as owner of JAK Racing Team as well as having completed numerous upgrades for customers, I decided it needed something more, but I wasn't sure which direction I wanted to take.  A trip to Sturgis helped me out.
While in Sturgis with my closest friends I checked out the power upgrades and decided to turbo charge my ride.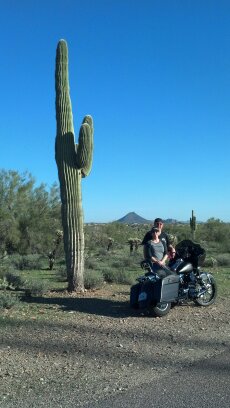 Nick Trask and his speed shop sold me on their great product.  A couple of weeks after getting back from Sturgis the bike was back on the rack for its 10K service and the speed upgrade was completed.  After installing .010 head gasket, 1.75 Jims roller rockers, Screaming Eagle 255 cams and the Trask turbo system, also in flat black to match the factory paint, I now had the horse power I wanted to make my ride my own.
My wife and I can ride this customized Roadglide as a daily rider and at night it can also double as my bad ass turbo glide street racer if I so choose.  In my experience, most riders want their bike to be customized to become an extension of their personality.  Individuals have visions from simple upgrades such as load pipes on a Sportster to major changes to create radical baggers.  There is a dream bike in every riders mind. 
Resource:
Chariots of Fire Customs LLC
Troy, MO
636-775-1385
chariotsoffirecustoms.com.