Story by M. Stemp
Photos by Jack McIntyre
South Bay Customs has been open only about eight years but builder Michael Schreiber has been riding and tinkering with motorcycles for more than 20.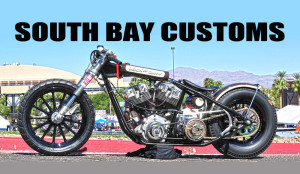 Since the time he was a youngster, Michael has possessed a driving curiosity but he never pursued formal training. "I never even took auto shop in high school," he said, "but I was taking my mom's appliances apart behind her back when I was 7."
Something that's been on Michael's mind since about that time, was a lifelong dream of racing on the Bonneville Salt Flats. In fact, that was the inspiration for the custom motorcycle pictured here, a bike he calls Death or Glory.
In the spring of 2013, Michael and his friend of over 25 years, Kenny McNeely, finally put a stake in the ground to make the dream they'd shared since childhood come true. The first step involved sacrificing Kenny's 1972 Shovelhead – or at least part of it. The engine and most of the primary drive components found a new home in a purpose-built Kraft Tech rigid frame with 36-degree rake and a 3" stretch on the backbone. The engine was tweaked with a mild Andrews cam, Joe Hunt magneto and an S&S Super E carb.
A stroll though the local junk yard yielded a front end and rear sets from a Buell X1 Lightning, a contrast perhaps, but remember: this was intended to be a race bike. The unique gas tank and one-off stainless exhaust were hand-fabbed at SBC with the help of Michael's right hand man Dae Kim. By August, the three friends went to Bonneville for the Bub Speed Trials, racing Death or Glory on the Salt and realizing their dream.
When we caught up with them a few months later at the Las Vegas Bikefest Artistry in Iron competition, the bike was a standout among its peers. What did Michael point out as his favorite aspect of the bike? "The blending of old and the new: for example the 1972 Shovelhead motor and the Buell X1 inverted forks."
Maybe that's one of the things we noticed, too, because we picked Death or Glory then as the IronWorks Editor's Choice winner. Our only regret is that we did not get to feature the distinctive racer in print. Still, as Las Vegas Bikefest approaches for 2014, we're reminded of dreams that are put on the shelf once realized, along with visions of glory yet to be. And in similar fashion, Death or Glory stands as an example of an artistic hand and a craftsman's approach that deftly combine what came before with what's yet to be.
Resource:
South Bay Customs