This metal beauty called Pennie Lane was built by Tim Dixon of Gas Axe Chop Shop in Ten Mile, Tennessee. It was one of the 2014 Artistry in Iron bikes at Las Vegas Bike fest. Tim says he came up with the idea for this build when he was going home from Bikefest last year, in 2013. Tim had been an invited builder to Artistry in Iron that year, too. His entry then was a long chopper – a bike quite different from this one and an indication of the range of his abilities as a welder and fabricator. "Being the show is called Artistry in Iron I didn't want to win because of a paint job," he said. "I wanted to win because we're craftsmen."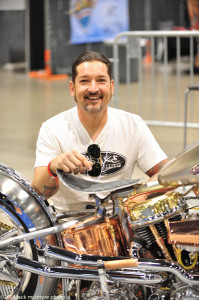 "We do so much with cars that I wanted to fuse it together by using parts and design cues from cars in a bike build," he said. He got the basic idea in his head, did a drawing and says everything fell into place from there.
Tim took the motor and trans from a donor 1959 Panhead. The frame is built from raw 7/8" diameter tubing – with inner sections of polished tubing that show through thanks to properly placed diamond-shaped cutouts. The frame was stretched 4" to allow the suspension to work – and speaking of suspension, it's a work of art in itself.
"Last year we did a Harmon-style front end on the long chopper and I loved the way it worked. So I dummied something up with a Model A straight axle, added a shock and a rocker, and it worked," said Tim.
Tim likes the look of a rigid bike so out back he used springs from a 1931 Ford Model A to make a leaf spring-style suspension. The springs were re-arched to match the curve of the fender. "It was originally gonna be a single sided swing arm cause I really wanted to show off the wheels, but we liked how this turned out."
And those wheels? They're Halibrand Magnesium front wheels from a dragster. Tim's had them over five years waiting for the right project. "That's my holy grail," he said. "We pulled them down off the shelf one day and I finally thought, this is it, we gotta do it!"
He's an accomplished welder with over 30 years of experience but machining these wheels gave him pause for thought. He'd never worked with magnesium before. "It's really different. If it catches on fire there's nothing you can do." So he went on the Internet, talked to his welding supply guy, and figured it out. "But to start machining on those wheels? That was a feeling!"
The copper oil tank and intake were challenging, too. He traded some welding work for 1/8" sheet copper and 1 ¼" round scrap. After some experimentation, he got a roll of Romex, stripped it, and used it for filler wire along with some of the parent material to make sure it didn't change color in the welding process. "We did a lot of experimenting with different metals to see what worked and didn't work," said Tim. "We got a lot of lessons doing this build for sure."
The gas cap is a 1938 Hupmobile trunk latch. The mirror is from Low Brow—one of the few aftermarket parts on the bike. Grips and pegs are made from scrap kitchen backsplash material welded to steel.
Working mainly in the evenings Tim says there are over 2000 hours in the build. Forming the tank alone took 55-60 hours to make it perfect. "My shop is air conditioned and my wife makes plenty of food. if anyone had any talent I got them to help me. You sanded or your left!" he said.
There are tons of other details on this bike that are tough to see or hidden, such as the spring-loaded center stand. Tim put a detent in the frame that locks into place when the stand rolls up. And the overlapping puddle welds are beautiful to see. Clearly that's Tim's forte'.
"I love to weld. I'm not as good as I used to be but I weld every day. I can MIG weld like crazy."
We agree, Tim!