Story by CT Rider
Photos by Jack McIntyre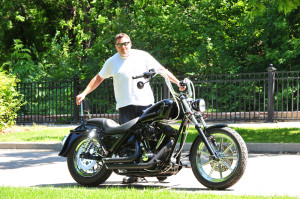 Dave Lawrence has been around motorcycles his entire life. He started off riding dirt bikes and quads as a kid and then he graduated to street bike when he was a teen. Dave was riding a few miles from his house when a truck backed out in front of him and left him and his bike in pieces. After everything settled from the accident Dave progressed into his first Harley. As most of us know you can't go wrong with an FXR. Dave picked this 1989 FXLR from a local friend around town and the bike was more or less ride ready. Like most of us, Dave had good intensions of leaving the bike as it was and just making sure it went down the road safely. However, Dave has been working in the car and motorcycle industry for almost twenty years now and that has a way of pushing you past stock. So Dave brought the 24 year old bike to be warmed over by his friend Russ Keene. Russ has been building and painting top notch motorcycles since he was 18 years old and a FXR build would be no problem. Custom bike builders love to build off of the FXR chassis. Their classic look and functional drivability lend themselves to being some of the best bikes to build and beat the snot out of. Russ and Dave went through the list and the general consensus was that every part on the bike needed customized, chromed and painted.
To start off Dave's bike was completely disassembled for cleaning and assessment. The engine and transmission were put into the hands of Mike Surrey, a highly knowledgeable mechanic out of Raynham, Mass. Mike disassembled and rebuilt the transmission using stock specs with brand new components. The engine was disassembled and to check the state of the top end, flywheels, rods, ect. Dave was sure he would wanted to add additional power under the hood so a set of ported heads by Jimmy Dorgan, high lift Andrew's cam, and forged pistons were installed to give Dave some throttle response. An upgraded intake and exhaust system were added to assist in maximum air movement and a crane ignition system replaced the older stock set up to pulse the spark. The whole package is putting out a respectable 90 horsepower which was plenty to keep up on the rolling hills in South Dakota!
Some major modifications Russ made to modernize the bike were in the tins, ride height and chassis. Russ added three degrees of rake to lengthen the overall appearance of the bike. That with a 12'' set Wild One apes gives the front of the bike some attitude. Russ also spent a considerable amount of time working to redesign the fuel tank. Russ took the existing fuel tank and sawed it right in half. He added an aftermarket top half to the tank to make the whole front end set apart Dave's bike from the rest of the FXR's out there. Russ also added a FLH rear fender and RWD lay down license plate and taillight to freshen up the rear section of the 89. The bike was also lowered to give it a more aggressive ride height. The major modifications have given the bike a clean, lengthened and updated appearance.
Dave also wanted to add some of the hottest products available to him. He added several upgraded components such as air filter, fuel cap, grips, exhaust and controls to make the bike his own. Any stock part such as the calipers and wheels were sent out for chrome to Meclec in Fresno CA. Russ also did the body and paint work on the bike. Russ molded and painted the chassis, all the tins, and a number of pieces on the bike to match the fresh look of the bike. After Russ smoothed the bike out to a perfect finish John Hartnett added some tasteful pin striping to the PPG black to finish off the tins. Some of the beauty in this bike is the attention to detail during final assembly. The entire bike is finished off with matching chrome hardware and the wiring is done in great detail; you can tell there are no loose ends hanging on the bike. Now that the bike is finished I asked Dave what his thoughts were when they finished working on this project. Dave replied we knew we wanted to keep the FXR look but there wasn't a single piece we could leave alone.
After the bike had been finished Dave had a chance to make his first run to Sturgis. Dave thoroughly enjoyed his new FXR with pride ripping through the black hills for the first time; which anyone who has been to Sturgis can relate to. Dave put well over a thousand miles on his bike that week without a single issue. Joe Milke debuted his first FXR motorbike show at the park in downtown Sturgis last year. Dave and some of his buddies figured they would make a day of it. Dave's bike clean and classic FXR look earned him Iron Works editor's choice award out of 60 some odd FXRs and the competition was pretty stiff! It's obvious why though, Dave's FXR shows classic rebuilding and still embodies everything an FXR is. Taking home the award earned me the right to declare it Dave Day! Dave day was filled with booze, laughs, good food, and lots of laughs. There are some other things in there too, we just agreed not to talk about them!
Specifications
Owner: Dave Lawrence 
Builder: Russ Keene Brockton, MA
GENERAL
Year, Make & Model: 1989 FXLR
Assembly/Builder: Russ Keene
Timeline: 3.5 Months
FORKS
Year/Model: 1989 Narrow Glide
Builder: H-D 
Type: 39MM
Triple trees: H-D
Extension: LOWER 1''
ENGINE
Year/Model: 1989 H-D EVO
Rebuilder: MIKE SURREY
Displacement: 89IN
Lower End: STOCK
Balancing: STOCK
Pistons: .010 OVER WISECO
Cases: H-D
Heads: H-D/ JIMMY DORGAN
Cams: ANDREWS
Lifters: LIFTERS
EFI/ Carb: S&S
Air Cleaner: RSD
Pipes: VANCE & HINES SHORTSHOTS STAGGERED
Ignition: CRANE HI-4
TRANSMISSION
Year/Modifications: 1989 HD/ MIKE SURREY
Engine sprocket: STK
Trans sprocket: STK
Wheel sprocket: STK
Secondary drive: STK
FRAME
Year: 1989 HD
Designer/Builder: RUSS KEENE
Rake/Stretch: 3DEGREES RUSS KEENE
ACCESSORIES 
Bars: WILD 1 CHUBBY 12'' APES
Risers: DRAG
Fenders: FRONT/RUSS KEENE. REAR FLH RUSS KEENE
Gas Tank: RUSS KEENE
Oil Tank: H-D
Headlight: DRAG
Taillight: RWD
Speedo: NA 
Pegs: JAY BRAKE
Electrics: RUSS KEENE
Seat: DRAG
Sissy bar: DRAG
WHEELS/TIRES
Front Wheel:19'' H-D
Front Tire: METZELER
Size: 100/90-19
Rear Wheel: 16'' H-D
Rear Tire: METZELER
Size:140/90B-16
Hubs: STK
Rotors: DRAG POLISHED STAINLESS
Brakes: H-D
PAINT
Bodywork/Molding: RUSS KEENE 
Painter: RUSS KEENE
Color: PPG BLACK
Artwork: JOHN HARTNETT
Chrome: MECLEC METAL FINISHING