DAYTONA BEACH, Fla. (Nov. 24, 2017) – American Flat Track competitors Briar Bauman and J.D. Beach will represent the U.S.A. in the fifth international Superprestigio Dirt Track event in Barcelona, Spain, on December 16, 2017.
The prestigious invitations to Bauman and Beach come on the heels of news that recently crowned – and four-time – MotoGP champion Marc Marquez will not participate in this year's Superprestigio event. Marquez, who's won two of the four Superprestigio events (with American Flat Track star Brad Baker winning the other two), took himself out of contention for a third win recently due to the physical and mental wear-and-tear of the MotoGP championship. "I need some rest," Marquez said recently, "and it's time for other Spanish riders to win the Superprestigio!"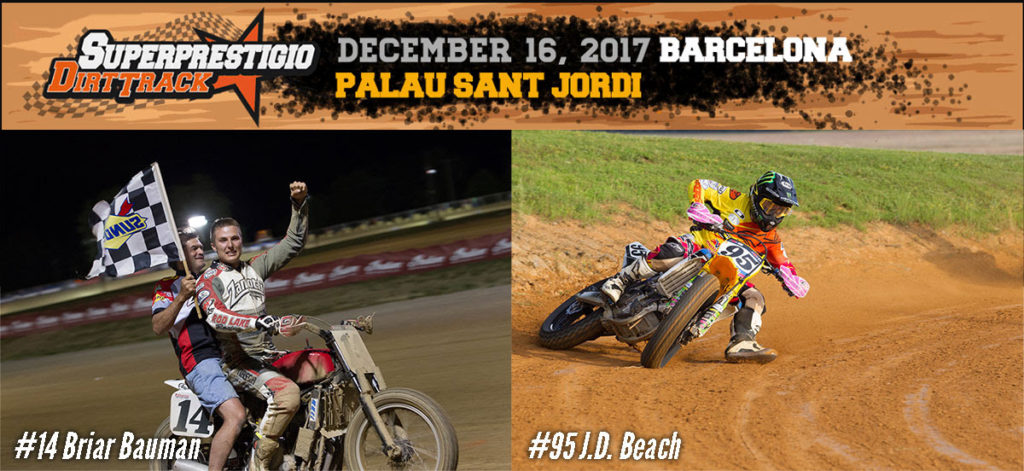 The other news is that, like Marquez, Baker will not compete due to a previous injury and subsequent off-season rehab. Baker's two wins versus Marquez in previous Superprestigio events had generated plenty of anticipatory buzz for this December's showdown: With Baker and Marquez each having two wins, this outing was sure to determine who really is the Sultan of Slide.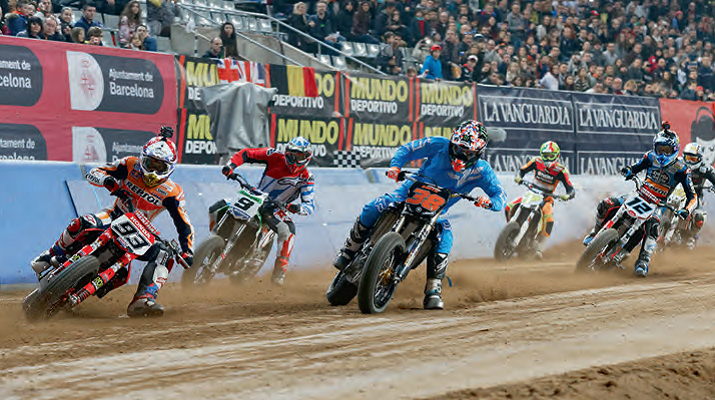 "I'm definitely disappointed," Baker said over the Thanksgiving break. "This would have been my fifth time competing over there, so it stings, and I will definitely miss it. I've made some very good friends over there, been able to practice there a lot, and the event itself is a blast."
All of which leaves a wide-open opportunity for Superprestigio newcomers Bauman and Beach – along with an international cadre of championship-caliber riders – to grab what's arguably the most prestigious international flat track event of the year, and break the tie that currently exists between Spain and the U.S., each with two wins apiece. A total of seven world champions from a variety of motorcycle racing disciplines are scheduled to take part in the 2017 event in December, including Toni Elias, Johann Zarco, Tom Chareyre, Lucas Mahias, Greg Black, Vincent Philippe and Sylvain Bidart.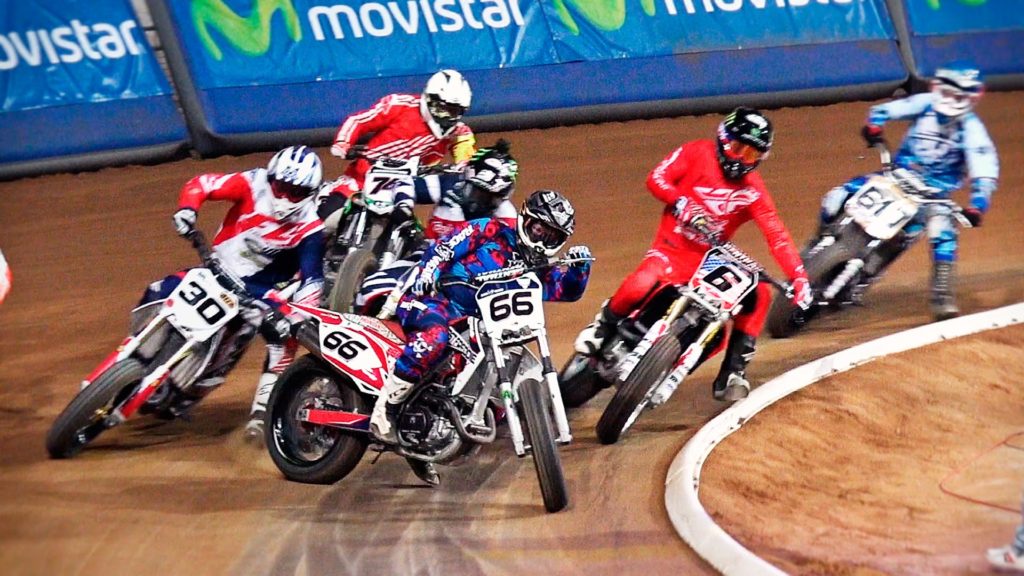 "As soon as I knew I couldn't make it," Baker adds, "I suggested J.D. and Briar to the promoter. The smaller [17-inch] wheels and road racing rain tires take a little getting used to. But knowing those two, and how talented and versatile they are, I'm sure they'll represent American dirt track well."
"I'm really, really excited," Beach said. "It's been almost a decade since I last raced there, and I'm looking forward to going back and seeing some of the people and places I remember from 2008. I think I'll be riding a Yamaha 450; Brad is helping me line things up now. He also sent me a set of his 17-inch wheels to practice on, so that helps, too."
"I'm pretty pumped," said Bauman, who won two AFT Twins races in 2017 on a Kawasaki. "It'll be my first time overseas, and it's really exciting. When you're growing up as a racer, you always think about traveling the world and racing against the best in the world… and here I am, doing just that. You dream about this sort of thing! Seeing a different culture will be neat, too. In terms of the bikes, yeah, riding a strange motorcycle with smaller wheels and different tires…that'll be a challenge. But as a professional racer I think I'll be able to adapt pretty well. I can't wait!"
A third American rider may be named in the coming days, so stay tuned to AmericanFlatTrack.com for more news, pre-race updates and features.
Tickets for 2017 Superprestigio Dirt Track are available at www.rpmticket.com. Click www.dtxbarcelona.com for the official event website.
About American Flat Track:
American Flat Track is the world's premier dirt track motorcycle racing series and one of the longest-running championships in the history of motorsports. Sanctioned by AMA Pro Racing in Daytona Beach, Fla., the series is highly regarded as the most competitive form of dirt track motorcycle racing on the globe. For more information on American Flat Track, please visit http://www.americanflattrack.com, like us on Facebook, follow us on Twitter, check us out on Instagram, live stream the events at FansChoice.tv and catch all the American Flat Track racing action on NBCSN.