Free live music, new product displays, stunt shows and so much more make the world's only
Harley-Davidson Museum® the Central Rally Point for Harley-Davidson's 115th Anniversary!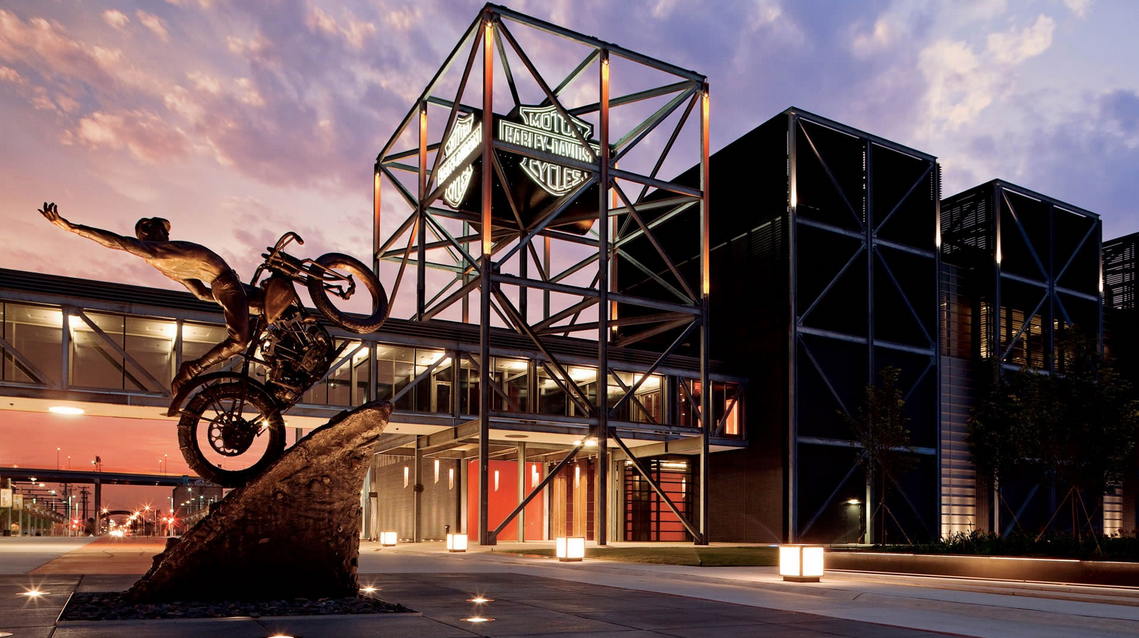 MILWAUKEE (Aug. 29, 2018) – The party begins today with 88 events at 27 venues over five days. Harley-Davidson riders and enthusiasts from all over the globe are in Milwaukee for Harley-Davidson's 115th Anniversary. The party of the year will feature celebrations all about riding, racing, meeting new friends and connecting with people who share a love for life on two wheels.
Southeastern Wisconsin will roll out the orange carpet with legendary events like Beach Brawl, Flat Out Friday, Hillclimb competitions, street parties, drag racing and so much more. Plus, area dealers will host free demo rides, the factory in Menomonee Falls will be open for tours and H-D's Global Headquarters will provide the ultimate backdrop for the ultimate photo op.
Festivities begin at Veteran's Park with the Kickoff Party + Harley-Davidson 115th and H.O.G. 35th Moto-Carnival. Rides home will begin landing at 2 p.m. on Wednesday, Aug. 29 and the Opening Ceremonies begin at 4 p.m.
And everyone is invited to learn more about Harley-Davidson's 115 years of fulfilling dreams of personal freedom by visiting the H-D Museum. "The Museum not only tells the story of Harley-Davidson, it's where our history, heritage and passion come to life. The freedom, pride and camaraderie of Harley-Davidson riders are always on display here," said Bill Davidson, Vice President of the Harley-Davidson Museum and great-grandson of company founder William A. Davidson.
And for a limited time, be sure to check out Harley-Davidson's LiveWire prototype display and learn more about the Motor Company's innovative electric motorcycle. The LiveWire prototype will be making history on campus beginning Wednesday morning (Aug. 29) before it leaves Saturday morning (Sept. 1).
Roll into Milwaukee Labor Day Weekend and join the celebration. No matter what you ride, or even if you haven't started yet, all are welcome to join the 115th Anniversary celebration.
Some highlights at the Harley-Davidson Museum include:
Free, live music on the H-D Museum campus, Wednesday through Sunday. No ticket required!
Harley-Davidson New Product Trailer (all-weekend long)

Be among the first to throw a leg over Harley-Davidson's new line of 2019 motorcycles, including the all-new FXDR.

Women's Ride (Friday, Aug.31)

115 female riders begin staging at 8 a.m., with kickstands going up at 9:30 a.m. for this annual favorite ride that winds throughout southeastern Wisconsin.

Motorcycle Field Games (Saturday, Sept. 1)

Field Games have been around for hundreds of years, dating back to the domestication of the horse.  Just like riders of today, ancient equestrians competed to see who was the most skillful among them. This tradition continued with the invention of the motorcycle, but with a few twists, owning to that special creativity that is only found among bikers.  Join us as we recreate the early motorcycle field games.

Custom Bike Show (Sunday, Sept. 2)

Your bike is hot, show it off at the H-D Museum's annual Custom Bike Show. Rolling sculptures will blanket the campus as builders compete for the coveted Willie G. Davidson Award. (Registration: 8 – 10 a.m. Judging: 11 a.m. – 2 p.m. Awards show: 4 p.m.)

Free outdoor activities (all-weekend long)

Shirt Cutting, Airbrush Tattoos, Boot Shine, Haircuts and Beard Trims, Budweiser® Beer Garden, Bulleit® Bourbon, Zippo® and Metro Cigars
Custom Culture Artisans: Check out the hand-crafted leathers, designer apparel, paintings, drawings, and motorcycle parts art offered by hand-selected artisans.
MotoPhotoShow: Experience the moto centric photography gallery featuring top artists and photographers.
Pinstriping: Custom pinstriping available by professional artists to customize your ride, belt, boots, wallet, etc.
Sailor Jerry Cocktail Bar & Flash Art Gallery: Learn the story of Norman Collins (aka Sailor Jerry) as you share a cocktail and witness the emerging American counterculture who chose to live outside the lines.
Live Tattoos: Take home the ultimate souvenir as professional tattoo artists will be on hand to add permanent ink to your 115th Celebration experience.
Ill Conduct & Ives Brothers Stunt Shows: Experience the thrill as top motorcycle stunt performers show you what not to do as they tear up the pavement.
The Shed Photo Opportunities: Take a photo in front of a replica of the iconic Shed, the place where it all began in 1903.
Museum H.O.G. Pin: H.O.G. Members make sure to stop by to pick up your 2018 Museum H.O.G. Pin.
H-D Museum Exhibits: Within the walls of the H-D Museum® you will find motorcycles and artifacts that tell the story of the Motor Company's rich history and heritage. Every gallery and exhibit is an astonishing testimony to the legendary bikes, the people who built them and, of course, every individual who ever felt the powerful rumble on a long stretch of road.
Merchandise and Collectibles in The Shop: Pick up your official 115th Anniversary and H-D Museum merchandise and check out the H-D Originals Collection.
Food & Beverage: Visit MOTOR® Bar & Restaurant and Can Room along with various outside concessions and beer tents open throughout the weekend. Plus, check out the limited-edition collaboration 115th Anniversary lager.
115th Anniversary Rivets: Celebrate your H-D journey or honor the legacy of a loved one with a customized Living the Legend™ Rivet, permanently displayed on the H-D Museum™ grounds. H-D 115th rivets only available through December 2018.
MDA 115th Anniversary Live Auction and Motorcycle Raffle.
Be sure to visit H-D.com/115 or download the H-D app to keep tabs on the weekend activities.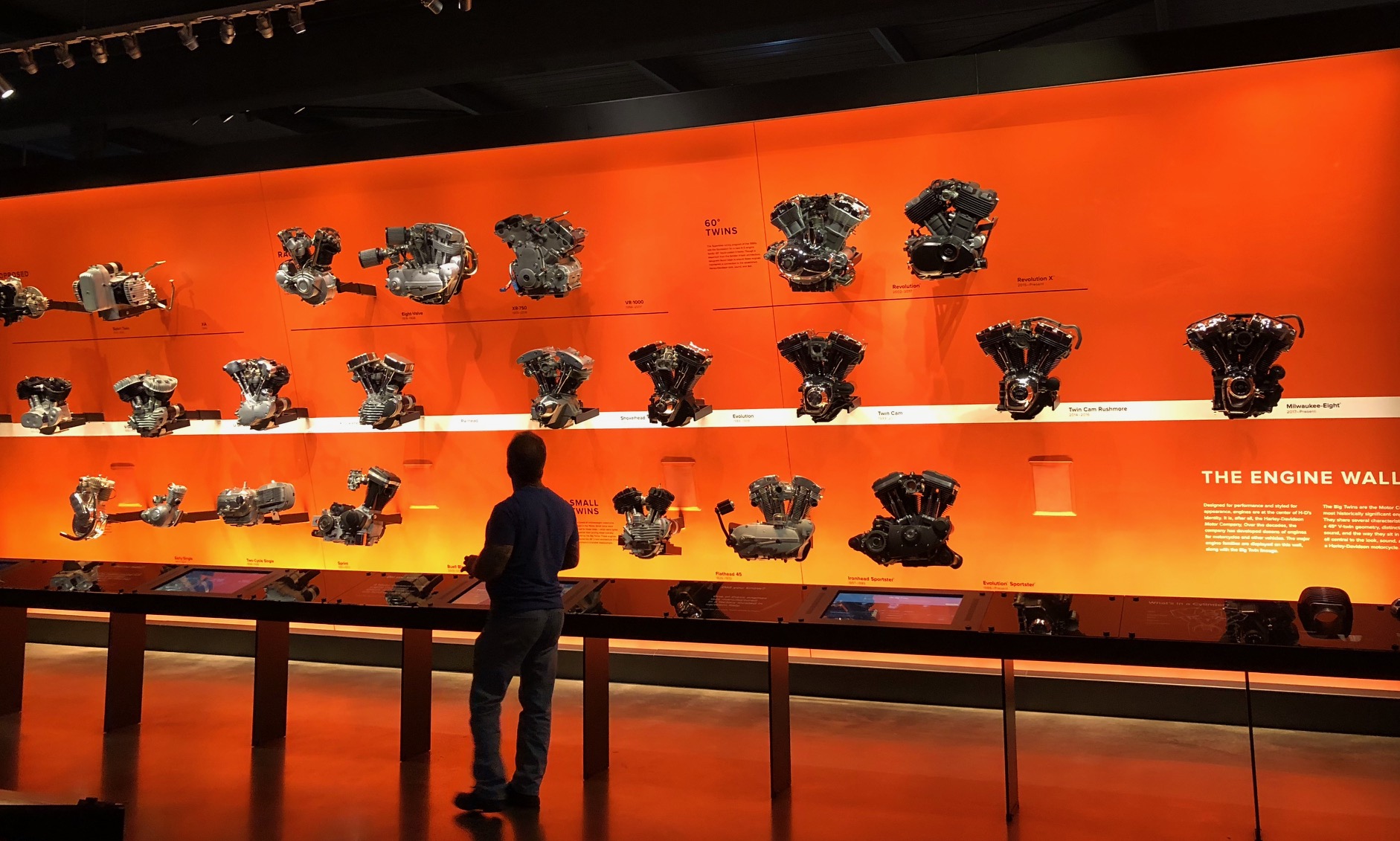 About the Harley-Davidson Museum®
A walk through the Harley-Davidson Museum® is a walk through the history of America. With an unrivaled collection of Harley-Davidson® motorcycles and memorabilia, a 20-acre, park-like campus, and a calendar full of activities, the H-D Museum™ is one of Milwaukee's top tourist destinations for visitors from around the globe. A visit to the H-D Museum™ is an experience that will stay with you for a lifetime. Make your plans to visit the Harley-Davidson Museum® at h-dmuseum.com.