ThrowBack™ Looks Back To 1980 For 2004-Up Sportster Seats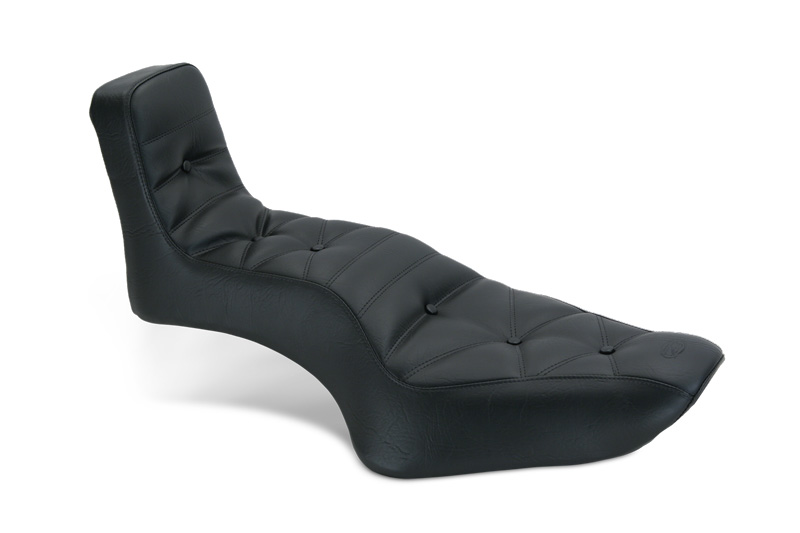 May 7, 2015, Three Rivers, MA — Mustang is celebrating their 35th anniversary of comfort and innovation by bringing back a look from yesteryear — or, at least, from 1980 when Mustang was founded. The "new" ThrowBack™ style seat fits all 2004-up Sportsters. The Sportster line has been in continuous production in one form or another since 1957, which makes it the perfect platform to bring back the ThrowBack-style seat with its characteristic sissy bar and distinctive top cover with buttons.
"This seat will make you nostalgic for fifty-cent burgers and dollar-a-gallon gasoline," says Mustang Seats Business Development Director Marilyn Simmons. "While we can't do anything about gas prices, we can bring back the classic styling of an earlier era." Don't let the look fool you, though. Mustang used all their 21st Century seat-building techniques to bring this old style forward into the present. Technological updates include Mustang's proprietary foam formula and durable steel-reinforced, marine-grade fiberglass baseplates.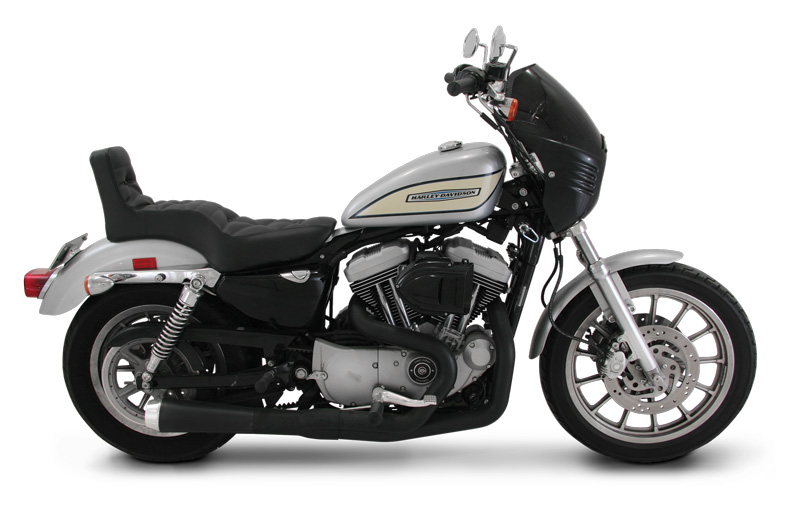 "It is still what is on the inside that counts in terms of comfort, but this seat stands apart visually as well," adds Simmons. "The 10" wide driver area and 6.5" wide passenger seat feature the handcrafted look you've come to expect from Mustang, finished off with an intricate diamond-stitched pattern and covered buttons."
With a retro price tag of only $409 suggested retail, you can easily ride into the sunset and beyond on Mustang's ThrowBack™ for 2004-up Sportster models!
Mustang Seats Part #75126 – One-piece ThrowBack™
In addition to the new ThrowBack™ for Sportsters, Mustang also offers replacement seats for virtually all late model Harley-Davidson® motorcycles. How would you like a free seat for your bike or trike? Mustang's customer GIVEAWAYS program kicked-off during Bike Week in Daytona and the next winner will be announced at Laconia Bike Week. See the website for details on how to win the Mustang seat of your choice here: http://www.mustangseats.com/mustang/history-35thanniversary

About Mustang: Flying high for 35 years, Mustang has been making superior seats and related motorcycle accessories since 1980. We are proud of handcrafting the most comfortable seats in the world in our state-of-the-art facility in Three Rivers, Massachusetts. With an unwavering focus on quality and customer satisfaction, Mustang has grown to be the leader in the design and construction of aftermarket motorcycle seats. No one is more dedicated to building a more stylish, functional and comfortable seat than Mustang. Mustang earns its wings with riders around the globe with every ride!