(Mitchell, SD) May 5, 2015 – Klock Werks Kustom Cycles announces a new direction in imagery led up by skilled motorsports photographer Sara Liberte.  Along with many new innovative products coming to market, and new campaigns to inform customers about them, come new images that will better showcase the quality of the products that Klock Werks Kustom Cycles has been producing over the years.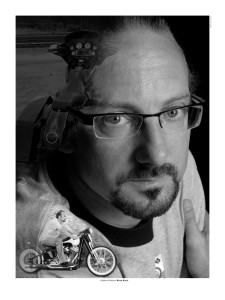 "Many of our products solve a "problem" and serve a purpose, all while still adding style to your bike," stated Brian Klock, President of Klock Werks. "It just made sense that the quality of our images should equal the quality of our product lines. With over 20 years experience shooting in the motorcycle industry, we felt there was no better leader to execute that task than Sara Liberte."
Many of you may remember a series of images Sara released to the motorcycle industry back in 2005 titled "Builder and Machine". These were images that captured the true talents of some of the most skilled craftsman in the industry. Back in 2006 Sara photographed Brian Klock and added him to her Builder and Machine Series.
"We have known Sara and worked beside her for over 10 years now, from All Woman Bike Builds her and I were involved in together, to various photography projects, and we now look forward to the next 10 years with excitement," stated Laura Klock, Klock Werks Marketing Director. "Sara is not only extremely talented at photography, with her new position as Klock Werks Multimedia Specialist, she will be producing product and installation videos and implementing our social media strategy as well. She's an awesome addition to our team and will be integral to helping Klock Werks gain market share and build brand awareness."
Sara's work can be viewed in all Klock Werks print advertisement in several leading industry publications, the Klock Werks 2015 Catalog, and of course on the website and all Klock Werks social media channels, including Facebook, and Instagram.   Her Builder and Machine series can be seen at www.saraliberte.com, any posters of Brian Klock ordered via Sara's site have been offered to be signed by both Brian Klock and Sara.
Klock Werks welcomes any questions and encourages riders to understand the difference in order to make an informed buying decision. Learn more at www.kustombaggers.com where the entire Klock Werks product lines are available to order, or visit your local Drag Specialties dealer.
About Klock Werks
Located in Mitchell, South Dakota, Klock Werks has grown from humble beginnings to a nationally and internationally recognized Brand. Achieving status as "Air Management Experts", Klock Werks credits this to the success of the original, patented, Flare™ Windshield. Also supplying fenders, handlebars, and other motorcycle parts, Klock Werks proudly leads the industry through innovation in design and quality of materials and fitment. Team Klock Werks has been successful for years designing parts, creating custom motorcycles, and setting records on the Bonneville Salt Flats. You will find motorcycles, family, and faith at the core of Klock Werks, along with a commitment to caring for the needs of enthusiasts around the world who enjoy their products.
For More Information please Contact Sara Liberte at Sara@kustomcycles.com