Story and photos by Marilyn Stemp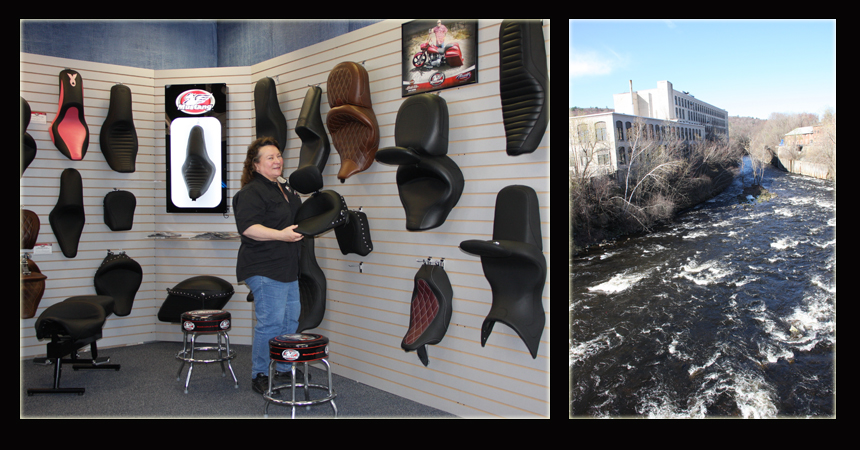 If your motorcycle is equipped with a Mustang seat, you can rest assured that your posterior is in good hands, so to speak. How do I know? Because we recently visited the Mustang factory—something you can do, too,—and after a thorough tour that traced the manufacturing process of a Mustang seat in great detail it became eminently clear: your comfort is Mustang's main concern and they go to great lengths to assure it.
The state of Massachusetts is smack in the middle of America's story of independence, and Mustang's factory is in the heart of the American Industrial revolution's birthplace, the Three Rivers section of Palmer, MA. The scenic two-laners here are thick with history and rife with Yankee ingenuity. You can still get a sense of it in the tiny village greens, the town clocks, and the community horse troughs. We learned much more about the manufacturing boom that developed in this area during a trip to the Wood Museum of Springfield History, but more on that another time. We're in Palmer to visit Mustang.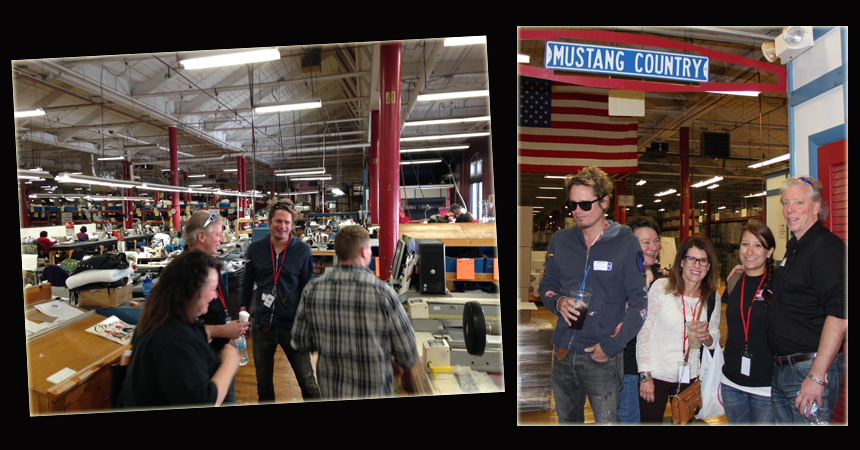 Mustang's factory is housed in a 19th Century textile mill whose long narrow expanse once hummed with hundreds of looms that were operated by leather-belted, water-driven machines under the floor. The workspace then was mainly lit by rows of angled skylights in the roof, now efficiently covered by solar panels. Hardwood floors, arched windows, and interior brick walls were retained when the building was refurbished, while integrating modern offices. It feels like a good place to work and that sentiment was revealed many times on the smiling faces of the people we interrupted while we wandered through. Marilyn Simmons, Director of Global Business Development and sister of Mustang's founder Al Simmons, and General Manager Matt Kulman led our very thorough tour with contagious enthusiasm.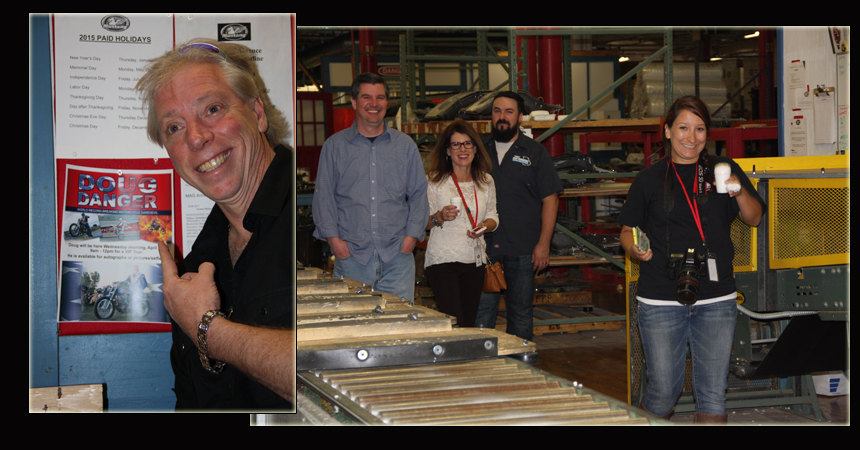 The "we" I speak of who visited consisted of daredevil motorcycle jumper Doug "Danger" Senecal, a local hero; Lathan McKay, owner of the Evel Knievel collection; Brenda Stiehl and Aliceje Keyburn from MAG; and your humble scribe. We started out in R&D, a high-ceilinged, well-lit, studio-type space just right for thinking great thoughts and making 3-D examples of them. It's a veritable skunk works of testing and prototyping, complete with all the necessary equipment. This is where trends are turned into product and where ideas become reality. Some recent examples? Branching out from Mustang's traditional designs are several new lines of seats being built for Roland Sands and Dave Perewitz.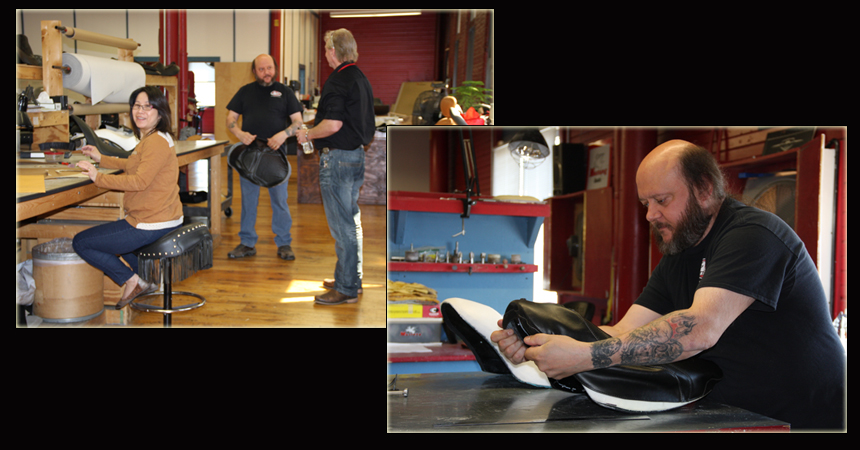 Every seat made at Mustang requires three basic components: the base plate in steel or fiberglass, the foam, and the cover. And though portions of the process are automated, the variety in styles and applications means that each seat is also a hand-made product, created one at a time. Over 50 sets of hands touch any given seat as it travels from base plate to packaging. That's impressive!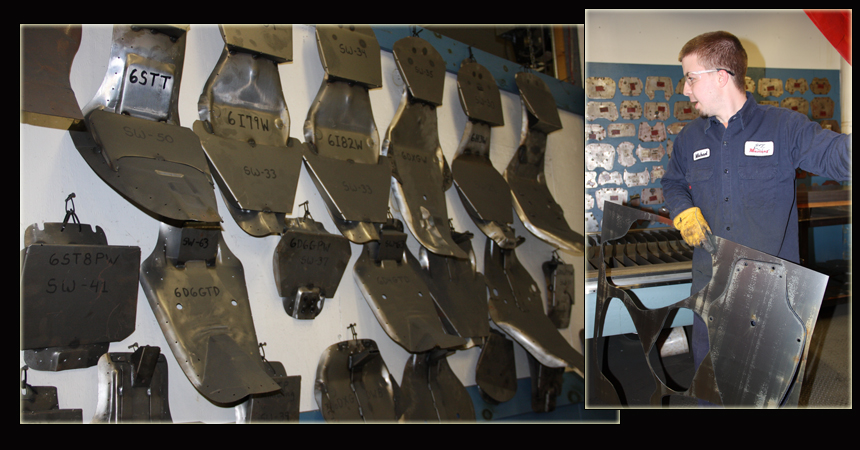 Base plates are made in house. That simple sentence doesn't sound like much but it's an extensive process that involved many steps and extensive in-house capability. If the base plate is steel, the sheet metal is cut then formed in presses over molds. Some styles require that several steel pieces be welded to complete the base, after which the steel bases are powdercoated and edged.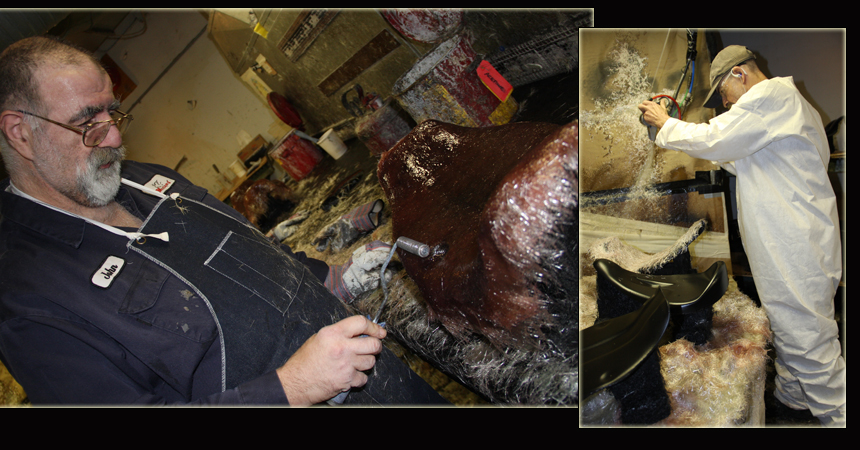 If it's fiberglass, the base plate is formed by spraying glue and fiberglass over molds, then rolling, curing and trimming each one before pounding it off the mold. Both types of base plates figure into your long haul riding comfort because the inherent design encourages the rider to sit in a more upright position, keeping the spine straighter and reducing fatigue.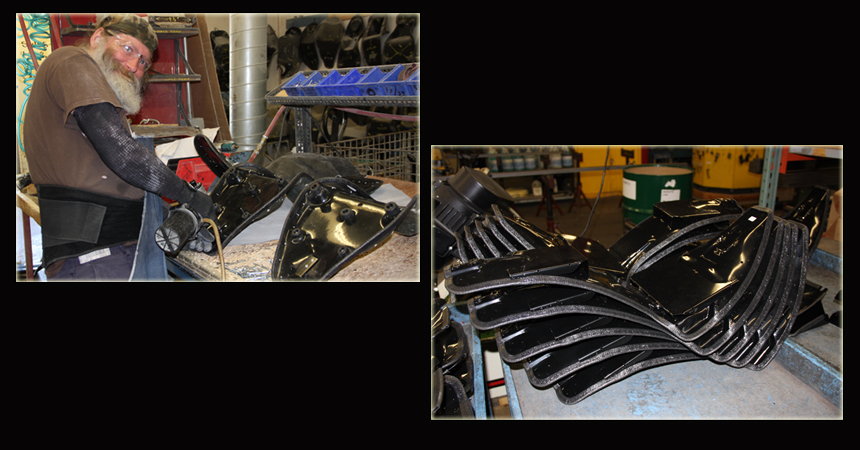 The foam is next. The shape of the foam portion is determined in R&D, where the prototype is produced and from which a mold is made. The liquid foam mixture that goes into the mold is a proprietary secret—a mix of open- and closed-cell materials whose combination and density are just right. As Marilyn said, "Not too hard, not too soft." And there's no need to "break it in," either. That's because the company actually designed and built a machine that crushes each foam section into perfect compliance, making it ready to roll.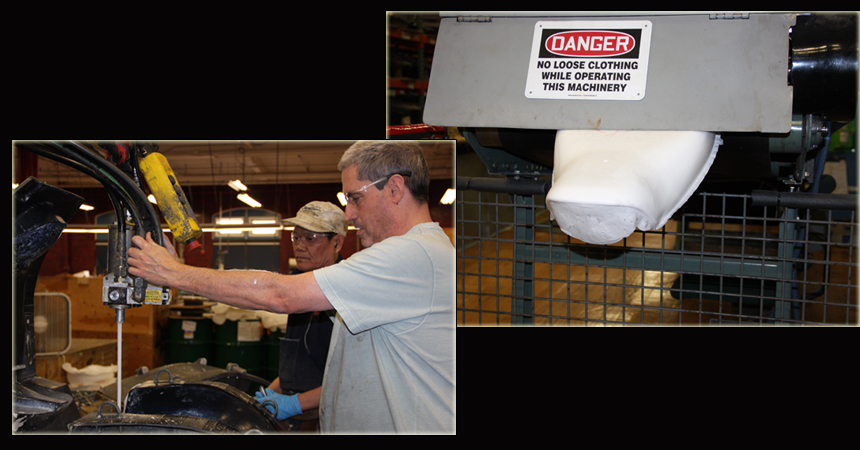 So you see, it's not just happenstance that a Mustang seat feels good. Al Simmons developed these major elements—the base plate design and the foam composition—to build in the comfort. It was done with intent!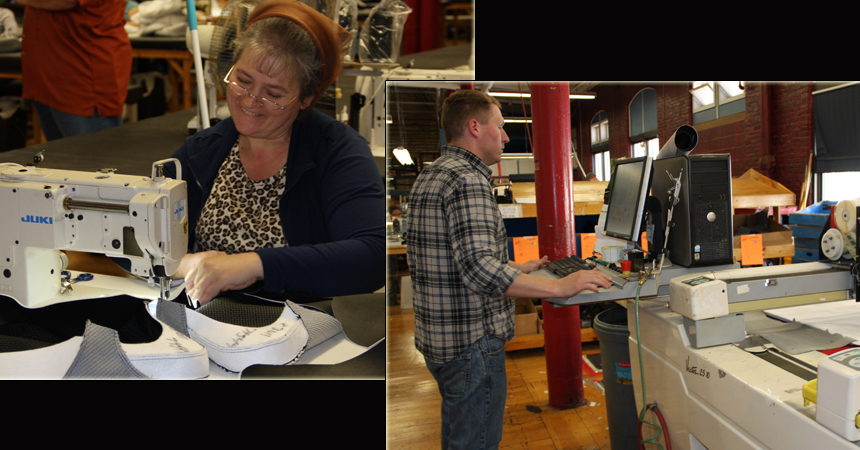 While the base plate and foam are being made, progress moves ahead on the cover in the sewing department. At one time, vinyl and leather was hand cut to patterns. Now, of course, it's computerized and pieces are often cut in multiples. "But each cover is still hand sewn by one person, start to finish," said Marilyn. "That's the only way to do it."
On larger seats especially, the sewing can get quite complicated, not to mention when patterns, quilting or contrast stitching is required. It's also at this point when custom embroidery is done, and details such as studs, covered buttons and hand-tied conchos are added.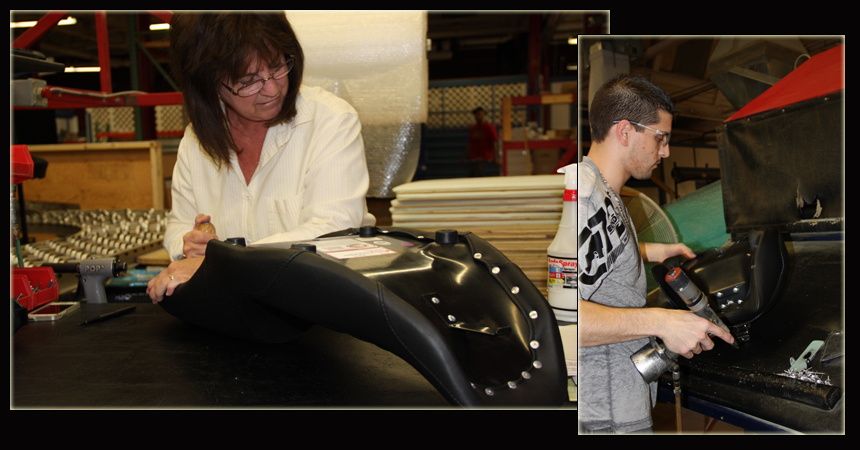 Then it's on to final assembly, where it all finally comes together—and this has to be done exactly right. Once the foam is hand trimmed and attached to the base plate, the cover is both glued and pop riveted in place while being pulled taut and perfectly straight. At final inspection each seat is checked over carefully then packaged. Instructions and hardware are added if needed, though most seats mount with a bike's stock hardware.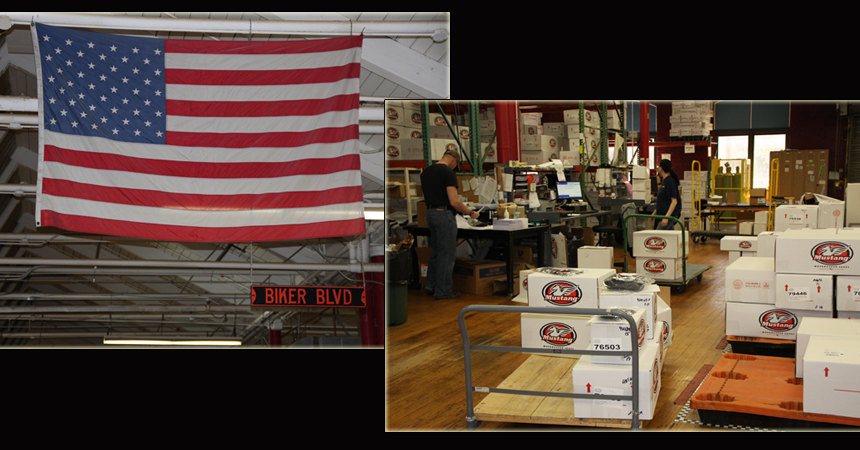 If you're a person who likes instant gratification, you'll be glad to know Mustang maintains a remarkable inventory. Chances are, if you order from the catalog your seat will be sent right away because it's already there waiting for you. No need to wait weeks.
We couldn't help but notice the patriotic theme at Mustang, where red, white, and blue motifs figure prominently, on the manufacturing floor and inside the offices, too. Said one employee as we looked over his shoulder, "We love to show our pride in our product. On every seat it says 'Handcrafted in the USA.' That's because it is and we're proud of it!"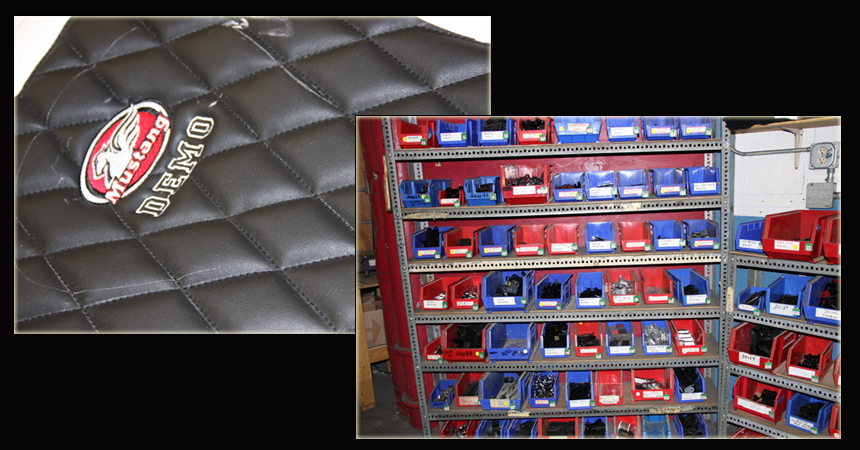 When you spend your money on a quality product that's made by a company doing things the right way by employing people in good U.S. jobs, it makes you feel good. But don't take my word for it; visit Mustang. They opened the factory to tours for riding clubs, industry folks, and just regular riders about 18 months ago and the response has been enthusiastic. But if a ride through New England isn't in your plans, ask your local shop or dealership if they're participating in Mustang's Demo program. It allows customers to borrow a Mustang seat to try out on their own bikes for a couple of days. See for yourself what Mustang has crooned for decades: "Discover what a difference comfort makes!"
Resource
Mustang Seats
800-243-1392
www.mustangseats.com
See Motorcycle Seats 101 on the Mustang website to learn how to identify a quality seat and which features to look for in a replacement.
Mustang sells factory direct though they encourage riders to visit their local dealers. Mustang seats are distributed by Tucker Rocky/Bikers Choice and Drag Specialties/Parts Unlimited in the US or Motovan and Parts Canada in Canada, as well as other distributors worldwide.