New Faro Italian Grille and Entertainment Lineup for Laconia Roadhouse
Laconia, New Hampshire (May 5, 2015) – The Laconia Roadhouse has announced the entertainment schedule for Laconia Motorcycle Week® as well as the opening of the new Faro Italian Grille, with a new menu, to replace the Weirs Beach Lobster Pound. As in years past, there will be no shortage of entertainment all day every day for the duration of the rally at the Laconia Roadhouse.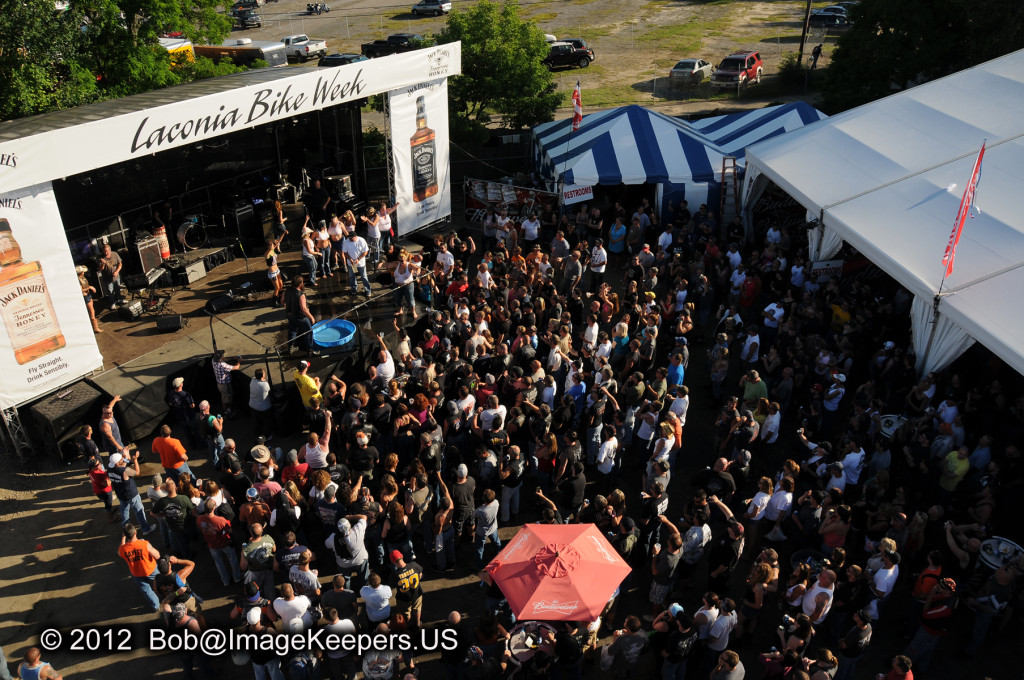 The main stage, featuring the best production quality during Laconia Motorcycle Week®, will host live music from major regional acts every day starting at 1 p.m. and go until the beer runs out. In addition, the Bud Tent will have live music daily, from 3-6 p.m., where you can enjoy some of the area's favorite bands in the shade of the largest beer tent in town.
The majority of Laconia riders know that at 4 p.m. every day they need to head to the Laconia Roadhouse main stage to see the world-famous wet T-shirt contest. It is sure to provide some adult entertainment after a long day of riding through the White Mountains of New Hampshire.
New this year, the Flaunt Girls–billed as "part burlesque, part cirque and all tease"–will take the stage every night at 8:00 p.m. and dazzle the crowd with a fun-filled 45-minute routine that includes aerials and dance numbers guaranteed to get every biker fired up.  You can be sure that everyone will be talking about the Flaunt Girls as they perform exclusively at the Laconia Roadhouse during Laconia Motorcycle Week® 2015.
The Laconia Roadhouse complex has always enjoyed a reputation for great ambience and even better meals. Building on the reputation of excellence earned with the Lobster Pound and Laconia Roadhouse, Owner-Operators Richard and Mike Ray have now created a preeminent Italian dining experience.
Faro Italian Grille features family recipes and the freshest local ingredients, a wide variety of menu items to accommodate all tastes and dietary restrictions, and large seating and bar areas that allow for the servicing of bigger parties. And a meal at Faro Italian Grille serves as the perfect warm-up to the recreation and enjoyment waiting at the Laconia Roadhouse.
About Laconia Roadhouse and Faro Italian Grille
The Laconia Roadhouse and Faro Italian Grille serve as the entertainment and food and beverage focal points for Laconia Motorcycle Week®. Owned and operated by Richard and Mike Ray, this tandem has provided patrons of Laconia Motorcycle Week® with the best in live entertainment and fine dining for 30 years. Visit both enterprises online at www.laconiaroadhouse.com and www.faroitaliangrille.com, and be sure to like them on Facebook.
Ken Conte
Rise Above Consulting
970.227.2588
1717 Deweese Street
Fort Collins, CO  80526
A locally owned full service public relations and marketing company specializing in media relations and brand building.
If you wish to be removed from our emailings, please send an email to ken@riseaboveconsulting.com with the words "Please Remove" on the subject line.