Signal Hill, CA November 18, 2017 – Ken's Factory Chrome Slip-on Muffler Sets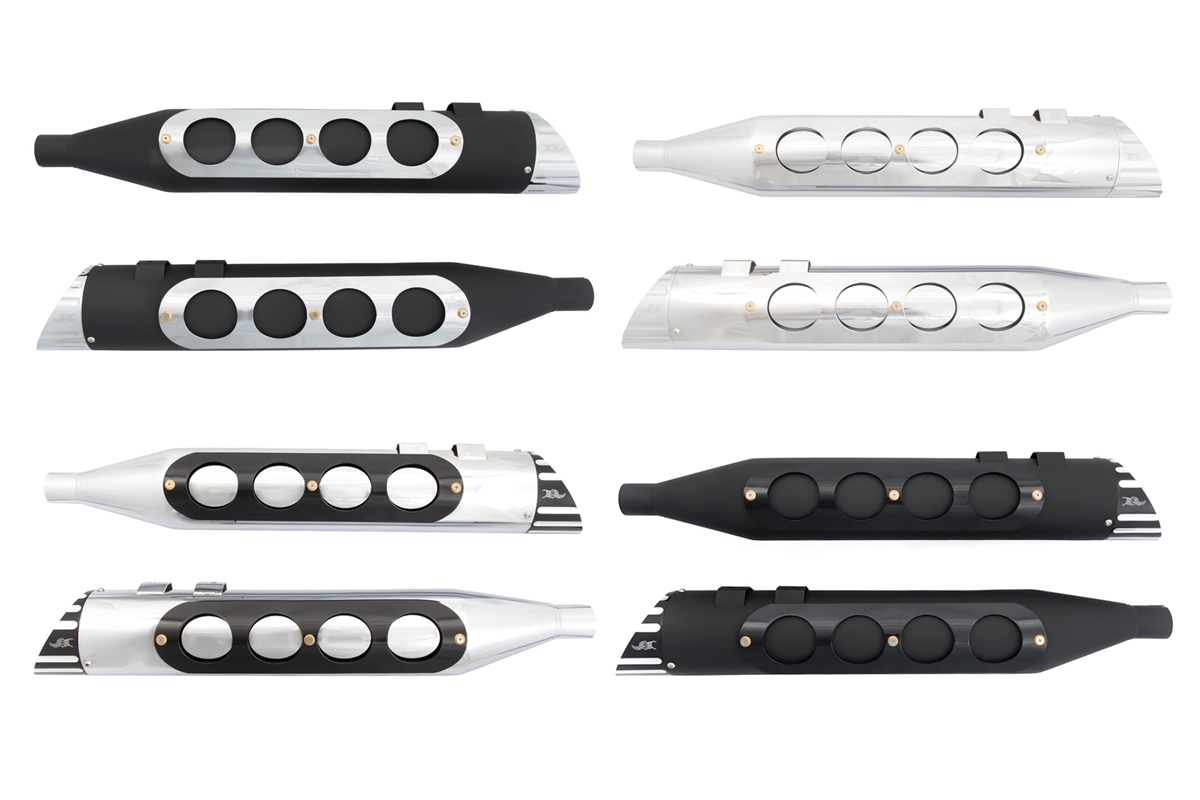 Ken Nagai lead designer, owner and operator of Ken's Factory releases new additions to his exhaust offerings at the company. Designed and manufactured with the greatest respect to intricate detail, these slip-on muffler sets were made for those who seek to express power, elegance and excellence.
The latest round of exhaust releases are as follows:
Chrome Slip-On Muffler, Set, w/Chrome Milled Cap

 

(6-122)
Chrome Slip-On Muffler, Set, w/Black Machine Milled Cap

 

(6-123)
Black Slip-On Muffler, Set, w/Chrome Milled Cap

 

(6-126)
Black Slip-On Muffler, Set, w/Black Machine Milled Cap

 

(6-127)
Core to the mission behind the Ken's Factory brand is to set out and release some of the most detailed, top-performing and high-quality componentry in the industry as a method to unfold such a style for its customers. Ken's Factory products are a tool to obtain the next-level look that few successfully achieve today.
These products are in stock now only at Ken's Factory USA and can be bought directly online on the Ken's Factory website :https://kensfactoryusa.com/collections/exhaust
---
NOT FOR SALE IN CALIFORNIA – FOR CLOSED COURSE COMPETITION USE ONLY. NOT INTENDED FOR STREET USE.
Ken's Factory makes every effort to accurately label "Competition Use Only / Race Ready" products intended for use on closed course competition motorcycles only; differentiating them from "Highway / Street-Approved", everyday use products.
Use of select racing products, which may not be emissions-compliant, on highway motorcycles is subject to California Air Resources Board (CARB) regulations and could be considered tampering with your vehicle's ability to meet emissions standards. California's anti-tampering law, Vehicle Code Section 27156 (VC 27156), prohibits the installation of any add-on or modified emission-related part of any pollution-controlled motorcycle, unless the part has been exempted by ARB. Ultimately, it is the purchaser's responsibility to determine suitability of parts for their motorcycle application and ensure compliance with ARB emissions regulations.
Competition Use Only Parts may not be sold or used on a motorcycle that is used on or off the public highways other than those motorcycles used exclusively for competition. Competition Use Only Parts are aftermarket parts that replace or otherwise interfere with the operation of an emission control device, such as an catalytic converter or oxygen sensor, and may be sold and used on a motorcycle that is used only for closed course competition.
If there are any questions or concerns, please feel free to Ken's Factory.
---
Contact:
For more information please contact:
KensFactoryUSA.com
info@KensFactoryUSA.com
(562) 597-5666
1881 Obispo Ave
Signal Hill, CA 90755