Registration is now open for cool 2018 Moto Stampede Sweepstakes bike
STURGIS, SD – An Indian Scout Sixty customized into the ultimate street-legal tracker by the dream team at J&P Cycles will be going home with a crazy-lucky winner in the 2018 Sturgis Buffalo Chip Moto Stampede® Bike Giveaway. The Buffalo Chip teamed up with J&P Cycles and GEICO Motorcycle to create a one-of-a-kind beast that will tear up the track on Sunday and be ready to gather a few gawks along the street on Monday. Any licensed driver 18 years or older may enter to win this beastly beauty by going online to https://www.jpcycles.com/sweepstakes/buffalo-chip-moto-stampede-bike-giveaway or registering in person at the Buffalo Chip before Aug. 7 at 5 p.m. during the Sturgis Rally event. The bike will be presented to the winner on the Chip's main stage on Wednesday, Aug. 8.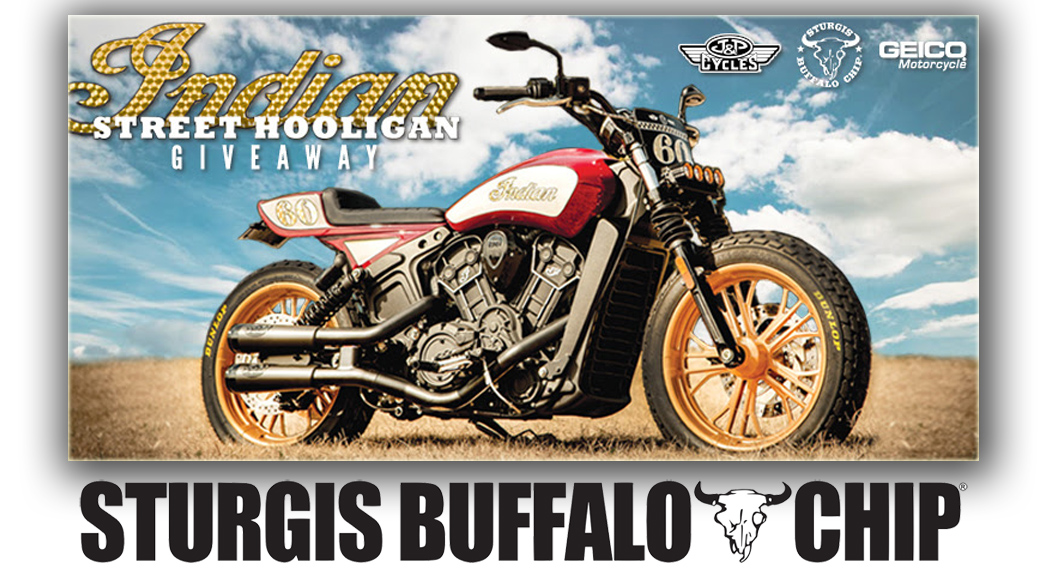 The unique build was meant to inspire motorcyclists of all levels of technical skills to investigate customization possibilities they can perform themselves. To that end J&P Cycles expert builder Pauly White created a dream machine any motorcycle enthusiast could build in their own garage, using their own tools. While completely changing the body, handlebars, controls, wheels, tires, seat, exhaust and lighting, the bike never left the garage, except for painting. A link to the list of the parts used on the bike can be found on the sweepstakes registration page.
The bike will be on tour with GEICO at the International Motorcycle Shows until it will be displayed at the Buffalo Chip in August. Sweepstakes registration is open at each IMS GEICO display.
 About the Sturgis Buffalo Chip
The Sturgis Buffalo Chip® is the Largest Music Festival in Motorcycling®. It is the world's first and leading entertainment destination for the motorcycle enthusiast and 2017 South Dakota Excellence in Tourism Innovation award winner. Since 1981, the venue's high-profile, nine-day festival, known as The Best Party Anywhere®, remains one of the world's most televised and longest running independent music festivals. Located three miles east of Sturgis, SD on 600 creek-fed acres, it offers eight stages of entertainment, a swimming hole, bars, mouth-watering food, showers, cabins, RVs, camping and more to visitors traveling from all corners of the world. The Chip's concerts and races are free with camping. The 2018 Motorcycles as Art exhibit curated by Michael Lichter, numerous bike and stunt shows and all shopping, live music and events at the CrossRoads are free and open to the public. More details are available at www.BuffaloChip.com.
About J&P Cycles
Starting as a family built business, J&P Cycles is committed to keeping the world on two wheels. We believe that who you buy from is just as important as what you buy. That's why we strive to be the best company of aftermarket parts and accessories for your motorcycle. From the best catalogs in the industry to the best selection of aftermarket parts and accessories we are committed to helping you figure out what's next. Our technical experts are available to answer your questions and get you the parts you need the first time. And, if you can't find a part, our experienced sales staff will find it for you. Founder, John Parham was bitten by the motorcycle bug early in his life. His enthusiasm laid the foundation for what J&P Cycles is today. Together, John and his wife Jill Parham grew J&P Cycles from one employee to over 300. Today, J&P Cycles is led by John and Jill's son Zach Parham. As President of J&P Cycles, Zach continues the legacy his father left behind to keep the world on two wheels.