Last time out, at the Lima Half-Mile presented by Indian Motorcycle, Jared Mees failed to make the Main Event — a race he promoted himself — after twice jumping the start during his Semi race. Adding insult to injury, he lost his AFT Twins presented by Vance & Hines championship lead in the process to rival Bryan Smith (No. 1 Indian Motorcycle Racing backed by Allstate Scout FTR750).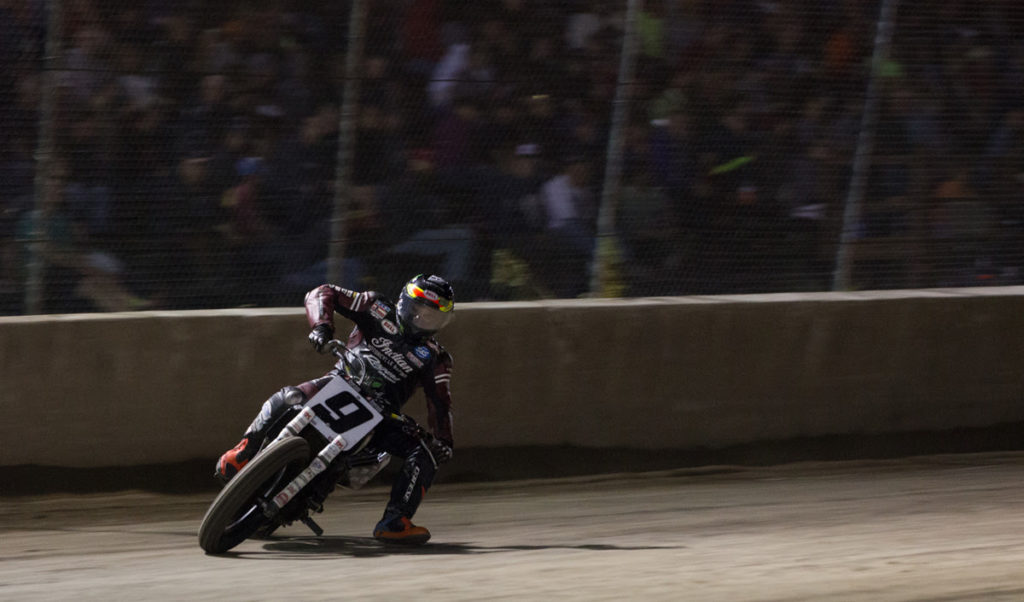 On Saturday night July 8, in front of another packed house at Rolling Wheels Raceway Park in Elbridge, NY, Mees obliterated all challengers aboard his No. 9 Indian Motorcycle Rogers Racing Scout FTR750 en route to claiming his fifth checkered flag of the 2017 campaign – and with a near five-second margin of victory.
Mees was forced to deal with rival Sammy Halbert (No. 69 Estenson Logistics Harley-Davidson XR750) on the race's opening lap. The two banged bars as they jostled for the inside on Lap 1, with Halbert diving into the lead heading into Turn 3. Mees squared up the turn and slotted back underneath to reacquire the position by the completion of the first lap. The three-time Grand National Champion continually worked up his advantage from there, steadily stretching it out before finally taking the win.
The victory marks the 25th of Mees' career. It also saw him complete an in-season Grand Slam with triumphs across all four disciplines (TT, Short Track, Mile and Half-Mile) in 2017, with eight races still remaining on the calendar.
Now back in control of the title fight, Mees said, "(Lima's) behind us. That was my mistake, my fault, and I needed to come back and do exactly this. I had two long weeks to think about my mistake."
Sammy Halbert posted his second runner-up finish of the season, and Brad Baker (No. 6 Indian Motorcycle Racing backed by Allstate Scout FTR750) picked up his seventh podium result of the year but had to work for it in the end. A seemingly lonely third was made considerably less when Baker was joined on his rear wheel by Jeffrey Carver Jr. (No. 23 Carver's BBQ Kawasaki Ninja 650) late in the contest.
Brandon Robinson (No. 44 Harley-Davidson Factory Flat Track Team XG750R) made it two Harleys inside the top five, edging Lima winner Briar Bauman (No. 14 Zanotti Racing Kawasaki Ninja 650) by 0.119 of a second for fifth.
Smith endured his worst finish of the season in seventh. He relinquished the points lead to Mees as a result, and now trails his rivals by eight points (202-194). After opening the year red hot with four wins, a second, and a third in the season's first six races, Smith finds himself in something of a cold streak – at least by his lofty standards. In his last four outings, he's tallied up results of fourth, third, sixth, and seventh.
In AFT Singles Shayna Texter (No. 52 Richie Morris Racing Honda CRF450R) continued to stamp her authority on the AFT Singles title fight with a wire-to-wire victory at the Rolling Wheels Half-Mile.
Next Up:
American Flat Track will complete its run of three consecutive Half-Miles with the Harley-Davidson Calistoga Half-Mile in Calistoga, California, on July 29. Live coverage can be viewed on FansChoice.tv on Saturday beginning at 5:00 p.m. ET. Tickets are on sale and can be purchased at http://www.calistogahalfmile.com/.
How to Watch:
NBCSN and FansChoice.tv are the official homes for coverage of American Flat Track events. All 18 rounds, from the season-opening Harley-Davidson DAYTONA TT to the American Flat Track Finals in Southern California, will air in one-hour primetime telecasts throughout the summer and fall on NBCSN. FansChoice.tv remains a cornerstone of AFT's digital strategy and provides live streaming coverage of every event.
About American Flat Track:
American Flat Track is the world's premier dirt track motorcycle racing series and one of the longest-running championships in the history of motorsports. Sanctioned by AMA Pro Racing in Daytona Beach, Fla., the series is highly regarded as the most competitive form of dirt track motorcycle racing on the globe. For more information on American Flat Track, please visit http://www.americanflattrack.com, like us on Facebook, follow us on Twitter, check us out on Instagram, live stream the events at FansChoice.tv and catch all the American Flat Track racing action on NBCSN.