Indian's 2018 Model Lineup and Custom Bike Displays Highlight Indian Motorcycle Activations at Daytona Bike Week
MINNEAPOLIS (February 28, 2018) — Indian Motorcycle®, America's first motorcycle company, today announced a Daytona Bike Week lineup of activations packed with demo rides for 2018 models, custom bike displays, an exclusive rider's group experience, and more. Carey Hart's display of custom Chieftains, performance parts and accessories, and a Scout FTR750 photo opportunity are just a few of the offerings Indian Motorcycle will have available at its main footprint on Main Street.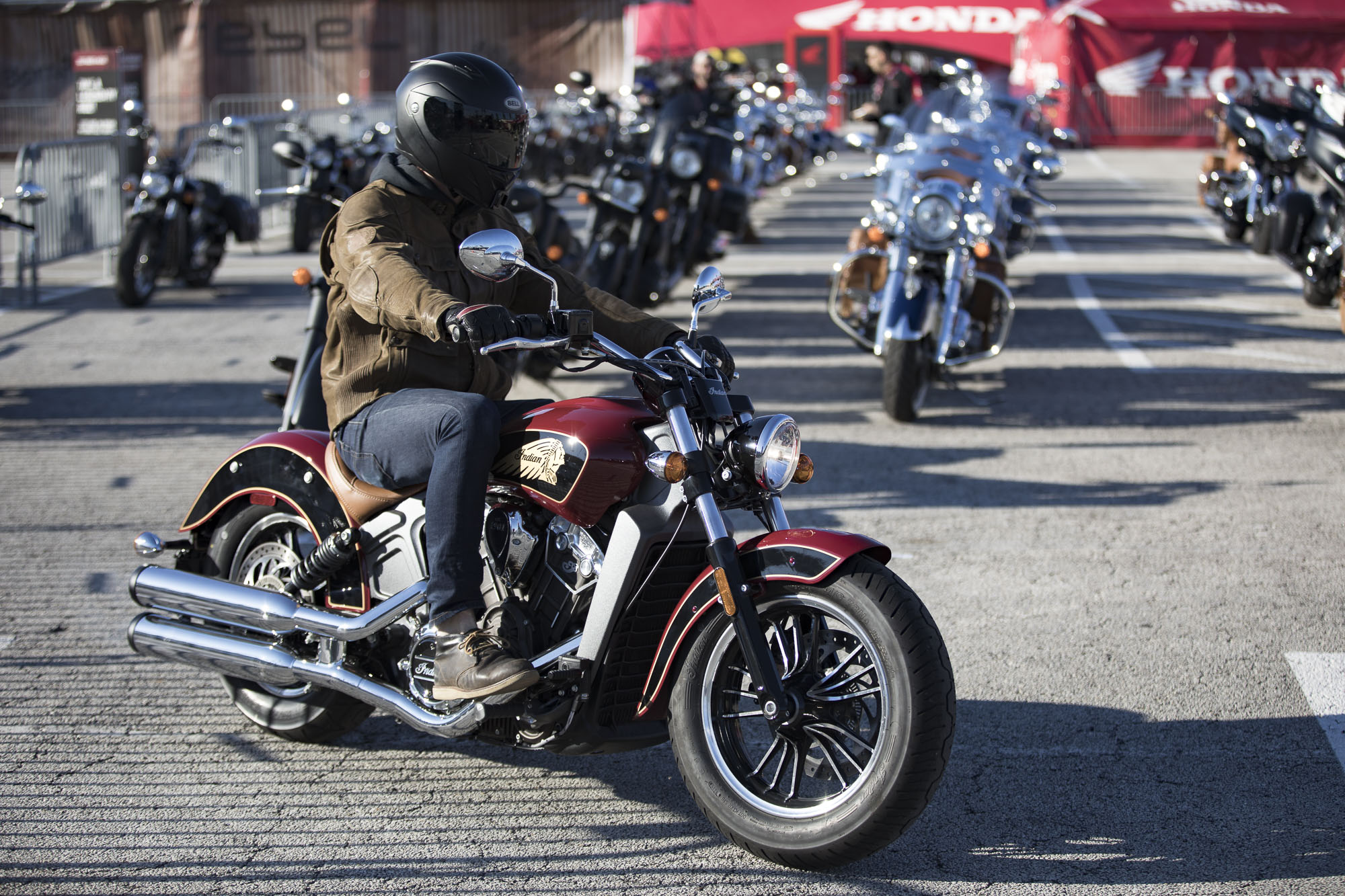 Also, following one of the most dominant seasons in flat track history, Indian Motorcycle Racing will kick off the 2018 season opener at the Daytona International Speedway. The Indian Wrecking Crew of Jared Mees, Bryan Smith and Brad Baker, who finished first, second and third respectively in 2017, will be joined by privateers Kenny Coolbeth Jr., Henry Wiles and others for the 2018 season.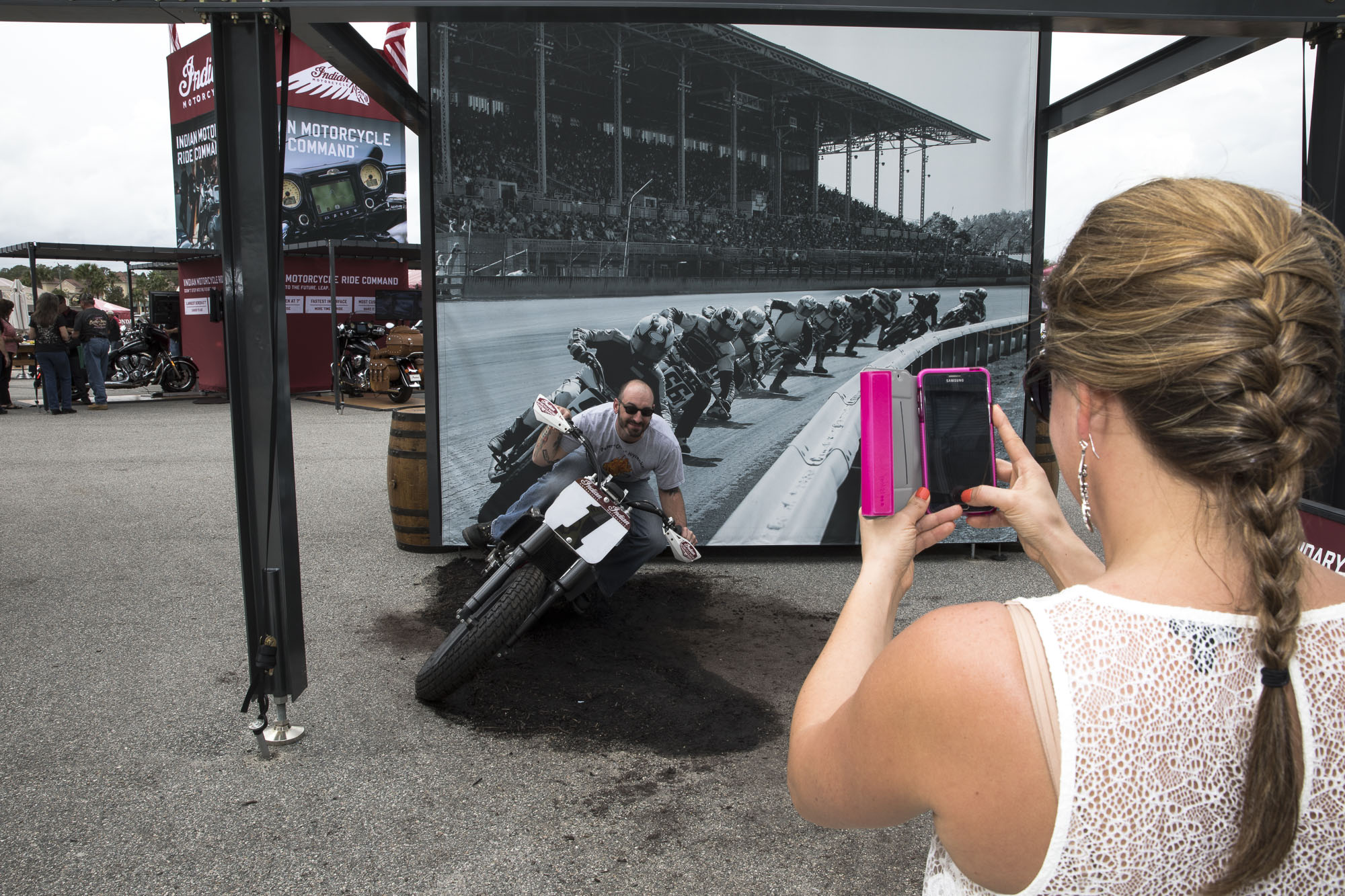 "We are thrilled to offer attendees a dynamic and unique Daytona Bike Week experience, including an exclusive look at Carey Hart's custom bikes, the Scout FTR750, FTR1200 Custom and all of our 2018 models," said Reid Wilson, Senior Director – Marketing and Product Planning for Indian Motorcycle. "Daytona also marks a special time: the return of American Flat Track and a chance to watch the podium-sweeping Indian Wrecking Crew and new crop of privateers who have turned to the Scout FTR750 for this highly anticipated 2018 season."
Below are highlights of the Daytona Bike Week action Indian Motorcycle has planned.
Display at Main Street (Main St. & N. Wild Olive Ave.)
Check out Indian Motorcycle's 2018 lineup at the Main Street display along with custom Scout Bobbers from the Brooklyn Invitational and performance accessories. Get an up-close look at Carey Hart and P!NK's Chieftains, custom-built by Hart, as well as his custom Springfield and sidecar that were featured in the Hot Bike Tour. There will also be a photo opportunity with AFT championship-winning bike, the Indian Scout FTR750. The display will also feature the Scout FTR1200 Custom. The Main Street Display will be open Friday, March 9 to Saturday, March 17 from 11 a.m. to 9 p.m. daily.
Demo Rides at Daytona International Speedway (International Speedway Blvd.)
Bike Week attendees will have the chance to ride the entire 2018 lineup of Indian motorcycles, including the Indian Scout Bobber and Indian Chieftain, among others. Ride multiple bikes, compare, and decide which Indian Motorcycle models best suit your riding style. Group demo rides are free and available to those with a valid motorcycle endorsement and proper attire. Demo rides will be running daily during Bike Week, Saturday March 10, to Saturday, March 17 from 9 a.m. to 5 p.m.
Daytona TT Flat Track Race (Daytona International Speedway)
Come early and get your favorite rider's autograph from 4:30 p.m. to 5:30 p.m. EST, and then watch the Indian Wrecking Crew return to the track for the first race of the 2018 AFT season. The 2017 AFT champion Jared Mees will be joined by teammates Bryan Smith and Brad Baker as they look to dominate another season with flat track's most dominant motorcycle, the Indian Scout FTR750. Privateers Kenny Coolbeth Jr., Henry Wiles and Jeffrey Carver, among others, will also be riding the Indian race bike for the new season. The season opener takes place on Thursday, March 15 at 6 p.m. EST.
Indian Motorcycle Riders Group Exclusive Event (Daytona International Speedway)
Join us Thursday, March 15 from 10 a.m. to 2 p.m. EST. for a behind-the-scenes tour of the Daytona International Speedway including the track, pits and paddock. After that, members will meet with the 2018 Indian Wrecking Crew race team and a get a premium photo experience in the pits. VIP Parking and complimentary tickets to the Daytona TT are included. IMRG members can learn more and visit www.IMRGmember.com/events to sign up.
Indian Motorcycle of Daytona Beach (290 North Beach Street)
Open daily, visit the dealership in the heart of Daytona Beach to check out Indian's full 2018 lineup and take individual demo rides of your favorite models.
Klock Werks Kustom Cycles at Destination Daytona
Stop by Klock Werks and get an exclusive look at a new limited-edition motorcycle.
Broken Spoke Saloon (1151 US-1, Ormond Beach)
Check out the Indian Motorcycle on Tour display at the Broken Spoke Saloon on US Hwy 1 and get a close look at the 2018 Indian Chieftain models.
ABOUT INDIAN MOTORCYCLE®
Indian Motorcycle is America's First Motorcycle Company®. Founded in 1901, Indian Motorcycle has won the hearts of motorcyclists around the world and earned distinction as one of America's most legendary and iconic brands through unrivaled racing dominance, engineering prowess and countless innovations and industry firsts. Today that heritage and passion is reignited under new brand stewardship. To learn more, please visit www.indianmotorcycle.com.