Dobbin House Tavern Wednesday, July 9th, 6 pm to 9 pm. There will be food, games, and live music by Schizophrenic. There will be a live remote feed by The Peak 98.5, with Bill O'Brien and the Gettysburg Bike Week Bikini contestants on hand for photos. Come out and get your Gettysburg Bike Week started right. Good times to be had!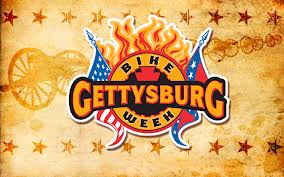 Coming to Gettysburg Bike Week for Thursday only? This year you can buy your Thursday ticket online! That's right, you can buy your Tesla ticket online.www.gettysburgbikeweek.com
This year, the Budweiser Stage will be rocking all weekend with emcee Jack Schitt. Headline performances by Tesla,The Kentucky Headhunters, and Great Train Robbery are the icing on the cake, but the stage will also host performances from The Flaunt Girls, of Tru TV fame, Big Jack featuring Avery Molek – the amazing 7 year old drummer, and many other great bands. Live music starts at noon on Friday and Saturday. PLUS, tattoo contests and the bikini contest will be held on the Budweiser Stage. For all the details of the Budweiser Stage schedule, and other events, such as the Cycle Source Ride In Bike Show, and bike games.
Ken Conte
Rise Above Consulting
970.227.2588
1717 Deweese Street
Fort Collins, CO  80526
A locally owned full service public relations and marketing company specializing in media relations and brand building.
If you wish to be removed from our emailings, please send an email to ken@riseaboveconsulting.com with the words "Please Remove" on the subject line.