2014 ROT Rally revives the daredevil spirit
Story and photos by Marilyn Stemp
I confess I'd never been to the Republic of Texas Rally before this year, not in the 19 years it's been around. Further fessing up, what made me go this year wasn't a realization that I'd been missing it or a curiosity to check it out. No, I went for Evel Knievel.
Held at the Travis County Expo Center in Austin, Texas, ROT Rally has drawn up to 35,000 ticket-buying attendees some years. People camp in everything from raggedy tents to swanky RVs and some of the campsites are so elaborate you'd think folks were moving in for the month instead of a long weekend. There's a definite party vibe to ROT rally. Teetotalers need not attend.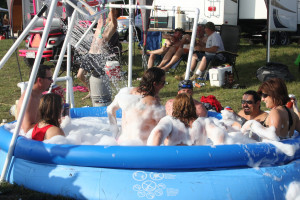 The 130-acre site includes indoor and outdoor vendor malls, the Thunderdome arena, bars, food, and an outdoor amphitheatre where live music was always on and Sammy Hagar headlined Saturday night. A favorite occupation during ROT is riding through the campground to witness the zany happenings – and you better be ready for anything.
A super fun aspect of the weekend is the evening parade from the expo center to downtown Austin. It was impressive to see tons of locals come out to make an evening of it by tailgating all along the 17-mile route. The ride ended on Congress Avenue where vendors such as Rick Fairless of Strokers Dallas hung out surrounded by live music and plenty of activity.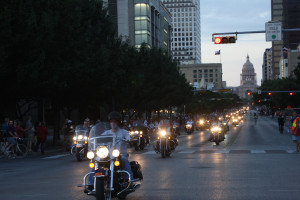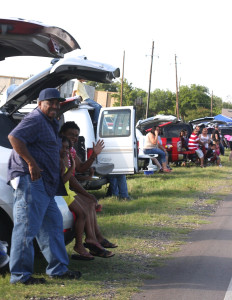 So where was Evel Knievel? Of course, he's not around anymore, but collector Lathan McKay has brought together a huge trove of Evel's belongings to form an experience that's pretty darn close. Knievel made headlines from the mid '60s to the early '80s for his daring motorcycle jumping and risk-taking ways. A man of unabashed confidence and brashness, he derived as much fame from the jumps he failed to make—and the injuries he suffered—as the many he completed. Worthy still of the title Greatest Daredevil of the 20th Century, his feats resonate yet. Just about everyone I talked to had an Evel Knievel story, even Arlen Ness, who displayed at ROT with grandson Zach.
Lathan McKay spent most of the last two years researching items and traveling the country to find them, educating himself along the way in the nuances of Evel's life and career. As a result McKay has become the premiere Evel Knievel expert today. He calls the hunt and discovery process, "Evel Archaeology."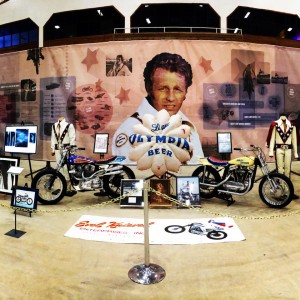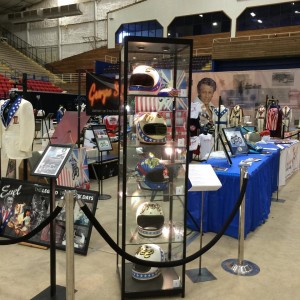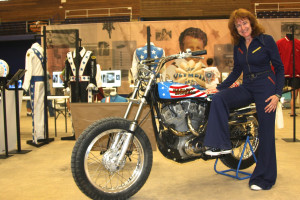 The collection includes four of Evel's XR750 Harley-Davidsons, a full scale replica of the Skycycle built for the Snake River Canyon jump, and dozens of both Evel's and Robbie Knievel's riding leathers. There are Evel's original helmets, which were painted by artist George Sedlak, jackets, hidden-cache canes, posters, and so much more—even actual X-rays of his broken bones and casts he wore. Shown together for the first time ever in the Thunderdome during ROT rally the extensive collection of authentic items was enhanced by the presence of George Sedlak and Robbie Knievel who turned up to meet fans and sign autographs.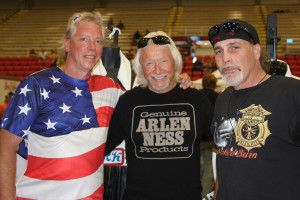 Further bolstering the Evel Knievel connection was a jump over 15 cars by veteran motorcycle jumper Doug Danger—to be attempted on Evel's own XR750 Harley-Davidson, no less. Doug Danger (a.k.a. Doug Senecal) was still a teenager when he saw Evel jump over 13 Mack trucks on ABC's Wide World of Sports in 1974. Before the jump Evel said a few words that got Doug's attention. "He said, 'If you want to be anything in life you have to give 110%. The only thing that can stop you is drugs.' I thought: here's the coolest guy in the world and he says to stay away from drugs," explained Doug. Consider too that Doug had lost a friend to drugs around that time so Evel's words really hit home. "Evel changed my life right then," he said.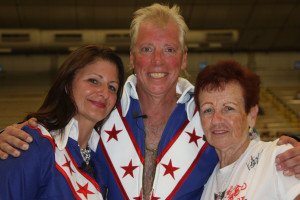 Doug started his own jumping career in 1979. Among many successful performances was his world record jump over 42 cars at Loudon in New Hampshire in 1991, a record that stood for nine years. Over time, Doug came to know Evel and they became friends. And Doug continued to be inspired to emulate him.
Doug talks about how tough Evel was but he's quite a mountain of fortitude himself. He climbed back from a serious accident in 1992 that put him in a coma and wiped out his memory, and more recently battled cancer. The chance to jump on one of Knievel's own bikes was a dream. "It's such an honor to ride his bike," said Doug. "Credit goes to Lathan McKay for reviving interest in Evel's accomplishments. Thanks to Lathan, Evel can be a household name again."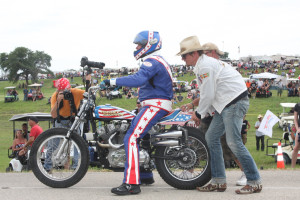 Doug arrived in Austin with his crew ahead of time. The ramps were built and he flew through jumps in practice. But a nasty storm the night before the jump, with winds intense enough to topple the take off ramp, sent a shiver through the crew and with time short Doug ultimately had to attempt the jump with no practice at all on a repaired ramp.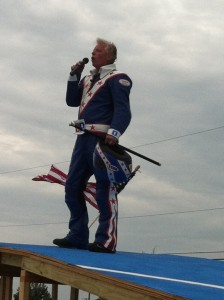 In new Vanson leathers crafted to resemble Evel's Wembley Stadium set (but with a DD instead of an EK) and a new Bell helmet painted by Robby Hull, he mounted Evel's XR750, a motorcycle that hadn't been jumped since 1975 when Evel himself rode it, and buzzed past the crowd twice. Then, in an instant, Doug cleared the 15 cars, sailing more than 110-feet in the air. He was clearly exhilarated and rightly so.



Greeting fans in the Thunderdome afterwards, I couldn't help but notice as I took pictures: there was a portrait of Evel Knievel just over Doug's right shoulder, almost as though he was watching over Doug. And that seemed entirely appropriate.
So when the weekend ended I decided that—compared to many who attended this year—my ROT Rally experience had been a-typical. But like the thousands who went for their own reasons, I got what I came for: I witnessed the revival of the Evel Knievel Traveling Circus. And I can tell you, it's not something you want to miss.