Rock the HolidaysTM Sweepstakes winner to receive "Bad to the Bone" prize: a George Thorogood-autographed guitar and a $200 Hot Leathers shopping spree!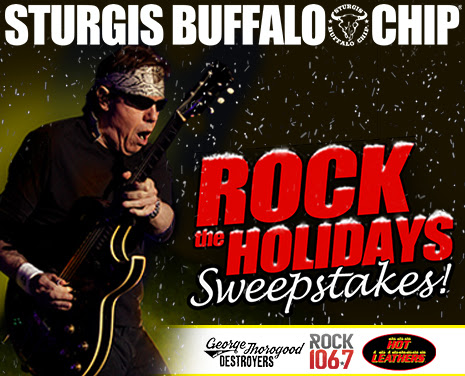 Sturgis, SD (November 8, 2017) –The Sturgis Buffalo Chip® has teamed up with one of the biggest names in music and the hottest name in apparel to offer fans the chance to win a unique holiday prize. The winner of the 2017 Buffalo Chip Rock the Holidays Sweepstakes will receive a sleek Epiphone Les Paul Special II guitar signed by none other than the legendary George Thorogood, and a $200 Hot Leathers shopping spree. Fans may enter to win this exclusive collectible prize package at RockTheHoliday.com.
The guitar features a solid mahogany body with gloss black finish, a slim taper mahogany neck and a smooth rosewood fingerboard with dot overlays. Thorogood signed the guitar while performing at the Chip last August, instantly turning it into a highly sought-after collectible.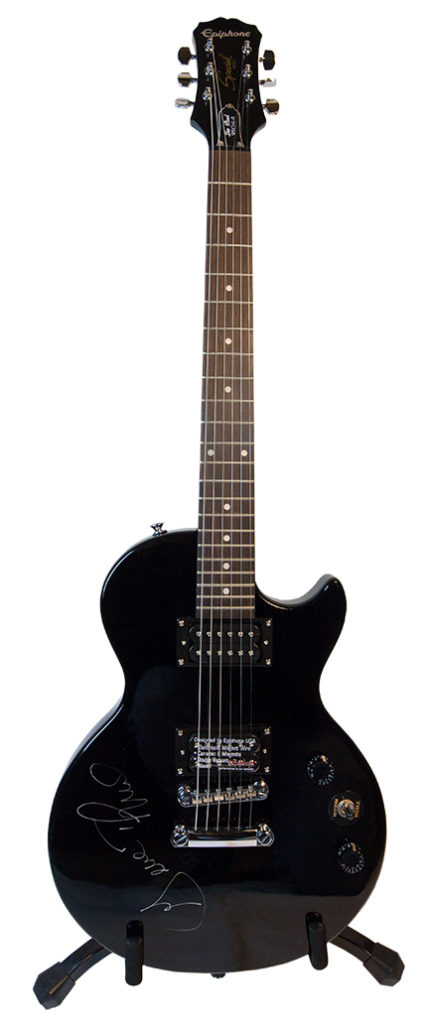 "This is the chance for someone to own a piece of rock history," said Rod Woodruff, president of the Sturgis Buffalo Chip. "This guitar should hang in a museum, but we are excited to offer it to one lucky fan for the holidays instead. And the bonus $200 Hot Leathers shopping spree it comes with will ensure the winner looks just as cool as George Thorogood did when he played on our stage last August!"
Registration closes Thursday, Dec. 14, 2017 at 5 p.m. MST. The winner will be announced Dec. 15. More information about the sweepstakes is available at RockTheHoliday.com.
The participating partners who made the Sturgis Buffalo Chip's Rock the Holidays Sweepstakes possible include George Thorogood, Rock 106.7 in Salt Lake City and Hot Leathers.
About The Sturgis Buffalo Chip
The Sturgis Buffalo Chip® is the Largest Music Festival in Motorcycling®. It is the world's first and leading entertainment destination for the motorcycle enthusiast and 2017 South Dakota Excellence in Tourism Innovation award winner. Since 1981, the venue's high-profile, nine-day festival, known as The Best Party Anywhere®, remains one of the world's most televised and longest running independent music festivals. Located three miles east of Sturgis, SD on 600 creek-fed acres, it offers eight stages of entertainment, a swimming hole, bars, mouth-watering food, showers, cabins, RVs, camping and more to visitors traveling from all corners of the world. The Chip's concerts and races are free with camping. The 2018 Motorcycles as Art exhibit curated by Michael Lichter, numerous bike and stunt shows and all shopping, live music and events at the CrossRoads are free and open to the public. More details are available at www.BuffaloChip.com.