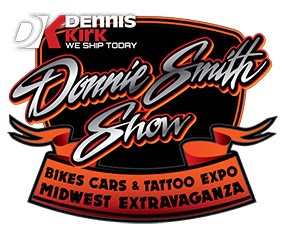 "War of the Twins" Indoor Flat Track Motorcycle Racing will kick start a weekend of moto heaven at the Midwest's largest custom bike and car show, parts extravaganza and tattoo expo this month.
Saint Paul, MN (March 8, 2018) – Gear heads and riders will soon be coming out of hibernation to gather and meet fellow enthusiasts and friends at the 31st Annual Donnie Smith Bike & Car Show presented by Dennis Kirk. In addition to the motorcycles, cars and the largest parts swap in the Midwest, the ever-expanding event now includes Indoor Flat Track Racing and a Tattoo Expo. The Donnie Smith Show will take place at the St. Paul RiverCentre in St. Paul, Minn., 9 a.m. to 7 p.m. Saturday, March 24 and 10 a.m. to 5 p.m. Sunday, March 25, 2017. The "War of the Twins" Indoor Flat Track Racing will kick off the moto extravaganza on Friday, March 23. Doors open at 3 p.m. and the Main Event runs from 7 to 10 p.m. in the Lee & Rose Warner Coliseum. Tickets may be purchased in advance online or at the door. More information can be found at www.DonnieSmithBikeShow.com.
Show Spotlights
The show's activities offer the opportunity to hang out and learn from specialists, see the latest in moto inventions and customizations, hunt for parts, shop and win prizes throughout the 225,000 sq. ft. indoor event space.
Bikers will have the opportunity to discuss the best parts options with Dennis Kirk representatives who will be on hand to answer questions. The prize wheel is back with bigger and better prizes and riders can receive information about the annual Patriot Ride, benefitting Minnesota's active and veteran military and law enforcement organizations. Attendees can purchase a $10 raffle ticket to win a 2018 Harley-Davidson FLHXS Street Glide Special in support of the Patriot's Ride.
One of the year's biggest custom bike unveils will take place on Saturday, March 24 when Kuryakyn and the Sturgis Buffalo Chip reveal the 2018 Rock, Rumble & Rebellion bike. The 2018 modified Indian Chieftain Dark Horse bagger features state-of-the-art Kuryakyn parts and paint by Gilby's Street Department.
Blues rocker Corey Stevens will be setting the stage for beer-thirty Happy Hour presented by Budweiser  5 p.m. to 7 p.m. on Saturday, March 24.
Sugar Bear of Sugar Bear Choppers will be on hand in the Metzeler display March 24 and 25 to showcase his innovative products and share stories from the grass roots of the chopper world. Metzeler also brings a bike build in progress from Kevin "Teach" Baas and the Lakeville North High School students. The bike features one of Sugar Bear's iconic front suspension systems.
GEICO Motorcycle and the Sturgis Buffalo Chip teamed up to create the ultimate Street Hooligan motorcycle for the Buffalo Chip's 2018 Moto Stampede Bike Giveaway. The custom Indian Scout 60 will be on display in the Buffalo Chip booth, where show attendees may register to win it this August on the Chip's main stage.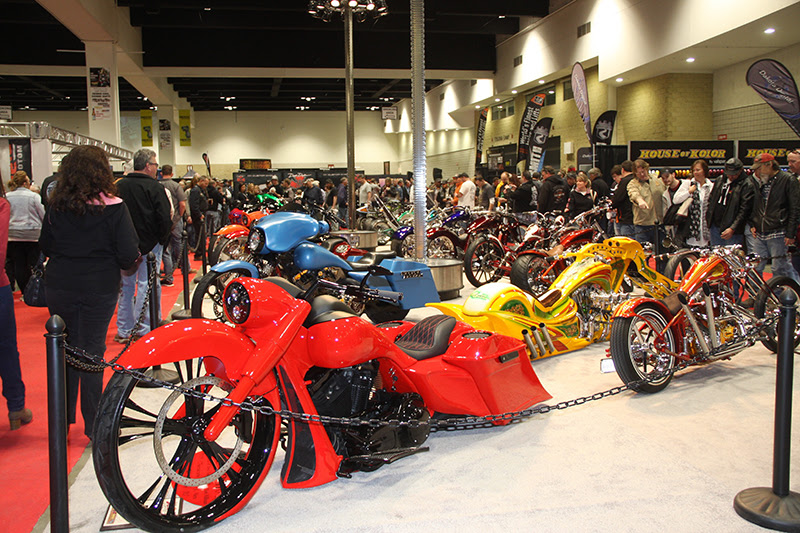 Showcase of Motorcycle Industry Superstars
Custom builders will be competing in over 35 classes at the show. Some of the most recognizable names in the motorcycle industry will be in attendance, displaying their latest work and meeting with fans. The list so far includes:
Donnie Smith – Donnie Smith Custom Motorcycles
A custom bike builder for more than 30 years, Donnie Smith's innovations continue to influence custom bike builders today. Smith will be on hand to sign autographs or just hang out and discuss classic builds and new innovations in custom bike building.
Paul Yaffe – Bagger Nation
For almost 30 years Paul Yaffe has been designing custom motorcycles and is known as an industry leader and a true innovator and he will be available for questions and motorcycle parts discussions.  His custom bikes have been featured in hundreds of magazines both in the United States and abroad.  He's participated in Discovery Channel's Biker Build-Off in 2003 and participated in Biker Battleground Phoenix, a 10-episode series on the History Channel.  He is a 3-time "Trend Setter of the Year" award recipient and has won several engineering and product design awards.
Curtis Hofmann – Hofmann Designs
A Minnesota native, Curtis opened Hofmann Designs in 2009 and has produced stunning, magazine-worthy motorcycles every year since. Hoffman is known for his lay frame big wheel baggers and his bikes are often sold on reputation alone, sight unseen.
Dave Dupor – DD Custom Cycle
Dupor's motorcycles are intelligence with tailpipes. He is known as a perfectionist and his bikes are a balance of bold confidence and understated elegance. His meticulous and relentless pursuit of perfection has thrust DD Custom Cycle onto the pages almost every major motorcycling publication in the country.
Kevin "Teach" Baas – Baas Metal Craft
Baas, is an expert metal fabricator and high school shop teacher who transformed his curriculum into a full-blown Chopper Class. For 15 years, he has taught generations of bike builders and gained the support and recognition of countless industry heavy weights.
Kurt Peterson – Lil' Evil Inkorpor8ed
Peterson is a Master of All, specializing in precise fabrication, design, and quality. His 27 years in the industry, and no-nonsense, high horse power creations have earned him numerous racing and industry accolades, but, more importantly, they have earned him distinction and the respect of his peers.
Dave & Jody Perewitz – Perewitz Cycle Fabrication
There is no stronger father-daughter team in motorcycling than Dave and Jody Perewitz. Dave is a legend in custom building, an AMA Motorcycle Hall of Fame 2003 inductee and master craftsman who has been painting and building motorcycles for over 40 years. Jody holds 15 land speed records, one World Record, is currently the Fastest Woman on an American V-Twin, and a talented painter in her own right.
Sugar Bear – Sugar Bear Choppers
Forty-six years ago, Sugar Bear opened up shop in Los Angeles and began hand-making his legendary springer front ends and rockers. Sugar Bear's influence and contributions have shaped motorcycling history and in 2008 he was named the Harley-Davidson Museum's Man of the Year.
Tim McNamer – Ballistic Cycles
A Twin Cities area native, McNamer is the inventor of the ground-breaking hubless wheel design and is known for regularly pushing the limits of engineering. His bikes are instantly recognizable and have raked in awards from nearly every competition. Producing some of the most technologically advanced motorcycles of our time, Tim's designs are paving the way for the advancement and evolution of customization.
Todd "Gilby" Gilbertson – Gilby's Street Department
Gilby's bikes are unique hot-rod infused sculptures that test and challenge convention. This Twin Cities area native has been pin-striping for decades and his motorcycles reflect a wildly artistic vision. His contributions to motorcycling inspire and challenge, raising the bar of creativity higher with every unforgettable chopper he creates.
 TICKETS
Tickets for the Donnie Smith Bike & Car Show are on sale at the RiverCentre Box Office, all Ticketmaster locations, charge by phone at 800-745-3000 or online at www.ticketmaster.com. Adults are $15 and children under the age of 12 are admitted free. The Donnie Smith Bike & Car Show is sponsored by Dennis Kirk, GEICO Motorcycle, Indian Motorcycle, The Sturgis Buffalo Chip, Budweiser, Lucas Motorcycle Oil and Russ Brown Motorcycle Attorneys.
Tickets for the "War of the Twins" Indoor Flat Track Racing can be purchased at www.IndoorFlatTrack.com. All seating is assigned with box seating VIP tickets available for $21 and general auditorium adult seating for $15. The first 500 children under 12, accompanying an adult, will be admitted free. "War of the Twins" Indoor Flat Track Racing is sponsored by the Sturgis Buffalo Chip, Dennis Kirk, GEICO Motorcycle, Lucas Motorcycle Products, Russ Brown Motorcycle Attorneys and S&S Cycle.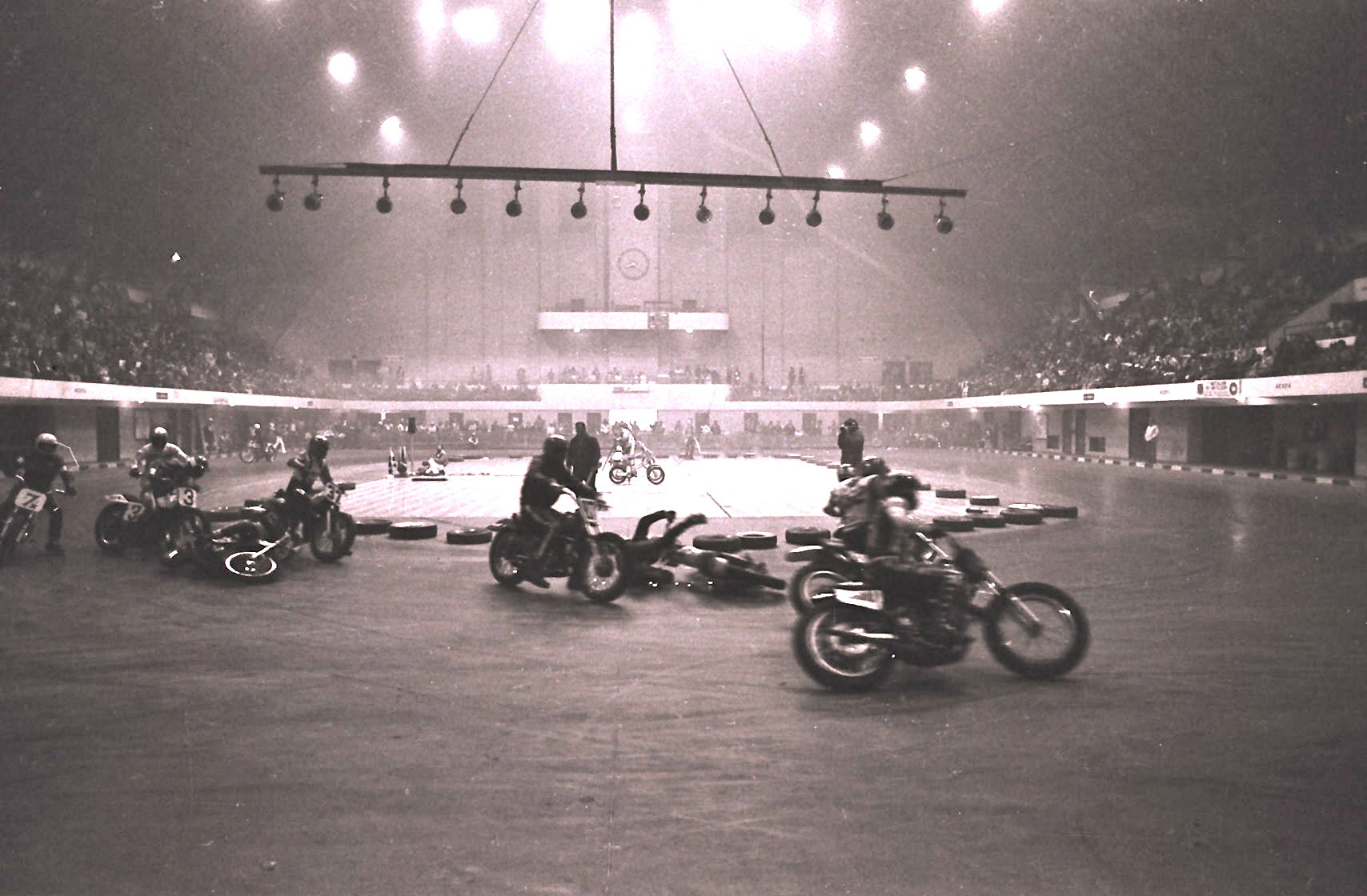 More information can be found at DonnieSmithBikeShow.com.
Find high resolution photos here:
https://drive.google.com/open?id=0B0undnYny2-TZHlXb0xnbDZIelU
 About the Donnie Smith Bike and Car Show
In its 31st year, the famed Donnie Smith Bike and Car Show presented by Dennis Kirk is the largest custom bike and car show in the Midwest. The show draws the nation's most prestigious brands, top competitors and tens of thousands to the RiverCentre in Saint Paul, Minn. It is widely known as the annual kickoff to the riding and cruising season and features a unique mix of competitions, shopping and entertainment in a fun, family-friendly environment with 35 classes of custom motorcycles, 16 classes of cars, the largest swap meet on the planet, a tattoo expo and other entertainment including Indoor Flat Track Racing at the Lee & Rose Warner Coliseum. Additional information can be found at www.donniesmithbikeshow.com