Sturgis, SD (March 30, 2015) – High school students from across the Northern Black Hills are returning home today from the prestigious Donnie Smith Bike Show in St. Paul, Minn. with two new trophies to add to their growing collection. The students participated in the Buffalo Chip Challenge™ program, headquartered at Sturgis Brown High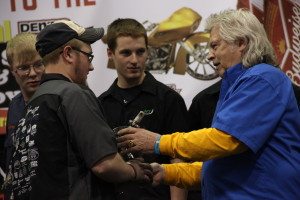 School, where they helped to build two world-class custom motorcycles under the instruction of some of the industry's most celebrated customizers.
The student-built custom 2014 Indian Chieftain received FIRST PLACE IN THE FULL CUSTOM/OTHER BAGGER CLASS and the 2014 Harley- Davidson Road King took SECOND PLACE IN THE HARLEY ROAD KING W/26″ WHEEL (FULL CUSTOM) CATEGORY. The students competed against professional custom bike builders from around the country, which makes winning these awards a remarkable achievement.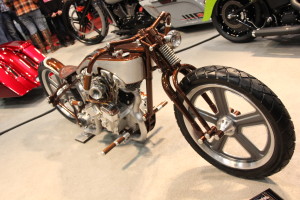 "The kids worked very hard for these awards and the scholarships we are offering with this program," says Rod Woodruff, president of the Sturgis Buffalo Chip. "Their dedication has paid off. We are very proud to be a part of their success."
The 2015 Buffalo Chip Challenge program, themed "When 2 Legends Collide," pitted superstar bike builders and tutors John Shope of Dirty Bird Concepts and Paul Yaffe of Bagger Nation in a head-to-head competition. Shope's team worked to customize the Indian, and Yaffe's team transformed the Harley. While Team Shope came out as the winner at the Donnie Smith Show, all of the students came away victorious, learning valuable lessons from the best in the business. The two custom motorcycles will go head to head once more when the Sturgis Buffalo Chip® auctions both off Monday, Aug. 3, 2015 in support of its signature Legends Ride®.
The Buffalo Chip Challenge is a collaboration between the Sturgis Buffalo Chip, Sturgis Brown High School, Terry Components, Dakota V-Twin and a large group of industry-leading sponsors. This is the fifth consecutive year the Sturgis Buffalo Chip has lead the regional program focused on American innovation and craftsmanship. World-renowned customization leaders Nick Trask, Dave Perewitz, Keith Terry, Randy Cramer, Nick Cramer and Chris Malo as well as Sturgis Brown High School instructors Chad Hedderman and Bill Johnson were all instrumental in instructing students.
Many of the motorcycle industry's top companies continue to supply world-class parts and services for the Buffalo Chip's build program each year, recognizing its significance as part of the growth and success in American custom bike building. Special thanks to American Iron Magazine, AirFX, Baggster, Arlen Ness Enterprises, Hot Leathers, C.P. Carrillo, Dirty Bird Concepts, Dakota Digital, Danny Gray, Dave Mackie Engineering, Diamond Heads, Fueling Parts, Handy Industries, Hawg Halters, Inc., Horsepower, Inc., Hofmann Designs, Jamie's Repair, Klock Werks, Legend Air Suspension, MTX Audio, Owens Interstate Sales, RC Components, Paul Yaffe's Bagger Nation, Perewitz Cycle Fab, Thunder Cycle Design, Thunder Max, Trask Performance, Jack Van Kampen and Vee Rubber America for contributing to the program.
Those interested in bidding to win one of these award winning bikes can visit LegendsRide.Com or call (605) 347-9000.
About the 2015 Buffalo Chip Challenge™
The Sturgis Buffalo Chip® continues its commitment to education and the growth of South Dakota's motorcycle industry with its fifth annual Buffalo Chip Challenge. The program utilizes award-winning veteran custom builders, Keith Terry, Randy Cramer, Nick Cramer, John Shope, Paul Yaffe and Dave Perewitz to serve as instructors and mentors to students customizing two stock motorcycles. The goal is to develop students' skills and knowledge in a real-world experience they can use after graduation. Throughout the years, the custom creations produced in the Buffalo Chip Challenge have received much acclaim at prestigious motorcycle competitions, including winning first place in the Full Custom Bagger Open Class at the Donnie Smith Bike Show.
About The Sturgis Buffalo Chip
The Sturgis Buffalo Chip is the Largest Music Festival in Motorcycling™. It is the world's first and leading entertainment destination for the motorcycle enthusiast. Established in 1981, the venue's high-profile, nine-day festival, known as The Best Party Anywhere™, remains one of the world's most televised and longest running independent music festivals. Buffalo Chip guests experience world-class concerts, cutting-edge motorcycle events, moving freedom celebrations, outrageous daredevil stunts, unforgivably hot bikini contests and more. The Chip's® PowerSports Complex is home to many national circuits including TORC: The Off-Road Championship races. The Buffalo Chip has been featured on networks including Discovery, Travel, HISTORY, Fox, VH1, CMT, AXS, National Geographic, FX, Velocity and TLC. Located three miles east of Sturgis, SD on 600 creek-fed acres, it offers cabins, RVs, camping, a swimming hole, bars, mouth-watering food, showers, paved roads, and more to visitors traveling from all corners of the world. The Chip's concerts are free with camping. More details are available at www.BuffaloChip.com.
Nyla Griffith
Marketing & Media