Minnesota's Jordan Dickinson Punches Ticket to AMD World Championship in 2018
IRVINE
, Calif. (November 21, 2016) – Amidst all the buzz and excitement surrounding the wide array of new products and introductions at the Fourth Annual American International Motorcycle Expo (
AIMExpo
) was North America's finest collection of custom bikes from the continent's most talented builders. A total of 40 entries from 32 builders were spread across four classes of competition at the annual Championship of the Americas, with Jordan Dickinson, Bryan Fuller, Adam Karns, and Jesse Spade each earning first-place honors for their respective builds.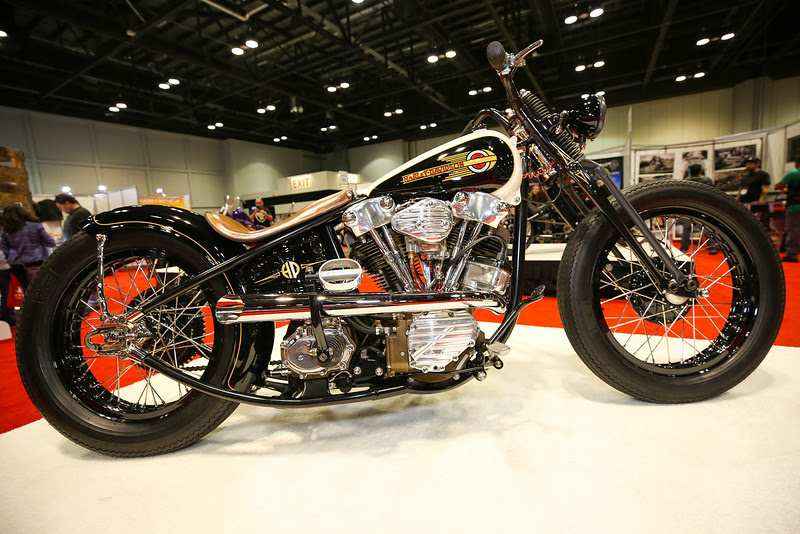 (Freestyle First Place)
Dickinson's trip to Orlando ended up being highly successful, as the Minnesota native not only grabbed a pair of wins, but also earned the coveted automatic qualifier for the 2018 AMD World Championship of Custom Bike Building in Germany. Dickinson's Harley-Davidson inspired "Knucklehead" build out of his Union Speed & Style shop in Minneapolis took home top honors in the Freestyle Class, for which the World Championship qualifier is awarded. Additionally, Dickinson took first place in the Retro Mod class with his 1951 Harley-Davidson Panhead known as "Frost Buzzard."
"I'm pretty ecstatic right now. I'm just trying to let it all set in," exclaimed Dickinson upon earning his pair of first-place trophies. "[The Knucklehead] took between nine months to a year to complete and is full of hand-made parts. The only part of the bike that is genuine Harley-Davidson is the front end. We wanted to build a concept from the 30's and 40's as if Harley was making a race bike back in the day.
"I'm very excited about [the opportunity to compete at the AMD World Championship]. I've been following that show for quite a few years and the bikes that come out of there are at such an incredible level, craftsmanship wise," added Dickinson, who made the 26-hour drive from Minneapolis to Orlando with his brother Josh. "All these bikes [at AIMExpo] are from all over the country and the builders' heart and soul has been put into them, so it's pretty mind blowing to win amongst this group. It's exciting to be here and means a lot to earn the chance to compete [overseas]."
In the Street Custom class Brian Karns, of Delmar, Maryland's Karns Kustoms, took the win with his 1974 Harley-Davidson XLCH known as "Slickster," while first place in the Performance Custom class went to Atlanta native Jesse Spade, of Jesse Spade Designs, and his 1971 Triumph Tiger known as "Once Free." Earning arguably the most distinguished People's Choice award was Bryan Fuller of Atlanta's Fuller Moto, whose 1977 Honda CB 550 with samurai-inspired engraving that gave it the name "Shogun" was the most popular build amongst AIMExpo attendees.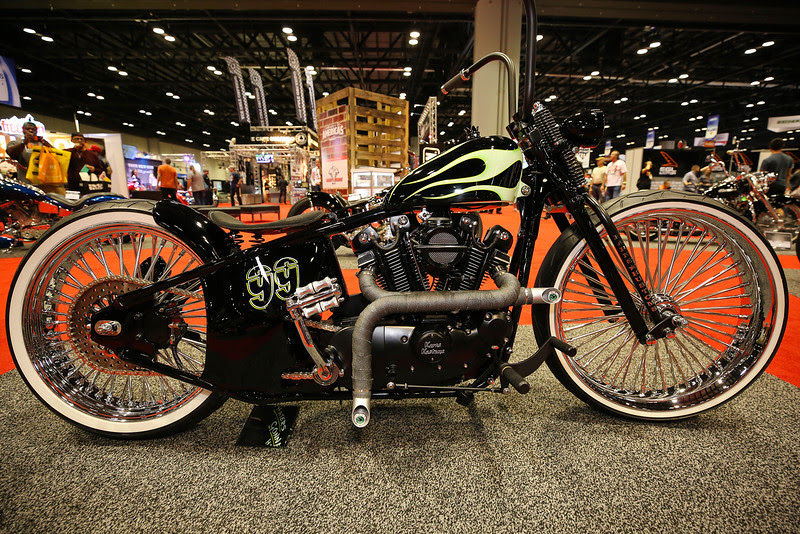 (First Place – Street Custom)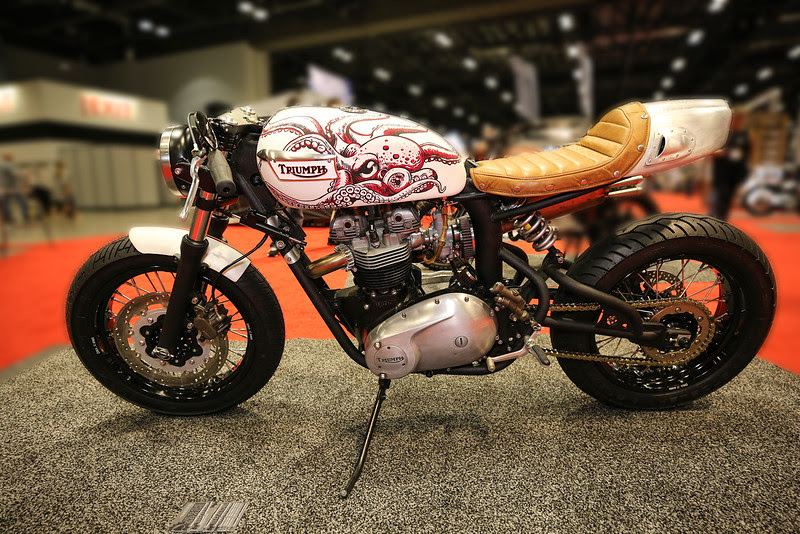 (First Place – Performance Custom)
With a best-of-the-best showcase of North America's most exceptional craftsmanship from the continent's most talented builders, Championship of the Americas has become the preeminent custom bike show in the western hemisphere. It's distinction as an automatic qualifier for the AMD World Championship is an indicator of the event's prestige, and the exceptional level of competition from its entries.
"This is the custom bike show in North America and its home is right here at AIMExpo, North America's premier powersports trade show. This year we welcomed our most exceptional group of entries yet, which is an indicator of how the event's presence continues to grow. If you're a builder, this is the stage for you and your build to receive its highest praise," said Bob Kay, AIMExpo Custom Culture Director. "As the Freestyle Class winner for 2016, Jordan Dickinson will receive direct, expense-paid access to the AMD World Championship at Intermot 2018 from Cologne, Germany. Jordan represents the passion, desire, and creativity in today's custom builder, and will surely make North America proud on the global stage."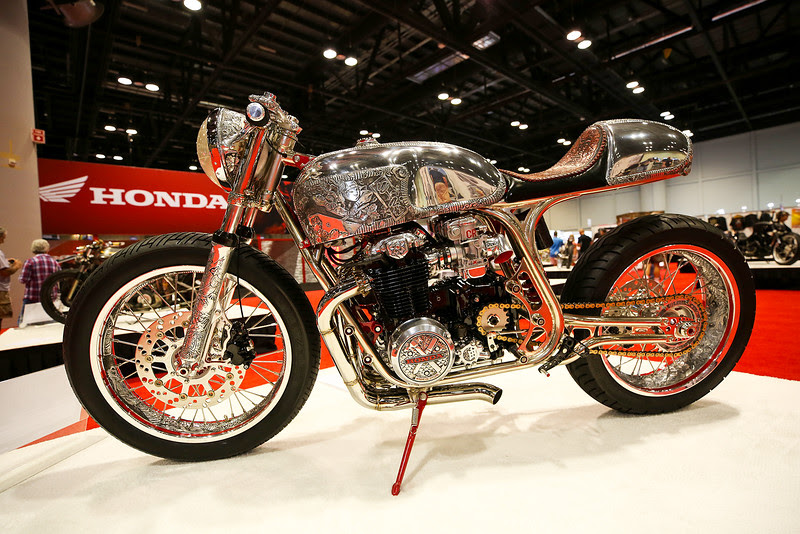 (First Place – People's Choice)
AIMExpo 2017 will signify the highly anticipated move to Columbus, Ohio, next September. With its close proximity to the densest population of dealerships in the country, a state-of-the-art host facility at the Greater Columbus Convention Center, and a city center that will be entirely consumed by all things motorcycles, the new host city will begin an exciting new chapter for AIMExpo. With an average early fall temperature of 65 degrees in the month of September, Columbus will be abuzz with powersports throughout the four-day celebration, scheduled for
September 21-24
.
Be sure to stay tuned to the AIMExpoUSA.com website and keep up to date on exciting news as it happens by visiting AIMExpo's social media pages. "Like" the American International Motorcycle Expo on Facebook, and "Follow" on Twitter or Instagram: @AIMExpo.
About American International Motorcycle Expo       
The American International Motorcycle Expo's (
www.aimexpousa.com
) purpose is to serve as the catalyst to bring together industry, press, dealers and consumers in a single arena that creates a grand stage for motorcycling and powersports in the U.S. and North America, and delivers an efficient and energetic market-timed expo platform for B2B and B2C in the greater powersports industry. AIMExpo is the single most important event of its type in the North American market and has international impact within the motorcycling and powersports community. AIMExpo was recently honored in Trade Show Executive Magazine's Fastest 50, recognizing the fastest growing trade shows in the U.S. AIMExpo is produced by the Motorcycle Industry Council (
www.mic.org
).
About the Motorcycle Industry Council
The Motorcycle Industry Council exists to preserve, protect and promote motorcycling through government relations, communications and media relations, statistics and research, aftermarket programs, development of data communications standards, activities surrounding technical and regulatory issues, and the American International Motorcycle Expo. As a not-for-profit, national industry association, the MIC seeks to support motorcyclists by representing manufacturers, distributors, dealers and retailers of motorcycles, scooters, ATVs, ROVs, motorcycle/ATV/ROV parts, accessories and related goods and services, and members of allied trades such as insurance, finance and investment companies, media companies and consultants.
The MIC is headquartered in Irvine, Calif., with a government relations office in metropolitan Washington, D.C. First called the MIC in 1970, the organization has been in operation since 1914. Visit the MIC at www.mic.org.