Suicide Doors, More Power, And An Available Cap Shade Raise The Standard For Open-Air Motoring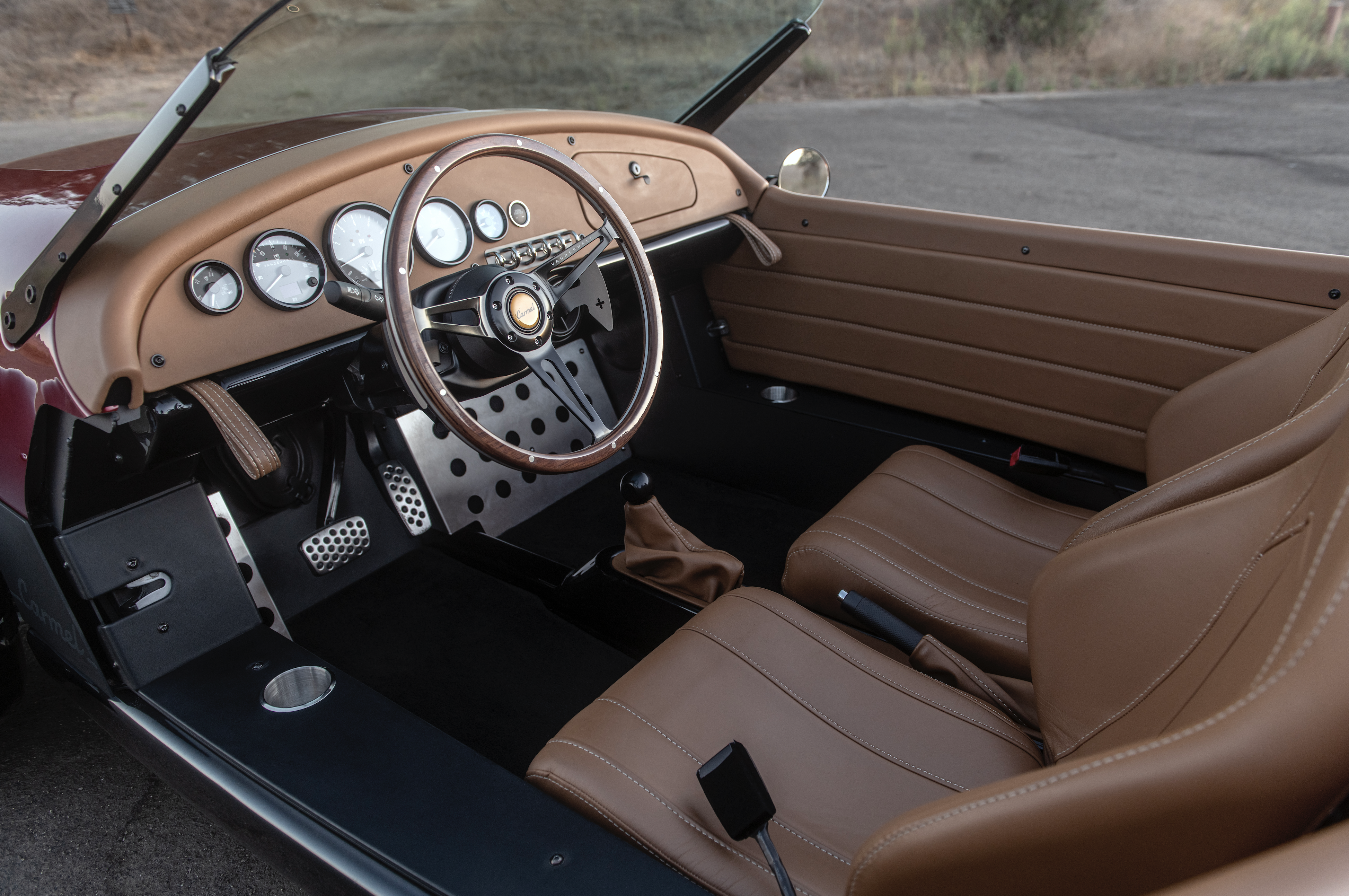 Provo, UT — The all-new 2020 Vanderhall Carmel autocycle — available in dealerships now — is an artful blend of performance and open-air luxury. This American-made three-wheeler is hand-built in Vanderhall's Utah factory using almost entirely U.S.-sourced components and materials. Although the new Carmel shares the patented aluminum monocoque chassis with the company's flagship Venice model, the Carmel adds doors and a host of other upscale amenities. It is also offered in three different levels: base Blackjack, standard trim, and fully loaded GT.
For a complete look at the Vanderhall images. CLICK HERE.
"The new 2020 Vanderhall Carmel is a response to customer and dealer input we have received since launching our Venice model in 2016," says Vanderhall marketing director Daniel Boyer. "It adds doors to simplify ingress and egress, plus offers provisions for a removable cap shade. Vanderhall only does one thing: make American-made autocycles. The new Carmel shows that we are constantly evolving."
All 2020 Vanderhall autocycles have GM-sourced powertrains for reliable performance. The Carmel models use the aluminum-block 1.5L LFV turbocharged inline-four engine. Power is rated at 194 horsepower. The light-weight engine also gives the front-wheel-drive Carmel a road-hugging 75/25 weight distribution.
The turbocharged inline-four engine is mated to the GM 6T40 sequential 6-speed automatic transmission. This gearbox accepts paddle-shifters (standard in the Carmel GT) for clutchless manual shifting. Equal-length half-shafts create a positive on-center steering response.
Other across-the-line Carmel features include rear-hinged ("suicide") doors and high-performance 4-piston brakes. Cruise control, Bluetooth sound, a heater, and heated seats are also standard.
Highlights of the three available 2020 Vanderhall Carmel models:
GT
The fully optioned Carmel is factory-equipped with paddle-shifters and a cap sunshade, which installs between the passenger hoops and windshield. Further, the GT windshield is shorter and sportier than the other two Carmel models. Interior upholstery is tan leather, as are the door panels. Stainless-steel traction plates and dead pedals are also standard. Additional GT equipment includes boost and transmission-gear gauges above and beyond the standard instrumentation. Appearance-wise, the Carmel GT includes a polished 3-inch exhaust system and gloss-black 19-inch 10-spoke wheels. It is available in two exterior colors: Ruby Metallic and Pearl White. MSRP is $43,950.
Standard Carmel
At an MSRP of $39,950, the standard model is well-appointed, with slightly less content than the GT model. It is offered with machined 19-inch wheels and a choice of two body colors: Vintage Silver Metallic and Poseidon Blue. Upholstery is durable tan V-Tex synthetic material, and the windshield is taller than the GT version. The paddle-shifter and cap shade are available dealer-installed options.
Blackjack
For Vanderhall Carmel customers who would like to add their own entertainment electronics, wheels, and possibly a custom body wrap, Vanderhall offers the Blackjack as a builder's-level model. Its body and exhaust are both matte black, as are the interior traction plate and dead pedals. Base 18-inch alloy wheels are also included to price the Blackjack at an MSRP of $34,950.
For more information on the Carmel or the rest of the 2020 model-year Vanderhall line-up, please visit Vanderhall Motor Works Inc. at vanderhallusa.com or email info@vanderhallusa.com.
VANDERHALL CARMEL SPECIFICATIONS
GENERAL
Passengers: 2
Exterior Colors:  Vintage Silver Metallic, Poseidon Blue, Ruby Metallic, Pearl White, Matte Black
Model Year: 2020
Place of Manufacture: Provo, Utah
STANDARD EQUIPMENT
Conveniences: Heated seats, dual-vent heating system, front entry doors, provisions for accessory removable suncap roof
Safety: Dual servo-brakes with ABS, traction control, electric power steering
Interior Materials:  V-Tex synthetic upholstery, tan leather
Audio: Two-channel, amplifier, Bluetooth connectivity
Lighting: LED (DOT headlights, turn signals, brake lights)
ENGINE
Location: Front
Alignment: Transverse
Manufacturer: General Motors
Engine Code: LFV
Cylinders: 4
Configuration: Inline, DOHC
Displacement: 1.5 liters (1,490 cc)
Valves: 16, VVT
Bore x Stroke: 74.0 mm x 86.6 mm
Bore Center: 81 mm
Compression: 10:1
Redline: 6,500 rpm
Aspiration: Turbocharged
Horsepower: 194 @ 5,700 rpm
Block: Aluminum
Sump Design: Wet
Fuel Supply: Direct Fuel Injection
Recommended Fuel: 91 octane
Catalytic converter: Yes
TRANSMISSION
Type: 6T40 (MNH) sequential automatic, optional paddle-shifters
Gears: 6
Wheel Drive: Front
Top Gear Ratio: .75
Clutch: Automatic torque converter
Final Gear Ratio: 3.87
PERFORMANCE
0-60 mph: 4.5
Top Speed: 138 mph
Lateral Cornering Stability: .95 g
Power-to-Weight Ratio: 7.9:1 lb/hp
CHASSIS
Suspension, Front: Pushrod, Vanderhall coil-over hydraulic shocks
Suspension, Rear: Single-sided swingarm, Vanderhall coil-over hydraulic shock
Wheels: 19×8.5 Front, 19×11 Rear
Tires: 235/35ZR19 Front, 295/35ZR19 Rear
Brake Calipers: 4-Piston
Brake Rotor, Front: 315mm
Brake Rotor, Rear: 275mm
Steering: GM rack-and-pinion, electronic assist
BODY
Bodywork: Vanderhall Design
Base Platform: Vanderhall Mono Aluminum
Bodywork Material: Composite
DIMENSIONS, WEIGHT & CAPACITIES
Length: 145.6 in. / 3,700 mm
Overall Width: 68.9 in. / 1,750 mm
Track, Front: 59 in. / 1,500 mm
Height: 44.9 in. / 1,140 mm
Wheelbase: 101.4 in. / 2,575 mm
Cargo Capacity: 83 L
Weight Distribution: 75 / 25
Ground Clearance: 4.9 in. / 125 mm
Dry Weight: 1,505 lbs.
Curb Weight: 1,595 lbs.
Load capacity: 500 lbs.
Fuel Capacity: 9.5 gal.