Biker, Diplomat, MRF Champion & ABATE Founder Michael "Balls" Farabaugh Named 2017 Freedom Fighter Award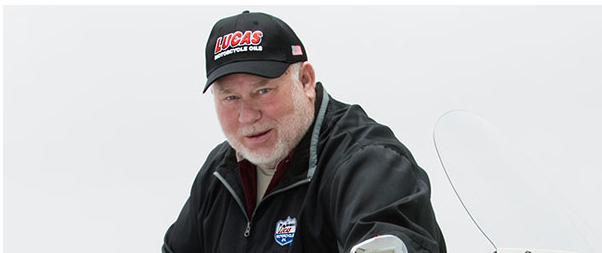 Sturgis, South Dakota, June 5, 2017 – In keeping with the Sturgis Motorcycle Museum's mission to Honor the Rider, the special "Freedom Fighter" award recognizing an individual who has fought to protect the rights of motorcyclists was instituted in 2001. The Freedom Fighter for 2017 is posthumous recognition of Michael "Balls" Farabaugh lifetime of protecting motorcyclist's right.
"Michael is the original freedom fighter," says Tigra Tsujikawa, Marketing & Development Director for the Sturgis Motorcycle Museum and Hall Of Fame. "He co-founded ABATE of Indiana, the Motorcycle Riders Foundation (MRF) and launched the annual Meeting Of The Minds conference. As the long-time Executive Director of ABATE, Balls was respected for his honesty and integrity by the biker community – as a 30-year member of the American Motorcycle Association's Board of Directors, Mr. Farabaugh was able to bring the OEMs and the politicians to the table," says Tsujikawa.
As passionate as Farabaugh was when it came to motorcycle rights organizations, he was equally committed to rider safety. "He successfully lobbied many state legislatures into giving publicly funded rider training parity with drivers ed. Michael graduated from the first Motorcycle Safety Foundation Chief Instructor Program in 1980 and he and his wife Debby, also an MSF instructor, taught survival skills to literally thousands of riders and instructor trainees over the years."
In his spare time, he organized motorcycle-related charity events. "In typical fashion, Balls became chairman of the Miracle Ride Foundation and coordinated events that generated more than $2.5 million to the Paraplegic Foundation and Riley Hospital for Children in Indianapolis, as well as MDA."
"My goal was to make motorcycling better for the next generation," Farabaugh once told the AMA. "Let's make it safe and easier to learn to ride. If we as motorcyclists are doing it ourselves, we have a hand in the direction motorcycling takes." Before his untimely passing earlier this year, the long-time motorcycle safety, education and rider rights advocate had most recently been appointed the first director of Lucas Oil's newly formed Motorcycle Division.
"All of our honorees – past and present- are deserving, but Michael Farabaugh is the ultimate Freedom Fighter," declares Tsujikawa. Initiated in 2001, The Freedom Fighter award recognizes those individuals who have made sacrifices to protect the rights of those who ride. These men and women serve diligently, humbly and quietly so that we may enjoy the liberties that many of us take for granted.
"Join us in honoring Michael's memory as well the Class Of 2017 Hall of Fame inductees," says Tsujikawa. The Sturgis Motorcycle Museum Hall Of Fame Induction ceremony presented by Strider is being held August 9th at the Lodge at Deadwood in Deadwood, South Dakota. Breakfast tickets are available for a $45 donation, tables of eight for $350. Tickets are available by calling the Museum at 605.347.2001 or they can be purchased online at:
http://www.sturgismuseum.com/shop/hall-fame-breakfast 
About The Freedom Fighter Award:
The Freedom Fighters Hall of Fame recognizes the sacrifices individuals across the nation, and world, have made to protect the rights of motorcyclists through their efforts in the political arena and in grassroots motorcyclist rights organizations. It is the goal of the museum to help recognize these exceptional and deserving people. There are no restrictions on who may submit nominations by the January 10, 2017, however the Freedom Fight is not necessarily awarded every year. All nomination files are reviewed by the Hall of Fame committee that is made up of the Sturgis Motorcycle Museum's board of directors, its Executive Director and staff directors.
About The Museum: The Sturgis Motorcycle Museum & Hall of Fame's mission is to collect, preserve and interpret the history of motorcycling; honor those who have made a positive and significant impact on the sport and lifestyle; and pay tribute to the heritage of the Sturgis Rally. Our vision is to continue as a world-class museum offering comprehensive and educational exhibits and showcasing rare and unusual motorcycles significant to our history and our sport. The Sturgis Motorcycle Museum & Hall of Fame stands out because of the fact that we not only document the history of the machines, we document the history of the people who have shaped and changed the sport and lifestyle. This will be a resource and inspiration for future generations. Honor the Ride… Build the Legacy!
Class Of 2017 Inductees
Colleen Barnett & Mike Taylor – Colleen Barnett-Taylor started her motorsports career at Barnett Clutches & Cables while still in her childhood working for her parents (and original 1948 founders), Charlie and Afton Barnett. Since the beginning Colleen has been a driving force and integral part of the company. Mike Taylor, already a long-time motorcycle rider/enthusiast, joined the firm in 1968 which cemented a great partnership after he and Colleen were married. Together they have operated Barnett since 1975 and owned the company since 1993.
Cory Ness – Don't think for a second that Cory Ness rode his famous father's coattails into the Sturgis Hall Of Fame. At only 10 years old, he disassembled his bicycle, painted it, chromed its parts and entered it in the Oakland Roadster Show. The first motorcycle he turned his talents to was a wrecked CB350. After building it back up, Cory sold it before even getting a chance to ride it. He was 14! Today Cory is the chief designer behind Arlen Ness Enterprises where he runs the day-to-day business. In between designing new parts and accessories, he still finds time to wrench on custom bikes periodically.
Mark Shadley – Since the early 1970s Mark Shadley and Shadley Bros. Motorcycles have been shaping the perception of what a custom motorcycle is. The quality, detail and innovation of his custom built bikes have made him well recognized by both the motorcycle industry and his peers. His enthusiasm and involvement in the custom motorcycle industry has been a lifelong passion.
Jim Thiessen – For 50 years, machinist and go-fast guy Jim Thiessen has generated trust with riders, record breakers, racers and certified Harley mechanics around the world whom use JIMS® products on a daily basis. Today JIMS® is one of the industry's leading producers of performance parts, accessories, tools, transmissions and high-performance engines – all aimed at enhancing the Harley rider's experience.
Terry Vance – #35 on the NHRA's 50 greatest drag racers of all-time, 14-time national champ Terry Vance never lets off the gas! Terry and his tuner Byron Hines shared a passion for the quarter mile from the early days, but they also shared a vision of creating a company that would be a pillar of the motorcycle aftermarket, and they used their unrivaled achievements in racing to build a brand that would unmistakably stand for quality and performance.Terry Vance is an American former professional motorcycle drag racer, racing team owner and manufacturer of high performance parts for motorcycles.
Rod Woodruff – Since 1981. the Sturgis Buffalo Chip Campground has treated millions of motorcyclists to rock concerts, camping, entertainment and more. Rod Woodruff is the man who brought Rock & Roll to the Black Hills and now hosts a 10-day Concert Series each August during the annual Sturgis Motorcycle Rally. The Buffalo Chip provides a music festival, various other forms of entertainment, and full service tent, RV and cabin camping on almost 600 acres in rural Meade County.