For Release March 5, 2015
Top Builders Bare All in 2015 Motorcycles as Art "Naked Truth" Exhibition
Sturgis, SD (March 5, 2015) – In the ultimate expression of human creative skill and imagination, custom motorcycle builders create incredible beauty, sweeping lines that beg for the wind paired perfectly with precise feats of mechanical engineering. The Sturgis Buffalo Chip®'s 2015 Motorcycles as ArtTM Exhibition presents famed photographer Michael Lichter's "The Naked Truth – 35 Customs / 35 Years / Motorcycles Exposed." This exhibition will lay bare the raw talent of 35 world-renowned bike builders, most of whom are building their creations specifically for this exhibition. Each of these rolling metal sculptures will be displayed exposed and naked, unencumbered by paint and graphics, atop elevated pedestals to better give guests an open view from every angle. "Naked Truth" is free to the public and will be open from Saturday, Aug. 1 through Saturday, Aug. 8 in the Buffalo Chip's Russ Brown Events Center.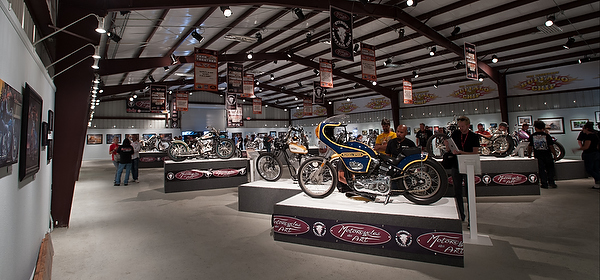 "Unlike any other exhibition before, nothing will come between the viewer and the bikes' most basic elements of shape, form and design," said Michael Lichter. "Each builder's passion and talent will be revealed through the fine details of craftsmanship evident in every aspect of their work. The builders are exposing themselves, as well as their work, in this show. Without the cloak of paint or graphics, the bikes' most basic form right down to it's smallest details are naked and open to examination. There is no hiding behind a slick paint job, enhancing a line or curve with a brilliant graphic; the beauty comes strictly from the hand of the man who fashioned it."
"Michael is the world's premier motorcycle photographer," said Buffalo Chip President Rod Woodruff. "He has been shooting bikes and the biker culture for more than 35 years, and his expertise and knowledge of motorcycle culture makes him the perfect person to curate the Motorcycles as Art exhibits at the Chip. We are honored to host his "Naked Truth" exhibition this year."
Appropriately, hanging alongside these "naked" bikes, will be more than one-hundred photographic prints chosen from curator, Michael Lichter's archives. Exposed as his subjects appeared, without retouching and enhancement, Lichter's photographs have captured the changing face of the motorcycle world from the 1970s to today.
The custom motorcycle artists scheduled to present their stunningly naked creations at the Buffalo Chip's 2015 Motorcycles as Art exhibit are:
Aki Sakamoto – Hog Killers, Hawaiian Gardens, CA
Alan Stulberg – Revival Cycles, Austin, TX
Ben Jordan – Jordan Designs, Waxhaw, NC
Bill Dodge – Bling's Cycles, Daytona Beach, FL
Bill Rodencal – Harley-Davidson Museum, Milwaukee, WI
Billy Lane – Choppers Inc., Daytona Beach, FL
Brandon Holstein, Brawny Built, Signal Hill, CA
Brian Klock – Klockwerks, Mitchell, SD
Bryan Fuller – Fuller Hotrods, Atlanta, GA
Cristian Sosa – Sosa Metalworks, Las Vegas, NV
Dale Yamada – Mad Jap Kustoms, Calgary, Alberta, Canada
Dalton Walker – Split Image Kustoms, Hanford, CA
Dan "Bacon" Carr – DC Chopper, Austin, TX
Dave Perewitz – Perewitz Cycle Fabrication, Bridgewater, MA
Jeff Cochran – Speedking Racing, West Harrison, IN
Jeff Wright – Church Of Choppers, Des Moines, IA
Jim Nasi – Jim Nasi Customs, Phoenix, AZ
John Stein – Stage Fright Drag Racer, Pacific Palisades, CA
Jordan Dickinson – Union Speed and Style, Monticello, MN
Kaichiroh Kurosu – Cherry's Company, Tokyo, Japan
Ken "Kenji" Nagai – Ken's Factory, Nagoya, Japan
Lock Baker – Eastern Fabrications, Los Angeles, CA
Matt Olsen – Carl's Cycle, Aberdeen, SD
Nate Jacobs – Harlot Cycles, Murfreesboro, TN
Ola Stenegard – Gotland, Sweden
Pat Patterson – Led Sled Customs, Dayton, OH
Paul Cox – Paul Cox Industries, Brooklyn, NY
Paul Wideman – Bare Knuckle Choppers, Wright City, MO
Paul Yaffe – Paul Yaffe Originals, Phoenix, AZ
Rick Bray – RKB Kustom Speed, Fresno, CA
Roland Sands – RSD Design
Shinya Kimura – Chabott Engineering, Azusa, CA
Warren Lane – Atomic; Miami Beach, FL
Yaniv "Neevo" Evan – Powerplant Choppers'; Los Angeles, CA

The exhibit, displayed in the Sturgis Buffalo Chip's Russ Brown Events Center, will be open and free to the public Saturday, Aug. 1 through Saturday, Aug. 8, 10 a.m. to 10 p.m.
The Sturgis Buffalo Chip® is well known for outstanding bike shows, concerts and for being the original By Bikers, For BikersTM campground. Buffalo Chip concerts are free with camping. Passes for the momentous 75th Anniversary Celebration in 2015 may be purchased by calling 605-347-9000 or visiting www.buffalochip.com.
About The Sturgis Buffalo Chip®
The Sturgis Buffalo Chip is the Largest Music Festival in Motorcycling™. It is the world's first and leading entertainment destination for the motorcycle enthusiast. Established in 1981, the venue's high-profile, nine-day festival, known as The Best Party Anywhere™, remains one of the world's most televised and longest running independent music festivals. Buffalo Chip guests experience world-class concerts, cutting-edge motorcycle events, moving freedom celebrations, outrageous daredevil stunts, unforgivably hot bikini contests and more. The Chip's® PowerSports Complex is home to many national circuits including TORC: The Off-Road Championship races. The Buffalo Chip has been featured on networks including Discovery, Travel, HISTORY, Fox, VH1, CMT, AXS, National Geographic, FX, Velocity and TLC. Located three miles east of Sturgis, SD on 600 creek-fed acres, it offers cabins, RVs, camping, a swimming hole, bars, mouth-watering food, showers, paved roads, and more to visitors traveling from all corners of the world. The Chip's concerts are free with camping. More details are available at www.BuffaloChip.com.
About Michael Lichter
Michael Lichter began photographing custom bikes and the biker-lifestyle in the 1970s. Working with Easyriders Magazine since 1979, he has produced over 1,400 stories for them. Michael is also a regular contributor to more than 25 publications around the world, has 11 coffee table books to his credit, clients and exhibits his photographic art in galleries and museums in the USA and abroad. As a curator, Michael first started creating themed exhibitions with custom motorcycles and art in 2001 at the Journey Museum in Rapid City. In 2009, the annual exhibition was moved to the purpose-built 7,000 square foot gallery at the Sturgis Buffalo Chip where it was given the name "Motorcycles as Art" and continues to this day. Michael has operated out of the same commercial photography studio in beautiful Boulder, Colorado for more than 30-years. Visit www.facebook.com/lichterphoto and www.lichterphoto.com to see his images. Contact Michael at mike@lichterphoto.com.

About Motorcycles as Art
Every year the Sturgis Buffalo Chip's indoor Motorcycles as Art exhibition presents a changing conceptual theme that brings together the most innovative collection of groundbreaking custom bikes from today's premier builders with artwork from the most famed moto-artists. The Sturgis Buffalo Chip and curator, famed photographer Michael Lichter, present an environment that must be seen to appreciate. Free to the public and open for just 9 days during the Sturgis Rally, take your time and walk through history in the making that is the Motorcycles as Art exhibit.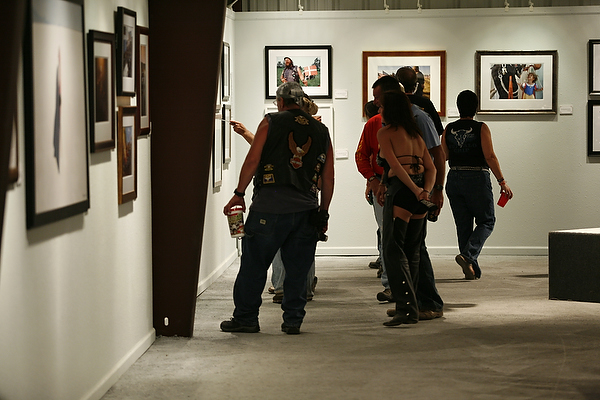 Further Inquiries:
Nyla Griffith
605-347-9000
Cell: 605-920-0626
Sturgis Buffalo Chip