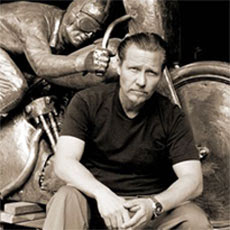 Jeff Decker
Jeff Decker is a sculptor and historian who is known for his bronze sculptures, the most notable of which is titled "By the Horns" (also known as The Hill Climber), a 16-foot-tall, 5,000-pound bronze located on the grounds of the Harley-Davidson Museum. His bronze-cast sculptures depicting the synergy of man and modern machines, particularly historic motorcycles, is known in both the motorcycling community and the world of fine art.
Working full-time at a bronze casting foundry, Decker's first idea was to capture Man's quest for speed in all vehicles. He and his work exemplify the spirit and passion of motorcycling.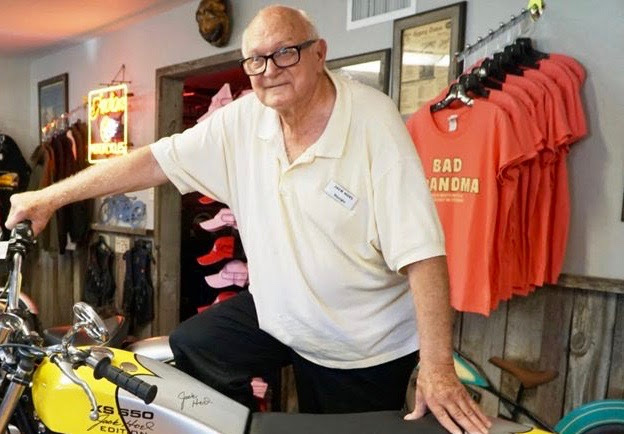 Jack Hoel
Jack Hoel has been a major influence in the development of the Rally, while also having a distinguished career in the world of motorcycling.
Hoel raced around the world and 1964, won the 250cc Sportsman class at the AMA Daytona Speedweek on a Yamaha.
As manager of the Yamaha Race Team in the 1970s, Hoel had also been instrumental in the development of the cutting-edge XS 650 cc. With the first big bore, four-stroke motor produced by Yamaha, a true competitor was now on the field.
Today, Jack Hoel is passionate about the Rally, it's roots in racing and a prominent member of the Sturgis community.
Armondo "Mondo" Porras
Armondo "Mondo" Porras has been building custom motorcycles and promoting the sport for over 50 years through television, books, magazines and producing vintage chopper shows and his peers have deemed him the "Godfather of Choppers."
Mondo Porras is the owner of Denver's Choppers and started building custom bikes with his partner, Denver Mullins in 1967.
With Denver Mullins, Mondo
created some of the first aftermarket parts for the burgeoning chopper industry with their globally influential extended springer front ends and custom frames, was influential in the "long-bike" phenomenon and has earned many awards in the custom bike world.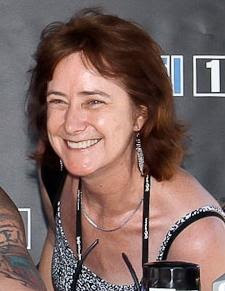 Marilyn Stemp
With late husband, Dennis Stemp, Marilyn Stemp started IronWorks Magazine in 1989. It combined his artistic creativity and passion for motorcycles with her experience as a journalist, organizational skills and attraction to mechanical pursuits.
Following the last issue of IronWorks in March of 2014, they launched a new title, Iron Trader News. Iron Trader News is collaborative and inclusive, a trusted source that entertains and informs on a framework of fairness and integrity.
Marilyn continues the work that she and Dennis began and strives "to elevate and expand well beyond its pages and digital efforts, bringing partners along to our combined prosperity."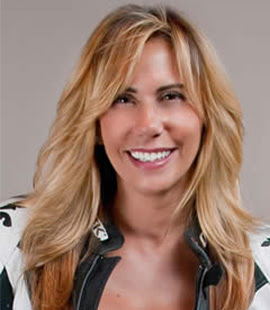 Valerie Thompson
Valerie Thompson is known as "America's Queen of Speed," a 7-time land speed record holder on the Bonneville Salt Flats, she has exceeded speeds above the 200 mph mark. Thompson's drag racing career spans a decade with a desire to go faster and break more records.
Off the racetrack, Valerie works as a vehicle presenter at Barrett-Jackson Auction Company, LLC and Metro Auto Auctions in Arizona. Between her work, racing commitments and many special appearances each year, Valerie donates time supporting and inspiring children overcoming person challenges with charitable organizations. Because of this work and her racing accomplishments, she was awarded the "American Women Riders Community Hero Award" in 2011.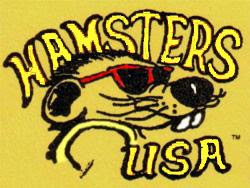 Hamsters USA Motorcycle Club
The famed Hamsters Motorcycle Club, has many individual members that have been inducted to the Sturgis Hall of Fame. They are a group of riders that gives annually to the Black Hills community and contributes greatly to the motorcycle industry and lifestyle.
The Club has chapters and members all over the world and they make their annual trek to Sturgis during the Rally to gather for fun and hold a club dinner and auction. This event and other Hamsters fundraisers have raised over 2 Million dollars for
LifeScape Children's Services
.
Special Awards to be Announced Soon!
Along with those being inducted into the Hall of Fame, for 2018 we will also be announcing our special Board of Director's awards; the Freedom Fighter and Lifetime Achievement Award. These special honors will be announced in the coming weeks. As a newsletter subscriber and museum member, you will receive the announcements first!
Also watch for detailed information on each inductee for 2018!