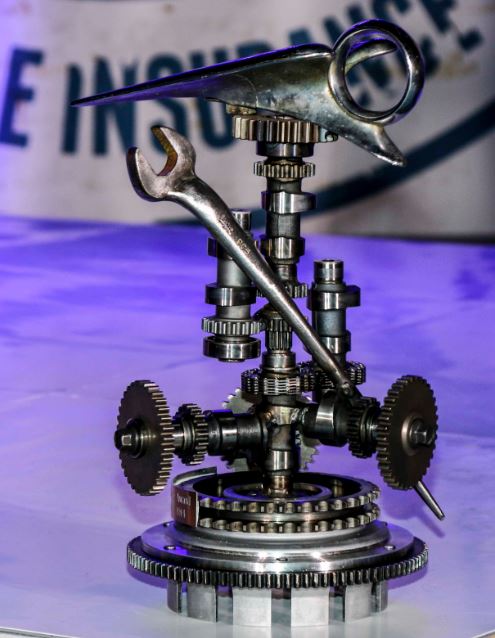 The 2014 edition of the J&P Cycles Ultimate Builder Custom Bike Show in Seattle is a feature of the Progressive International Motorcycle Show  with custom bikes positioned on oval pads located on the glass and steel arch that connects the two halls in the downtown Seattle convention center.
Enthusiasts are able to walk around the customs and get a full 360 degree view. The glass arch is lit by spots and  twinkle lights that deliver a museum-like venue to view some of the most amazing motorcycles from the Northwest. The facility has been dubbed the Cathedral of Cool.
Special guest to the show was Bryan Harley, Motorcycle USA Editor. He provided an Editor's Choice Award and selected Brad Hall and his 2013 Sportster named Psycho Addiction. He brought along a kinetic trophy and a $100 gift certificate from Motorcycle Superstore.
The J&P Cycles Ultimate Builder is a platform for builders to showcase their work. It is also defined by an eclectic mix of motorcycles.  In Seattle we had not one but two Kenny Roberts dirt-track replica motorcycles, two big-wheel baggers and numerous ground-up bike builds. It was a true celebration of creativity and innovation.
The Show Dog award is provided to the builder that engages the audience and builds a connection with the enthusiast. Our 2014 recipient was Bill Shawley. He brought in his own model and really worked the show. So he cruised home with a Leatherworks Solo Bag.
People's Choice awards is always entertaining. Builders are filling out ballots and "helping" the attendees make their decision.  Mike Hempstead from Voodoo Bikeworks took home a  5 Ball Racing Leathers Special Ops vest and a Bell Helmets' Custom 500 lid for his efforts.
Quality Aerosols cleaners and polishers provided a can of polish to all the builders when they entered the show and their entire product line to the six winning builders that made their appearance on the podium.
The competition was close in all classes. A vote one way or another would have changed up the results. Judging is peer-to-peer which means the builders evaluate the work completed by their fellow builders.
J&P Cycles Ultimate Builder Custom Bike Show Retro MOD Class Results
Some bikes speak to you.  And Aaron's '73 Bonny had much of the attention from enthusiasts and builders alike. You could tell hours and hours of polishing went into the drivetrain because the chrome gleamed. The 750cc mil was punched out to 800cc. The bike featured a custom frame, ACME Springer, NOS 1960's Wassell tank & fender, Akront shouldered rims and custom seat. The bike rolled in with a light blue paint and gold stripes applied by Aaron.
1 Aaron Egging – 1973 Triumph Bonneville
2 Richard Mattrass – No Quarter, 1981 Honda GL1100
J&P Cycles Ultimate Builder Custom Bike Show MOD Custom Class Results
Brad Hall's Psycho Addiction took 1st place in MOD Custom and also won the editor's choice award. It features a power boost from a custom intake, air cleaner, Power Commander and a D&D Bob Cat exhaust. Finishes include carbon fiber, brass, copper, custom leather and glass. The bike is lowered, rear frame bobbed and comes with mechanical ISR controls.
1 Brad Hall – Psycho Addiction, 2013 HD XL1200x
2 Bill Shawley,  / Joe St. Clair – Black Mamba, 1990 H-D XL Customs
J&P Cycles Ultimate Builder Custom Bike Show FreeStyle Class Results
It was a tough weekend for Kevin Carper of Widowmaker because he almost missed the cut off for the bike show and completely missed the awards ceremony because of Seattle Seahawks' traffic. Even so, Lamborghini Green, took the grand prize of $1,000.
1 Kevin Carper, Widowmaker – Lamborghini Green, Widowmaker Custom
2 Jerry Nelson – The Full Nelson, 2013 Home-Built Custom
Sponsors for the 2014-15 J&P Cycles Ultimate Builder Custom Bike Show includes Progressive Insurance, Advanstar, J&P Cycles, Quality Aerosols cleaners and polishers, 5 Ball Racings Leathers'  Special Ops Vest, Danny Gray saddle, Leatherworks solo bag and Bell Helmets.
The next show to throttle up is New York City at the Jacob Javit's Center  on December 12 – 14. The New York Show is always the best attended venue with some 80,000+ enthusiasts visiting the three day event.